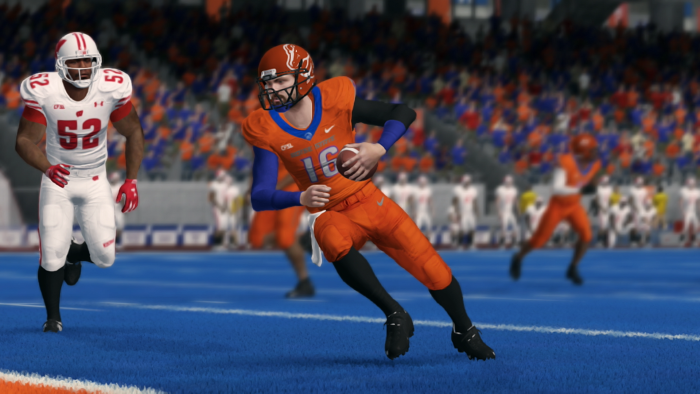 Normally when I climb to the booth it is to look ahead at the upcoming week. But the booth is also far enough above the CFSL landscape that I can also glance back, reflect on the events of the past. And as I watched the events unfold in Boise Idaho this week I knew that I was going to have to come up to my perch in the booth, look back, and do something nearly unheard of in this business…apologize.
I want to admit that I was fooled by the Broncos. As I prepared myself for their week five home tilt I found myself shaking my head. I found myself wondering, wondering if Boise State really was a top 10 team. And yes, I know what the record said, they were 3-1, their offense was marching along. Their defense was giving up next to nothing. And yet I still found myself not knowing if this team was as good as their record.
First a quick glance at their 1 loss heading into the week. It was a loss to the Washington Huskies. A team with, at the time, 2 wins. So the Huskies were 2-2, why does that make a difference? Because the rest of Boise State's opponents to that point had not won a single game COMBINED. Nebraska, Tennessee, and Ohio State all lost to the Broncos, and their other opponents. And when I looked at that I did not see a top 10 team.
  So now look at the game they played against the Badgers. Wisconsin boasts arguably the best defense in the league and proved it again this week. But Boise State proved that their defensive numbers were not padded at all. They stuffed the Wisconsin attack on nearly every possession in that game. Alexander Wilson recorded 11 tackles and 5 sacks on the night. Part of why Wisconsin scored only 2 touchdowns on their 4 trips to the redzone. And Dawson Daniels' pick six on the first series of the game set the tone.  Their offense, they found enough to get the game into overtime. Despite rushing for minus 30 yards they scored the only points in the fourth quarter to tie things up.  And with a chance to win the game on the smurf turf, in overtime, over the number 3 team in the league…Wisconsin made one more play. 
And even though Clutch and the Boise State Broncos walked off the field that night without a win….well, they fooled me. They made me realize how wrong I was. And please, no one from the Bronco nation twist my words. Look back in my preseason article where I picked you to be the most improved in the B1G. I am not saying that I didn't believe this team is good. I am simply saying I didn't know this team is THAT good. You showed me that you were not only a top 10 team heading into week 5, you may have made me realize you are still a top 10 team leaving week 5. Despite the loss, I saw more from that team in that game than I had in the previous four. I apologize for having my doubts. And watch out Big 10…the Broncos are coming.