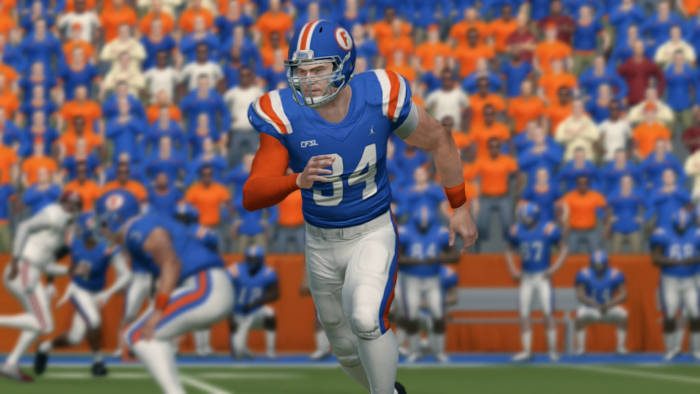 PRIME CUT QUICKFIRE TEN – Smittytj240
By: Matt Ousley
(PositivelyPrime#6714 on Discord)
Each week we will be interviewing one or two coaches so that you can get to know them, their thoughts on the league, their thoughts on their team, and other random facts that you may not know.
This week we sit down with the AD of the team who pulled off one of the best upsets we have seen in some time in the CFSL. Smittytj240 and his Gator squad took down the #1 team in the nation in Alabama. Here is what Smitty has to say about his Florida Gators, this season, and the CFSL. Note this was captured before Florida upset Alabama.
---
Team: Florida Gators
Discord Name: Smittytj240
Position: Athletic Director
Team Record: 3 – 2
Q. What would you say is the current state of the CFSL?
A. This is an amazing community of people. The activity level, level of competitiveness, camaraderie, and passion is second to none.
Q. If you could implement one CFSL change, what would it be (purely hypothetical)?
A. Offensive linemen as playable positions.
Q. How do you feel about the beginning of your season so far?
A. I feel great about our program and how we have started out. It's a long and tough season, but we are excited about the direction of this program.
Q. What teams in your schedule have you worried?
A. Alabama and Florida State. Alabama is a juggernaut of a program on both sides of the ball. FSU has a great AD and coaching staff to match the talent of their program and the games between FSU and Florida are always barn burners.
Q. Outside of your rival, who is left on your schedule are you excited to play?
A. Alabama. We want to get on the field with them and see how we measure up against, what i believe, is the best program in the league. We have nothing but respect for them, their coaching staff, and their AD.
Q. What will it take for you to consider this season a success?
A. To at a minimum match our last season's record of 5-3, but our goal is to claim that SEC crown.
Q. Who are three names everyone should know from your squad?
A. Fozzy Brown, Gavin Beavers, Michael Skillman. All of them are amazing and there are so many others I could easily put up here as well.
Q. Who is the funniest person in the locker room?
A. Fozzy Brown and Rocko Lacey. Those two just love to go at each other in the locker room and it's pure comedy gold.
Q. Defense or Offense, why?
A. Offense. We are a powerhouse offensive program and that's what we are known for. Yes, we want our defense to get better and perform better, but our offense has been and is our focal point.
Q. Why are you in the CFSL?
A. To enjoy something different. I love this community and being able to be a part of it is absolutely a blessing.
---
Have a story idea? Have some insider information? Send me a message on Discord!