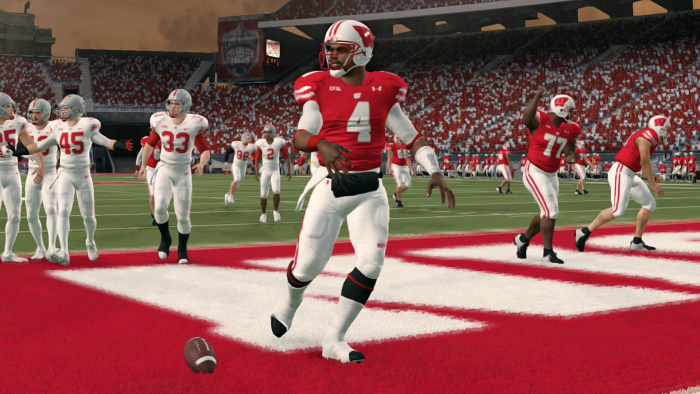 PRIME CUT – IS WISCONSIN #1?
By: Matt Ousley
(PositivelyPrime#6714 on Discord)
---
Is Wisconsin the best team in the CFSL? When we look at the stats and the record the Badgers are not so quietly making a name for themselves this season. Something of an Iron Curtain tells the tale. Let's take a look at what Wisconsin is doing that has us shaking our heads yes to that opening question.
Wisconsin is 5 – 1 this season. They are undefeated in conference play. They are outscoring their opponents nearly three to one! In the last game, they dominated a reeling Ohio State Buckeye team, 48 – 7. Their biggest win this season has to be the absolute dismantling of Iowa. The Badgers had a combined 359 rushing yards! Rushing yards!!!
Possible Offensive Player of the Year and potential All-American Running Back Richard Fountain is averaging 118.7 rushing yards per game and Quarterback DeAnthony Jones is running for 82.7 yards per game. They also have two stud receivers in Bobby Moss and Maleko Nomura who both have more than 300 yards receiving on the year. Bobby has an incredible 57 pancakes!
Don't sleep on their defense either. It is the best in the league, hands down. They are number one in points allowed per game (12.8), total yards allowed per game (265.7), rushing yards allowed per game (-7.2, yes that is a negative number), pass yards allowed per game (278.2), sacks (18), and are number two in takeaways. This defense is downright scary.
The defensive side of the ball features possible Defensive Player of the Year and probable DT All-American Iman Porter who has 43 tackles, a league-leading 28 tackles for loss, and league-leading 18 sacks. If you run away from him, you must contend with Jody Gombas, who has similar stats but rushes the quarterback a bit less. If you can manage to get past the line of scrimmage, Riley Feagle or Tony Drake are going to catch up to you and make you pay.
Will Wisconsin win the National Championship? That is yet to be seen. One thing that you can count on is that you will see the Badgers in the playoffs. You will see them finish the year with an immense number of sacks. You will see opposing coaches cringe to see their names on the schedule. Keep an eye out for May 30, 2022, as the game with Notre Dame will have National Championship implications. What do you think, is Wisconsin #1?
---
Here is what the league is saying:
Jooby – Athletic Director – Texas: "I think they are. Wisconsin is playing at a level that many are not. I don't think the next group of teams are far behind, but I do think Wisconsin is the team to beat."
Clutch – Athletic Director – Boise: "Their defense is for sure. Offensively they are a bit more one-dimensional than I would like to see. But I think I gotta go with Texas or Bama as the best Wisconsin 3/4 probably at the moment."
TattedGriffin – Athletic Director – Iowa: "Honestly, I would say yes. Their defense is INSANE! I mean, they held us to -1 yards overall! And don't get me started on their run game! Jones has all my praise as the BEST dual-threat QB I've ever had the pleasure to watch! I think if you give them a rematch with Alabama again, they win it!"
Drew Brandt – Elite DE – Notre Dame: "They aren't number one because they haven't beat Notre Dame or Michigan. Just because you beat one good team, in Texas, doesn't mean you're #1. They play the bottom 5 teams in the big 10 and lost to the former #1 Alabama."
Wookie – Athletic Director – Notre Dame – "I would have Wisconsin at one yes."
---
Have a story idea? Have some insider information? Send me a message on Discord!