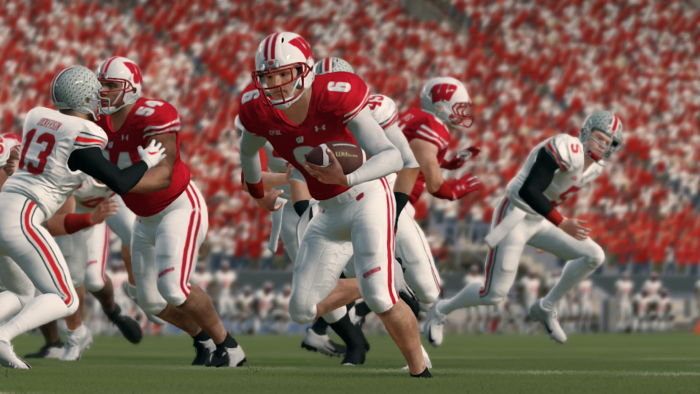 This Week in the BIG 10
Upcoming Games:

Washington (3-3) vs Notre Dame (5-1)

With Florida State's loss there is a very real chance Notre Dame enters this game #1 in the country. If the test wasn't already too big for Washington, that puts an exclamation point on how big this game is for them. Washington should be in the Top 15 as well, but obviously this season hasn't gone quite as EJRuiz has wanted. If Washington, like I've said earlier this season, limits turnovers and plays consistently on offense, they have a shot here. If Nick Hopper and the Notre Dame defense play like they have since their season opening loss to FSU? This could get ugly quick.
Oregon (3-3) vs Wisconsin (5-1)

Both Oregon and Washington are in similar spots. Both teams are 3-3 and have big tests against 5-1 powers. But that is just surface level stuff. Oregon is not as inconsistent as Washington. And Wisconsin has not played quite to the level Notre Dame has. Still, Wisconsin has improved as the season has gone on, and considering a loss could mean Wisconsin is out of the playoffs, this might be the game to watch for the conference this week. Oregon also has a must win here to remain in contention, and not that it should be hard for Ducks fan, they need to cheer for Washington to lose right before their game as well. With both of these games Tuesday on Twitch, the Big 10 collectively is going to be the conference to watch in prime time this week.
Boise State (3-3) vs Michigan (5-1)
The third 5-1 Big 10 team, Michigan is in a bit of weird spot. They almost certainly are in position to make the Playoffs as a Wild Card if the season ended today, but with the big loss earlier this season to Notre Dame and the fact they don't play Wisconsin, Michigan can't jump into one of the two guaranteed spots in the conference without Notre Dame or Wisconsin losing. And again, even if Notre Dame were to lose, they still have the head to head win. This puts the Wolverines in a weird spot where they have to win out for Wild Card positioning. If they can get past a quality Boise State team that is probably now looking at PIT positioning, they'll remain a top Wild Card going into their matchup with Ohio State to finish the season next week.
Iowa (1-5) vs Ohio State (0-6)
Yes, obviously both teams have not had anywhere the seasons they have wanted and this game won't impact the playoffs. But don't sleep on this game for a minute. Iowa has Justin Morris Jr looking for some consistency and now get an opponent that has given up more points (222) than any other team in the Big 10. Ohio State has also played much better competition close to the point of being on upset alert at least twice already this season late into the 3rd and 4th quarters. This is the best chance the Buckeyes will get for a win this season, so you know they will be motivated not to go into rivalry week with Michigan 0-7.
Offensive Highlight
Richard Fountain – HB Wisconsin – 25 car, 196 yards, 3 TDs, 4 rec, 9 yards
Fountain has been arguably the best runningback in the Big 10 this season, powering once again a run-first offense that Wisconsin has become known for. Still, this was a performance to remember against Ohio State, and it helps give Wisconsin momentum as they enter the home stretch.
Defensive Highlight
Alexander Wilson – DE Boise State – 8 tackles, 5 TFLs, 2 sacks
While he didn't get a Defensive Player of the Week Nomination, Wilson still was efficient as usual this week against Oregon in their loss. While the team wanted a better result for sure, Wilson has firmly established himself as a top tier defensive end in the CFSL, among the likes of names such as Porter and Frost. Sitting 2nd in both TFLs and Sacks at the moment in the league as a whole, Wilson might already have the Boise State Team MVP award locked up.
Upset Pick
Last time, I picked Ohio State and unfortunately while the Buckeyes played Washington close that week, they couldn't pull the upset. I would pick them again, but Ohio State still needs to put a complete defensive performance together before I can. Thus, my pick instead for the upset will go to Oregon. The Ducks have to win to stay alive in the Playoff race, and Wisconsin's defense still has question marks. Still, with Oregon already having given up over 200 points on defense, this should be a wild, high scoring affair on Tuesday.