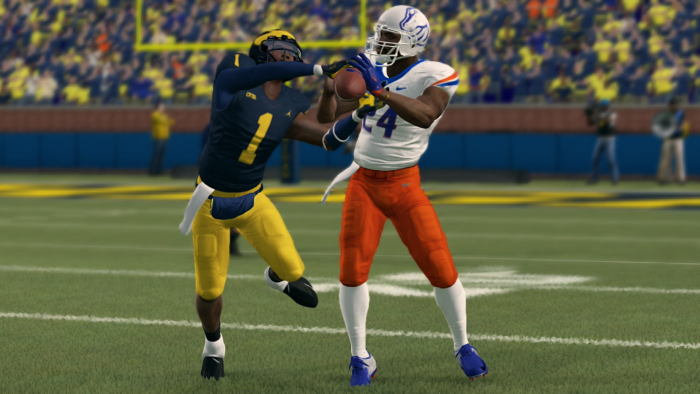 This Week in the BIG 10
Upcoming Games:
Notre Dame (5-2) vs Wisconsin (5-2)

The first of two headliner games this week not just for the BIG 10, but for the CFSL. Michigan is 6-1 while both the Irish and Badgers are 5-2 and 4-1 in conference. If Michigan loses, the winner of this game wins the BIG 10. If Michigan wins, the winner of this game is guaranteed a spot in the playoffs. I don't think Notre Dame is at risk of not making the playoffs as at least a wildcard if they lose, but Wisconsin is absolutely at risk of missing if they lose this game. There is a reason we start the week with this game, so make sure to tune in!

Washington (4-3) vs Oregon (4-3)

While it would be fun, I don't think either of these teams realistically contend for a playoff spot. Oregon's loss to Florida likely will be the decider if they win this game, and for Washington their loss to Oklahoma State will also likely be the tiebreaker. Thus, this game instead is likely the decider of who gets the #1 or #2 spot in the PIT. In addition, the rivalry itself is always a blast, with both teams playing to be kings of the Pacific Northwest!
Boise State (3-4) vs Iowa (1-6)
For Boise State, the stakes are simple. Win, you not only are in the PIT, but probably in a good spot too. Lose, and there is a chance you miss the PIT entirely, or otherwise might get a team like an Oklahoma State or Kentucky who just missed the playoffs and are now mad as heck. For Iowa, this is a huge opportunity for them on two fronts. The first, for themselves, is to get their first conference win after going 0-5 so far. The second is that with a win, they can play spoiler as mentioned to Boise State and likely escape last place in the BIG 10.
Michigan (6-1) vs Ohio State (1-6)

I'm going to paraphrase David Ware from the Pro League broadcast Sunday. If you are a Michigan fan, this is the biggest game of the last 10 seasons for you. Michigan has gone 4-1 over the last 5 editions of the game, but that is on the backdrop of a team that hasn't finished a season over .500 since Season 4. If Michigan wins, it is their first ever BIG 10 title and first playoff berth in over 10 seasons. If they lose, they likely miss the playoffs entirely and give their rivals the best recruiting story going into a crucial offseason for the team. Ohio State has not had a good season by almost any means, but they won last week against Iowa. Put simply, Ohio State will have one of the biggest upsets in CFSL history if they can pull it off against Michigan.
Offensive Highlight
Cairo Croft – QB Washington – 45-61, 503 yards, 2 TDs, 7 carries, 4 rushing yards
Croft has had an up and down season, but the Season 13 Offensive Player of the Year winner proved he still has some spunk in a big win in South Bend. Washington has a lot to play for if they get a good seed in the PIT, and while I don't know if the voters will give Croft another OPOY chance, he certainly has earned some more accolades to his name with his play late this season.
Defensive Highlight
Semi Dosunmu – CB Michigan – 4 tackles, 1 TFL, 1 Sack, 1 INT, 1 PD, 1 Pick 6
Dosunmu is a name I know well, but unless you follow Michigan he might've gone under the radar for you. Well, not anymore. Dosunmu's performance against Boise earned him a Player of the Week nomination for defense and I'd guess he has a decent chance of winning it too. Michigan has done well on both sides of the ball this season, and their defense is one of the more underrated in the CFSL thanks to contributions from guys like Dosunmu. He earned my praise this week.
Upset Pick
I'm 1 for 2 on these after Oregon upset Wisconsin last week. I'm tempted to pick Oregon again here, but I don't know if they'll actually call them an underdog at the time of this writing considering how close they match up with Washington. Thus, my "real" choices for underdog are Iowa and Ohio State. I'm going to go with Ohio State this week, for the second time in the 3 blogs I've written this season. Their win against Iowa showed what I've said all year that they have talent. And with a motivated squad going into The Game, the Buckeyes might just be able to put together the upset of the season at home for Senior Night.