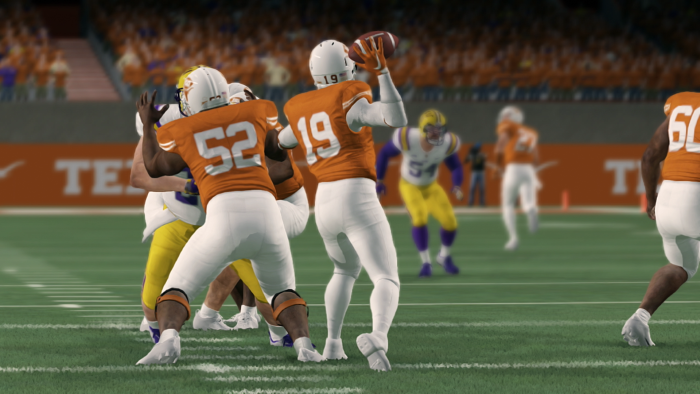 PRIME CUT – TEXAS PART 2
By: Matt Ousley
(PositivelyPrime#6714 on Discord)
After sitting down with AD Jooby from Texas I thought it would be a great idea to catch up with one of the top CFSL Quarterbacks Kai Kohko. Kai is currently enjoying a wonderful season under center. He is top five overall in QBR, Completion Percentage, Interceptions Thrown, and is the 19th ranked halfback in the league! While most quarterbacks can scramble out of danger, Kai can take off like a bullet and be gone.
---
Prime: This is your junior year officially, how would you grade your career so far?
Kai: "Quarterback in this league can be pretty nerve-racking. I've been lucky enough to have great supporting casts at Mizzou & Texas to make me look good."
Prime: How would you grade this season?
Kai: "Incomplete, we all know we can play better, and we still have unfinished business."
Prime: What is something that you want to improve on to end the regular season?
Kai: "Jooby and I just want our locker room to get the recognition and wins they deserve."
Prime: What are your favorite things about being on this Longhorns squad?
Kai: "It feels like a home, it has since day one. Winning streaks, losing streaks, it's never changed the emotional mentality of our players."
Prime: What is your favorite thing about being a featured Quarterback?
Kai: "People having to deal with my raccoon gif spam in discord, hoho"
Prime: What has been your most memorable win?
Kai: "I'm really hoping this "win" hasn't taken place yet. I can't honestly answer this because, every block, every forced fumble, every game brings a different player to mind."
Prime: What has been your most heartbreaking loss?
Kai: "Losing in the national and wishing there was something more you could do always hurts."
Prime: You are among the top echelon of offensive players in the CFSL this season. What do you think it is that sets you apart?
Kai: "You try to build yourself as differently as possible, build yourself in ways others can't see, that only gets you so far. I am 0 without my team and coaches. Being able to express and draw in like-minded individuals is the only thing I want to stand out."
Prime: You are among the league leaders in several categories. How important is it to you, to be accurate and to limit your mistakes?
Kai: "Insert generic 'it's all about the win' but if I can throw a few ints on screenplays to give Jooby a heart attack, I'm all in for Pick City."
Prime: You put up 562 passing yards, 4 passing touchdowns, 90 rushing yards, and a rushing TD against LSU this season. What made that game different and allowed you to have such a defining game?
Kai: "Utilization by Jooby and I (mostly me) to get all our receivers involved in that game. Our defense will always give us field position, it's up to us to do the rest.'
Prime: What do you think has been the key to your continued success at QB?
Kai: "Making sure everyone in that locker room has a good time no matter what happens."
Prime: What do you think are two or three of the most overlooked attributes for quarterbacks?
Kai: "Oh tin foil hat time! Man, I wish I had more jump, I've seen some crazy cross-body throws come off high jump and strength combos. I require more trash for more info."
Prime: Texas is the last team that is unbeaten in conference play. How important is it to you, to stay so going into the playoffs? (This was asked before last week's loss)
Kai: "No win is automatic in this league. Getting from season opener to championship win matters to us much more."
Prime: Is it CFSL Championship or Bust this season?
Kai: "I mean when you put it like that, oof that is a really hard choice -_- "
Prime: What would it mean to you to be selected as an All-American?
Kai: "I always appreciate any outside recognition, but I would be much happier to see my receivers on that vote."
Prime: You are obviously being mentioned for Offensive Player of the Year. What would it mean to win that award?
Kai: "That's a hard one. There are so many people in this league doing crazy things on offense this season. Lacey averaging over 500 per game, Sammons averaging 150 rushing per game, and still maintaining 5.6 ypc. Let's not forget the pancake guys Moss & Meyers."
Prime: What are you looking forward to in the future seasons in the CFSL?
Kai: "This league continues to grow with every season, and with that better competition comes along. I can't wait to see how we make each other excel year after year. Oh, and posting more raccoon gifs of course."
---
Have a story idea? Have some insider information? Send me a message on Discord!