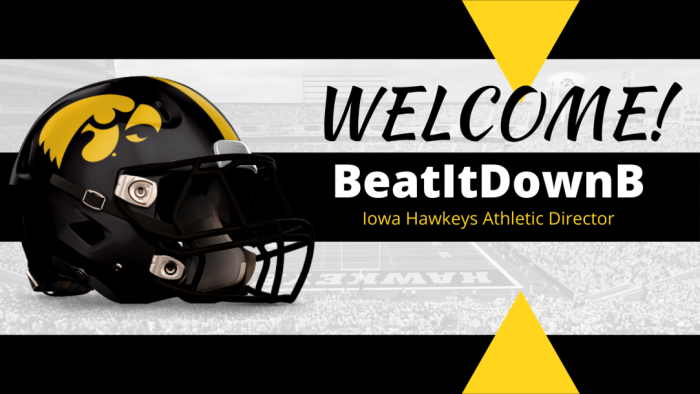 The past couple of days I sat down with the newest members of the AD class of season 15. We caught up with Brandon V, aka Beatitdownb, the newest AD of Iowa.
Congrats on your new school and becoming an AD! What are you most excited about going into season 15 in the CFSL?
Thanks! I think I'm pretty much excited about every aspect of it, but if I had to choose just one, I'm beyond excited to have the opportunity to breathe new life into what's been a hurting Hawkeyes squad (no offense Tatted). I have big things in store, and I'm really hoping we can come out the gate hot!
How did you get to this point? Can you talk about your coaching history or your experience?
I've been in this league since the off-season before season 10, and in my time I've been through the MAC, and I've had the opportunity to play behind three fantastic AD's in Clutch, leej, and most recently Houston. Before this season I had really only done defensive things, but this season Houston has really taken me under his wing and taught me things that I never even knew were a part of coaching. He's been a great teacher, and after my season under him I really felt confident and comfortable in taking a jump ahead and getting my own squad!
What are somethings you want the CFSL to know about what you are bringing to your program?
There are a lot of big things in store for Iowa, but I've got some secrets I can't share! What I can say for certain, is I'm bringing in a lot of heart and determination, and I'm ready to show that I've got what it takes to compete in this league!
What are some fun facts about yourself?
I'm a pretty average guy, but I've been to both Brazil and Hong Kong, and I've lived in Japan for a year! On top of that, I've worked 911 dispatch for a couple years, so I've heard a lot of things you wouldn't even think of in your wildest dreams!
What team are you looking forward the most to playing? The least?
I really look forward to getting to play my old teammates and staff at Wisconsin. They've been a dominant team for some time now, and they'll really give me an opportunity to showcase my elite game planning. I'm anxious to see if I can use what they've taught me to compete with teams of their caliber from the jump!
I wouldn't say there's any teams that I don't look forward to playing with but if I had to choose one, I'm going to go with Ohio State (sorry JeffMel). Growing up in the Midwest I've developed a passionate hatred for the Buckeyes, and even saying their name leaves a sour taste in my mouth. Hopefully I can get some revenge for all the heartbreak they've caused me over the years.
Who has been your role model in the CFSL?
Coach Houston (OKST) by far. He's become a really great friend, and I've seen his success throughout the seasons and I can honestly say if I wouldn't have played behind him this season then I wouldn't have been having this convo with you right now. I owe it all to him, he really is an all around fantastic dude.
Any bold predictions for next season?
I think we'll see Alabama and Notre Dame take a good step back, and see some of this seasons re-build teams like Miami, and some of the newer teams and AD's take a HUGE step forward! After seeing the competition this season, I think it's only going to get way more competitive from here.