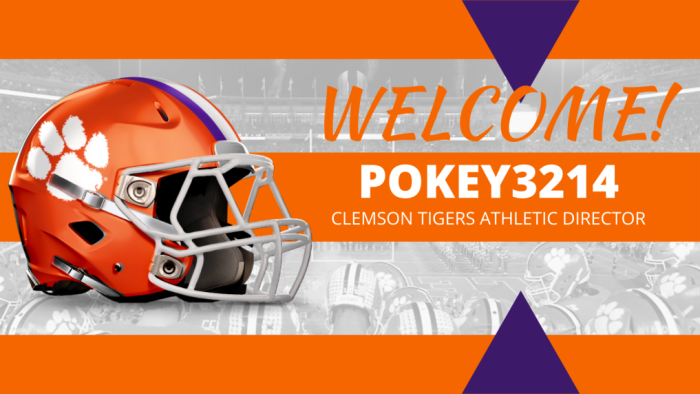 The past couple of days I sat down with the newest members of the AD class of season 15. First up, Caleb Ward, aka, Pokey3214.
Congrats on your new school and becoming an AD! What are you most excited about going into season 15 in the CFSL?
I'm most excited to see the ACC be brought into the league. A great group of veteran ADs mixed with us new ADs will make for some exciting CFSL action.
How did you get to this point? Can you talk about your coaching history or your experience?
I've spent the last two seasons on the Kentucky staff helping 14RDavis get this program started. It's been exciting helping him build a contender from the ground up.
What are somethings you want the CFSL to know about what you are bringing to your program?
I want the CFSL to know that I'm bringing the blue collar work ethic to Clemson. I'm looking forward to taking this program from where it's at now to even bigger heights and to competing for ACC titles and National titles.
What are some fun facts about yourself?
Die Hard Tiger fan I bleed Orange and Purple. The players we bring in to Clemson will know that I'm passionate and only want the best for Clemson.
What team are you looking forward the most to playing? The least?
Really looking forward to playing UNC/Pitt just to see how us new ADs stack up against each other. The least I'd have to say is ND and FSU just because of the experience of Wookie and Grin but I look forward to the challenge of competing with and possibly beating them.
Who has been your role model in the CFSL?
I can't say it enough but 14RDavis has been and will continue to be! I don't know where I'd be if it wasn't for him I truly look forward to being the 1st Branch off the Davis AD tree. Also huge shoutout to Vennom and Frosty if not for playing under them at Oregon I doubt I'd have got the itch to become an AD.
Any bold predictions for next season?
Way To early for a bold prediction but I will say…"The Best is Yet to Come! Go Tigers!!!"