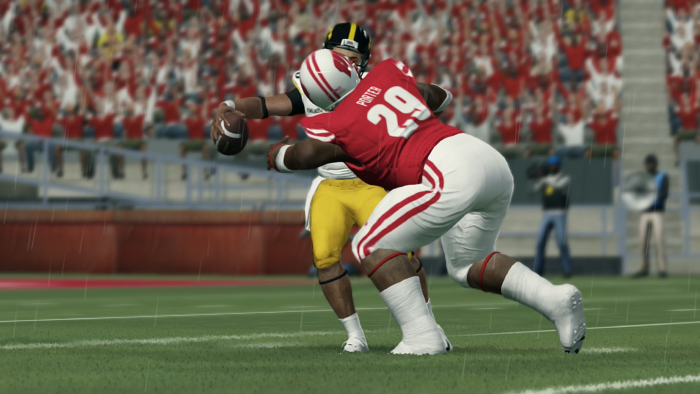 "Offense wins games, but defense wins championships." We've all heard that saying a million times. Tonight, we are going to see two of the best defenses in the CFSL put it all on the line, but only one of them will be crowned champions. Wisconsin has the best defense in the league, giving up under 15 points per game. Will that be enough to stop an FSU offense that averages over 45 points per game? We are going to find out.
All that said, there is a bigger story here. Isaac Frost and Iman Porter are arguably the best defensive tackles to ever play in the league. Between the two of them, they have mustered up 143 tackles, 100 TFL, 59 sacks, and 8 FF this season alone. They've been wreaking havoc on offensive lines all season long, and no one has been able to stop them. So, while they will not be going head-to-head tonight on the field, their teams will be relying heavily on each of them to set the tone in this championship game.
Let's first take a look at Porter. The 6'5", 350 pound junior has been huge for a Wisconsin team who has had one of the best defenses in the league since his arrival. He has now led them to back-to-back Big 10 conference titles, and has them on the cusp of lifting the team's first National Championship. This season he has 69 tackles, 50 TFL(T-1 in CFSL), and 29 sacks (2nd in CFSL) Pair that with his 5 FF (2nd in CFSL) and 1 FR, and you can start to see why he has been so important to the Badgers' defense. He is already the school's career leader in every major category, including tackles, and he still has another season (if he so chooses) to play.
Now, we go to Isaac Frost. He heads into his final game as a Seminole leading the school in almost all major statistical categories tied to his position. He leads the CFSL this season in sacks (30), and is tied with Porter for the lead in TFL (50). Add his 3 FF and 74 tackles into the mix, and you can see why people in Tallahassee are claiming he is the best to ever play the position. The big question is this; will he be able to get the one thing that has eluded him since he came to FSU? Many questioned his thought process when transferring from an Oregon Ducks team that had just won a championship. He set his eyes on winning a title with FSU, and could very well do so tonight.
There is a mutual respect between these two. Both acknowledge the greatness that exists on the other sideline.
When looking at these two monsters, it's clear that they have done their part in leading their respective teams to the championship game. The funny thing with sports though is only one can win. Will this game end the debate for best DT in CFSL history? Only time will tell, but I have a feeling we will be arguing about this one for a long time.
"I would say it's been more than just this season. Iman has been pushing me for the last 3 seasons to be the best player I can. It's been an honor competing for all the accolades and records with Porter over the last few seasons and it only feels right that we face off in the final game of my career." – Isaac Frost