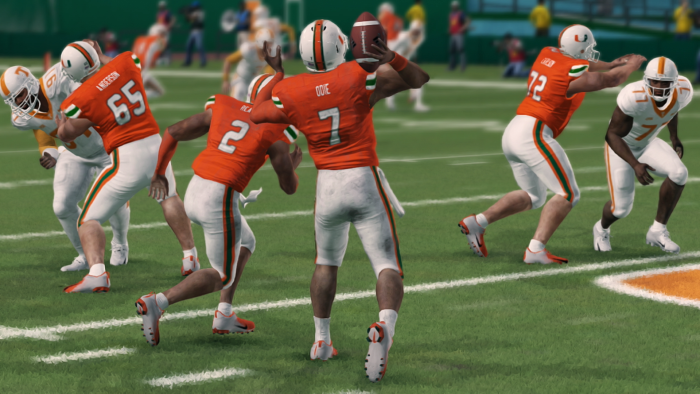 As we reflect on the past season and anxiously await season 15, lets have some fun and review position by position and see who the best was statistically. Sure, we have the All-Americans, but that does not always tell the whole story. We are going to dive into the stats and see who performed the best. First stop on this journey will be the most important spot on the offensive side of the ball, as we look at what QB1 performed and produced the most for their team in season 14. With the quarterback spot it is important to give the different style quarterbacks their due justice, so we have ranked quarterbacks based on pocket passing, scrambling, and overall rank. Using a weighted formula for each statistic, an average rating for each player has been established. The passing statistics were used for the pocket passer, while the running statistics were used for the scrambling quarterbacks. Let's dive into the top quarterbacks of season 14.
Pocket Passer
Senior Miami quarterback DaShawn Odie may come as a surprise as the top pocket passing quarterback knowing he only threw for 2,174 yards, but it was his efficiency that paved the way for him to have the highest rating in all passing categories. He completed 70.7% of his passes and averaged 7.9 yards per attempt. I know it still may not seem clear how a quarterback with the second lowest amount of passing yards is number one, but there is data to support it! Odie's efficiency was through the roof last season as not only was his passing percentage high, but his touchdown to interception ratio was almost three times higher than Rocko Lacey who had second highest at 3.9 to 1. Odie had an unbelievable 10.5 to 1 ratio as he threw 21 touchdowns and only two interceptions all season. His also had the fifth highest passing rating in the league last season at 160.5.
Scrambler
The top scrambling quarterback doesn't have any real surprise to it like the pocket passing quarterback did. All Wisconsin quarterback DeAnthony Jones did was rush the ball for 371 yards more than any other quarterback and added six touchdowns to it. While the touchdowns were not the most for the quarterback position, his eight carries for over 20 yards and 35 broken tackles were both tops for all quarterbacks. He ran like a freight train through anyone that got in his way. As a quarterback he averaged 78.8 rushing yards per game and only fumbled one time in 224 carries.
Overall Top Quarterback
Several quarterbacks deserve to have their name in the conversation for the top quarterback of season 14, but who takes home the crown. We know that Florida State quarterback Jim Carr was selected as the all-American, but his combined passing and running rating has him ranked sixth in the league, so we will see someone different wearing the crown. Rocko Lacey, Kai Kohko, and Ryan Smith all had phenomenal stats and were in the top six of the league, but the top quarterback for season 14 was none other than DaShawn Odie. The Miami Hurricanes quarterback had great efficiency as was already mentioned, but he was also very quick on his feet as he added 480 rushing yards and four touchdowns to his season total. Odie ranked third in rushing yards amongst his fellow quarterbacks. When it comes to the impact that Odie had for his Hurricanes, he helped the team improve from a 1-7 record in season 13 to an improved 3-5 this past season. To take it a step further Miami was only -12 in point differential, even with the losing record. Congratulations to the top quarterback of Season 14 DaShawn Odie, it will be fun to see if Odie hears his name called when the pro-league draft comes up.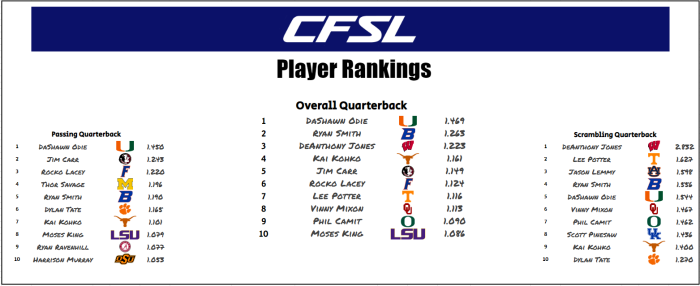 All statistics are pulled from the CFSL website and then formulated to determine ranking for each player. You can see all of the stats and weighted rankings here.
https://docs.google.com/spreadsheets/d/1I0thkx0V1Gyuo0JHSH9DBa6f1lNnBPCs_5I6XH6q1c0/edit#gid=0
More position rankings will be following in the next couple weeks, make sure you keep an eye out to see if your player was one of the top in their position. Running backs will be the next position ranked, who will be number one?