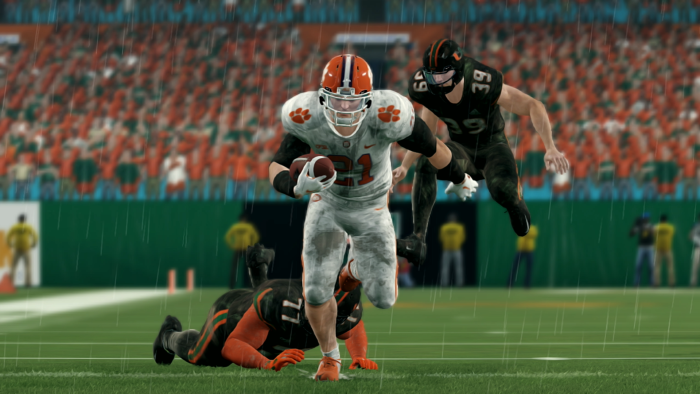 Its time to review the top-rated running backs from season 14. The league only had 13 of 24 teams with a running back that averaged over 50 yards a game as the defenses across the CFSL were locked in to stopping the run. With that being said let's look at the stats and breakdown the running backs and find out who ranked where. We saw 15 running backs with more than 500 yards last season, but only 10 of those had over 600 yards. Four funning backs had at least 900 yards and three of those had 1,000 yards on the season. Duane Sammons, Jerry Filbin, and Richard Fountain all accomplished 1,000 yards and Fountain was the only one of those who played more than 9 games. When it comes to yards per carry there were 13 backs that had at least 50 carries and averaged at least 4.0 yards per carry, with four of those averaging over 5.0.
The CFSL only saw one running back have double digits in touchdowns and that was Missouri running back Axel Riggs, who had 11 rushing touchdowns on the season while the league average for a running back was (3.2) rushing touchdowns. Another interesting fact is the league saw five running backs with five or more rushes for 20 yards, which is a testament to how well opposing defenses have played against the run. One very interesting stat is that no running back had more than two fumbles, but several had none.
At this point I bet everyone wants to know who the top running backs are for season 14 so let's reveal them now
Duanne Sammons (Clemson)
I don't think it is much of a shock that he is the number one running back in the CFSL last year was the Clemson running back Duanne Sammons, as he led the league in rushes and yards. The All-American was the only running back that had over 200 carries and he made the most of them while pounding out 1,284 yards and five touchdowns. Out of the backs with at least 50 carries he also led the league in yards per carry with 5.8 yards. Not only did he run a lot, but he made a point to have big runs as he tied for third with rushes over 20 yards as he had six. One of the most impressive stats about Sammons season is that not only did he lead league in rushes and yards, but he did not have a single fumble all season. His ability to take care of the ball was extremely impressive. Sammons was a beast week in and week out as he only had two games in which he did not break 100 yards, and he also threw in two games in which he broke 200 yards. No questions asked, Notre Dame struck gold with the transfer of Sammons this off-season. It will be fun to see what he does at Notre Dame.
Jerry Filbin (West Virginia)
West Virginia RUNNING BACK Jerry Filbin had a monster year himself as he rushed for 1,083 yards and had 9 rushing touchdowns to go with it. His 195 rushes were good for third in the league behind only Sammons and Joey Zaza from Oklahoma. Filbin was able to take care of the ball as he had zero fumbles in those 195 carries, and he was second in yards per carry at 5.6. The monster season for Filbin earned him an All-American selection and it was well deserved. During week six West Virginia traveled to Missouri and Filbin carried the ball 33 times for 287 yards, 3 touchdowns, four carries over 20 yards, and nine broken tackles. That game alone was better 17 other running back's entire season, and I would say that is impressive. Filbin has also been very active in the passing game, as he had 66 receptions last year and is the school's all-time leader in receptions with 123. The dual threat back has had a great career and will be looking to end his college career with a bang.
Axel Riggs (Missouri)
While Riggs did not break the 1,000-yard mark last season, he had one of the best productive seasons of all running backs last year. His 11 touchdowns that were previously mentioned led the league, and he also averaged 4.6 yards per carry. Any team that has a running back averaging 4.6 yards per carry is going to have a lot of success on offense. Riggs worked hard to get his 818 rushing yards, as he led the league with 38 broken tackles. Riggs was an example of the old saying "keep your feet moving", as he constantly found a way to get a few extra yards. Riggs also had two different games this season where he rushed for three rushing touchdowns in one game. In the three season's that Missouri has been in the league Riggs is second all-time in rushing yards and tied for the most rushing touchdowns. I am sure any running back that plays for Riggs, will constantly be looking to meet the standard he set.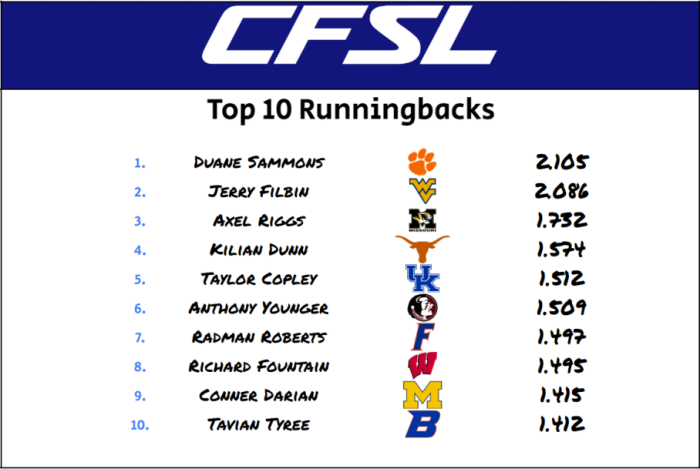 I hope you are enjoying these season 14 positional rankings, as well will continue to look at offense next. We will dive into the land of the wide receivers and see who the best wide receiver in the league was truly. Don't forget to look at the statistics to see where and why each player is ranked where they are, as none of these rankings are opinion based. This is entirely stat based on a weighted formula by position.