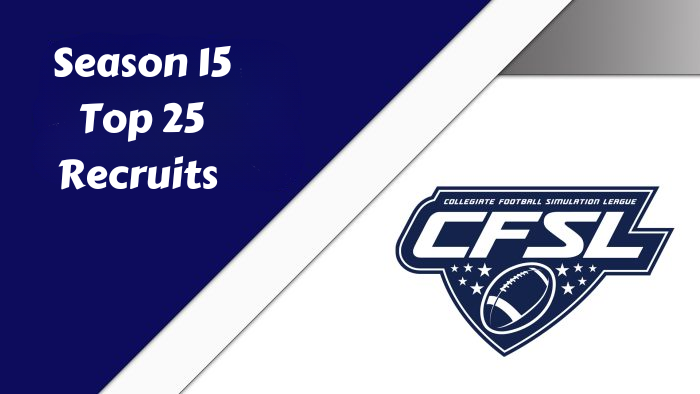 The CFSL Recruiting Service has released its updated Top 25 Recruits list and there has been a lot of movement since the first list a few weeks ago. Ten new names make the list, including two in the top five. Let's take a look at exactly what changed.
#25 Tymundus Bell
OLB | Wagon Mound, NM | Oklahoma State
Previously rank: 14
Tymundus Bell took a considerable fall from his first appearance thanks to some concerns stemming from an off-the-field issue during his junior year of high school. His talent was too impressive to fall off the list completely, however, and he will stay on at 25.
#24 Derrick Power
QB | Dallas, TX | Oklahoma
Previously rank: 10
Derrick Power is another player that saw a steep fall in the updated rankings. Powers, who has never lost a game so far in his career, might be the most surprising change to the list.
#23 Thomas Schultz
OLB | Saginaw, MI | Illinois
Previously rank: NR
The first of the ten new faces on the list, Thomas Schultz has impressed and has skyrocketed up rankings. The high-energy linebacker debuts at 23.
#22 Troy William
MLB | Solon, IA | Wisconsin
Previously rank: NR
Like Schultz, William is a player that has fired up recruit rankings as of late. In fact, he was listed as a three-star recruit until recently. The future is bright for the newest Badger.
#21 Juni Brown
FB | Hilo, HI | Florida State
Previously rank: 21
The 'Island Train' is one of very few that held the same position in the recruit rankings. The former rugby star joins the reigning champs in hopes of a repeat performance.
#20 Dylan Shumate
QB | Wilkesboro, NC | Illinois
Previously rank: 9
Despite winning a second consecutive state title, Shumate dropped eleven spots. The Illini should still be happy in the gem they found in North Carolina.
#19 Clay Allen
HB | Jacksonville, FL | UNC
Previously rank: NR
Winning the Gatorade Player of the Year Award in Florida might have been the push that Allen needed to make his appearance on this list. The fleet-footed back should see plenty of action early on for the Tarheels.
#18 Ryan Cory Schultz
MLB | New York, NY | Iowa
Previously rank: 11
The rangy linebacker slipped seven spots in the rankings, but still finds a way to stay in the top 20. Word has it that he has been in Iowa City for months, preparing for his first season.
#17 Derek Eldridge
HB | Grangeville, ID | Oregon
Previously rank: NR
One of two Idaho natives to make the list, Eldridge has made quite a reputation for himself. The downhill runner is deceptively explosive and will have defenders making business decisions.
#16 William Tree
HB | Eugene, OR | Florida
Previously rank: NR
Many expected Tree to stay in Eugene, but the talented all-purpose back traveled nearly 3,000 miles to play in the Swamp.
#15 DJ Hanson
CB | Hamilton, OH | Florida State
Previously rank: NR
DJ is the younger brother of former Clemon wideout Jesse Hanson. Some believe DJ to be the more talented of the two. Florida State hopes that will be the case.
#14 Shaker Mayflower
QB | Pleasant Grove, AL | Florida
Previously rank: 7
Mayflower is yet another quarterback we have seen fall on this list. But the young signal-caller has a cannon of an arm and should impress at the next level.
#13 John Paul Smith
HB | Berwick, PA | WVU
Previously rank: NR
Pennslyvania's all-time leading rusher was a shocking omission from the first list. Now the 240 lb bruiser finds himself at 13.
#12 Ja Avery II
MLB | San Antonio, TX | Undecided
Previously rank: NR
One could make a strong argument to see Avery higher on this list. The 260 lb linebacker was an absolute disruptor at the highest level of high school football in Texas.
#11 Cece Range
QB | Nashville, TN | Iowa
Previously rank: 8
The strong-armed QB from the Music City did take a slight fall down the list, but that shouldn't worry anyone in Iowa City. The fourth-ranked QB in the nation will be ready to put on a show for the Hawkeye faithful.
#10 Israel Jordan Ward
DT | Lafayette, LA | LSU
Previously rank: 13
An LSU legacy that is also a record-setting football player and a four-time state champion wrestler? What's not to love? Ward jumps up a few spots on this list to find himself in the top ten.
#9 Shane Lloyd
DT | Burns Flat, OK | Oklahoma
Previously rank: 15
Powerful, driven, and loyal to his home state, Lloyd will be a nightmare for opposing offenses. The gap swallower got a nice bump in the updated rankings and the folks back in Burns Flat will tell you it was well earned.
#8 Blake Elder
HB | Atlanta, Georgia | Alabama
Previously rank: 6
The hardworking tailback did drop two spots, but he remains the top-rated running back in the class. He should make an immediate impact on Bama's offense.
#7 Loki Gunderson
QB | Savannah, Georgia | Clemson
Previously rank: 4
Loki Gunderson broke the hearts of many Georgians when he left the Peach State in favor of the Palmetto State. The Tiger faithful won't be happy to see Loki fall three spots, but those pains should evaporate quickly when Gunderson takes the field this fall.
#6 Mo Hart
DT | Mountain Home, Idaho | Boise State
Previously rank: 5
Mo Hart grew up less than an hour away from Boise State's campus thanks to his father's being stationed at Mountain Home Air Force Base. Boise State owes the Air Force a debt of gratitude. Don't take his one spot fall to be a sign of weakness. Hart is still one of the best recruits in the country.
#5 Maverick Rivers
MLB | Cincinnati, Ohio | Florida State
Previously rank: 2
The best linebacker in this class is one of the most interesting stories of recent memory. After using football as an escape from a rough childhood, Rivers has found himself a new home and Florida State and a spot in the top 5.
#4 Jrue Ward-Johnson
WR | Green Acres, SC | Clemson
Previously rank: 3
Jrue Ward-Johnson has been the highest-rated wideout of the season 15 class for as long as anyone can remember. And this is not by mistake. The gifted pass catcher is a natural athlete that likely could have played basketball or baseball at the college level. Clemson is happy he chose to stay on the gridiron.
#3 Balor Blaise Dale
DT | Dublin, Ireland | Notre Dame
Previously rank: NR
The only foreign-born recruit to make this year's top 25 sailed to the top of the list the second the CFSL recruiting service laid eyes on him. Plus, who doesn't love the fairytale-like story of the Irish kid finding his way to Notre Dame?
#2 Ryan Moreland
QB | Parkersburg, WV | Oklahoma State
Previously rank: NR
The second formerly unranked player to jump into the top five, Moreland feels like he came from nowhere. A four-sport athlete in high school, Moreland is a gifted runner and can make defensives pay through the air or on the ground.
#1 Tonio McDaniel
QB | Orangeburg, SC | Washington
Previously rank: 1
The king holds on to his crown. The 6'5", 265 lbs gunslinger may not look like the typical gunslinger, but his big arm and powerful running ability are a combo that had recruiters salivating. Eat your heart out, Cam Newton.