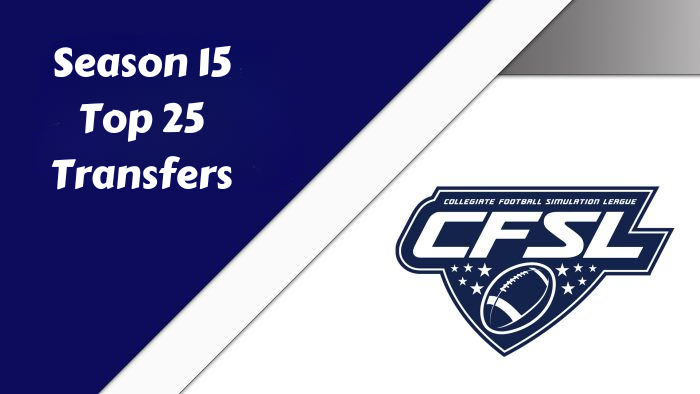 There are few things that remain constant in college football. Fans love an upset, the cream will always rise to the top, and the transfer portal will keep getting crazier. This offseason has been no exception. The nation's best running back, a shutdown freshman cornerback, and a linebacker with over 200 career tackles all entered the portal. And they are just a few of the talented names that grace this list. Meet your Season 15 Top 25 Transfers.
#25 Matt Carpenter
SS | Former Team: Oregon | New Team: Florida State
After one lackluster season with Texas Tech, Carpenter left for Oregon where he had two solid seasons. He is now headed to Florida State for his final season in the CFSL.
#24 Jackson Tate
SS | Former Team: Auburn | New Team: UNC
Tate followed a stellar freshman campaign with a less than stellar second season. The drop in playing time could be why Tate is now a Tarheel.
#23 Dante Bonilla
DE | Former Team: Boise State | New Team: Iowa
Bonilla was a one-man wrecking crew last season. His 15 sacks and 18 tackles for loss have Hawkeye fans salivating.
#22 Alden Forrester
DE | Former Team: Oklahoma State | New Team: Miami
Forrester only spent one season in Stillwater, albeit a productive one. Time will tell if he can build on that level of production with the Hurricanes.
#21 Trey Woodard
CB | Former Team: Ohio State | New Team: LSU
Some may be surprised to find Woodard's name on this list, but the truth is the guy has a mountain of potential. The Bayou Bengals seem like a perfect fit for a future star.
#20 Les McAdoo
DE | Former Team: Mizzou | New Team: Oklahoma State
Big number 99 had 16 sacks last season and he will surely add to that as he moves to a talented Oklahoma State pass rush.
#19 JJ Smoke
CB | Former Team: LSU | New Team: Washington
Smoke had an impressive freshman year with LSU, getting 3 interceptions and defending 10 passes. He heads to Washington to join an up-and-coming Huskie team.
#18 Leo Guerrero
SS | Former Team: Notre Dame | New Team: Wisconsin
Guerrero won a championship with Notre Dame his freshman year. After losing in the championship game last season, could Guerrero's championship experience push them over the top?
#17 Max Capone
CB | Former Team: Texas | New Team: Oklahoma State
Capone proved to be a jack of all trades at Texas. He proved himself capable in coverage and had four tackles for loss against the running game. He will try to replicate that at Oklahoma State.
#16 Lincoln Griffin
CB | Former Team: Iowa | New Team: Michigan
Much like Capone, Griffin was able to make a difference in the run game while having an impressive showing in coverage. He will stay in the Big 10, but will likely head to the north end of the standings.
#15 Hugo Swanson
TE | Former Team: LSU | New Team: Oklahoma
The only tight end to make our list definitely earned his position. The 6'6" Junior has the skills to be a serious red zone threat with Oklahoma. Big 12, you've been warned.
#14 Benny Beukeboom
FB | Former Team: Florida State | New Team: Oklahoma
Full backs don't get nearly enough love, so here's to you, Benny. The mauler had 13 pancakes last year and is now headed to his third team in as many seasons.
#13 Griff Martin
MLB | Former Team: Iowa | New Team: LSU
Hawkeye fans were sad to see such a talented freshman leave after just one season, but LSU is welcoming him with open arms. Martin is sure to be a presence on what looks to be a powerful Tiger defense.
#12 Garrett Warner
CB/WR | Former Team: Boise State | New Team: Iowa
Warner had a stellar freshman year hauling in five ints and adding 172 receiving yards. He is part of a mass exodus of players leaving Boise State and heading to Iowa.
#11 Kareem Parker
WR | Former Team: Washington | New Team: Notre Dame
The speedster out of Michigan saw his production wain in his second year with the Huskies. Could this be the reason he is now in South Bend?
#10 Dawson Daniels
CB | Former Team: Boise State | New Team: Iowa
Daniels, who is coming off a red-hot freshman season, will join Warner and Bonilla as Boise State seems to lose its entire defense to Iowa.
#9 Andrew Fields
DT | Former Team: Clemson | New Team: Illinois
Fields spent three quality years in Clemson, including a junior campaign where he amassed ten tackles for loss. Now he is headed to the expansion Illini, who quietly had a great offseason.
#8 Dominik Flores
WR | Former Team: USC | New Team: UNC
You may have forgotten the name Dominik Flores. After all, we haven't seen him play since season 12. Let me refresh your memory. Flores is a big, physical pass catcher that is just as likely to lead the CFSL in pancake blocks as he is receiving yards.
#7 Elliot Griffin
WR | Former Team: Boise State | New Team: LSU
Yet another former Bronco has left, but this time not for Iowa City. Griffin had nine touchdown receptions and over 800 yards as a freshman and he might be a better fit in Baton Rouge. The future is bright for the newest Tiger.
#6 Charles Davis
DE | Former Team: Michigan | New Team: Tennessee
The fearsome pass rusher will be on his fourth team in as many years. But there is something that seems so perfect about Charles Davis playing in Tennessee…
#5 Kieran Ennis
HB | Former Team: Iowa | New Team: Nebraska
Kieran Ennis is the younger brother of former Buckeye and current Chicago Bear Brayden Ennis. It is for this reason that it was a shock to many when Kieran spurned Ohio State and chose Big 10 rival Iowa instead. Ennis saw just over 100 carries last year, but that was not enough by his estimation. "I wasn't used as much as an elite Runningback should be. Barely making it to 10 carries a game," he said as his reason for leaving.
And leave he did. Ennis saw greener pastures in Nebraska, or at least more carries, and decided to transfer. But the young tailback says there are hard feelings between him and his former coaching staff. "I left on my own volition and I don't intend to leave any bad blood behind me," he said.
Ennis is a speedy back that will make defenses pay if they allow him to get outside. Despite averaging 3.8 yards per carry in his time with Iowa, the back shows a lot of promise. If Nebraska is the land of carries that Ennis believes it to be, he should have no problem making a name for himself nationwide. Perhaps even hearing his name called during the post-season awards show.
#4 Charlie Pickett
CB | Former Team: Wisconsin | New Team: Michigan
Two years ago, Charlie Pickett left the blazing sun of Florida for the icy winters of Wisconsin. The weather never seemed a problem for the rangy corner. The appropriately named Pickett snagged five interceptions in his two years at Wisconsin. He also added four fumble recoveries, showing his impressive nose for the football. However, after his sophomore year, Pickett decided to leave Madison, saying he thought he could see more production elsewhere.
Pickett, thanks to some savvy recruiting from their AD, choose Michigan. "Vennom did a good job of telling me how he sees me fitting in with the team," he said. But it wasn't just the fit or production that pushed the ball hawk to Ann Arbor. "I also believe that Michigan gives me a good chance to win immediately."
He isn't wrong in that thinking. After a long playoff drought, Michigan found themselves back in, if only temporarily. But they have built up the roster in the offseason, with additions like Pickett, and have their sights set high for next season.
Pickett himself also has high hopes for season 15. The now-junior said, "I would like to be an All-American and win the Natty." It will not be easy, but a player with Pickett's eye for the ball will surely help them.
#3 Haikili Arroyo
MLB | Former Team: Notre Dame | New Team: Georgia
Haikili Arroyo had a winding road that brought him to Athens, GA. Arroyo was highly recruited out of high school. The athletic linebacker decided on Alabama. In three seasons with the Crimson Tide, Arroyo amassed 140 tackles, 30 coming at a loss, but is best known for his talent against the pass. After three seasons and one trip to the playoffs, Arroyo decided to enter the portal for the first time.
He ended up with the previous year's champion, Notre Dame. Arroyo put together his second career 60+ tackle season with the Irish, but the team faltered and a return to the playoffs did not happen. Arroyo decided to once again enter the transfer portal, and thus, the road brings ends in Georgia.
And the self-titled ball hawk couldn't be happier. " I just love the traditions like Glory, Glory, and playing Between the Hedges. There is nowhere like Georgia." The Georgia Bulldogs are one of the four teams that will join the CFSL this season. Four of our top 25 Transfers wound up at expansion schools, but Arroyo is the gem of that group. Expansion teams don't have the best of luck early on in the CFSL, but Arroyo could be just the kind of defensive leader to help the Bulldogs join the league with a bang.
#2 DJ Brooks
CB | Former Team: Washington | New Team: Kentucky
Eight corners graced this list, but none had made such a quick and immediate impact on the league as DJ Brooks has. In his only year with Washington, Brooks caught six interceptions, two of which ended with Brooks in the endzone. He was named an All-American as a freshman.
Even though Brooks was only there one season, he had built a close relationship with his AD. Then his beloved AD stepped down. "…with the sudden change I just felt I owed it to myself to explore my options and test the portal," Brooks said. He added that a return to Washington wasn't out of the question. But, ultimately, he chose Kentucky.
Brooks excitedly talked about how great the Kentucky staff is and how he saw it as a great fit for him. He added, "I think we legit have a championship contender here in Kentucky." And he may be right. Despite being a young team, Kentucky has made the playoffs in each of its two seasons in the CFSL. Adding a ball hawk with a nose for the endzone won't hurt their chances.
#1 Duane Sammons
HB | Former Team: Clemson | New Team: Notre Dame
Who else could it have been? One of the best players in the league decided to transfer and as soon as it was announced the league and its fans knew who would top this list. The mighty Duane Sammons is coming off his 3rd consecutive 1,000-yard season. The three-time All-American averages over five yards a carry in his career and averaged almost 150 yards a game last year. He holds the school record for attempts and yards. I, unfortunately, don't have enough space to list all his accomplishments, but you get the picture.
Despite being the best running back in the CFSL, Sammons is a very humble guy. When asked how it felt to be the highest-rated transfer he said, "The adulation and respect I've received from my peers had just been tremendous." He later added that he will always remember his time in Death Valley fondly. But now, he is a proud member of the Fighting Irish, which has many fearful for next season.
Despite an off-year last season, Notre Dame has won two of the last three National Championships. And they are hungry for a dynasty. The addition of Sammons to an already talented roster could be the push they need to make it three of four and Sammons knows this. "…as satisfying as the personal accolades can be, the only numero uno I've got in my mind is the one next to that fighting leprechaun in the standings when this whole shebang goes final." Good luck to anyone that lines up against Sammons and the Irish next season.