By: David Ware (@dw2b28)
The time has come again to rank the top players in each position from season 14! Let's look at the position most know for being a diva, the wide receivers. Last season there were 147 receivers in the league last season, so who were the top ones, well let's find out now. To rank the receivers, we had to find the average season stats across the board.  The average wideout had 30 catches for 410 yards with (3) touchdowns. The CFSL saw seven different wide receivers reach 1,000 yards on the season and 10 different players catch double digits in touchdowns. The league saw 12 players average more than 100 yards a game. Now that we know some of the league totals for accomplishments, let's dive into the top three wide receivers from season 14.
Vernon Mills (Florida State)
Vernon Mills led the CFSL in receiving yards during season 14 with 1,302 yards and had the second most touchdowns with 12. Not a real shocker to see Mills as the top WR as he was a playmaker all season long for the CFSL champions Florida State. Mills has had a great career as he has averaged 112.6 yards per game during his three seasons in the CFSL. Last year was a career for him in catches, yards, and touchdowns. He averaged 19.1 yards per catch during his junior season and had 21 pancakes as well. Two straight seasons with over 1,000 yards is impressive, will he be able to do it for a third straight season?
Bobby Barrett (Michigan)
The redshirt senior has continued to grow and develop throughout his career, and he had a career-high last season in his first season at Michigan. Barrett has seen his stats climb each season and almost broke the 1,000 mark in season 13, but he finally achieved the coveted 1,000-yard benchmark last season. His 53 catches for 1,1171 with the CFSL leading 13 touchdowns has him the second-best receiver in the league last year. Barrett averaged a whopping 130.1 yards per game and added in 33 pancakes on the season.
Matthew McCray (Boise State)
The CFSL league leader in receptions last season with 104 is one of three with more than 70 catches, but the only one with more than 87. The redshirt senior had a career year and was the third-best receiver in the league.  McCray's career high in catches prior to last season was only 49 with 801 yards. Matthew McCray hauled in (9) touchdowns which were tied for the team lead with Elliot Griffin. McCray rebounded after a rough junior season where he had just (9) catches for 152 yards. He returned to his sophomore form with over 100 yards a game and will look to keep up with that and lead Boise State. 
Honorable Mentions
Some other big-time wide receivers last year were Damien Butler of Missouri who had 1,206 yards and 11 touchdowns. Florida State WR Aaron Ike 1,173 yards with 11 touchdowns to help lead the Seminoles to the championship. The Florida Gators have two that had huge seasons as Zak Kelso and Fozzy Brown had 2,170 yards combined and 22 touchdowns to lead the Gators' offense. With season 15 right around the corner, it will be fun to see what guys set themselves apart from the rest.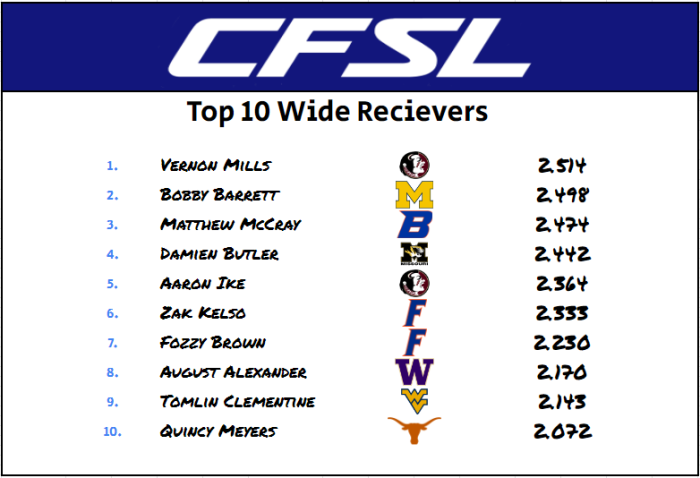 Don't forget to check out the statistics on the spreadsheet and see where all 147 receivers ranked.
https://docs.google.com/spreadsheets/d/1I0thkx0V1Gyuo0JHSH9DBa6f1lNnBPCs_5I6XH6q1c0/edit#gid=659050459
Special thanks to Ryan Moreland for helping with the data for this article.