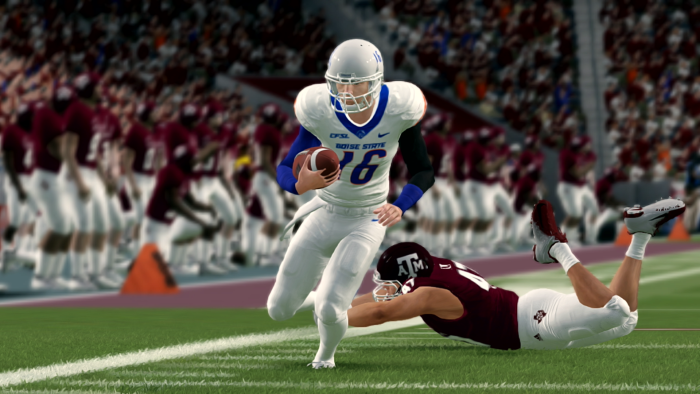 BY: Ryan Moreland (@ryanmoreland)

The season is now in full swing. All but one team in the Big XII played a conference opponent this week. We are starting to see the cream rise to the top. Without further ado, here is a look at last week's action.
Boise State (3-0)
Last season the talk around Boise State focused on how talented their defense was. While their defense is still impressive (ranked 9th in the league in points allowed) it is their offense that has been handling things this year. The Broncos have scored 40 or more and earned over 500 yards of total offense in every game this season. This week's victim was conference rival Texas A&M.
Quarterback Ryan Smith continued his amazing play this week. He threw for 421 yards while completing 91 percent of his passes. In facHispass attempt was his first incompletion. Smith also added four touchdown passes, two to senior Matthew McCray and two to freshman Cortez Largent. Those passing touchdowns bring his season total to 15, which is the best in the CFSL. McCray finished the game with a staggering 164 yards on 13 catches.
Defensively Boise played a sound game. They were able to force turnovers, thanks to interceptions by corners Demetrius Thomas and Aries Rodriguez. Thomas took his interception 99 yards for a touchdown. That play would give Boise State their first lead of the game. They would never relinquish it again.
Overall this was a great game for the Broncos as they continue their seven-game winning streak. The only problem you could find with this performance was Boise State taking their foot off the pedal in the second half. At halftime, the score was 34-10. The Broncos outscored the Aggies in the second half by a single point. While it didn't hurt them this week, this is something they want to be careful of in the future. They play two of the better teams in the conference over the next two weeks.
Final Score 48-23 Boise State
X-Factor
Ryan Smith continues to be the grease that moves the wheel for Boise State. He is at or near the top of the CFSL in every meaningful quarterback stat and in this game he was close to flawless. His lone blemish was an interception in the second quarter.
Next Week
vs Oklahoma State (2-1)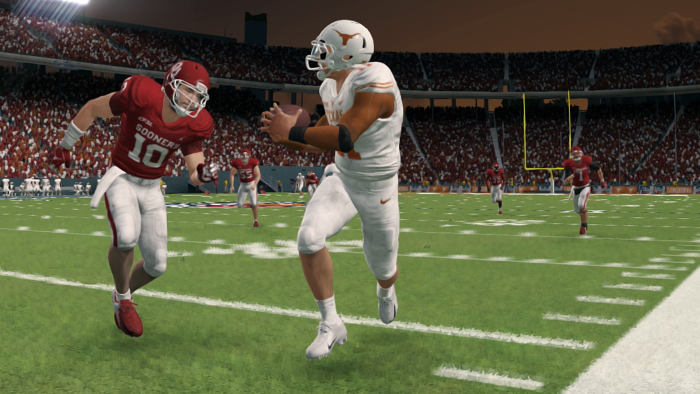 Texas (3-0)
The Red River Rivalry is one of the best in the CFSL and this one lived up to the hype. Texas tied the game with 1:07 left in the game. It appeared that the game was heading for overtime. Then the Longhorns gave up a big kick return that set Oklahoma up on their own 45-yard-line. The Sooner looked poised to win. Texas had other plans. The defense forced a punt at midfield. They started their next drive on their own 20 with 39 seconds remaining. Pressure forced an incompletion on first down. On second down Anthony Delano streaked down the sideline. Kai Kohko threw a dart right at him. Delano caught the pass, slipped a diving tackle attempt by safety Connor Elmore, and was gone. The cardiac kids strike again.
The Longhorns are perfecting the art of winning games late. It is only Week Three and Kohko is responsible for two game-winning touchdown passes with seconds left on the clock. While this wasn't his most efficient game (58% completion percentage) he showed up when it mattered. He finished the game with 364 yards and three touchdowns through the air and added 91 yards and another score on the ground.
Defensively, Texas did enough. They held Oklahoma to a combined 3.8 yards per carry, thanks in large part to the individual effort of defensive tackle Enrico Pipino. Pipino finished the game with nine tackles, including four being for a loss. Corner Duke Stover came up with a huge play on a 37-yard scoop and score. There were some nice plays, but overall this was not the defense's best effort. They have a few weeks to figure this out before they have to play Oklahoma State and Boise State in back-to-back weeks.
Overall, a big win over a hated rival is always a good thing. Even if you gave your fans another coronary.
Final Score 41-34 Texas
X-Factor
This could have easily been Kohko, but Anthony Delano will be Texas' X-Factor this week. Delano caught the ball only four times but somehow turned that into 177 yards. Even if you take away his 80-yard game-winning score, he would still average 32 yards per reception.
Next Week
vs Nebraska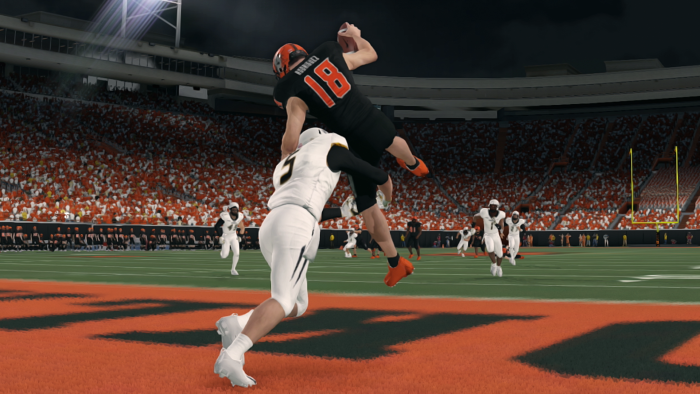 Oklahoma State (2-1)
The Cowboys got their first taste of conference play this week as Missouri came to Stillwater. After a Week One loss to Michigan, Oklahoma State knows how important winning these conference match-ups are to their playoff hopes. Missouri came into the ranked 18th and came off a win over Texas A&M. The Pokes were the favorite, but it wouldn't be a cakewalk.
In true Poke fashion, the offense runs through the quarterback, and this year that falls on the shoulders of freshman Ryan Moreland. In this game, Moreland showed why he was such a highly-rated prospect. He threw for 341 yards, hitting 68% of his passes. He also found the endzone three times, twice to senior Chris Walker IV and once to freshman Steven Rodriguez. Despite being a pass-happy offense, running back Jordan Hammer continues to impress. He had 146 total yards and got his first touchdown of the season.
As impressive as the offense has been, the 'Orange Crush' defense has been the unit to watch. The Cowboys likely have the best defensive line in the entire CFSL and they showed it this game. Tiger quarterback Almedin Colakovic was sacked eleven times in this game. To add to that the Cowboys held Mizzou to -55 yards on the ground. DE Les McAdoo led the siege with five sacks and he had a scoop and score. He was followed closely by fellow defensive linemen Ben Sapp and Ezra Rogalski, who had three and two sacks, respectively.
The Cowboys have playoff ambitions. The defense looks ready for it; currently ranked fourth in points allowed. However, if Oklahoma State wants to overcome the Big XII powerhouses the offense needs to take a step forward. And they will need to do it fast. The Cowboys travel to Boise, Idaho next week.
Final Score 35-13 Oklahoma State
X-Factor
This feels like a no-brainer, but Les McAdoo has to be the X-Factor this week. McAdoo is tied for seventh in the CFSL for sacks, which is very impressive considering he missed the first game thanks to a suspension.
Next Week
@ Boise State
Oklahoma (1-2)
Oklahoma lost an absolute heartbreaker against the Longhorns. The good news is the Sooners have survived a gauntlet to start the season. The bad news is they still have three playoff-caliber opponents on the schedule.
This week the offense moved the ball with relative ease against Texas. They had 455 yards of total offense. Shockingly, 276 of those yards were through the air. Freshman quarterback Derrick Power, who was given the reigns after a week one loss to Florida State, had a decent game through the air. Texas' defense teed off on starting half-back Joey Zaza, who only managed 36 yards on 16 carries. However, his backup ensured the running game didn't die. Sophomore Cedric Yardy had the best game of his career, netting 89 yards on only nine carries. Could we see more depth chart movement in the Sooner backfield?
The defense struggled a bit this week. The Sooners allowed 536 yards. Oklahoma was almost outrushed by the Longhorns, which would be a shock considering Oklahoma's triple-option offense. However, there were some positive takeaways from this game. The defensive front continued to impress, getting 14 tackles behind the line of scrimmage. This included two sacks by junior end Jack Lawson and one by freshman linebacker Steven Adams. Texas also only convert 28% of their third down attempts.
Overall, this was a tough week for the Sooners. They played one of the best teams in the conference and were barely beaten dramatically. Many speculated that the choice to switch to the triple-option offense would hurt Oklahoma in tight games. This is the first close game they had this year and they lost. Time will tell if that narrative will hold.
Final Score 41-34 Texas
X-Factor
Despite not having a touchdown, Cedric Yardy is the X-Factor this week. He had 113 total yards in a backup role. If he keeps this up his touches will only go up.
Next Game
@Missouri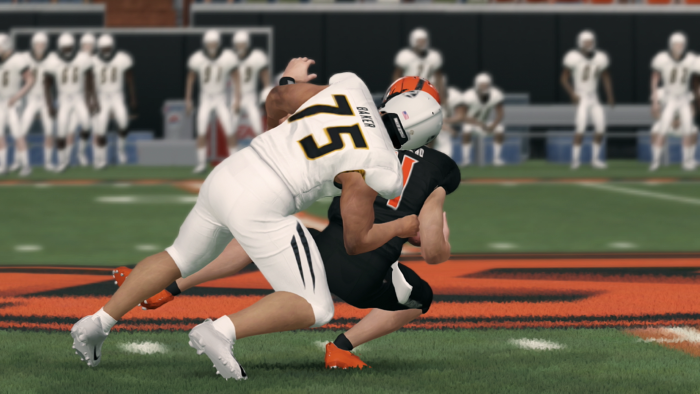 Missouri (1-2)
The Tigers traveled to Stillwater as 13.5-point underdogs. They knew it would be an uphill battle and unfortunately, they never made it up that hill. However, there were plenty of positive takeaways from this game.
Senior quarterback Almedin Colakovic played well. He completed 67% of his passes to the tune of 417 yards. 165 of those went to Colakovic's favorite target, junior wideout Terry Williams II. The Tigers didn't have much issue moving the ball. The problem was finishing drives off. Mizzou only scored one touchdown in their four trips to the red zone. Oklahoma State's defensive front is one of the best in the country, but this is something that has to change for the Tigers.
They didn't do much to stop the Cowboys, who had over 400 yards of offense and scored four touchdowns. However, there were some great individual efforts. Senior cornerback Johnny Tipton snagged his 12 career interception. This furthered an already substantial lead for Mizzou's career record. Up front, freshman DT Jordan Baker had a career game. Baker had eight tackles, six coming behind the line, and also forced a fumble. Unfortunately for the Tigers, the Cowboys recovered the fumble.
This was a tough matchup for the Tigers, but the Tigers played better than the score implied. However, this is just the first game in what might be the toughest four-game stretch any team will have this season. Oklahoma, Texas, and Boise State make up the next three weeks. The Tigers are scrappy and might be able to pull off an upset. Getting a win in their next three games would be something to be proud of.
Final Score 35-13 Oklahoma State
X-Factor
The best Tiger in this game was Jordan Baker. As of right now, Baker is seventh in the conference for tackles for loss and sacks. If he has more games like this his name will jump up that list.
Next Week
vs Oklahoma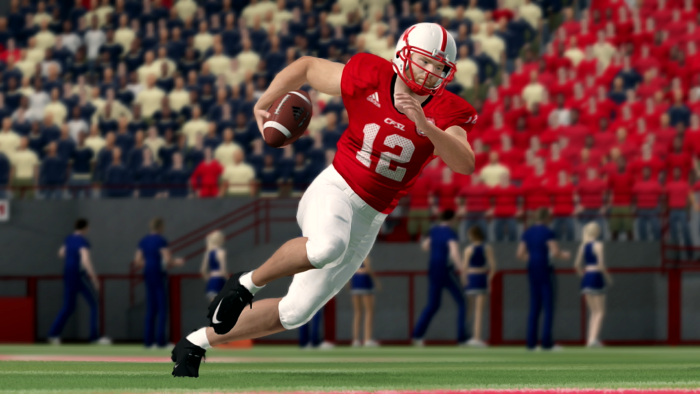 Nebraska (1-2)
Week Three was full of upsets, but there weren't many in the Big XII. Nebraska, unfortunately, was on the wrong end of the only upset in the conference. The Cornhuskers were 6.5-point favorites when the Pittsburgh Panthers arrived in Lincoln. Unfortunately, no one told the Panthers that they weren't supposed to win.
The offense was led by freshman quarterback Tom Towers. Towers threw for 308 yards and a touchdown. He found the endzone twice more on the ground. Towers and former Iowa halfback Kieran Ennis combined for 139 rushing yards. It was a well-balanced attack that scored more than enough to win. The problem was the other side of the ball.
The defense played outstanding for the first three quarters. They only allowed 14 points and linebacker Danny Laird and safety Drew Lake caught interceptions. The fourth quarter was a completely different story. The Panthers scored three touchdowns to come back and steal the win. The Huskers need to come up with a lot of answers defensively.
Overall this was a tough loss. The Huskers snatched defeat from the jaws of victory. To make matters worse, their schedule takes a turn for the worse for a few weeks. They will travel to Texas next week and host Oklahoma State the following week.
Final Score 35-30 Pittsburgh
X-Factor
With 380 total yards and three total touchdowns, Towers has to be the X-Factor. The freshman quarterback had his best game so far.
Next Week
@Texas
Texas A&M (0-3)
This was not the start to the season that the Aggies were hoping for. Despite not having a win, Texas A&M is not playing that badly. They faced their toughest test so far when they hosted Boise State. Despite losing by more than three scores, the Aggies had a lot of silver linings.
The offense put up 496 yards against a talented defense. Most of that belonged to the arm of senior quarterback Terrell Allen. Allen threw for 462 yards and two touchdowns. He also, unfortunately, threw two interceptions. Junior wideout Jafari Davis Jr was Allen's favorite target. Davis Jr caught for a school-record 219 yards and found the endzone once. The running game was almost nonexistent, but halfback Andrew Grigley did have a rushing touchdown.
The hard truth is that the Aggies couldn't stop the Broncos from moving up and down the field. However, there were a few standout performances. Corner Trey Jackson's interception was the only Boise State turnover. He also added a tackle for loss. Defensive end Cody Lawerence sacked Ryan Smith twice in this game. There wasn't much else to say about the defense's performance.
It has not been a great start for the Aggies. They have some things to like, but that isn't putting anything in the win column. However, they will have their best chance to get the season's first win next week as they travel to Athens.
Final Score 48-23
X-Factor
Jafari Davis Jr is not only the X-Factor for the Aggies, but should also be in the running for offensive player of the week. Anytime a player gets over 200 receiving yards it is noteworthy.
Next Week
@Georgia