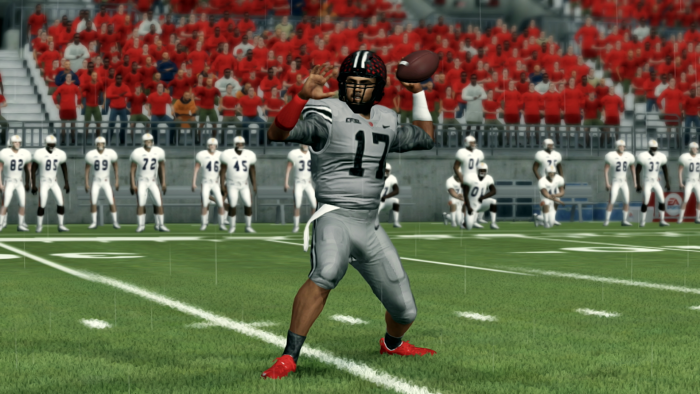 BY: David Ware (@Ware)
It can be officially said that Season 15 in the CFSL is now halfway over. It feels like just yesterday the off-season was in full bloom and teams were trying to fill a roster. Now teams are trying to fulfill their dreams and pursue the ultimate goal, the CFSL championship. The Big10 conference can claim one of the final three unbeaten teams. The Buckeyes have some competition for the Big10 title as Michigan is undefeated in conference play as well. Let's break down the conference and see how much excitement and chaos we can look forward to as we finish off season 15.
Current rankings
| | | | |
| --- | --- | --- | --- |
| Place | Team | Record | Confrence Record |
| 1 | Ohio State | 4-0 | 3-0 |
| 2 | Michigan | 3-1 | 2-0 |
| 3 | Oregon | 2-2 | 1-1 |
| 4 | Wisconsin | 2-2 | 1-1 |
| 5 | Illinois | 2-2 | 1-2 |
| 6 | Iowa | 1-3 | 1-3 |
| 7 | Washington | 1-3 | 0-2 |
Can't Miss Games 
Ohio State @ Michigan – Week Eight
The Big10 has plenty of huge matchups left this season that can alter the landscape of not only the conference but the playoffs, as well. Current conference leader Ohio State has the most winnable schedule to finish the season but will have a huge battle in week eight against rival Michigan. This should be an epic show-down, and if both teams are able to win their next three games then this matchup could be winner take all.
Michigan @ Wisconsin – Week Five
Michigan has the toughest schedule remaining with matchups against Wisconsin and Illinois both on the road as well as Iowa before the big matchup in week eight against Ohio State.
Illinois @ Oregon – Week Five
Illinois already has two losses in conference and can not afford another loss if they want a shot to contend for the Big10 title. Oregon with their one loss does not want to be put on the brink of elimination this early in the season.  Both of these teams are fighting for their playoff lives in this big week five matchup.
Iowa @ Washington – Week Five
This is another big week five matchup as these two teams are fighting to not finish last in the conference. Washington still doesn't have their first conference win of the season and Iowa already has three conference losses. This should be a big-time battle with lots of pride riding on the outcome.
Top Five Players
Logan Radloff – Ohio State – QB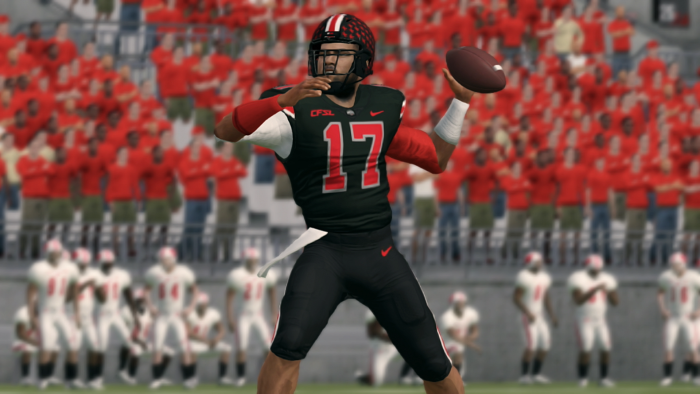 The sophomore quarterback is averaging over 400 passing yards a game and four touchdowns as well. His touchdown to interception rate is almost three to one so far this season.
Derrick Pendleton – Michigan – WR
The senior wide receiver has been phenomenal this season averaging more than 10 catches a game and 145.8 yards per game with a touchdown per game.
Brock Hoskins – Oregon – OLB
After 114 tackles last season, Hoskins is on pace for an even better senior season with 58 tackles in the first four games. He also has eight tackles for loss, two sacks, two interceptions, a forced fumble, and a fumble recovery. Brock has done it all for the Oregon defense this year.
Ryan Schultz – Iowa- MLB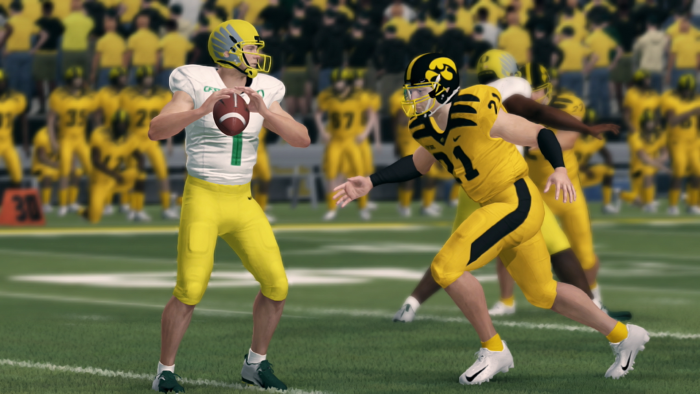 There is a reason that Schultz was ranked fourth in the top 25 recruits this off-season. He has lived up to every bit of the hype with 58 tackles, 11 tackles for loss, three sacks, one interception, and one forced fumble. He has been the leader for the Iowa defense all season long. He is also the only freshman on this list. 
Jackson Cain – Illinois – WR
Cain is having a tremendous senior season as he currently leads the CFSL in all-purpose yards with 1,030. He also has four touchdowns to go with it.  Of those yards, 517 of them are receiving, which is good for fifth in the league.
Records in Danger
Iowa's Single Season Tackle Record
The freshman Schultz is on pace to break the record for most tackles in a season that Brock Haskins previously held before he transferred to Oregon.
Oregon's Single Season Tackle Record
Brock Hoskins may have his record broken at Iowa, but he has a chance to surpass the legendary Jack Frost who has 123 tackles in a single season.
Washington's Single Season Passing Yards Record
Freshman quarterback Tonio McDaniel is so close to breaking the single-season passing yards record if his yards per game average continues throughout the rest of the season. Cairo Croft currently holds it, but prior to him, the record had been held since season four.
Michigan's Career Passing Leader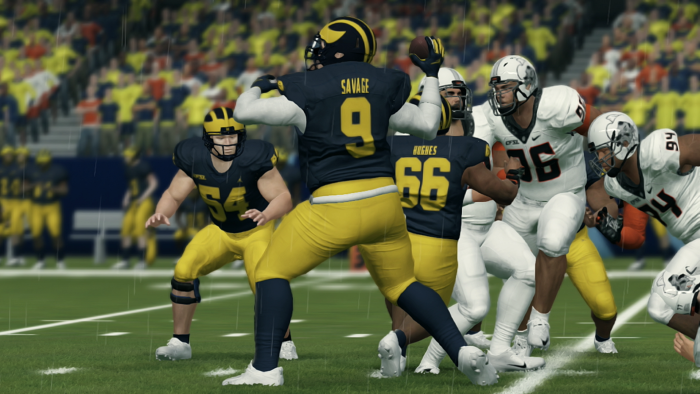 Thor Savage is really cleaning up during his senior year and looking to pass Javon Mack in career completions, attempts, and yards. He has already passed Mack in passing touchdowns. The 6'8" 320 lb quarterback has had a great career and will go down as the best quarterback in school history.
Predictions 
The winner of the DPOY award will come from the Big10 and it is a foot race between Oregon OLB Brock Hoskins and Iowa MLB Ryan Schultz. Both of them are currently tied at the top of the leaderboard with 58 tackles and have been making plays all over the field. The big question is who wants it more?
Oregon quarterback Phil Camit will be a finalist for All-American this season! He has passed for 1877 yards and leads the league with 21 passing touchdowns.
Anyone who has watched sports for any period of time has heard that "this is the year", well Michigan is looking to make it their year. Following a huge resurgence last season, Michigan has picked right back off and is looking to win its first Big10 title. The team that is looking to stop them was a dismal (2-6) last season and now they are (4-0). This is, of course, the Buckeyes. The week eight matchup will be monumental in the progress of both of these two teams. While Michigan is giving up one less point per game, all the other teams stats point to Ohio State pulling off the victory in week eight. Big10 champion will be Ohio State, but don't worry Michigan, there is still a very high probability of making the playoffs as the number two seed in the Big10 for the second straight season.