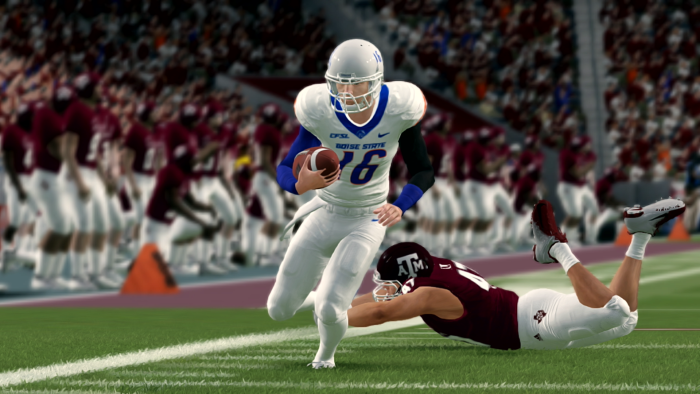 BY: Cole Mantell (@ColeMantell)
As the CFSL reaches mid-season, the conversations around the league are beginning to shift not only to who will make the playoffs and the PIT but to who will win which award. In the CFSL there are nine major awards (the histories of which you can find right here on the website) that will be voted on at the end of Season 15. In this article we will be taking a look at a likely 1st, 2nd, and 3rd place for each award if the season ended today, and there will be honorable mentions if applicable. Because of both how voting works and the unpredictability of the season, we will only go over the on the field awards for this article, so there is no Fan of the Year, Team Spirit, or Broadcaster of the Year discussions.
Freshman of the Year

1st – Miami DT Jay Gates
Jay Gates has started his freshman season taking the CFSL by storm (no pun intended). As of the end of Week 4, Gates leads the CFSL in both TFLs (19) and sacks (11) while adding 30 tackles and a forced fumble in his first half-season of CFSL action. Miami is a great team in no small part to his efforts, and Gates has a good shot at another award in this article if he keeps this pace up. Without a standout freshman Quarterback right now, this season has a good chance to have the first non-Quarterback win this award since Boise State's Bo Diddle won it in Season 10.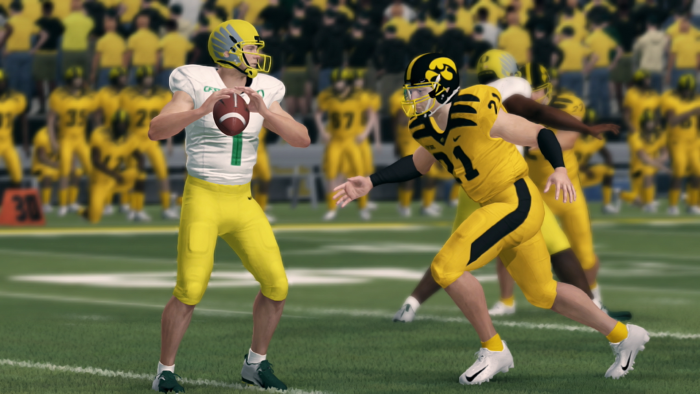 2nd – Iowa MLB Ryan Schultz
The other standout defensive freshman, Shultz sits midseason tied with Oregon's Brock Hoskins for the lead in the CFSL with 58 tackles. He's also added 11 TFLs, 3 sacks, an interception, and a forced fumble, all within his first month in CFSL action. Iowa as a team hasn't been able to get in the win column, but that is not at all the fault of Schultz. Both Schultz and Gates represent a new era of defensive stars in the CFSL, and this should be a fun race to watch as the season concludes.
3rd – Georgia CB Jaye Johnson
If you want to talk about an underdog for this award, Johnson is your guy. Despite Georgia's struggles in their first season of CFSL action, Johnson is currently tied for CFSL lead of three interceptions while also being a 4 star recruit coming into this season. As a wider note, with no statistical leaders right now from freshman on offense, the mere fact that at midseason three defensive players are the favorites for this award is a huge testament to the shifts in defense in the league the last few seasons, and an eye to the future on what to look out for with both recruiting and game day strategy from teams.
Honorable Mentions: Oklahoma QB Derrick Power, Illinois QB Dylan Shumate, Georgia HB Nicholas Perez, UNC HB Clay Allen, Alabama WR Titus Price, Texas A&M MLB Ja Avery II, Pittsburgh MLB Devin Rudisell, Florida State DT Laci White
Most Outstanding Senior
1st – Boise State WR Matthew McCray
Opposite of Most Outstanding Freshman, Season 15 represents the best chance possibly yet for an offensive player to win this award since Florida WR Levi Temes in Season 12. McCray is putting up a season on track to match or exceed much of what Temes did in that season, and is well ahead of his peers atop the receiving yards rankings. McCray's Quarterback, Ryan Smith, is another contender for this award, but McCray right now is dominating his position in a unique way and it could lead to a lot of hardware, both personal and for the team, come awards season.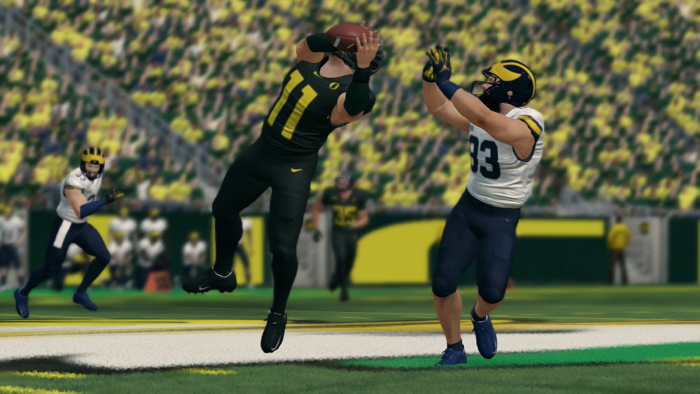 2nd – Oregon OLB Brock Hoskins
Often in this award's history, whoever won it also happened to win Offensive or Defensive Player of the Year. We could see that trend bucked depending on what voters think of the many candidates for this award, but Hoskins is someone to look at for both. Currently tied for the CFSL lead with 58 tackles, Hoskins already has three All-American nominations in his pocket (and likely a 4th this season), but has yet to win his own major award. Part of that has been Isaac Frost and Kiyoko Winter at Florida State setting defensive records for most of his career, but now with both graduated this could shape up to be Hoskins' year to shine.
3rd – Notre Dame HB Duane Sammons
Sammons once again, despite a slow start, leads all halfbacks with 476 rushing yards in 4 games. Sammons has, much like last year's Most Outstanding Senior Isaac Frost, redefined his position in the modern era of the CFSL and seems to perpetually be in a class of his own. While Notre Dame has stumbled to start Season 15, a strong second half performance by both him and the Fighting Irish could easily vault him to win this award.
Honorable Mentions: Kentucky QB Scott Pinesaw, Florida State QB Jim Carr, Boise State QB Ryan Smith, Texas QB Kai Kohko, Michigan QB Thor Savage, Oregon QB Phil Camit, Auburn QB Jason Lemmy, Notre Dame QB KyShawn Williams, Clemson MLB Daryl Jefferson, Oklahoma DE Scott Frank, Wisconsin CB Riley Feagle
Most Improved Player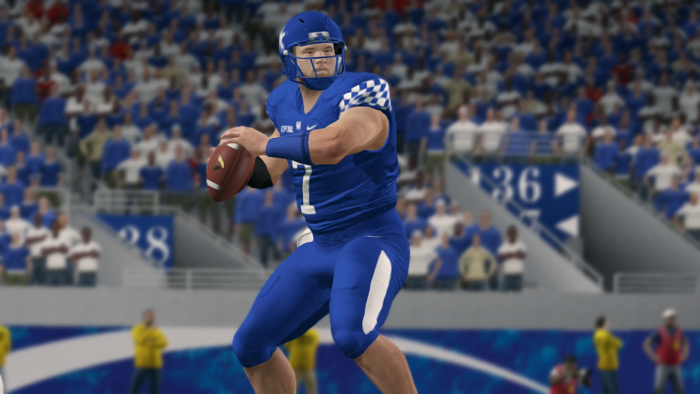 1st – Kentucky QB Scott Pinesaw
Reflecting Kentucky as a program since their inception into the CFSL, Pinesaw has grown tremendously. Both he and his program are no longer underdogs, and they arguably haven't been since Kentucky entered into the CFSL in Season 13. Pinesaw has reached new heights this season on the field, and while he is on the outside looking in for Most Outstanding Senior or Offensive Player of the Year, his improvement this season for a contending Kentucky puts him #1 on the list here, especially considering this is an offense dominated award historically.
2nd – Michigan WR Derrick Pendleton
In an offense known for passing, Pendleton has never looked this good in his time in Ann Arbor. On track to double possibly both his receiving yards and touchdowns from last season, Pendleton is another great candidate for this award. He is still looking for an award of any kind, and even if he doesn't grab a Player of the Week award this season, you can almost certainly write him in for an All American Spot and/or a Major Award if he keeps this pace up.
3rd – Oregon WR Pablo Thompson
In 7 games last season, Thompson had 28 receptions total. Through 4 games this season, not only does Thompson have 30 receptions, but the sophomore for the Ducks has almost doubled his receiving yards from last season as well and having five receiving touchdowns compared to two last season. Much like Pendleton for Michigan, he'll need to keep this pace up, but Thompson is also emerging as another bona fide candidate for these end of season awards with the pace he is at.
Honorable Mentions: Boise State QB Ryan Smith, Texas QB Kai Kohko, Auburn QB Jason Lemmy, Miami HB Daven Brewer, Tennessee HB Richie James, Boise State WR Matthew McCray, Washington WR Matthew Kendziora
AD of the Year

1st – Ohio State AD Jeff Melinyshyn
At midseason, this award is Jeff's to lose. After going 2-6 last season, Ohio State looked dead in the water on both sides of the ball. Despite winning the inaugural PIT Championship the season before, Ohio State certainly looked like it needed a lot of work. No one could've predicted how quickly it seems Ohio State has regained that Season 13 form and that is credit deserved for both Jeff and the entire Ohio State staff. They still have a tough second half schedule including Week 8 against Michigan, but this team is certainly a lot tougher to beat than last season's version.
2nd – Florida State AD Tom Pence
The winner of this award last season, Florida State has now gone 15-1 dating back to the beginning of last season. While it is possible fans might have voter fatigue, Tom Pence and the Seminoles seemingly cannot be stopped right now. If Florida State does go 8-0 and continue to stay #1 in the AD Poll, it'll be tough for voters to discount Tom Pence to become the first-ever AD to win this award twice, however.
3rd – Texas Interim AD Mark Cole
Given the unenviable task of taking over a team right before the season started, all Mark Cole has done since then is go 4-0 including a big rivalry week win against Oklahoma. Can this team go 8-0? It'll be tough with their second-half schedule, but whatever the final record becomes, Mark Cole has proven himself capable and ready to take on what might be one of the tougher AD jobs in the CFSL and has earned a serious look at this job full time going into Season 16.
Honorable Mentions: Kentucky AD Devan Davis, Alabama AD Cory Dobbins, Clemson AD Caleb Ward, Miami AD Joe Gates, Michigan AD Justyn Veneklasen, Oklahoma State AD Houston Freeman, Boise State AD Dakota Jorgensen
Defensive Player of the Year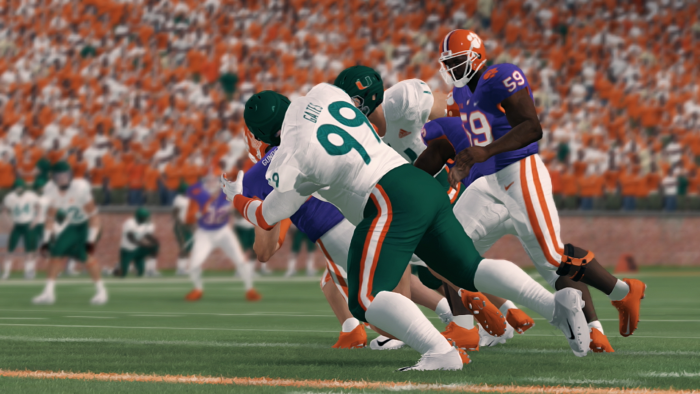 1st – Miami DT Jay Gates
As mentioned before, Gates is well in the running for both Freshman of the Year and Defensive Player of the Year. If you lead the CFSL in both TFLs and Sacks, you'll be in the running for this award. At the moment, Gates is the favorite and someone to look for moving forward on defense in the CFSL. Still, he has to keep pace here, as this award is known for fierce competition around the league.
2nd – Wisconsin DT Iman Porter
While Porter is not dominating many categories as he has in the past, a big factor to look for here is Porter's lack of recognition so far in this defensive era. With Frost and Winter at Florida State taking so many awards the past few seasons, Porter "only" has 2 DL All American nominations as well as no major awards yet. If Porter can wreak havoc like we know he has in the past, voters will want to recognize Porter at this stage, and he has the potential to do it.
3rd – Michigan CB Charlie Pickett
For Pickett, the math is simple. To become the first Cornerback ever to win this award, Pickett simply needs more games like he showed against Oregon at hangout. While matching 3 defensive touchdowns in one game is certainly not realistic on a weekly scale, if Pickett were even to recapture some of that magic, he could easily vault to the top of voters' lists for this award. Still, with an inconsistent first half this season, Pickett will have to drastically change course and continue that Oregon game production to have a chance here.
Honorable Mentions: Oregon OLB Brock Hoskins, Iowa MLB Ryan Schultz, Texas A&M MLB Ja Avery II, Florida State DT Laci White, Texas DT Enrico Pipino, Boise State FS TJ Weinrich, Wisconsin CB Riley Feagle
Offensive Player of the Year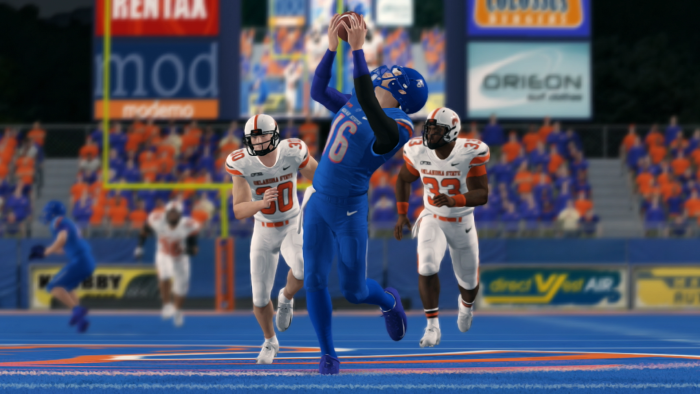 1st – Boise State WR Matthew McCray
Put simply, if McCary puts up similar or better numbers to Levi Temes, he will be the first non-quarterback since Levi Temes in Season 12 to win this award. No Quarterback has separated themselves meaningfully from the pack quite yet this season, which also is to McCray's benefit. Already an impressive season, McCray can quickly approach legendary status if he keeps up this pace through the season.
2nd – Boise State QB Ryan Smith
With impressive play through the first half this season, it only makes sense the guy throwing it to McCray will be up for some awards later this season too. At points leading the CFSL in QB Rating and near the top in multiple categories, Smith hasn't led his fellow QBs in the way he needs to if he wants to win this award recently but still has time to do so. Assuming Boise State continues this pace on offense, however, and you can bet one of both of these two will be nominated for this award during voting season.
3rd – Florida State QB Jim Carr
The winner of this award last season, Carr is another Quarterback in the mix at the top of many statistical rankings this season. With Florida State continuing on their tear, and 8-0 regular season with Carr near or at the top of the crucial stat categories will earn the senior votes here. Like his AD, however, voters might be fatigued voting for Seminoles as they have the last few seasons, and that is something to watch. Still, Carr has a good shot at becoming the first-ever repeat winner of this award since Ray Tatum in Seasons 4 and 5, and it will be a storyline to follow during awards season.
Honorable Mentions: Kentucky QB Scott Pinesaw, Texas QB Kai Kohko, Wisconsin QB DeAnthony Jones, Michigan QB Thor Savage, Notre Dame HB Duane Sammons, Kentucky WR Tucker Quirk, Michigan WR Derrick Pendleton, Missouri TE Steve Suess