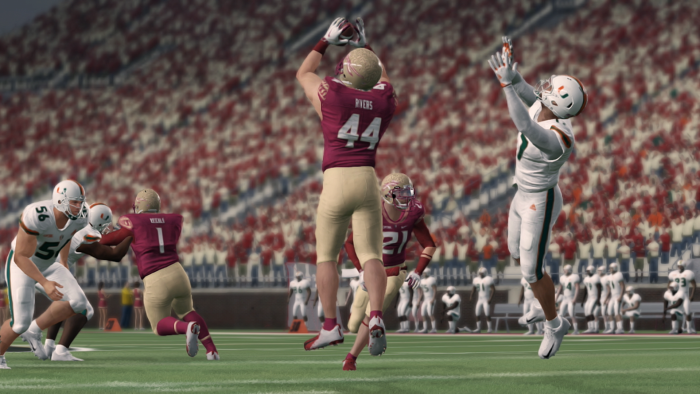 BY: Nate Murphy (@BigMurph)
Week six is in the books and the run for the playoffs has hit the home stretch. Let's dive into the ACC and see just what has been going on these last six weeks and what is on the horizon. 
WHERE THEY STAND:
The Seminoles sit at the top of the ACC at 6-0 (4-0), The Mountaineers are at the bottom looking up at 1-5. Everyone else falls in between with all five remaining teams at 3-3 overall. Here is a look at the official standings also available at https://collegesimleague.com/league-standings/.
| | | |
| --- | --- | --- |
| Team | Record | Conference Record |
| Florida State | 6-0 | 4-0 |
| Notre Dame | 3-3 | 3-1 |
| Clemson | 3-3 | 2-2 |
| North Carolina | 3-3 | 2-3 |
| Miami | 3-3 | 2-3 |
| Pittsburgh | 3-3 | 1-3 |
| West Virginia | 1-5 | 1-3 |
WHAT WE'VE LEARNED SO FAR: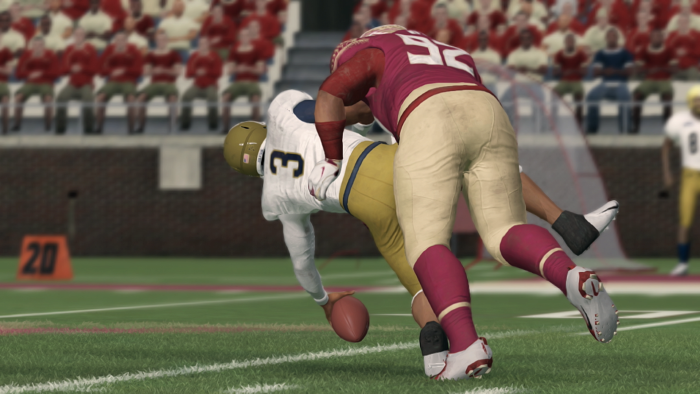 The first thing that we should have learned over the course of the last six weeks is that the FSU defense is STILL good. There may have been some questions about how good they would be after losing Issac Frost and Kiyoko Winter. But Frost was replaced (in the line up only) by Laci White. Maverick Rivers has stepped in for Winter just fine. Because of this, and the other stars on this defense, FSU finds themselves with a defense that ranks 5th in points allowed per game (20), 6th in yards per game allowed (365.5), and 8th in sacks (27).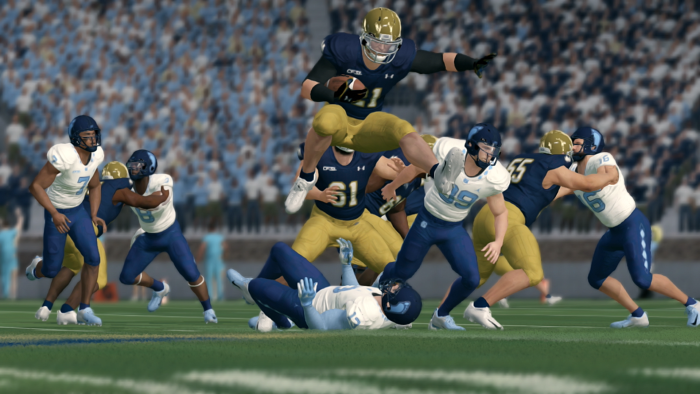 ACC rushers are hard to bring down. There are three ACC running backs in the top five in broken tackles. Duanne Sammons (22), Rashaud Black (21), and Daven Brewer (21). Clay Allen (15) and Jerry Filbin (13) are also 10th and 11th respectively in this category.
WHAT TO WATCH FOR IN WEEK SEVEN:
FSU wins the ACC with a road win versus Pitt this week.

A Seminole victory would push their conference record to 5-0. That means regardless of the outcome in week eight they would be ACC champions. Entering week seven only Notre Dame could possibly finish with one conference loss. Florida State holds the head to head tiebreaker by way of their 35-23 win over the Irish.

Notre Dame's assault on the CFSL record books.

With 135 yards against Miami in South Bend Duanne Sammons will move to number four all time on the CFSL Rushing Yardage list passing former Florida Gator Avery Jordan
With his first tackle Rocky Dale will become the all time leader in career tackles…so don't tune in late.
Cornerback Nick Hopper can break the three way tie for third with his next pass defensed. Hopper currently has 31 PDs in his career and needs nine more this season to pass current career leader Riley Feagle.
THE WRAP UP:
Through six weeks the ACC has proven to be a very competitive conference. The last three CFSL championships are in ACC locker rooms and FSU is on the hunt to join Notre Dame as repeat champions. Two of the league's expansion teams reside in the conference, Pitt and UNC, and both are legitimate PIT contenders. Both teams still have FSU on their schedules so they will be tested. But if they can come up with one win in the next two weeks both could potentially make the postseason and would definitely avoid a losing season in their first ever season. And this week's game of the week very well may be The Miami Hurricanes visiting the Notre Dame Fighting Irish. So make sure you tune in to all the ACC action (okay, tune in to all the CFSL action) in week seven because….DOWN THE STRETCH THEY COME!