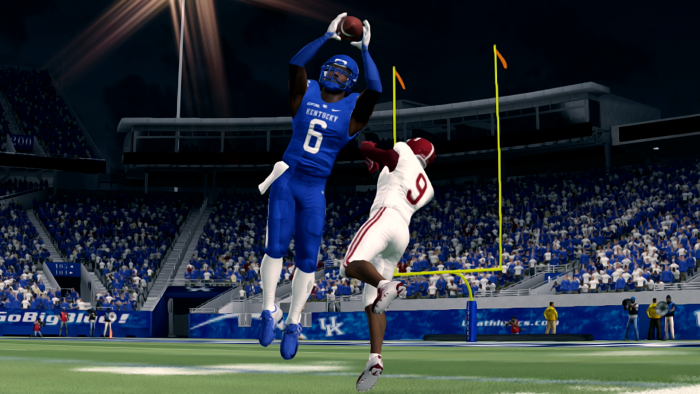 BY: Tony Papol (@SGEasty)
We are down to the final four teams of the CFSL Playoffs. Each of the remaining teams, Boise State, Florida State, Kentucky, and Oklahoma State, possess immense talent on both sides of the ball. All possess electric wide receivers, lock-down corners, dynamic rushers, and swarming linebackers. Every player has a role, and every player must perform at 100% if they want to win a National Championship.
Some players, however, are more important than others. Here are the top 28 players remaining in the Season 15 CFSL Playoffs, ranked by their production and impact this season.
28. OLB John Alstott – Oklahoma State
The redshirt senior Alstott is having a relatively quiet season nationally, but he is not one to sleep on. His 70 tackles, 14 TFLs, and 3 INTs rank 17th, T-9th, and T-1st for linebackers this season. He plays a key role in the middle of the Oklahoma State defense.
27. CB Demetrius Thomas – Boise State
Thomas's three interceptions and 8 PDs rank T-15th and T-8th in the CFSL. He is an explosive corner, exemplified by his 99-yard pick-six against Texas A&M in Week 3.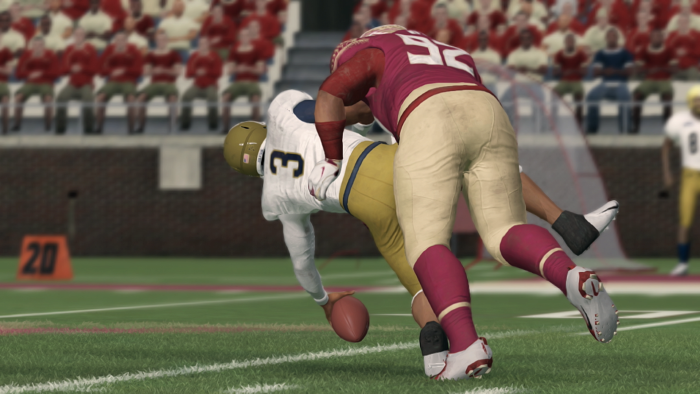 26. DT Laci White – Florida State
Florida State landed a great freshman in Laci White, as her 32 TFLs and 19 sacks are T-2nd and 2nd in the CFSL this season. She was largely held in check by Wisconsin in their quarterfinal matchup, so she will be looking to have a bigger impact against Oklahoma State.
25. FS Otto Podolski – Oklahoma State
German-born Podolski's 4 INTs are T-1st for safeties this season and T-7th for all players. He also might have caught the interception of the year in the quarterfinal matchup against Ohio State.
24. WR Aaron Ike – Florida State
Coming off a monstrous 280-yard receiving game against Wisconsin, which also included a kick return touchdown, Aaron Ike has jumped up to 7th in the CFSL in receiving. His 8 TD receptions also lead the elite Florida State receiving core.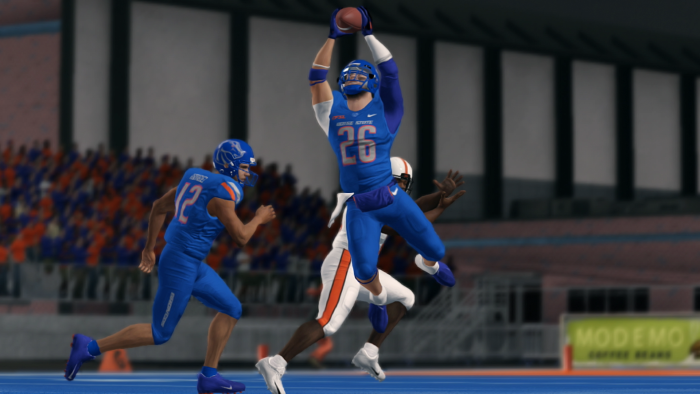 23. FS TJ Weinrich – Boise State
The Season 13 All-American's team-leading 71 tackles are third-best among safeties. He also has accumulated 4 TFLs, 3 INTs, and 9 PDs this season. Weinrich leads the Boise State defense by playing fast, explosive football, and has worked his way back into the All-American conversation again.
22. CB Max Capone – Oklahoma State
Capone, a Texas transfer, has shown his ability to make plays all over the field, with 3 INTs, 7 PDs, 2 TFLs, and a fumble recovery.
21. FS Tyrone Wysinger – Oklahoma State
The hard-hitting Wysinger has immediately impacted the Oklahoma State defense as a freshman. His 55 tackles rank 2nd on the team, and his 12 TFLs, 1 sack, 2 INTs, 8 PDs, and one forced fumble show just how dominant his season has been from the safety position.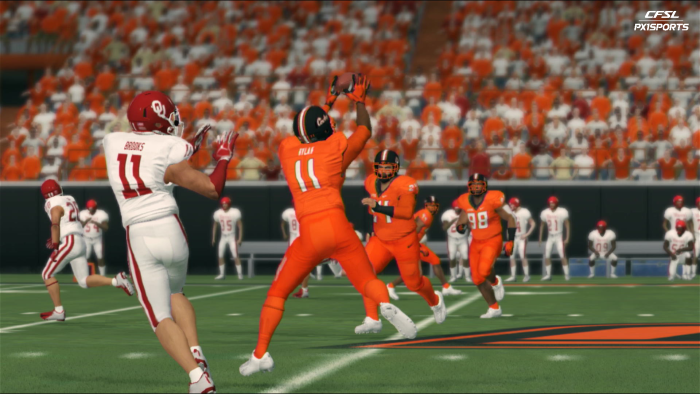 20. CB Rishaun Rylan – Oklahoma State
Rylan's 4 INTs rank T-7th in the CFSL, and a fumble recovery brings Rylan's turnover total to 5. Rylan and Capone are the only CB duo from a final-four team to make the top-28 list.
19. WR Willie Hardigan – Kentucky
Hardigan might be the most underrated receiver in the CFSL. Overshadowed by the explosive Tucker Quirk, Hardigan's 991 yards and 8 TD receptions rank 6th and T-9th this season. His 59 receptions also lead the Kentucky Wildcats.
18. DT Ezra Rogalski – Oklahoma State
Rogalski has been making plays all season long in the opposing team's backfields, with an Oklahoma State team-high 20 TFLs to go along with 7 sacks, 2 PDs, and a fumble recovery. His 2 forced fumbles also rank T-7th in the CFSL.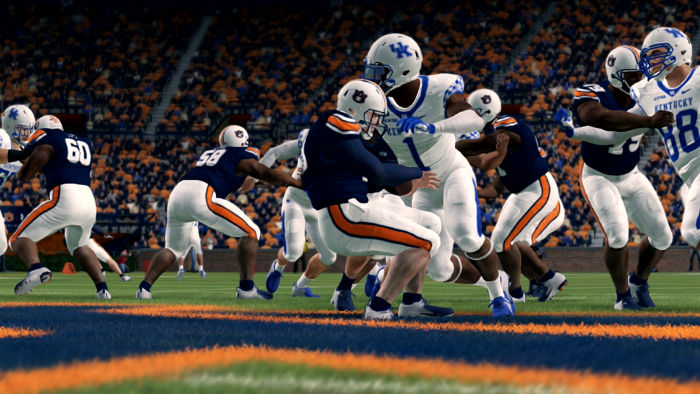 17. OLB Smoke Wyatt – Kentucky
Smoke Wyatt is having the best season of his career leading the Wildcats' defense. His 96 tackles rank 3rd in the CFSL, 3 forced fumbles rank T-1st, and 19 TFLS rank T-4th among linebackers. Wyatt has also proven admirable in coverage with 4 PDs.
16. DE Les McAdoo – Oklahoma State
The Missouri transfer has been a dominant force along the defense front all season. McAdoo is T-8th in sacks with 14 and has 19 TFLs, 1 PD, 1 forced fumble, and 1 scoop-and-score.
15. DE Miles Melo – Kentucky
Like Wyatt, Melo is having the best season of his career. 42 tackles, 20 TFLs, 10 sacks, and 2 forced fumbles go along with 1 INT and 1 PD in a dominant, all-around performance by the defensive lineman.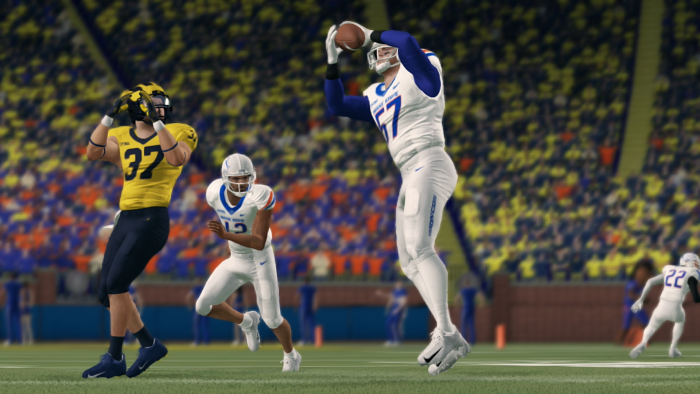 14. OLB Sage Collins – Boise State
Collins' makes an impact in every facet of Boise State's games. His 62 tackles rank second on the team, and he also has 9 TFLs, 4 sacks, 2 INTs, 5 PDs, and 2 forced fumbles.
13. WR JT Cass Jr. – Oklahoma State
Cass is another possession receiver that Oklahoma State has used to great effect. He is 4th in receptions with 83 and 11th in receiving yards with 871. He only has 3 receiving TDs, but his blocking ability more than makes up for it. He is 2nd in the league in pancakes with 58, opening numerous running lanes outside for both the run and screen game. He is also 5th in the CFSL in all-purpose yards with 1668.
12. WR Matthew McCray – Boise State
McCray is the dominant possession receiver that every team wishes they had. The senior leads the CFSL in receptions with 113, receiving yards with 1297, and is second in receiving TDs with 12. The whole stadium knows he will get his 10 receptions and 100 yards, but Boise State does a great job of getting him favorable matchups on linebackers and safeties to capitalize on his ability.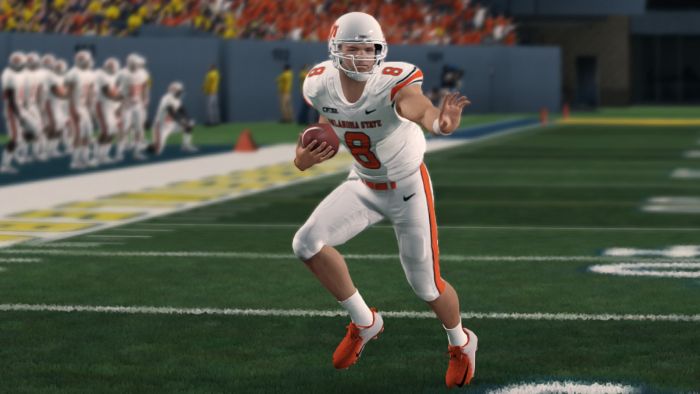 11. HB Jordan Hammer – Oklahoma State
Hammer has proven that Oklahoma State is not just a passing team, as he has established himself as a dominant rusher this season. His 771 yards are 2nd among running backs in the CFSL, and his 6.7 yards/carry is 1st among running backs. Hammer also is a weapon out of the backfield, being 12th in receptions in the league.
10. WR Tucker Quirk – Kentucky
Having always been a solid player, Quirk has established himself as a dynamic, game-breaking receiver this season. Quirk is second in the CFSL in receiving yards with 1271, 1st in receiving touchdowns with 13, and is averaging 23.5 yards/reception. The semi-final matchup between electric, big-play Quirk and underneath, possession-focused McCray will be an exciting contrast of styles.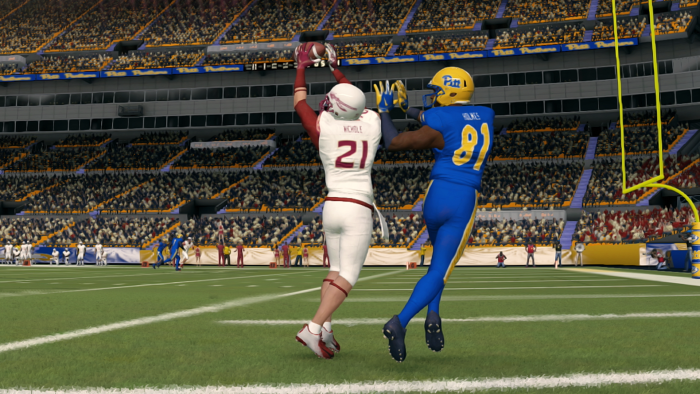 9. CB Madison Nichole – Florida State
Coming off an incredible performance in the quarterfinals against Wisconsin, Madison Nichole is a dominant force all opposing offenses must contend with. Her 5 INTs rank T-4th in the CFSL, and she has defended another 8 passes. She is also quick to the football on plays around the edges and in the flats, as her 37 tackles, 1 TFL, and 1 fumble recovery testify.
8. DE Alexander Wilson – Boise State
While not having as impressive sack numbers as Laci White, Les McAdoo, or Miles Melo, Wilson is an effective backfield presence and has an incredible knack for finding the football. Wilson's 24 TFLs rank 7th in the CFSL and he also has 7 sacks, but his 4 fumble recoveries lead the league, and his forced fumble establishes Wilson as a menace for opposing coaches to stop.
7. CB DJ Brooks – Kentucky
DJ Brooks has been the most opportunist defender in the CFSL this season and has been a nightmare to gameplan around. His 7 INTs lead the league, and a fumble recovery as well brings his turnover total to 8, the most in the league this season. He had two interceptions in the quarterfinals against Oregon, so it will be interesting to see how Boise State deals with the explosive corner.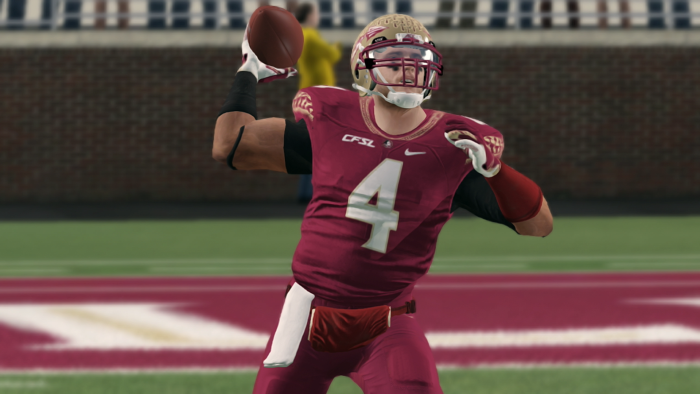 6. QB Jim Carr – Florida State
Jim Carr will graduate this season as one of the best QBs the CFSL has ever seen. With 151 yards, Carr will become the CFSL's all-time leader in passing yardage. This season, Carr has been as dominant as ever, posting the second-best QB rating, ranking 4th in passing yards, and having an impressive 22 TD-7 INT ratio. The only knock against Carr compared to the other 3 signal callers is his inability to scramble/run the football, as Carr only has 10 rushing yards on the season, but that does come with a comparatively impressive 3 rushing TDs. This list also does not measure experience, and there might not be anyone with more of that than Carr.
5. HB Taylor Copley – Kentucky
Taylor Copley has been a tremendous weapon for Kentucky for the past two seasons, and this season is no different. Copley is 8th in rushing yards in the CFSL with 631 and 8th in rushing TDs with 8. He is also a solid contributor in the passing game, having 359 receiving yards and 4 receiving TDs, the most of any Playoff running back.
4. HB Dan Brown – Florida State
Senior Dan Brown is looking to close out his storied career with back-to-back national championships. Brown once again has been the workhorse back for the Florida State offense, ranking 4th in rushing with 725 yards and being T-1st in the CFSL with 13 rushing TDs. Brown has the least amount of receiving yards of any Playoff back with 225, but his ability to break tackles and run downhill is what creates the passing attack of Florida State.
3. QB Ryan Smith – Boise State
Gunslinger quarterback Ryan Smith has been able to lead the Boise State Broncos to the semifinals of the CFSL Playoffs. His 3783 passing yards rank 3rd in the league, and his QB rating is 5th on the season. He does have the most interceptions of any Playoff QB with 12, but his continued ability to bounce back the next drive and make great throws has been heavily relied upon by this Boise State team. The Broncos are the most one-dimensional team remaining in the Playoff with a more-limited rushing attack, but inside the red zone, Smith has shown he is able to get the ball into the endzone with 6 rushing TDs.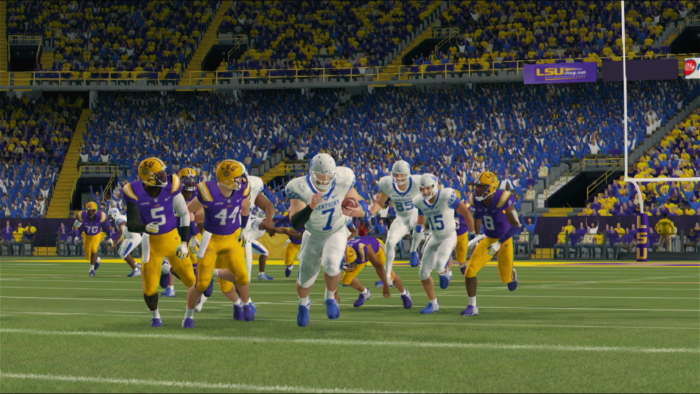 2. QB Scott Pinesaw – Kentucky
Scott Pinesaw has been, without a doubt, the best passing quarterback in the CFSL this season. His QB rating of 179.4 is the best in the league, he is 2nd in passing yards with 3904, and he has an incredible 36 TD-8 INT ratio. He has also benefitted from his ability to scramble and make plays as he has been sacked the least number of times of the Playoff QBs with 27 sacks on the season. Pinesaw has also proven his ability to run inside the red zone with 4 rushing TDs. Kentucky has advanced to the semifinals of the Playoffs thanks to the huge improvement in Pinesaw's throwing power and accuracy as well, and they will continue to rely on him to lead the Wildcats to a national title.
1. QB Ryan Moreland – Oklahoma State
Ryan Moreland led Oklahoma State to their first-ever postseason win, and the Cowboys will need the freshman to continue his outstanding performance to advance further in the Playoff. Moreland is 5th in passing yards with 3492, 6th in QB rating, and has a 30 TD-7 INT ratio. Moreland's passing numbers on the season are very impressive, but his running ability is why he has been the best player on the final four playoff teams this season. His 551 rushing yards rank 16th in the CFSL and his 12 rushing TDs rank 3rd in the league, showing his dual-threat ability. Moreland is 2nd in total offense and 1st in total touchdowns in the CFSL with 42. Not only has Ryan Moreland been the best player of the remaining four Playoff teams, but he has also been the best player in the CFSL this season.