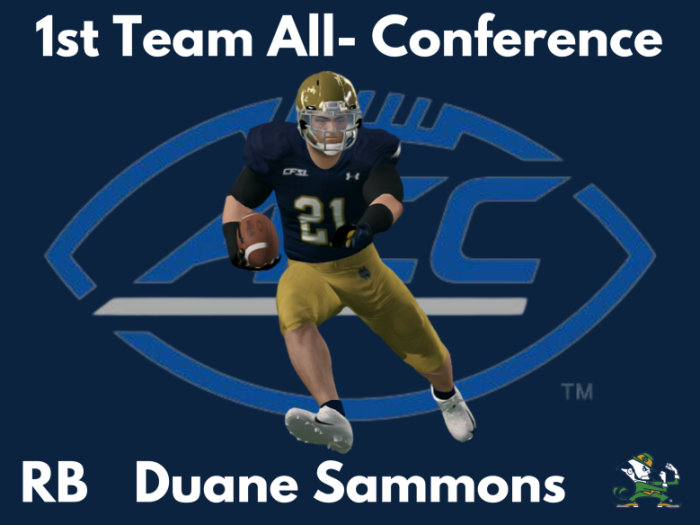 BY: Daniel Gunn and Ryan Moreland
This is the first installment of the CFSL All-Conference Teams and this time the focus is on the ACC. The CFSL's newest conference had an exciting season. Florida State led the way with the other six teams beating each other up for most of the season. It was a hard-fought season with plenty of big plays from big-name players. Before we find out which of these stars made it onto the All-ACC team, here is a quick reminder of how these lists were formed. (Be sure to check out the graphics for the All-ACC teams in #User-Content on the CFSL's Discord.)
How It Works
Every athletic director was asked to pick the best player at each position within their conference. ADs were not allowed to choose players from their own teams. The AD lists were then compiled to see which players were the most common choices. These players will make up the all-conference teams. Without further ado here are the Season 15 All-ACC Teams.
| | | | | |
| --- | --- | --- | --- | --- |
| Position | 1st Team | Team | 2nd Team | Team |
| QB | Jim Carr | Florida State | DaShawn Odie | Miami |
| HB | Duane Sammons | Notre Dame | Dan Brown | Florida State |
| FB | Juni Winter | Florida State | | |
| WR | Aaron Ike | Florida State | Justice Fury | Miami |
| WR | Jrue Ward Johnson | Clemson | Vernon Mills | Florida State |
| TE | Cadbury Wellington | North Carolina | Matt Scally | Florida State |
| DE | DeAndre Gross | North Carolina | Drew Brandt | Notre Dame |
| DE | Alden Forrester | Miami | Jarod Cook | Florida State |
| DT | Jay Gates | Miami | Jeff Knight | Clemson |
| DT | Laci White | Florida State | Collin McDowell | Pittsburgh |
| LB | Daryl Jefferson | Clemson | Rocky Dale | Notre Dame |
| LB | Maverick Rivers | Florida State | Wesley Bellomy | West Virginia |
| LB | Devin Rudisell | Pittsburgh | Chance Thomas | North Carolina |
| CB | Madison Nicole | Florida State | Thomas Lindsay | Clemson |
| CB | Rev LeBoucher | Notre Dame | Tom Reis | Miami |
| S | Jackson Tate | North Carolina | Kaz Allen | Pittsburgh |
| S | Cosmo Mintz | West Virginia | Connor Cummings | Notre Dame |
| Ret | Zaveon May | Miami | Cadbury Wellington | North Carolina |
| AD | Tom Pence | Florida State | Joe Gates | Miami |
*Because of the position scarcity in the CFSL there will be no 2nd team for Full Backs.
Breakdown
No one will be surprised to hear that Florida State dominated the list. The Seminoles earned 11 spots on the list, seven of which are 1st Team All-ACC. Both of those figures are the best in the CFSL. Miami was the next most represented team with seven total players and three making the first team slot. Notre Dame and North Carolina both had five players make the teams, but the Tarheels did have one more first-teamer than the Fighting Irish. Clemson was represented four times with half of that total making the first team. Pittsburgh and West Virginia both appeared in the top 20 players once, but the Panthers edged out their rivals by having one more total player make the list. Every ACC team was represented in the first Team All-ACC lineup. Only one other conference had this happen
The Class of Season 18 led the charge in the ACC. 14 freshmen earned All-ACC honors, the most of any class. This was the highest total for any class in any conference. This may seem surprising, but with three of the four expansion teams in this conference, there are a lot of freshmen getting starting time. The seniors follow them closely and have 12 members of the Class of Season 15 listed above. Half of the seniors on the list come from Florida State. These two classes dominated the list in the ACC. Sophomores had the third-most All-ACC members with seven. The junior class was barely represented with only a pair of safeties, Notre Dame's Connor Cummings and North Carolina's Jackson Tate, earning All-Conference honors.
All-American Watch
The ACC could be well represented on the All-American list given the talent in the conference. Duane Sammons is no stranger to the All-American honors as he appears to be a lock to appear on the list for the fourth time. Sammons led the league in rushing this season with 1,231 yards. Freshman Cadbury Wellington not only made All-ACC at two different positions but is going to have a strong case to make All-American as a tight end. He is third in receiving among tight ends and also leads the position in receiving touchdowns as well. Clemson's Daryl Jefferson's 94 tackles are the fourth most in the league. That paired with his two interceptions and one forced fumble gives him a strong resume for voters to consider. Defensive tackles Laci White and Jay Gates have both made strong cases for All-American honors, as well. The pair are currently tied for the second most tackles for loss and White's 19 sacks led Gates by two. They are second and third in the league in sacks, respectively. There are many more ACC players that will be considered by All-American voters. Good luck to them all.
A special thanks to all the athletic directors for their help in making these lists possible.