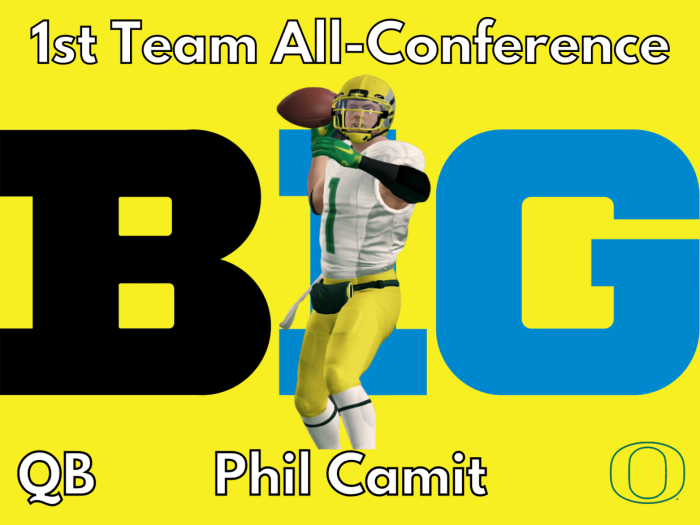 BY: Daniel Gunn and Ryan Moreland
It was an exciting year for the toughest conference in the CFSL. The Big10 was full of big games, wild surprises, and, most pertinent for this article, fantastic players. The Big10 is home of some of the best quarterbacks, toughest tacklers, and quite a few ball hawks. Unfortunately, there are only 40 spots up for grabs and only the cream of the crop will make it. The following players have earned the right to call themselves the best of their conference.
How It Works
Before we dive into the list here is a quick explanation of how the all-conference teams were chosen. Every athletic director was asked to pick the best player at each position within their conference. ADs were not allowed to choose players from their own teams. The AD lists were then compiled to see which players were the most common choices. These players will make up the all-conference teams. Without further ado here are the Season 15 All-Big10 Teams.
| | | | | |
| --- | --- | --- | --- | --- |
| Position | 1st Team | Team | 2nd Team | Team |
| QB | Phil Camit | Oregon | Thor Savage | Michigan |
| HB | Derek Eldridge | Oregon | Richard Fountain | Wisconsin |
| FB | John Griffin | Wisconsin | Corbin Archer | Ohio State |
| WR | Derrick Pendleton | Michigan | Zac Cornwall | Oregon |
| WR | Nick Reno | Michigan | Jalen Thomas | Ohio State |
| TE | Asher McAlister | Iowa | Conner Stephens | Illinois |
| DE | Valentino Villarreal | Ohio State | Houston Kai | Illinois |
| DE | Mike Donlin | Oregon | Hiro Nakajima | Iowa |
| DT | Iman Porter | Wisconsin | Kade Padgett | Michigan |
| DT | Tristan Paul | Oregon | David Tilley Jr | Iowa |
| LB | Brock Hoskins | Oregon | Zach Babineau | Michigan |
| LB | Ryan Schultz | Iowa | Norman Martell | Washington |
| LB | Matt Walker | Oregon | JW Eibeck | Illinois |
| CB | Lincoln Griffin | Michigan | Riley Feagle | Wisconsin |
| CB | Charlie Pickett | Michigan | MJ Boomer | Illinois |
| S | Gavyn McFadden | Ohio State | Cameron Senator | Washington |
| S | Brian Mount | Michigan | Jordan Lyall | Oregon |
| K | DJ Marley | Wisconsin | Greg Owens | Ohio State |
| Ret | Tavian Tyree | Iowa | Buck Michaels | Oregon |
| AD | Jeff Melinyshyn | Ohio State | Justyn Veneklasen | Michigan |
Breakdown
The Oregon Ducks and Michigan Wolverines both have nine players earning All-Big10 honors. However, Oregon does have the most first teamers, with six. The Wolverines have five. The next most represented team is Ohio State. The Buckeyes were represented six total times and half of those made the first team. Following them is a somewhat surprising tie between Wisconsin and Iowa. Both the Badgers and Hawkeyes had five players listed and both had three make the top team. Illinois and Washington both were represented, but neither had a player make the first team. No other conference had multiple teams not have a first-teamer. Illinois had four members receive the all-conference award. Washington had two.
When you break down the All-Big10 teams by class it is the bookends that reign supreme. The senior and freshmen classes both earn eleven spots on the all-conference teams. The eldest class was helped to get here by the four seniors that made the list from Wisconsin. There were a few teams that had multiple freshmen, but none more than Oregon's three. The junior and sophomore classes weren't too far behind. They both had eight representatives on this list. Michigan had the most juniors with three. Continuing their trend of great young players, Oregon led the sophomore charge with three.
All-American Watch
The Big10 was the most competitive conference in the CFSL this season and will likely be well-represented on the All-American list. There are too many talented players to name everyone that will be considered, but here are some that should be in the running. Michigan's Derrick Pendleton is fourth in receiving yards and tied for the tenth most touchdown grabs. The senior had by far his best season this year and should be a candidate for what would be his first All-American nod. Oregon's senior linebacker Brock Hoskins finished the season with over 100 tackles for the third straight year. He also had a career-high three interceptions this season. Hoskins is looking for his fourth All-American honor and should see his name on the list. This one will be obvious, but Wisconsin's Iman Porter had another fantastic season. Porter led the league in sacks and was the runner-up in tackles for loss. He should be a lock to earn his second All-American. The cornerback pair of Lincoln Griffin and Charlie Pickett both have strong resumes. They are tied for second and third for interceptions, respectively. The pair both have multiple defensive touchdowns and impressive tackle totals. Good luck to all the Big10 players in their pursuit of the All-American team.
A special thanks to all the athletic directors for their help in making these lists possible.