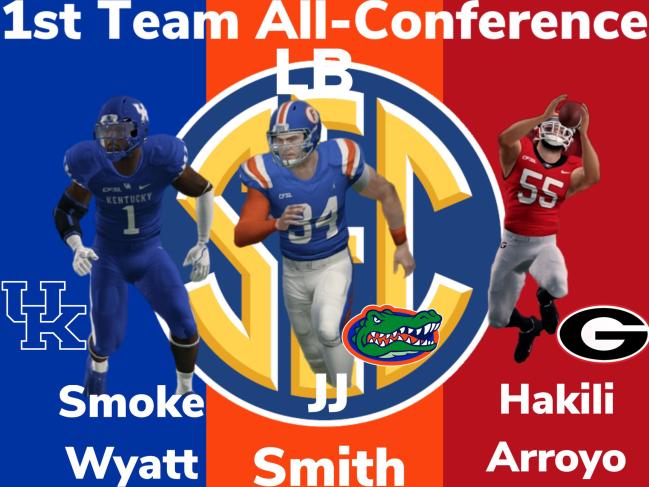 BY: Daniel Gunn and Ryan Moreland
The third of the CFSL All-Conference Awards articles will set its focus down south. This season the SEC was an exciting conference to watch. They had big names making plays, freshman becoming household names, and some upperclassmen making massive jumps in production. Those and more can be found on Season 15's All-SEC Teams. Before we jump into the list, here is a brief explanation on how the all-conference teams were made.
How It Works
Every athletic director was asked to pick the best player at each position within their conference. ADs were not allowed to choose players from their own teams. The AD lists were then compiled to see which players were the most common choices. These players will make up the all-conference teams. Without further ado here are the Season 15 All-SEC Teams.
| | | | | |
| --- | --- | --- | --- | --- |
| Position | 1st Team | Team | 2nd Team | Team |
| QB | Scott Pinesaw | Kentucky | Ryan Ravenhill | Alabama |
| HB | Nicholas Perez | Georgia | James Ware | Alabama |
| FB | McKenzie Thorson | Alabama | | |
| WR | Tucker Quirk | Kentucky | Elliot Griffin | LSU |
| WR | Titus Price | Alabama | Willie Hardigan | Kentucky |
| TE | PD Jackson | Florida | Johnathan Karr | Tennessee |
| DE | George Yost | Alabama | Trey Hawkins | LSU |
| DE | Miles Melo | Kentucky | Charles Davis | Tennessee |
| DT | Jessica Navarro | Alabama | Owen Britt | Alabama |
| DT | Raven Remington | Auburn | Israel Jordan Ward | LSU |
| LB | Smoke Wyatt | Kentucky | Ryder Mears | Auburn |
| LB | JJ Smith | Florida | Griff Martin | LSU |
| LB | Hakili Arroyo | Georgia | JJ Reed | Georgia |
| CB | DJ Brooks | Kentucky | Shawn Adams | Georgia |
| CB | Jaye Johnson | Georgia | Harlan Kash | Kentucky |
| S | Gavin Beavers | Florida | Stevie Glades | Kentucky |
| S | Sampson Gump | Alabama | Colby Ray Walker | Florida |
| K | Trevor Mitchelle | Tennessee | Ahmair Abdullah | Kentucky |
| Ret | Blake Elder | Alabama | Jayvon Davis | Auburn |
| AD | Devan Davis | Kentucky | Allen Bargenquast | Auburn |
*Because of the position scarcity in the CFSL there will be no 2nd team for Full Backs.
Breakdown
There was a two-way tie for the most appearances on this list by a single team. Kentucky and Alabama both had six All-SEC First-Team players, but Kentucky edged Alabama out with one more member of the second team. Both teams have such talented rosters, so this didn't come as much of a surprise. What was surprising, however, is LSU is not the third most represented team. The Georgia Bulldogs had six total players earn their spot on the list, two more than the Bayou Bengals. LSU was actually the only SEC team to not have a player listed on the All-SEC First Team. Their four players with All-SEC honors tied them with Florida and Auburn as the fourth most in the conference. Tennessee was the least represented team but still had three players on the list, including one player receiving 1st-Team honors.
One might think that experience would dominate the list, but that isn't quite the case. In fact, seniors, juniors, and freshmen all appeared on the list nine times. Sophomores appeared only slightly less often, with eight members of the class earning all-conference honors. No other CFSL conference saw this much parity between the classes.
All-American Watch
The CFSL is a few weeks away from the announcement of the this season's All Americans, but many of the names above have a great chance of appearing on that list. Kentucky quarterback Scott Pinesaw has statistically been the best pure quarterback in the CFSL this season. Pinesaw is not only a likely All-American but might hear his name for some other postseason awards. His favorite target Tucker Quirk finished the season first in receiving touchdowns and second in receiving yards. He may not be the only SEC wideout to be an All-American either. Alabama's Titus Price is currently fifth in receiving yards and he is tied for fourth in receiving touchdowns.
Another Wildcat with a real chance of finding his name on the AA list is Smoke Wyatt. Wyatt currently has 96 tackles, which is the third-most in the CFSL. Alabama's Jessica Navarro is hoping that her 17 sacks (tied for third in the CFSL) will earn her an All-American award. Auburn's Raven Remington is wishing the same will be true of his 26 tackles for loss (fourth in the CFSL). These are just a few of the SEC players that could find their way onto the All-American list. Good luck to every SEC player in their hunt for postseason awards.
A special thanks to all the athletic directors for their help in making these lists possible.