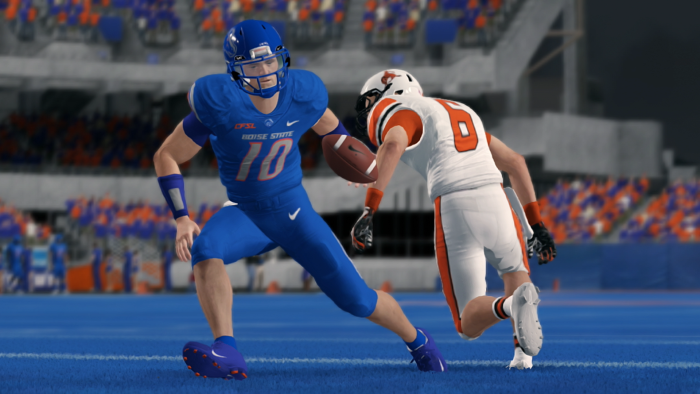 BY: Ryan Moreland (@ryanmoreland)
On Wednesday night, the CFSL will crown a new champion. More specifically, a first-time winner from the Big XII. A champion led by a high-flying passing offense and a bone-crushing defense. A champion that played this same match-up just two months ago.
August 22nd seems like a lifetime ago in the CFSL. Back then, Notre Dame had a winless record, Clemson was higher ranked than five eventual playoff teams, and Laci White only had seven of her league-leading 23 sacks. That night Boise State hosted Oklahoma State in a game that would shape the rest of their seasons. Now, these teams are set for a rematch in the season's biggest game. Here is a look back at that game to gain some insight into the championship contenders.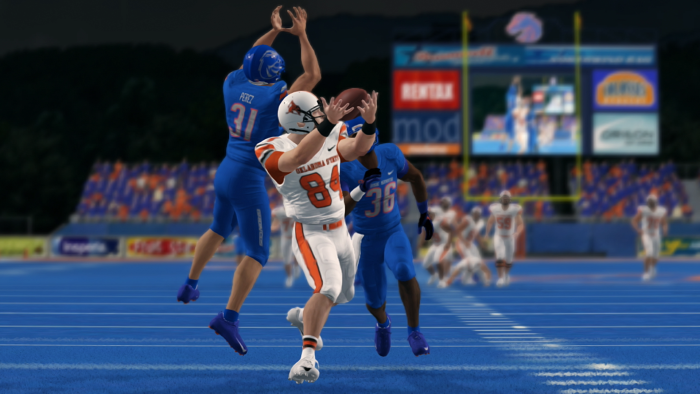 The Game
Before we talk about how this game impacts the rematch here is a refresher on what happened that night. The then-ranked #9 Cowboys traveled to Boise looking to upset the #3 ranked Broncos. The Broncos led at halftime 17-10 thanks partly to a pair of interceptions thrown by freshman quarterback Ryan Moreland. The Pokes rallied in the second half, outscoring the Broncos 17-7 to narrowly came away with a three-point victory.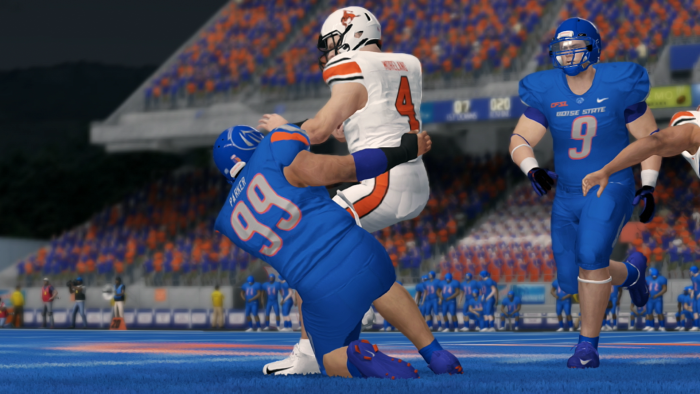 The Impact
After the loss to Michigan in Week One, Oklahoma State needed a big win to ensure their spot in the playoffs. This victory, and a later victory over Texas, cemented the Pokes would be in the CFSL's prominent post-season bracket. The Cowboys would have likely been a PIT team without the win over Boise State.
For Boise State, the loss was a setback but not a major one. The Broncos only lost one spot in the polls the following week, but there was added pressure on their season. Another loss would ruin their playoff hopes. The Broncos rallied after the loss and won the next six games, three of which came against the top 10 teams. And that brings the story back to the championship game.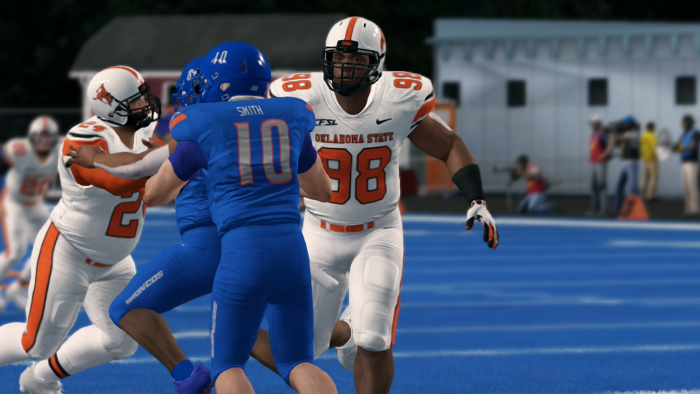 The Rematch
What we truly learn in the first match-up is how to overcome setbacks. In the first game, Oklahoma State outgained the Broncos by 146 total yards. They did this with five more minutes of possession, running almost 20% more plays on offense, and more than tripling Boise State's rushing total (152 to 45). So why was it a close game? Boise State excelled in the red zone and forced turnovers. Oklahoma State only scored one red zone touchdown in their four trips. The Broncos found paydirt on both of their trips. The Broncos played a clean game, not turning the ball over once. As previously mentioned, Boise State forced two turnovers. Boise State proved they don't need to keep up with the Pokes' numbers to win.
These teams are familiar with each other and they play a similar style. Because of that, this game will likely feel more like a middleweight fight than a heavyweight brawl. Both teams are going to try to find small openings to score quickly. They are too familiar with each other for the haymakers to land. This game will come down to coaching and individuals making big plays. Broken tackles, turnovers, and the ability to make something out of nothing will be the difference in this game.
Lastly, an interesting stat that doesn't bode well for the Broncos. Season 15's post-season has seen four rematches of games played earlier this season (Wisconsin vs FSU, Boise State vs Michigan, Notre Dame vs Miami, and Auburn vs Alabama). All four of those match-ups have been won by the original victor. Boise State (and Alabama tonight) will try to break that trend. Good luck to both teams.