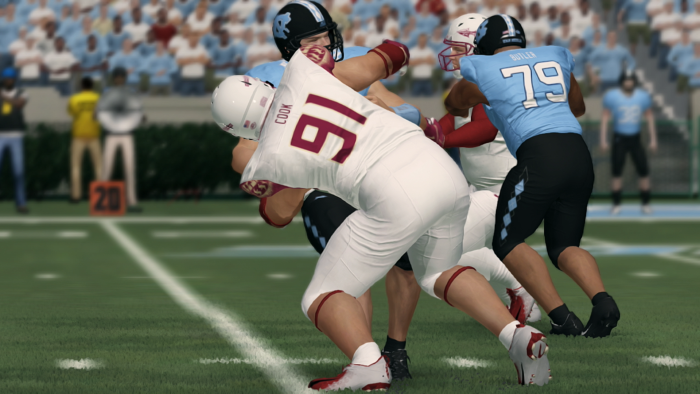 BY: Tony Papol (@SGEasty)
Imagine an alternate reality. In this reality, the CFSL dropped no teams and MACtion wasn't back. Instead, the powers that be decided to add just one team to the CFSL, creating a league of 29 squads. And instead of giving the new team 20 scholarships to recruit within the off-season, an expansion draft system was put in place. What would the makeup of the team be? How competitive would the team be? Could they make the PIT or even the Playoffs in this hypothetical reality?
The Basics
We have seen expansion drafts in the pro leagues. Most recently with the addition of the Seattle Kracken of the NHL. That is where the idea for this article starts.
The NHL Expansion Draft rules stipulate that the new team be able to select one player from each current league team. This was changed for this article so only playoff teams that made the postseason can have their players picked. That way the 12 teams who did not make the postseason could keep their talent.
Current teams are allowed to protect certain players on their roster. Based on CFSL averages during Season 15, teams had about 26 scholarship players on their teams: ten on offense and 16 on defense. The NHL Expansion Draft stipulates that a team protect just under half of their players from the draft, so each CFSL postseason team could protect 12 players, with a further breakdown of five offensive players and seven defensive players being protected.
However, in order for the expansion team to have some quality players immediately, each team must expose one regular offensive contributor and two defensive contributors. Those "contributors" were determined as follows:
(All of these are non-seniors, so they theoretically would have still been on the team the next season, assuming that none of the teams were cut, before the transfer portal and recruitment opened, etc.)
Offense
Most passing yards
Most rushing yards
Most receiving yards
Second-most receiving yards
Third-most receiving yards
Defense
Most tackles
Second-most tackles
Third-most tackles
Fourth-most tackles
Most sacks
Second-most sacks
Third-most sacks
Most INTs
Second-most INTs
Third-most INTs
One of those offensive players must be exposed, and two of those defensive players must be exposed.
A few caveats:
If a team had a senior quarterback, and no one else played quarterback, and so no non-senior had passing yards, then that "exposed position" is lost, meaning one of the remaining four players must be exposed.
If a player, say a running back, is the top rusher and is third in receiving yards, then that player takes both spots, and one of the four players must be exposed.
If a team only has five eligible players to expose one from, then they can only protect four players, as one offensive player must be exposed.
The same rules apply for each protected spot, and for defense as well.
From the lists of "Exposed Regulars" and "Others on Roster", I needed to select 16 players, with six being offensive players and ten being defensive players, based on league averages.
Protected and Exposed Lists
In writing this article, I did not want to be accused of exposing players to make this easy on myself. ("Tucker Quirk and Ryan Moreland would definitely be left available.") So, over the course of the past week (an admittedly very busy time for teams and coaching staffs) I reached out to different current and former ADs asking for help with the article.
Thanks to Justyn Veneklasen (@Vennom), Devan Davis (@14rdavis), Nate Murphy (@bigmurph23), and former AD Houston Freeman (@OKST56). Each AD was asked to protect and expose players from the teams in a CFSL conference (a conference that they didn't coach in).
I thank all of the ADs I reached out to for considering, and especially these four for their time and effort. Here are the protected and exposed players for each team.
Alabama
Protected: QB Ryan Ravenhill, HB Blake Elder, WR Carlos Shapovalov, WR Titus Price, TE Kris Keohane, DE George Yost, DE Michael Rushing, LB JayCee Newton, CB Shabazz Holmes Harris, CB Isaiah Halderman, S Samson Gump, S Deuce Palmer
Exposed Regulars: WR Ace Axel, DE Muhammad Smith, S Blake Woodson
Others on Roster: QB Daxton Moore, HB Demario James Garcia, FB McKenzie Thorson, WR Jordan Jefferson, WR TJ Camden, S Hugh Hamlin
Auburn
Protected: HB Brodie Bailey, WR Thane Lewis, WR Nate Hayes, WR Jayvon Davis, TE Joseph Bautista, DT Raven Remington, DT Moose Mercilus, DE Erik Nicol, LB Ryder Mears, CB Braxton Antkowiak, S Michael Clendennin, S Kendrick Jarrett
Exposed Regulars: WR Nick James, LB Terrence Guapo, CB Cole Smith
Others on Roster: LB James Willis, CB Bayani Dearing, CB Kalif Smith
Boise State
Protected: HB David Williamson, WR Timothy Banger, WR Nahreese Davis, TE Ron Johnson, TE TJ Williams, DT Mo Hart, DE Alexander Wilson, DE Pierce Parker, LB Sage Collins, CB Demetrius Thomas, CB Aries Rodriguez, CB Noah Shaikh
Exposed Regulars: WR Cortez Largent, LB Tyler O'Curran, S Marcus Perez
Others on Roster: WR Nico Grayson, LB Henry Pate III, LB Jacob DeReus, LB Donovan Padilla, CB Tyler Wheeler, CB Jaquezz Thompson, S Damon Battle, S TJ Moses
Florida State
Protected: FB Juni Winter, WR Chase Legend Jr., WR Sammy Tres III, TE Trent Morey, TE AJ Dewdney, DT Laci White, DT Harry Barnes, DE Scott Reichle, LB Maverick Rivers, LB Johnny Johnson Jr., CB Phillip Morris, S Rick Davis
Exposed Regulars: WR CB Toro, DE Jarod Cook, S DJ Hanson
Others on Roster: DE Jack Kehoe, LB Ethan Hoffman
Iowa
Protected: QB CeCe Range, HB Tavian Tyree, WR Terrence Jones, WR Maddox Cash, WR Chael Covington, DE Hiro Nakajima, DE Dante Bonilla, LB Ryan Schultz, LB Dahzaun Richardson, LB Travis Redman, CB Dawson Daniels, CB Alexander Kirsch
Exposed Regulars: WR Garrett Warner, DE David Tilley Jr., S Bryce Simons
Others on Roster: LB Burt McDowell
Kentucky
Protected: HB Taylor Copley, WR Willie Hardigan, WR Tucker Quirk, WR Ty Kuhn, TE Joey Batuello, DT Jackson Miller Sr., DE Miles Melo, LB Smoke Wyatt, LB Luke Davis, CB DJ Brooks, CB Harlan Kash, S Timmy Schneider
Exposed Regulars: WR Tyler Amos, DE Austin Allen, S Latrell Terry
Others on Roster: HB Michael Heath, WR Caleb Heck, WR Nate Rodriguez, TE AJ Jacobs, DT Brud Jenkins, S Louis Walker, S Guilherme Goncalves
LSU
Protected: QB Moses King, WR Elliott Griffin, WR Josiah Mosley, WR Adien Breksa, WR Markell Lewis, DT Israel Jordan Ward, DE Trey Hawkins, LB Griff Martin, CB Kenneth Swift, CB Trey Woodard, S Malcolm Kemp Brown, S Maverick LeBlanc
Exposed Regulars: WR Smoke Orleans, DE Zach Moncilovich, S Malik Woodberry
Others on Roster: HB Ryan Higo Jr., WR Nathan Noble, TE Jack Haley, DT Quentin Blackwell, LB Myles Adedeji, CB Deebo Walker, CB Terrelle Reed, CB Jeremiah Brown
Miami
Protected: HB Daven Brewer, WR Wren Chucci, WR Justice Fury, WR Sinsere Battle, TE Sayler Sage, DT Jay Gates, DT Blake Savage, DE Alden Forrester, DE Cory Mucci, CB Tom Reis, S Zaveon May, S Kavon Kaine
Exposed Regulars: WR Demetrius Reese, LB John Smith, S Matt Jones
Others on Roster: WR Juval Green, DE Kamron Daniels, DE Carl Patrick, LB Jayeff Thompson, CB Justin Pufall, CB Daniel Thomas, CB Julian Lee
Michigan
Protected: WR Nick Reno, WR Trystin Haynes, TE Daniel Begley, TE Maddox Hagerty, DT Daniel Winston, DE Noble Smith, LB Zackary Babineau, LB Haden Grant, CB Lincoln Griffin, CB Charlie Pickett, S KJ Dosunmu
Exposed Regulars: HB Barry Beadsley, DT Kade Padgett, S Brian Mount
Others on Roster: DE Wes Krimm, DE Lucas Mariani, LB Miami Thomas, LB Joque Landsman, CB Semi Dosunmu, CB Davontay Jackson, S Alex Adams, S DaJuan Aguilar
Notre Dame
Protected: FB Jake Davis, WR Kareem Parker, WR Chris Foster, WR Jayveon Brooks, DT Balor Blaise Dale, DE Drew Brandt, LB Tyrell Kross, CB Nick Hopper, CB Connor Miles, S Xavier Riddick, S Connor Cummings
Exposed Regulars: TE William Lemieux, DT Ben Craig, CB Duke McGregor
Others on Roster: DT Jackson Turner, DE Turner Jackson, DE Demarcus Young, LB Justin Vieira, CB Ethan Barnard
Ohio State
Protected: QB Logan Radloff, WR Gregorio Esteban, WR Arthur Hanna, WR Jalen Thomas, TE Alex Frost, DT Jaylen Terrel, LB Matt Fields, CB Gerald Pope, CB Donte Johnson, S Gavyn McFadden, S Brayden Taylor, S Corey Dickerson
Exposed Regulars: HB John Carroll, DE Alex Hill, LB Connor Newman
Others on Roster: FB Corbin Archer, WR Robert Jones III, WR James Isaacson, WR Tom McDonald
Oklahoma State
Protected: Ryan Moreland, HB Jordan Hammer, WR JT Cass Jr., WR Steven Rodriguez, DT Ezra Rogalski, DE Les McAdoo, LB Tymundus Bell, LB Joe Miller, CB Max Capone, CB Rishaun Rylan, S Otto Podolski
Exposed Regulars: TE Steven Eastridge, DE Ben Sapp, S Chris Sunseri, S Tyrone Wysinger
Others on Roster: DT Kyle Tolbert, DE Duante Scott, CB Jayshawn Jenkins, CB Dallas Perez
Oregon
Protected: WR Zac Cornwall, WR Gunny McGuire, WR Pablo Thompson, WR Matthew Cherry, TE Kevin Hall, DT Tristan Paul, DE Bobby Haas, CB Buck Michaels, CB Darian Conner, CB Ray Smith, S Jordan Lyall, S Alay Dexter
Exposed Regulars: HB Derek Eldridge, DE Mike Donlin, CB Jordan Dior
Others on Roster: WR Ty Wright, WR Michael White, WR Rashawn White
Texas
Protected: WR Brandon DeMoura, WR Quinn James, WR Wish Bishop, TE Jaxon Jax, DT Enrico Pipino, DE Cillian MacBride, LB Zach Flowerday, LB Tyler Detherage, LB Blake Grant, CB Duke Stover, CB Scott Hall
Exposed Regulars: HB Killian Dunn, DE Christian Madry, S Dylan Bishop, S Rolf Altmann
Others on Roster: DE Ellis Emery, CB Penny Kilpatrick, S Brandon Daniels
West Virginia
Protected: QB Tony Ellis, HB John Paul Smith, WR Tomlin Clementine, WR Jacob Tomas, TE Martin Lowery, DT Amari Stevens, DE Emma Leigh, DE Jayshaun DeRollo, LB Wesley Bellomy, CB Cameron Jones, S Jakoby Cobb, S Cosmo Mintz
Exposed Regulars: TE Brendan Goshay, LB CJ Orndorff, S Adam Sala
Others on Roster: DE Jagger Jackson, DE Jimmy McKirdy, CB AD Powers, CB Darion Hanes, S Andrew Matsche
Wisconsin
Protected: HB Bentley Rollins, WR Tee Weary, WR Maleko Nomura, WR Damari Breeze, TE Michael Paul, DE Jody Gombas, DE Malachi Goodson, LB Rod Blake, CB Marcus Elliott, CB Emilio Jimenez, CB Brandon Forte, S Leo Guerrero
Exposed Regulars: WR Bobby Moss, LB Troy William, S Donte Brown
Others on Roster: FB John Griffin, WR Quintae Reaves, WR Devante Johnson, TE Reece Donahoo, DE Roman Gale, LB Jake Wilson, LB Justyn Eckert, S Derrick Hallback, S Zorion Gonzalez, S Pierre Carter
The Selection
Also of note is that I would expect this team to get the same 10 scholarships that all current teams get to sign new recruits. Based on Season 15 averages, the 24 non-expansion teams signed seven recruits and two transfers. Those broke down into four elite players, one 5-star, two 4-stars, and two 3-stars. Knowing this would be key to building my team.
Surprisingly, I focused more on getting quality players at each position rather than focusing on getting a team's best player. I think that was due to the lack of great players available at certain positions, so getting a good linebacker, for example, was key.
When creating the lists, I was shocked to see Florida State's DE Jarod Cook left exposed. He was the first player I drafted for the team and would create dominant movement up front on each play.
Next, I wanted to focus on getting the best DT available. This might just be the marquee position in the CFSL and getting a quality interior defensive lineman was crucial. Only two elite players were available for this position, and I chose Oklahoma State's DT Kyle Tolbert. This of course meant other great OKST players like DE Ben Sapp, S Tyrone Wysinger, and S Chris Sunseri had to be left off the team, but I knew I needed a dominant DT.
The next position I knew I needed a solid contributor at was CB. Only two elite CBs were available in the draft, and I knew I needed both of them. So, Miami's CB Justin Pufall and Michigan's CB Semi Dosunmu were drafted onto the team. Both Miami and Michigan had elite safeties, but the number of quality safeties available let me focus on taking these two players instead.
I focused on drafting quality safeties next for additional help in the passing game and to help in stopping the run. Drafted at this position were Kentucky's S Latrell Terry and LSU's S Malik Woodberry. Giving up WR's Tyler Amos and Smoke Orleans stung a bit, but the safety position needed quality players, and I was prevented from taking a Wisconsin safety.
Speaking of Wisconsin, only two elite LBs were left available to me to draft, and both were Badgers. The rules stipulated I could only take one of them, so welcome to the new team Wisconsin's LB Troy William. Of the remaining linebackers, I was torn between Boise State's LB Tyler O'Curran and Ohio State's Connor Newman. In the end, I wanted a different Boise State player, so I sacrificed Ohio State's HB John Carroll to select Newman as our second LB.
That totaled eight defensive players, with decent depth at each of the three defensive levels. So, I turned to offense.
Because of the lack of talent, TE was the first offensive position I selected. Already eliminated from contention was the only elite tight end available in OKST's Steven Eastridge, so I chose Notre Dame's TE William Lemieux. While not having excellent stats this season for the Fighting Irish, Lemieux in previous seasons had greater success in the passing game, and we would look to use him as a bit of a secret weapon.
Six elite WRs were left exposed to start the draft, and four were available at this point. The first was simple. Iowa's WR Garrett Warner was drafted, as he was the only player from Iowa I really wanted. Joining Warner would be Alabama's WR Ace Axel. This was a tough decision between Axel and Alabama's WR Jordan Jefferson, but in the end the dominant performances in the PIT against Auburn and LSU swung this pick Axel's way. With only one elite WR left, Boise State's WR Cortez Largent was added to the program. With his Fitzgerald archetype, we now had a possession receiver in our WR room. Rounding out the receivers is Auburn's WR Nick James. This was another easy decision, as he was the only Tiger I wanted to draft.
With three picks left, I needed one offensive player and two defensive players and had Oregon, Texas, and West Virginia left to choose from.
With depth at the defensive line limited, I wanted the best DE available, which was Oregon's DE Mike Donlin. With Donlin and Cook on the ends and Tolbert up the middle, this was the foundation of a great defensive line.
Of course, selecting Donlin meant losing out on Oregon's HB Derek Eldridge. So, the best available HB was Texas's HB Killian Dunn. I was really happy with this pick this late in the draft, as his performance in the Texas system shows his ability to run and catch out of the backfield.
That left me with West Virginia. I had thought of this team for some time as a "depth provider" at a defensive position, and now my decision was between LB CJ Orndorff, CB AD Powers, and S Adam Sala. I needed depth at each position, but ultimately selected West Virginia's S Adam Sala as the third member in the safety room as I only had three sophomores before Sala joined the program.
Results
| | | | |
| --- | --- | --- | --- |
| Offense | | | |
| HB | Killian Dunn | Junior | 5* |
| WR | Ace Axel | Senior | Elite |
| WR | Cortez Largent | Sophomore | Elite |
| WR | Garrett Warner | Junior | Elite |
| WR | Nick James | Senior | 5* |
| TE | William Lemieux | Senior | 5* |
| Defense | | | |
| DT | Kyle Tolbert | Junior | Elite |
| DE | Jarod Cook | Junior | Elite |
| DE | Mike Donlin | Sophomore | Elite |
| LB | Troy William | Sophomore | Elite |
| LB | Connor Newman | Senior | 5* |
| CB | Semi Dosunmu | Senior | Elite |
| CB | Justin Pufall | Junior | Elite |
| S | Latrell Terry | Senior | Elite |
| S | Malik Woodberry | Junior | Elite |
| S | Adam Sala | Sophomore | 5* |
Needs
Let's state the obvious: this squad needs a quarterback. With apologies to Daxton Moore, I think a roster of this ability, and a receiving core with so much talent, could bring in an elite QB recruit. I also need depth badly at linebacker and would look to sign an elite LB recruit as well. If I could sign four elite players, the others would be at cornerback and defensive tackle. Another elite defensive tackle would wreak havoc on opposing offenses and would be among the best front fours in the league. And another corner for added depth, especially late in the fourth quarter, would help the pass defense tremendously. And with the other five incoming players, I would aim to sign a second TE, a fourth LB, CB, and S, and a fifth WR.
Conclusion
This is the foundation for a postseason team, one that with a few key additions could make the Playoff! I am very happy with the depth at receiver, safety, and defensive line. This team can play fast and aggressive on both sides of the ball.
Ultimately, I'm left feeling like this team shouldn't be this good, and thus perhaps the exercise was a bit too easy. A quick solution would be to let teams protect one more offensive and defensive player or just have an expansion draft occur from the eight teams who made the Playoff, and then give the new team 15 or so scholarships to work with in the offseason. Either way, I think this exercise shows the depth that is present in the CFSL, and that this ultimately could be a fun way to start new teams in the league and add a whole new level of drama.
I also know that many of you think you could create a better team. I am sure plenty of others, would be happy to know who you would pick for your team. Make your picks and post them in league chat, or even just send them to me in a DM, I'd be happy to talk to you about it! I didn't spend a week and 3300 words to let this idea ride off into the sunset.
Remember, 6 offensive players, 10 defensive players, and one from each of the 16 postseason teams.
Have fun!