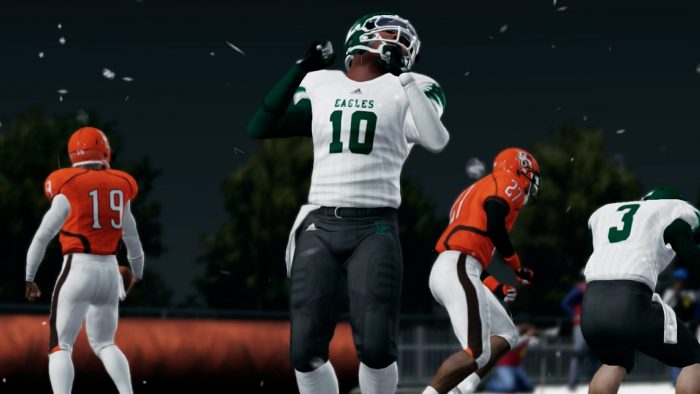 BY: Nate Murphy (@bigmurph23)
We have all seen regular seasons come and go. Not just here in the CFSL but in the sporting events that occur outside of our fun little e-sports world. And as the postseason starts, both here and there, you can almost always hear someone say that one team or another is going to be a tough out, or a team that no one is going to want to see in the first round. That team is usually a team that started slowly or was not so great the season before and suddenly has caught fire, won games that they shouldn't have and somehow has found themselves on the brink of the playoffs. 
Now as recruiting is winding down, rosters are being filled out and the offseason additions channel is being updated take a look. Tell me where that team is? Which team is going to be the team no one wants to see round one? If you picked just one, you're lying to yourself. With the brand new All-26 CFSL Tournament (yes, I just named it, feel free to use it) there are no easy outs. Sure, point to the 6 MAC schools and say they are all going to be eliminated round one. But let's see how that turns out. If we see at least one MAC team represented in round two there will be at least one person outside of that locker room who isn't surprised. 
The MAC will certainly be competitive within itself. So what makes me so sure it will be competitive in the All-26? Well, while at some levels the MAC did struggle to bring in some of the top talent in the league. However that doesn't mean that there is NO talent in the MAC. Each program has at least one recruit or transfer that currently has an Elite tag. Most have multiple Elite caliber players on their still growing rosters (MAC teams still trying to build towards that 25 player minimum threshold). Not worried yet? Well then hope you don't draw Bowling Green or Eastern Michigan. The Falcons and Eagles have a combined 13 Elite level players on their rosters, seven for Bowling Green and six for EMU. No this does not guarantee them wins, and certainly not over teams that have been recruiting and building rosters for the past few seasons while the MAC was dissolved. However this will allow them to compete. The five and four star talent filling out the rest of the rosters will help them stay in games. Will they win? Only time will tell, but it does make them two of the tougher outs coming from the MAC.
What about the rest of the league? Well just keep scrolling down that off season additions channel. Pick a team. Tell me one team that didn't improve? Each team took advantage of the expansive transfer portal this off season with the loss of some CFSL teams dropping entire rosters worth of players into the portal. Outside of Oregon all the other teams in the league grabbed at least one player from the transfer portal. Out of those teams that did, all but Boise State was able to get at least one Elite from the portal. The Crimson Tide did their recruiting almost exclusively from the transfer portal only signing one new recruit to their squad…oh but by the way, that was an Elite Strong Safety. And Boise State, well their one get from the transfer portal may not have been an Elite, but they made up for it by recruiting seven new Elite level recruits to the potato state to play on the blue. 
Does all this talk about the Elite level talent that these teams were able to bring in really mean that those are the teams that are going to be the best? No, not necessarily. Only a handful of teams were mentioned by name. There are so many great teams in this league. The talent is starting to spread out (the intent of dissolving the teams that the powers that be dissolved) and the parity should start showing. What this recruiting cycle should tell us is that the teams that were okay and good teams in season 15 have gotten better, on paper at least. And the teams that were great last season have maintained their status quo at the very least. And it proves the point, when the regular season is done and the brackets are put out for the All-26 CFSL Tournament there will be no easy outs. 
What do you think? Am I right? Am I wrong? I would love to hear your opinions respectfully given in league chat or you can even message me personally to tell me if you agree or just agree to disagree.