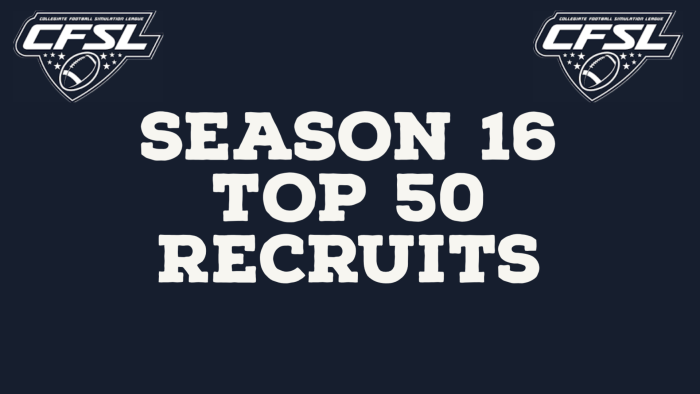 BY: Ryan Moreland (@ryanmoreland)
This was a difficult year to rank the recruits thanks to the simple fact that there were so many talented players coming into the CFSL this season. Congratulations to everyone who made the list and good luck to all incoming freshmen!
The Top 50
| | | | | |
| --- | --- | --- | --- | --- |
| Rank | Player | Position | Hometown | School |
| 50 | Michael Sands | DE | Valliant, OK | Eastern Michigan |
| 49 | Reggie Williams | DT | Knoxville, TN | Florida State |
| 48 | Jake Rice | FS | Whitewater, WI | Alabama |
| 47 | Braxton Griffin | CB | Glenwood, IA | Florida |
| 46 | Captain Carter | WR | Atlanta, GA | Georgia |
| 45 | Richard Satchel | TE | Ocala, FL | Oklahoma State |
| 44 | Jessica Stephens | WR | Harrisburg, IL | Illinois |
| 43 | Joshua Sims | WR | Seattle, WA | Georgia |
| 42 | CJ Jones | WR | Bronx, NY | Boise State |
| 41 | Moe Black | CB | East Towson, MD | Oregon |
| 40 | Tyler Scally | CB | Drexel Hill, PA | Michigan |
| 39 | Steven Lee | SS | Philadelphia, PA | Georgia |
| 38 | Manti Delano | FS | Miami, FL | Kentucky |
| 37 | Alex Bernard | CB | St. Paul, MN | West Virginia |
| 36 | Cole Matthews | CB | Houston, TX | Notre Dame |
| 35 | Milo Pinesaw | OLB | Leitchfield, KY | Boise State |
| 34 | TJ Gardner | OLB | Titusville, FL | Oklahoma |
| 33 | Bode Cooper Dale | HB | Prater, VA | Notre Dame |
| 32 | Tank Lionheart | HB | Augusta, KS | Ohio |
| 31 | Mateo Walker | QB | San Antonio, TX | Miami |
| 30 | Brantley Gauci | QB | Belton, TX | Oregon |
| 29 | Blake Davis | SS | Smithville, TX | Illinois |
| 28 | Del Toro | QB | Waco, TX | Ohio |
| 27 | Perry Pushkaryov | TE | Mount Vernon, IN | Ohio |
| 26 | Apollo Richardson | FS | Athens, Greece | Florida State |
The Top 25
25. Duke Peterson
HB | Winston-Salem, NC | Clemson
Peterson is a big-framed running back whose clean footwork makes up for what he lacks in lateral agility. Clemson expects Peterson to be their day-one starter. Given his size and rare work ethic, that shouldn't be an issue.
24. Brian Andrews
MLB | Rusk, TX | Illinois
Andrews is an old-school linebacker. The 260 lb country boy has a violent downhill approach that stops rushing attacks on a dime. Illinois had some difficulty stopping the run last year, but that might be a worry of the past now.
23. Ludwig Friedman
QB | Salzburg, Austria | Eastern Michigan
Friedman may not be the best QB in the class, but he is easily the most interesting. The Austrian native broke just about every record in European football. This has led many to call him the best European college football prospect of all time. The Salzburg Slinger is also the only Top 25 recruit to head to a MAC school. We will soon find out if he has what it takes to play in the states.
22. Bronco Dukes
DT | Boca Raton, FL | Oklahoma
At six foot, five inches, and 380 lbs there aren't any recruits bigger than Bronco Dukes. After a stellar career at the football factory St. Thomas Aquinas, Dukes is ready to take on the best of the CFSL. He is one of the four Oklahoma commits earning a spot in the Top 50.
21. Ike Porter
HB | Haines City, FL | Oklahoma
Porter's bruising running style and homerun ability make him the second-highest rated half back on this list. Porter joins an Oklahoma backfield that has plenty of running ability with QB Derrick Power and HB Cedric Yardy. The signing has many wondering exactly how much the Sooners intend on passing the ball.
20. Sammy Smith
SS | Chandler, AZ | Alabama
Smith showed in high school that he is a leader on and off the field. His talent and knack for motivating others might make him the next great Alabama player. Or at least the Tuscaloosa faithful hope so.
19. Benny Trill
SS | Baton Rouge, LA | Oregon
Trill didn't get a lot of playing time in high school, but he made the most of his opportunities. His elite speed and nose for the football has made him one of the most-coveted prospects in the class. Also, he has soon a knack in the return game as well. The Ducks landed one of the best all-around athletes in the class.
18. Draymond Shakur III
WR | Detriot, MI | Auburn
Shakur used football as a means to escape a difficult life growing up in inner-city Detroit. That escape turned out to be his true calling. Shakur's 6'5″ frame made him a RedZone monster in high school. Auburn is hoping he can replicate that at the next level.
17. Van Jackson
OLB | Bixby, OK | Notre Dame
Jackson is one of the two Notre Dame recruits to earn the CFSL's Top 25 rating. Jackson likely could have had a future in baseball (was a multi-time all-state 3rd baseman), but his first love has always been football. Look for Jackson to have an immediate impact on the Irishs' defense.
16. Charlie Sammons
QB | Johns Creek, GA | Notre Dame
Sammons is a real student of the game. He shows a football IQ that is far beyond a normal incoming-freshmen. He also possesses some of the natural-running abilities that made his brother a star. That combo should make Sammons one of the best quarterbacks in this class. Sammons followed in his brother's footsteps and signed with Notre Dame.
15. Max Prime
DE | Augusta, GA | Georgia
The home-grown Max Prime decided to stay with the hometown team. The Bulldogs couldn't be happier with the choice. The 6'8″ and 275 lb behemoth will likely start the day he sets foot on campus.
14. DJ Sutton
SS | South Haven, MI | Oregon
Sutton is a name we have been hearing for a while. The two-time High School All-American is a ball hawk of safety. And that is exactly what the Ducks want. Forcing turnovers has been a key part of the Oregon defense and Sutton seems like the perfect fit.
13. Buster Cox
WR | Anthony, FL | Oklahoma State
Cox was a four-sport athlete in high school (track, soccer, and wrestling). He also played three positions in football (WR, QB, S). His experience has given him a unique skill set. Some have questioned whether this unique skill set is a weapon or a curse. But those in Stillwater think they have found a future star to add to an already talented offense.
12. Kirby Sierra
MLB | Washington, DC | Georgia
Sierra didn't enjoy the high school success that some of the other names on this list have, but his spot is well-earned. The athletic linebacker has all of the physical traits of an All-American. With the right coaching, Sierra could be the piece that takes Georgia's defense to the next level.
11. Rocko Britt
FS | Charlotte, NC | Alabama
The Season 16 recruiting class is unbelievably talented and deep at the safety position. So, being the top safety on this list is quite an honor, and one well-earned by Britt. Thanks to his QB-playing experience, Britt already shows a college-level understanding of offenses. Alabama was looking for someone that could come in and play immediately and they found it.
10. Damian Jones
WR | Plant City, FL | Oklahoma
There has been much debate over who is the best wideout in this class. Jones comes in second at the position in our rankings, but not by much. The lengthy receiver has all the skills necessary to be a real force at the next level. No wonder Oklahoma recruited him so hard.
9. Rick Koon
CB | New York, NY | Kentucky
The first thing you notice when you watch Koon's tape is his speed. On the rare occasion that he makes a mistake in coverage his rare athletic ability allows him to recover and make plays on the ball. The Wildcats couldn't be more thrilled to land such a quick recruit.
8. Ronnie De La Rocha
HB | Pasadena, CA | Florida State
Standing at 6'2″ and 245 lbs De La Rocha is an intimidating presence on the field. What might surprise folks is how fast that bulky frame can get downfield. De La Rocha has some big shoes to fill in Tallahassee, but the nation's highest-rated running back seems to be ready for the challenge.
7. Topher Foreman
QB | Orchard Park, NY | Boise State
Foreman was a starter all four years at Ralph Wilson Memorial High School. He might honestly be the most game-ready QB in the class. After losing four straight state finals appearances, he is ready to prove he has what it takes to win it all.
6. Sam Dobbins
QB | Okeechobee, FL | Michigan
Sam (who is the son of CFSL legend Cory) is a big bruising quarterback that comes from a single-wing offense. His running ability will shine through immediately, but it could take some time for him to find a rhythm throwing the ball. But if he finds that, watch out CFSL.
5. Baker Thomas
QB | Essex, VT | Auburn
Season 16's recruiting class has one of the most promising quarterback classes the CFSL has ever seen. Thomas is one reason why. Some have discredited Thomas for having gone to a small school, but his skill speaks for itself. The transition to big-time college ball might be tough, but Thomas has the talent to play with the big boys.
4. JaMarr Carr
WR | Toledo, OH | Michigan
The Carr family's newest CFSL star-in-the-making is taking his talents to Michigan. That gives the Wolverines two of the top five recruits. We know what happened last time an Ike and a Carr played on the same team…
3. Daemon Ike
CB | Lake Orion, MI | Michigan
The Ike name is well known in the CFSL on the other side of the football. However, Aaron's little cousin has found his calling at corner. And his state championship-sealing interception shows he has the family gene for clutch play. Michigan was lucky to land the best defensive back in the class.
2. Jaydyn Riley
DE | Boston, MA | Florida
Riley is the top-ranked defensive player for good reason. He is on the smaller side for a DE, but he more than makes up for it with a freakish athletic ability. Riley showed off that athletic talent playing tight end and linebacker, as well as on the defensive line in high school. Florida believes they have found a generational talent in Riley.
1. Avery Ware
QB | Courtland, AL | Texas
The nation's top-ranked recruit grew up a few hours away from Alabama and Auburn but spurned both in-state teams in favor of Texas. Could this be the missing piece that puts the Longhorns back on top? The faithful in Austin hope so.