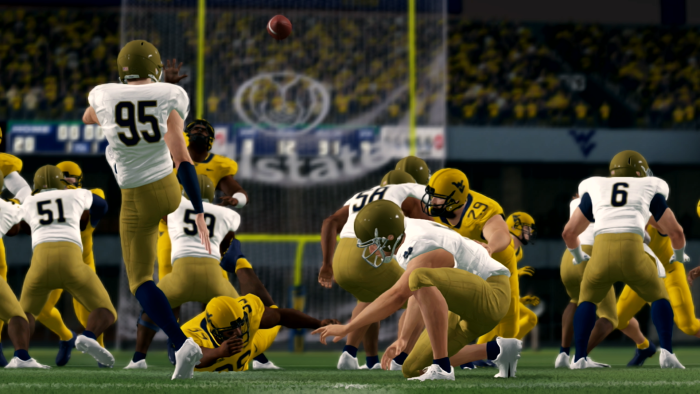 BY: Vinny Mixon (@VinnyTrill)
What is it that makes a great kicker? Is it accuracy? Is it coming through in crunch time? Or is it simply having a strong leg? Everyone has different criteria for what it takes to be a great kicker and today I will be taking a dive into the unsung heroes of the CFSL. You love them when they make kicks and hate them when they miss. I'm here to put a bigger spotlight on the ones I believe are the top five kickers going into Season 16.
5. Kevin Brown, SO, Illinois
Not easy to find fault in Kevin Brown's game. As a freshman, Brown missed 0 kicks going 14/14 on field goal attempts and 27/27 on extra points. The all-time leading kicker in South Carolina HS history had his best game against North Carolina. In that game, he made 11 kicks for a total of 21 points. The lone knock against Brown would be that he attempted no kicks further than 39 yards. That being said, having no missed kicks makes for a great counterpoint.
4. Waylon Wright, SO, Miami
Accurate and powerful, Wright is everything you want in a kicker. Last season he had a 94% field goal percentage. That includes three kicks beyond 45 yards. This was a freshman campaign to admire. Wright scored 83 points in Season 15 with his most coming against Pitt, where he went 3/3 on field goal attempts and 5/5 on extra points. That performance followed a 4/4 performance on field goals the week prior giving him 27 points scored in two weeks.
3. Pacer Smith-Miller, SO, Iowa
Smith-Miller had an amazing freshman season, scoring 87 points while only missing one kick. 17/18 on field goal attempts with a long of 42 and 36/36 on extra points were the stats for Smith-Miller. He shined against Washington scoring 19 of the team's 43 points in that game. Smith-Miller rose up recruiting boards due to his astonishing TikTok kicking videos going viral and now is continuing to climb the ranks at the next level. Does he turn it up this season and take over the top spot?
2. Luka Rivers, SO, FSU
Rivers had arguably the best season of any freshman kicker last season. His only miss was in Week 2 against Wisconsin in a game he went 7/8 on total kicks. Rivers would finish the season by hitting his next 16 field goal attempts along with making all 45 extra point attempts. Boasting a long of 49 yards Rivers has shown he has a powerful leg and the accuracy to make him one of the best kickers in Season 16
1. Greg Owens, SR, Ohio State
Owens has attempted 171 kicks and only two have failed to go through the uprights. The Cleveland native decided to stay in state and play for the team he idolized growing up. As a freshman Owens had an outstanding season by scoring 133 points. He would also score 22 points in a game against FSU going 6/6 on field goals. Owens continued on the path for greatest for multiple seasons. Currently, he sits 14 field goals made from tying the all-time career record set by Johnny Growler in Season 14.
These kickers are most deserving of the recognition but I'd also like to recognize the next wave of kickers in the CFSL. Season 16 features 14 first-year kicks each with their own opportunity to crack the next top-five list. Good luck to all the unsung heroes kicking field goals in the CFSL.