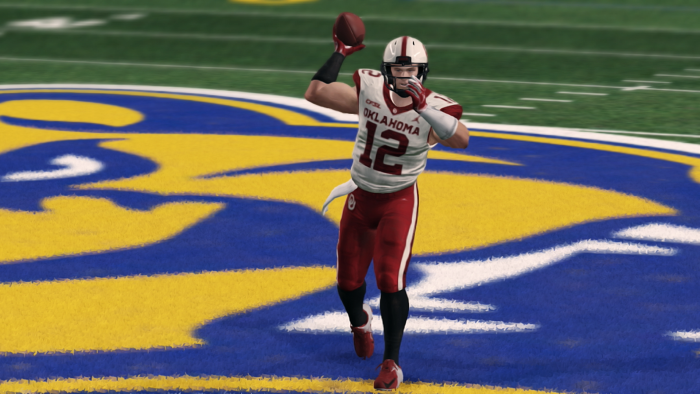 BY: Ryan Moreland (@ryanmoreland)
Nailbiters, upsets, and blowouts galore! Season 16 is finally underway and the Big10 has seen plenty of shake-up from what he expected in the preseason rankings. Without further ado, let's dive into a wild week one.
#1 Oklahoma State vs #13 North Carolina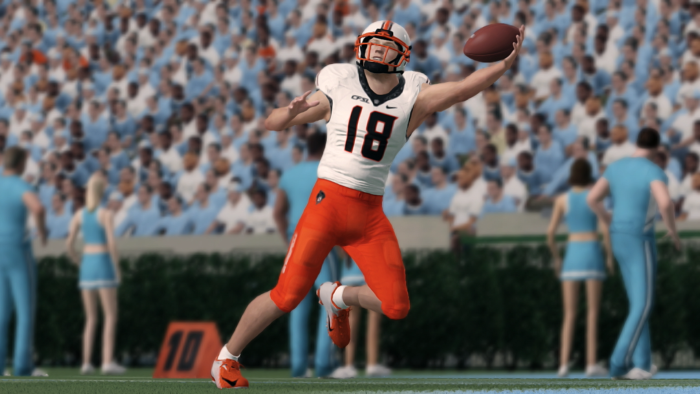 The Cowboys started their season off with a bang. The reigning champs looked stellar on both sides of the ball in what would turn into a rout of the Tar Heels. QB Ryan Moreland's league-leading six passing touchdowns (including three to Steven Rodriguez) led the offensive charge. However, it was the defense that stood out in this game. Tyrone Wysinger, Otto Podolski, Gavin Beavers, Rishaun Rylan, and Max Capone combined for a CFSL record nine interceptions. Podolski and Wysinger snagged three each, which ties them with Florida's Lincoln Griffin for the league's lead. Overall, the Pokes lived up to the expectation and look to be one of the best teams in the nation.
Final Score: Oklahoma State 58, North Carolina 14
Next Week: vs #12 Florida (1-0)
#4 Kentucky vs #3 Boise State
The rematch of last season's semifinal classic did not disappoint…unless you are a Broncos fan. The good news is Boise State looked great in this game. The bad news is the Wildcats escaped with a two-point win. Freshman QB Topher Foreman looked great in his debut. He spread the ball around, but a clear favorite target did emerge. Sophomore WR Cortez Largent had a career game earning 136 yards and catching both of Foreman's touchdowns. The defense held a high-powered offense to 22 points. Standouts Henry Pate III and Noah Shaikh both had an interception. Overall, the loss hurts, but the Broncos should be happy with the way they played this game. This is still a team to watch out for.
Final Score: Kentucky 22, Boise State 20
Next Week: at Florida State (0-1)
#5 Texas vs # 10 Alabama
This might have been the most exciting game in the CFSL this week. When one team scored the other was quick to respond. After a wild fourth quarter, in which 41 total points were scored, the Longhorns came out on top. HB Killian Dunn was a big reason why Texas was able to win. Dunn had his ninth career game over 100 yards and added three scores to his stat sheet. The Longhorn defense did allow over 600 passing yards, but interceptions by OLB Blake Grant, FS Jordan Lyall, and CB Duke Stover (2) minimized the damage. The word in Austin was the Longhorns were back and after this win over a top-ten opponent, it is hard to say differently.
Final Score: Texas 54, Alabama 51
Next Week: vs Miami (1-0)
#6 Michigan vs #2 Florida State
Many people wrote off the Wolverines coming into this game. They traveled to Atlanta as 8.5-point underdogs. They traveled home as a team that just beat the pants off the second-best team in the country. Freshman QB Sam Dobbins didn't look like a freshman as he completed a staggering 84% of his passes. Four of those passes found the endzone. He also had 97 yards on the ground, which is the most among QBs this week. The defense did its part by forcing six interceptions, including two caught by senior KJ Dosunmu. This was an impressive victory that put the rest of the league on notice. If Michigan can keep this up Aaron Ike will be contending for a title in his first year as an AD.
Final Score: Michigan 62, Florida State 21
Next Week: vs Alabama (0-1)
#12 Florida vs #8 Notre Dame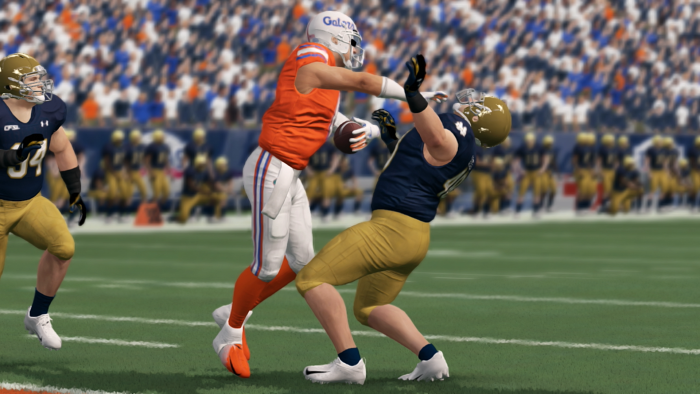 The Irish were looking to bounce back after a so-so Season 15, and at first, it was going according to plan. Well, maybe not exactly the way they drew it up, but they were leading going into the fourth. However, the Gators scored 14 unanswered points in the game's final quarter to come out with the win. QB Charlie Sammons' debut was rocky, to say the least. He threw four interceptions and no touchdowns. In fact, Notre Dame's offense didn't put a single point on the board. Corners Duke McGregor and Cole Matthews scored the Irish's only touchdowns off of pick-sixes. Notre Dame's defense showed that they are ready to get back to the top. It is up to the offense to meet that call. If they don't, it could be another long season for the Irish.
Final Score: Florida 24, Notre Dame 17
Next Week: vs North Carolina (0-1)
#9 Oklahoma vs # #19 Pittsburgh
A lot has been said about how the Sooners would look after their year in the triple-option. Well, so far, so good. The Sooners traveled to Heinz Field and dominated the Panthers. The new offense looked fantastic. QB Derrick Power completed 40 of his 48 passes, including four that ended in the endzone. WRs Carlton Rhodes and Damian Jones both went over the 100-yard mark. Both also found the endzone as well. The defense, led by senior Jack Lawson, was equally as impressive. Lawson's four sacks have him tied for the best in the league with Miami's Cory Mucci. The Sooners look much improved, which they will need to be as they are in the strongest division in the CFSL.
Final Score: Oklahoma 55, Pittsburgh 10
Next Week: vs Auburn (0-1)
#11 Ohio State vs #7 Miami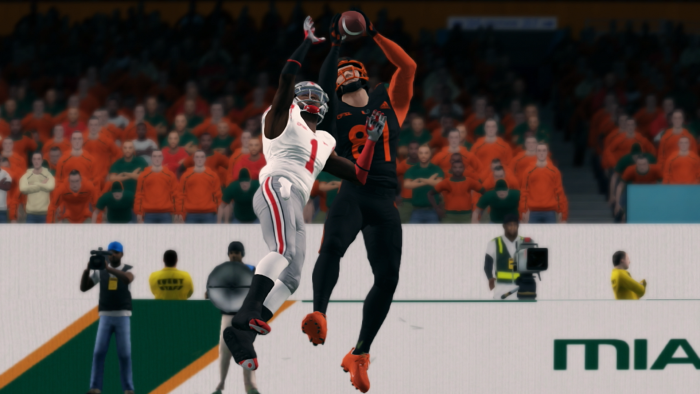 The Buckeyes started Season 15 with seven wins before losing two straight games by a combined 82 points. They were hoping to start their season off right, even though they knew the competition would be tough. That did not happen. Miami steamrolled Ohio State. Miami's pass rush held QB Logan Radloff in check with seven sacks. Defensively, the Buckeyes allowed 477 yards of offense and struggled to get off the field. Thomas Hayes and company will go back to the drawing board in hopes of getting their first win (and first touchdown) of the season next week.
Final Score: Miami 41, Ohio State 3
Next Week: vs Georgia (0-1)
#14 Illinois vs #17 West Virginia
Illinois had its moments last season but finished the year losing three of its last four games. After a strong offseason, the Fighting Illini looked to start their season strong. That is exactly what they did. Dylan Shumate led a balanced attack with 315 yards and five touchdowns. He also added 61 yards on the ground. The offense was one of the few that didn't have a single turnover. This paired well with the two turnovers that Illinois' defense forced. Overall, Illinois looked dominant in their first win. Their schedule gets much harder over the next few weeks. Can the Illini keep it up and be the surprise team of Season 16?
Final Score: Illinois 56, West Virginia 26
Next Week: vs Kentucky (1-0)
#18 Clemson vs #16 Auburn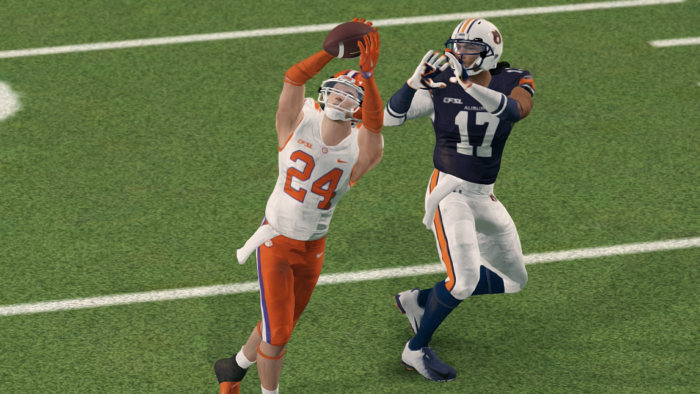 This was the upset of the week. Auburn was favored by 12.5 points, which was the second-highest spread of the week. However, that didn't matter to the Clemson Tigers. The Tigers kept the game within reach before pouncing in the 4th quarter. Clemson scored 15 unanswered in the final quarter to win this game. QB Loki Gunderson threw for 478 yards and had three total touchdowns. A lot of those yards were thanks to Maleko Nomura, who is a real homerun threat. Interceptions by Troy Crosier and Johnathon Ramirez helped pull Clemson back into this game. Overall, this was an unexpected and impressive win by Clemson. A few more of these and they may find themselves entering the top ten.
Final Score: Clemson 38, Auburn 35
Next Week: vs Pitt (0-1)
#20 Oregon vs #15 Georgia
Clemson and Michigan weren't the only Big10 teams with impressive upsets this week. The Ducks were listed as 6.5-point underdogs, but there is a reason you play the game. Early pick-sixes by Moe Black and DJ Sutton helped give Oregon a 21-point lead. However, every time Oregon got a comfortable lead those pesky dawgs came right back. But the freshman duo of QB Brantley Gauci and HB Derek Eldridge proved to be too much. Eldridge totaled 170 yards and two total touchdowns. Gauci added 249 yards in the air and 82 yards on the ground along with two total touchdowns. This Oregon team proved to the league that they were being overlooked. Over the next seven games, we will see just how overlooked they were.
Final Score: Oregon 45, Georgia 42
Next Week: vs West Virginia (0-1)
Standings
Big10 East
| | | |
| --- | --- | --- |
| Team | Record | Net Points |
| Michigan | 1-0 | 41 |
| Illinois | 1-0 | 26 |
| Clemson | 1-0 | 3 |
| Notre Dame | 0-1 | -7 |
| Ohio State | 0-1 | -38 |
Big10 West
| | | |
| --- | --- | --- |
| Team | Record | Net Points |
| Oklahoma | 1-0 | 45 |
| Oklahoma State | 1-0 | 44 |
| Oregon | 1-0 | 3 |
| Texas | 1-0 | 3 |
| Boise State | 0-1 | -2 |
Players of the Week
Sam Dobbins, QB, Michigan
38-45 428 yards, 4 TDs, 16 car, 97 yards, 2 TDs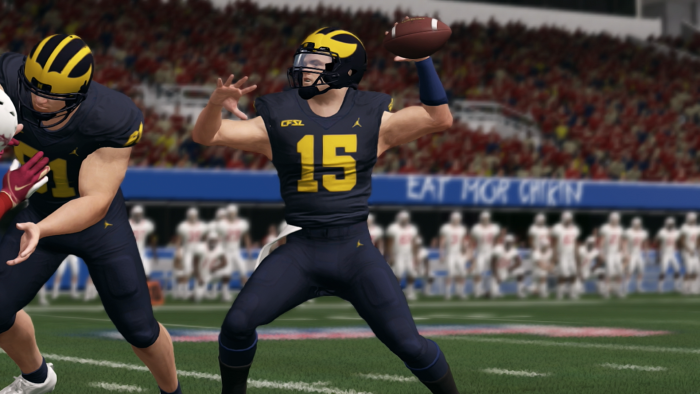 This could have easily gone to Michigan's HB Brent Beardsley as well. However, the freshman QB earned it. Anytime a player manages six total touchdowns and they don't turn the ball over they are likely to find their name on this list. Especially when they do it in an upset win over Florida State.
Killian Dunn, HB, Texas
19 car, 120 yards, 3 TDs, 3 rec, 40 yards
Dunn averaged a staggering 6.3 yards against a talented Alabama defensive front. This is Dunn's third highest single-game total of his career. The junior tailback is currently on pace for 960 regular-season yards, which would be a career high. The question is, can he keep this up?
Steven Rodriguez, WR, Oklahoma State
12 rec, 157 yards, 3 TDs
This is a fantastic stat line! North Carolina had no answer for Rodriguez all game. He now stands alone at the top of the league in receiving touchdowns. Crazy thing is, he wasn't even the most targeted player for Oklahoma State in this game.
Tyrone Wysinger, S, Oklahoma State
5 tackles, 1 TFL, 3 INTs, 2 PDs
This could have gone to Wysinger or his fellow Poke safety Otto Podolski. Both had three interceptions. Wysinger got the nod thanks to the additional tackles and pass breakups. An unbelievable start to Wysinger's sophomore year.
DJ Sutton, S, Oregon
8 tackles, 1 TFL, 2 INTs, 1 TD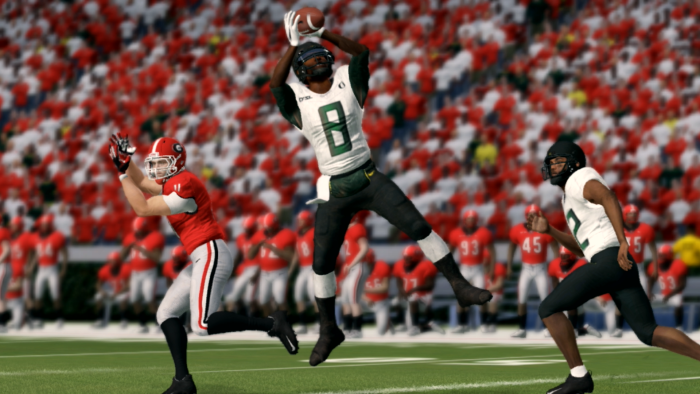 Sutton's first interception was a house call to give his team the lead. The second helped the Ducks seal a close game. It isn't a stretch to say that Oregon may be 0-1 if not for the excellent play of their freshman safety. Not a bad way to start a career.
Jack Lawson, DE, Oklahoma
8 tackles, 6 TFLs, 4 sacks, 1 FF
Jack Lawson getting recognition for his outstanding play is nothing new. His four-sack performance was tied for the best of any player this week. For Lawson it was also a career high. If he keeps this level of play up he could be in the running for DPOTY.
Must Watch Games in Week Two
We are still in the out-of-conference part of the schedule, but some fantastic matchups going on in Week Two that you should not miss.
Boise State at Florida State
Monday, 9 P.M. CST on Twitch
One of these fantastic teams are going to start their season 0-2. While it isn't impossible to get into the top six after an 0-2 start, it would be incredibly difficult. If these teams want to get that first round bye, this game is a must win.
Alabama at Michigan
Tuesday, 7 P.M. CST on Twitch
Alabama will be desperate to not start their season 0-2. Michigan is hungry to keep proving they are as good as anyone in the CFSL. Was the win over Florida State a fluke, or is this Michigan team a top-end contender? This game will go a long way toward answering that question.
Miami at Texas
Tuesday, 9 P.M. CST on Twitch
These teams feel like they are in the same spot. Both are coming off impressive wins. Both had strong offseasons after seasons they hoped went better. Both are hungry to prove they belong at the top end of the rankings. Only one team will come out with a win.
WVU at Oregon
Wednesday, 7 P.M. CST on Youtube
The preseason rumor was that Oregon would be the worst Power Two team in the CFSL. Well, they won last week and now have a chance to start their season 2-0. After a big loss last week, the Mountaineers look to bounce back. Will the Ducks shock the nation once again?
Georgia at Ohio State
Thursday, 9 P.M. CST on Twitch
Only one team has a longer active losing streak than the Buckeyes (Pittsburgh, 4 games). They have been trounced in their last three games. In the last game of the second week they have a chance to end that streak. The Bulldogs will come into this game hungry for a victory after dropping their first game. If the Buckeyes lose this one it could be a long season in Columbus.