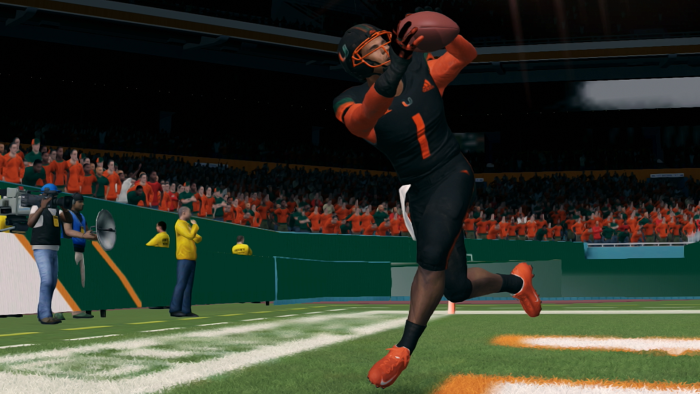 By: Nate Murphy (bigmurph23)
Every week we are going to dive inside the SEC. We are going to look at which teams claimed victory. We will look at which players stood out, and we will look ahead to see what the big matchups are next week. We will be recapping each game in the order that it was played during the week. Let's get to it!
#6 MICHIGAN vs #2 FLORIDA STATE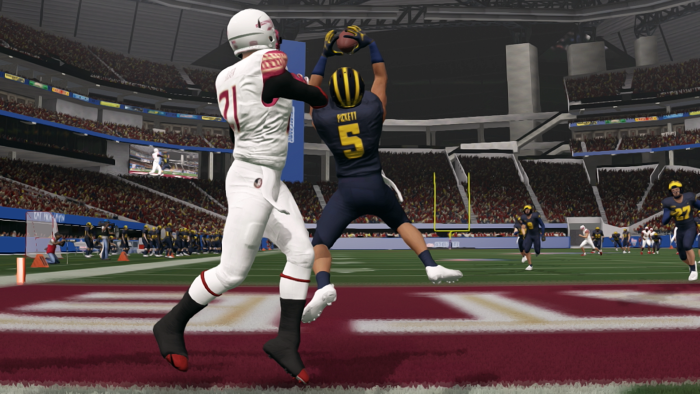 In a game that was billed as "student vs teacher," it was the student that wrote the lesson plan. FSU quarterback Ryan Ravenhill had a night to forget. Ravenhill was sacked five times and threw six interceptions. He did throw for 399 yards, including 142 yards to Pablo Thompson. Maverick Rivers led the defense with 14 Tackles.
Final Score: Michigan 62 FSU 21
Next Week: FSU vs #3Boise State (0-1)
#4 KENTUCKY vs #3 BOISE STATE
The 'cats and the Broncos put on a night one "Game of the Week" type game. It was exactly what you would expect from a game with two teams ranked so closely. Neither team was going to pull away in this one and with 3:28 to play in the game Pacer Smith Miller hit his fifth field goal of the game to put Kentucky up for good.
Final Score: Kentucky 22 Boise State 20
Next Week: Kentucky at #14 Illinois (1-0)
#5 TEXAS at #10 ALABAMA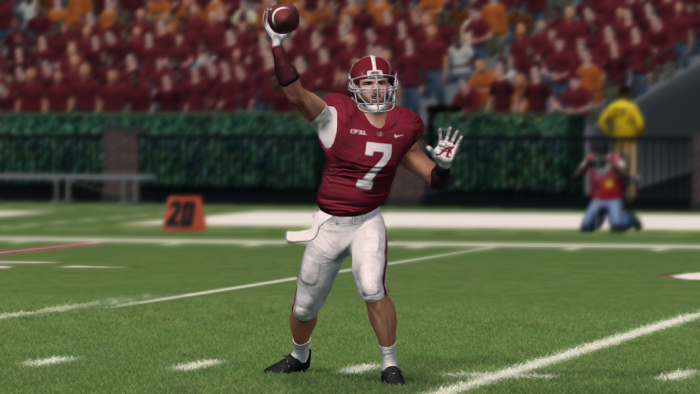 This was another game of the week type of game. This one may as well have just been played as a 7-on-7 drill. Both teams tested the limits of the Bryant-Denny Stadium scoreboard, scoring nearly at will. But despite 609 yards and six touchdowns from Cece Range Alabama couldn't out dual Texas at home.
Final Score: Texas 55 Alabama 51
Next Week: Alabama at #6 Michigan (1-0)
#11 OHIO STATE at #7 MIAMI
The Hurricane defense picked up where they left off last season, especially the big boys up front. The defensive line combined to rack up all seven of the Hurricanes' sacks. Freshman QB Mateo Walker lit up the Buckeye secondary to the tune of 438 yards, four touchdowns, and no interceptions. SEC beware, this Miami team is for real.
Final Score: Miami 41 Ohio State 3
Next Week: Miami at #5 Texas (1-0)
#14 ILLINOIS at #17 WEST VIRGINIA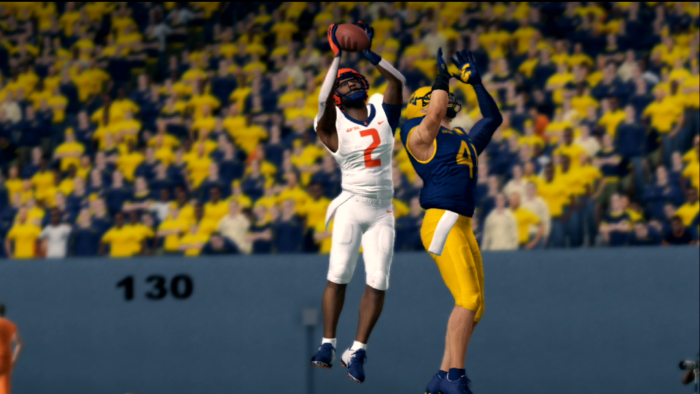 If you look only at the final score you would say that Illinois dominated and the game was never in doubt. While Illinois did control the game and only trailed once, they were never comfortably ahead until midway through the fourth quarter. Despite five sacks as a team, the Mountaineer defense couldn't do quite enough and the Illini finally shut the door with an interception in the fourth.
Final Score: Illinois 52 WVU 26
Next Week: WVU at #20 Oregon (1-0)
#12 FLORIDA vs #7 NOTRE DAME
Florida threw two pick-sixes in this ball game. Think about that for a second, the Gator offense gave up 14 points to the Fighting Irish. They still held Notre Dame to 17 points in the game. The Gator defense surrendered only a field goal and Lincoln Griffin collected three of the team's four interceptions.
Final Score: Florida 24 Notre Dame 17
Next Week: Florida at #1 Oklahoma State (1-0)
#1 OKLAHOMA STATE at #13 NORTH CAROLINA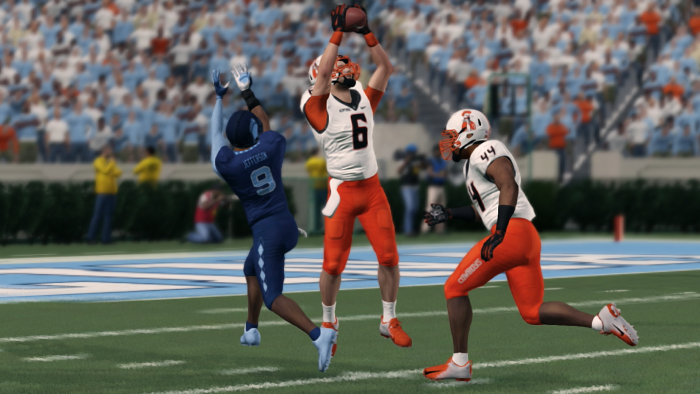 While taking on the defending champs to start the season UNC set a new CFSL record. However, it isn't a record that anyone wants to hold. The Tar Heel offense threw a record nine interceptions on the night while scoring only one time. The bright spot for UNC, their defense picked off Oklahoma State three times and equaled their offensive points output as they brought one back to the house themselves.
Final Score: Oklahoma State 58 UNC 14
Next Week: UNC at #7 Notre Dame (0-1)
#20 OREGON at #15 GEORGIA
The Ducks flew across the country and plucked a victory away from the Bulldogs in Athens. Two interception returns and 28 first-quarter points got Oregon going. Despite a balanced attack and a furious comeback effort, including a 21-point fourth-quarter outburst, Georgia fell just short.
Final Score: Oregon 45 Georgia 42
Next Week: Georgia at #11 Ohio State (0-1)
#18 CLEMSON at #16 AUBURN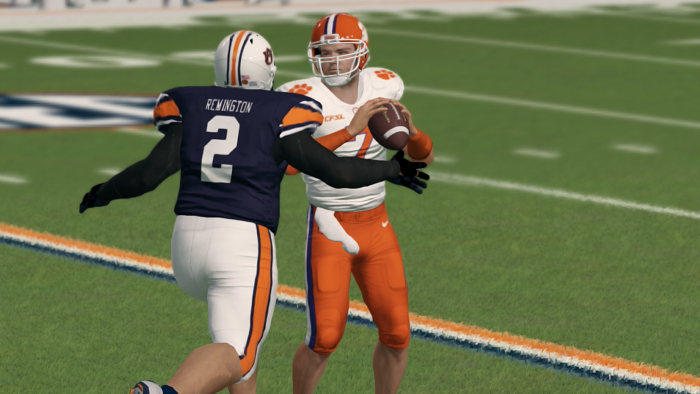 The battle of the Tigers was a "tail" of two halves. Auburn jumped out to a big halftime lead by freshman quarterback Baker Thomas. Thomas threw for 328 yards and three touchdowns in the game. Unfortunately for Auburn, they watched Clemson claw their way back into the game. Clemson was eventually able to overtake them in the fourth.
Final Score: Clemson 38 Auburn 35
Next Week: Auburn at #9 Oklahoma (1-0)
#9 OKLAHOMA at #19 PITTSBURGH
In the final game of the week, Pitt unveiled a new field design. That was the most exciting part of the game for Pitt fans. Despite having very balanced play calling offensively the Panthers couldn't get anything going. It took Pitt all four quarters to find the endzone, while the Sooner offense practically set up shop there.
Final Score: Oklahoma 55 Pitt 10
Next Week: Pitt at #18 Clemson
SEC Standings
Now let's take a look at the early SEC standings. Week one was not a great week overall for the SEC as they finished 3-7 against their Big 10 rivals.
SEC East
| | | |
| --- | --- | --- |
| Team | Record | Net Points |
| Miami | 1-0 | 38 |
| West Virginia | 0-1 | -26 |
| Florida State | 0-1 | -41 |
| North Carolina | 0-1 | -44 |
| Pittsburgh | 0-1 | -45 |
SEC West
| | | |
| --- | --- | --- |
| Team | Record | Net Points |
| Florida | 1-0 | 7 |
| Kentucky | 1-0 | 2 |
| Alabama | 0-1 | -3 |
| Auburn | 0-1 | -3 |
| Georgia | 0-1 | -3 |
Performances of the Week
Toby Knerr, HB, Georgia
21 car, 114 yards, 2 TDs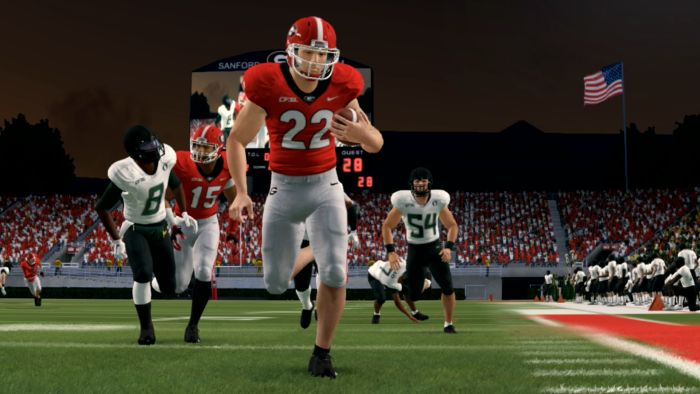 Knerr and his Bulldogs may have come up short in their comeback attempt but to no fault of Knerr. Georgia continued to run the ball even when down big early and that paid off big time for Knerr. He took advantage of nearly all of his carries and was able to break the 100-yard mark.
Lincoln Griffin, CB, Florida
2 tcks, 1 TFL, 3 INTs
He may not have gotten to the ball carrier many times, but he sure found the ball. Seemingly every time he was tested Griffin aced it. His three INTs are a personal single-game best and put him on a long list of others who have three picks in a game.
Cece Range, QB, Alabama
41-65, 609 yards, 6 TDs, 4 INTs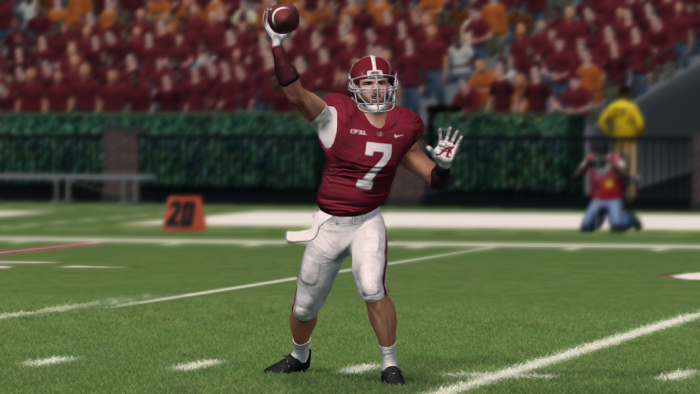 We could pick just about any WR on this 'Bama roster to go here as well (three WRs over 130 yards each) but we will just talk about the man throwing it to them. When he had people open he found them. When receivers were covered he found ways to get it to them. Range did everything he could to help the Tide roll. Unfortunately, he also had four interceptions.
Pacer Smith Miller, K, Kentucky
5 of 5 on FG
Odd to see a kicker on the list we know. But when you score 15 of your team's 22 points in a game it bears mentioning. Miller drilled a 23-yard field goal with under three and a half minutes to go to help lead Kentucky to a come-from-behind win.
Must See Matchups in Week Two
#2 FLORIDA STATE at #3 BOISE STATE
Monday, 9 P.M. CST on Twitch
Both teams will be looking to rebound from tough losses. The Broncos' defense was dominant last week while FSU struggled at times offensively. Neither team wants to start the season 0-2 so expect to see everything getting thrown at each other, including the kitchen sink, in this one.
#7 MIAMI at #5 TEXAS
Tuesday, 9 P.M. CST on Twitch
We saw Miamy turn it on down the stretch last season and that continued in week one this season. A trip to Austin to take on a top-five team will be a real litmus test for the Hurricanes. A win not only puts the SEC on notice but will be sure to get the attention of everyone in the CFSL.
#10 ALABAMA at #6 MICHIGAN
Tuesday, 7 P.M. CST on Twitch
The Tide gave Texas all they wanted and more falling just short of an upset. Michigan is coming off of a big win. Don't expect Michigan to overlook Bama at all, but also don't expect them to run away with this one either. If the Tide can avoid the turnovers they just may walk out of the Big House with a big win.