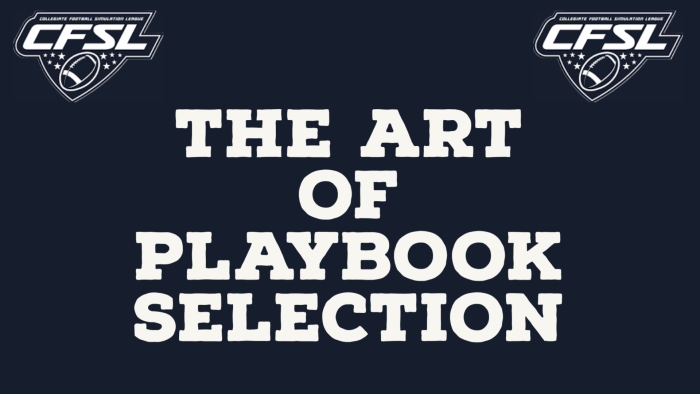 BY: Ryan Moreland (@ryanmoreland)
If you follow league chat over the course of the season you will see a lot of talk about the players that are dominating the league. You will read about the athletic directors and coaches that are making the biggest impact. You will hear about the teams that have a chance to win it all. However, you don't often hear much talk about which playbook each team is running (unless a team is running the triple-option. Sorry DT). Playbooks are so vital to the success or failure of a team, yet get so little of our attention. Put this to the test now. How many teams can you name their playbook off-hand? If you are not an AD, coach, or administrator the number is probably pretty low. (I can only name two).
This is something I found interesting. So I sat down with several athletic directors from around the league to learn a little bit more about playbooks and the strategy that goes into their selection. The following is what I have learned.
How the Playbook Draft Works
Good ADs will always find a way to make a playbook win even if it's not your first choice.

Michael Buck, Texas AD
If you are new to the league you may not be familiar with the playbook draft. Don't worry, I will explain how this works. Before the start of every season, all the ADs come together for the playbook draft. The draft order is a reverse order of the previous season's standings (aka the worst team drafts first and the best team drafts last). Teams take turns picking their offensive and defensive playbooks. Only one team can use an offensive playbook. However, given the small number of defensive playbooks to choose from, any team can use any defensive playbook. After the draft, a team may change an offensive playbook during the season. However, a team can only change to a playbook in the same scheme (i.e, you can't start with an air raid playbook and change to a pro-style book). Defensive playbooks cannot be changed once selected.
Playbook Draft Strategy
The first thing I consider is personnel. What book best fits and showcases the best players on the roster?

Adam Smith, Oklahoma State AD
When asked what factors go into drafting an offensive playbook every AD included the same thing in their answers: personnel. This is pretty obvious but vitally important. If you have a pocket-passer and low-end running back you are not going to be successful in an option system. Or, as Oklahoma's AD Dustin Hall puts it, "you don't want to try to squeeze a square peg in a round hole." It seems every AD agrees that the first step in selecting a playbook is knowing your roster.
While every AD did mention personnel, some mentioned other factors that influence their choice. Hall himself also tried to find books that limit dangerous passes, like wide receiver screens. Florida State's Tom Pence mentioned he wanted a book that didn't force his team to be one-dimensional. Notre Dame's Josh Claydon keeps a close eye on third downs when testing a playbook. Not only how many they are converting, but how many times his team is forced into a third down.
The Most Important Position?
If you are trying to run an air raid offense with a QB that isn't very accurate you're not going to be very successful most of the time. But you can still spread things out and work to your QBs strengths with some of the other books out there.

Nate Muprhy, West Virginia AD
No matter how much football experience you have, I am sure we are all familiar with the old adage that the quarterback is the most important position on the field. The ADs of the CFSL seem to agree with this cliche. When asked if QB was the most important position when deciding which playbook to run, most ADs said yes. Like Florida's Justyn Veneklasen said, "Definitely. I feel like the quarterback has to fit the playbook you choose… The QB is the one that determines your whole offense, even if you run a [run-first] offense." Pence was in agreement when he said, "That is very true. A scrambler would not do well in a pass-heavy book and vice versa." However, there was one stand out that wasn't so quick it give all the love to the gunslingers. Oklahoma State's first-year AD Adam Smith said, "It is important but not as important as what you have as a whole. What good is a gunslinger if he doesn't have deep threats at the WR position? Can't go Air Raid just because you have QB with a cannon."
Testing Playbooks
Being a veteran AD does help because I have a book at home full of playbooks and settings I've tested in the past, so it makes playbook testing a little bit easier.

Josh Claydon, Notre Dame AD
We have already talked about some of the things that coaching staffs look for when testing a playbook. I was more interested in knowing exactly how many books they test every year. For this question, I got a lot of different answers. Some, like West Virginia AD Nate Murphy and Texas AD Michael Buck, said they tested about ten different books. Others, like Hall and Veneklasen, said they tested between 30 and 35. There seem to be quite a few variables that impact the number of books tested. Murphy and Claydon stated that their draft position impacts how many they will test. Experience played a role in this number as well. As Buck said, "I have been an AD for like 12 seasons, so that number has gone down a ton since I first started." Another factor is the length of the offseason. Veneklasen noted that he tested 30 playbooks, but said that that number is likely higher than normal thanks to the long offseason.
Defensive Playbook Strategy
I love the 4-3 and 3-3-5 but… you have to be strong at certain spots to run them right.

Tom Pence, Florida State AD
As stated earlier, anyone can choose any defensive playbook that they want no matter who else has it. Because of this, the strategy for defensive playbook selection does change for some. For an offense, every AD expressed the importance of drafting a playbook that fits their roster. However, several ADs reverse this process when it comes to the other side of the ball. Many, like Buck, recruit the pieces they need to fit a predetermined defensive playbook. "I even have it broken down to what types of [archetypes] I need for each position," said Buck. ADs like Murphy and Pence agreed with Buck. Claydon took it a step further stating that Notre Dame runs the same defense every year.
While this was the most popular way to decide on a defensive scheme, there were a few who disagreed. Smith of Oklahoma State said, "I don't think that has ever been the case in my five seasons of recruiting." He went on to say that players leaving and coming in make him reevaluate his defense every year. He then decides what playbook best fits the players he has, just like he does on offense.
Can Any Offense Work?
We know that the ADs are in agreement that you must have the right pieces to make a playbook work. So this led me to the question, 'if a team has the right pieces and right settings, can any playbook be successful?' Again, many seemed to agree. Pence, who is famous around the league for thinking outside of the box, said, "Yes, I firmly believe that every book has a magic setting." Claydon agreed with Pence adding, "I'm a big believer in a couple of books I'll keep close to my chest lol but yes I do." However, there was one outlier again that varied from the rest. Smith said, "Absolutely, except for the triple option." (Again, sorry DT).
I would like to once again thank all of the ADs for their time.