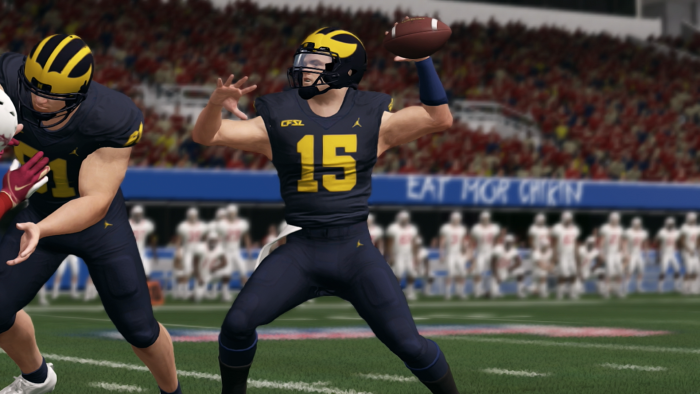 By: Derek Hawkins (@Syrok)
People, we made it! The Syrok Special is now a full fledge article. Do not worry, it is still the best prediction/spoiler system in the league. We will keep up with my record, which should be 100% throughout the year. I will give you five storylines to watch out for this week. So, without any more waiting let us get started.
Top 5 Storylines this Week 
Alabama vs Michigan: Was it a fluke or was it the new normal? 
Bama faces another one of their old ADs at QB in Sam Dobbins. Dobbins is coming off a POTW performance of over 400 yards passing, 97 yards rushing, and 6 total touchdowns. Bama's defense let Avery Ware get numbers close to that last week, so I know they will try to adjust and make sure Dobbins will not do that to them. However, there is a bigger problem for Alabama. Cece Range threw four interceptions last week. Michigan recorded six interceptions in their first outing. Bama can match Michigan's firepower and if they keep their turnovers down, they may have a chance.
Syrok's Thoughts: I saw Laci White get sacks before a QB started his five-step drops. I got Michigan winning by double digits. 
Michigan 51, Alabama 38
Miami vs Texas: Sleeping Giants or Pesky Mortals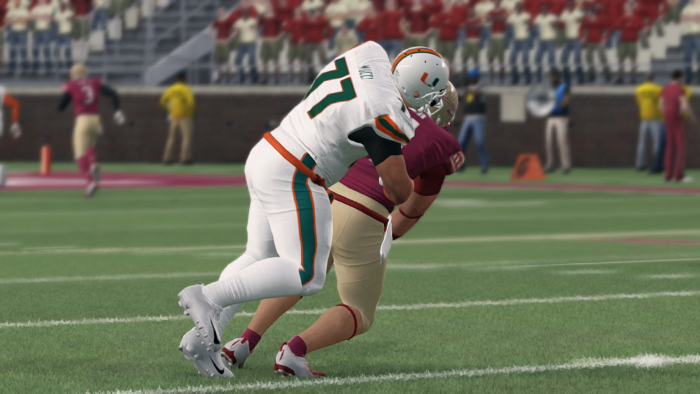 I believe these two teams are first-round bye teams. However, I believe only one could be a real threat to the championship. Miami comes in allowing only three PPG and has allowed less than 200 yards of total offense. They are going against a team with offensive firepower. Last week Texas put up 50 points and a little over 600 yards. Miami's defense allowed 24 rushing yards last week. They are about to face a sleeper POTY candidate in Killian Dunn who got three touchdowns and 120 yards.
Syrok's thoughts: Miami will not look as good as they did against OSU, but they will neutralize Texas. Look for Dunn not to get over 80 yards this game.
Miami 35, Texas 24
Notre Dame vs UNC: Somebodies Offense Will Wake Up. 
Last week these QBs threw for 13 interceptions and only 1 TD. So they can only go up from here, right? I can say that games like this happen to the greatest quarterbacks. I looked at the career record QBs in passing completions, attempts, yards, and Touchdowns. All of them have 4 to 5 interceptions games on their resume. So, it is true that it can just be an odd game in what could be a great career for those QBs.
Syrok's Thoughts: This will be an ugly game as the defenses flourish. Wookie knows defense and is chomping at the bit to cause havoc on that side of the ball. 
Notre Dame 28, North Carolina 13
Kentucky vs Illinois: Monarch or a Peasant with a Fake Crown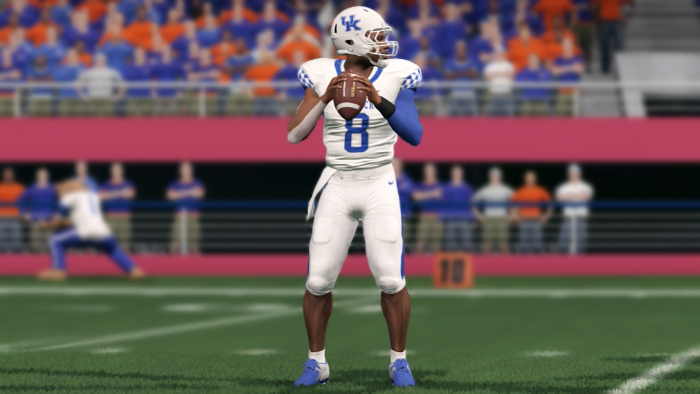 On paper, this game seems like a blowout waiting to happen. But the game isn't played on paper. Illinois has an AD who believes in them so much that he placed a personal bet with the QB of Kentucky Moses King. If Moses gets five passing touchdowns Illinois AD will be in the League Chat and Twitch comments saying ALL Hail the Monarch. If Illinois wins Moses will be known as The Peasant till further notice. Kentucky has all the talent in the world. The question remains can Moses lead them? He was inconsistent in a win last week with one touchdown and two interceptions. Kentucky needs him to have a great game so they can trust he can lead this championship-caliber team.
Syrok's Thoughts: ALL HAIL THE MONARCH 
Kentucky 45, Illinois 17 
Boise State vs FSU: Championship ADs in Distress
0-2 is not the end of the world. You will say this to fresh players or ADs to cheer them up. But these are two Hall of Fame ADs. They do not want to hear that. They honestly believe they have a top-four team in this league and the ranking committee believes that too. They were ranked third and fourth in the preseason poll. This game means a lot to them. I do not believe it is the end of the world. However, it might be the end of their hopes of getting a first-round bye.
Syrok's Thoughts: Boise State is better than 20 points game. FSU is better than 21 points. I think Boise State will get the ship right and win this. 
Boise 30, FSU 21 
Week Two Picks
Florida 21 vs Oklahoma State 51  
Boise State 30 vs Florida State 21  
Alabama 38 vs Michigan 51 (GAME OF THE WEEK) 
Miami 35 vs Texas 24  
Kentucky 45 vs Illinois 17  
Oregon 24 vs West Virginia 21 
Oklahoma 31 vs Auburn 18  
Notre Dame 28 vs North Carolina 13 
Pittsburgh 15 vs Clemson 27  
Georgia 30 vs Ohio State 24 
Week One record W-L (5-5)  
Season Record W-L (5-5)