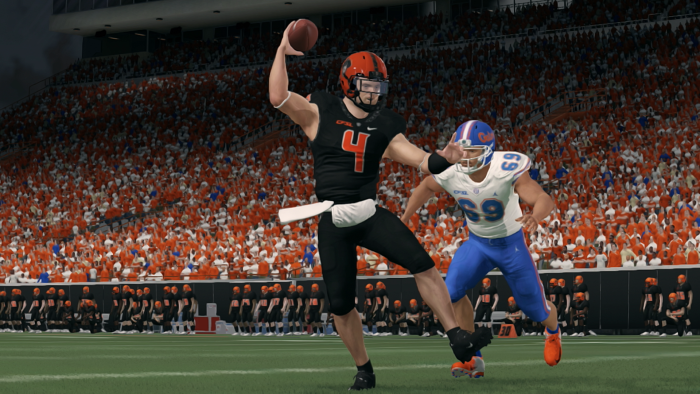 BY: Tony Papol (@SGEasty)
Week two has come to a close, and there are more questions than answers coming out of the B1G this week. Just how good is Oregon? What happened to Michigan and Texas? In a conference without a single 0-2 team, week three is bound to cause carnage. But before we can look ahead, let's focus on the excitement that was week two.
#9 Florida @ #1 Oklahoma State
The first-ever meeting between the Gators and the Cowboys was a complete success for Oklahoma State. The outcome was never in question after the Pokes took a 21-0 lead in the first quarter, and both the offense and defense looked even better than in week 1, even without the multitude of interceptions. The rout of Florida produced two Player of the Week nominations for the Cowboys. Ryan Moreland again looked fantastic in the backfield, throwing for 547 yards and six touchdowns. He also reduced the number of interceptions thrown from four in week one to one this week. Even more impressive was the standout performance of JT Cass Jr, who tallied 223 receiving yards (the second-most ever for an Oklahoma State player) on 14 receptions and two touchdowns. Defensively, the Cowboys held Florida to -72 rushing yards, yes negative yards, and 199 yards passing. A dominant pass rush resulted in three sacks for Ben Sapp, Ezra Rogalski, and Les McAdoo, along with one sack for Kyle Tolbert. Until proven otherwise, they once again cemented their status as #1 in the CFSL.
Final Score: Oklahoma State 61, Florida 7
Next Week: @ #12 Notre Dame (1-1)
#10 Alabama @ #3 Michigan
In arguably the second-biggest surprise of the week, the #3 Wolverines followed a dominant, eye-opening victory in week one with a middling performance in week two. In a game mostly decided before the start of the fourth quarter, a good Alabama team was able to overcome five turnovers and hold Michigan to 291 total yards of offense, nearly 400 yards less than the previous week. Michigan was unable to protect quarterback Sam Dobbins, resulting in nine sacks for the Crimson Tide. If Michigan wants to have better success going into conference play, they will need to do a better job of giving Dobbins enough time to find his talented receiving core down the field. JaMarr Carr and co. have the speed and strength to make big plays, but they need to have the ball in their hands to do so. The defensive side of the ball did generate five turnovers. They were led by cornerback Charlie Pickett's two interceptions. However, they were still unable to limit the big plays made by the Alabama receivers and struggled to stop the Tide on third down. Defensively Michigan will need to limit the big passing plays to have greater success. Can the Wolverines turn it around next week, or will they continue their downward slide?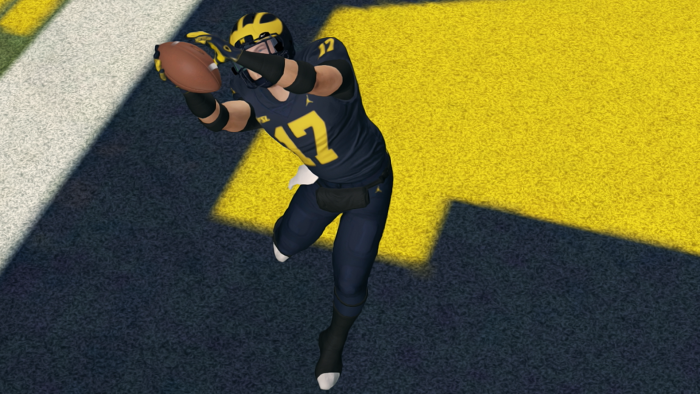 Final Score: Alabama 48, Michigan 28
Next week: vs #11 Illinois (1-1)
#5 Miami @ #4 Texas
\In perhaps the most anticipated matchup of week two, we were left watching yet another blowout. In a game largely over at halftime, the 37-10 final score makes it seem like Texas had a fighting chance. They did not. The Miami defense swarmed quarterback Avery Ware and Killian Dunn all night, recording nine sacks and 18 TFLs. There seemed to be revolving doors along the offensive line of Texas. That will need to be fixed going into next week for Texas to progress in conference play. When Ware was given enough time, he performed reasonably well, finding holes in the Miami secondary resulting in some chunk plays to move Texas down the field, but those were few and far between. Halfback Killian Dunn also had an impressive, but limited, day. Battered by the Miami front six, Dunn rushed for 47 yards and had 33 yards receiving. The Texas defense, on the other hand, did more than enough to keep the Longhorns in the ballgame, causing three turnovers and holding Miami to a 22% third down conversion rate. Cornerback Darian Conner led the Longhorn defense with two interceptions. Texas, like other teams in the B1G, will need to improve the protection of the quarterback to have any chance of success in week three.
Final Score: Miami 37, Texas 10
Next Week: @ #14 Oregon (2-0)
#6 Boise State @ #8 Florida State
After a brutal Week One loss to Kentucky, the Boise State Broncos responded with a tough, gutsy victory to beat the Season 14 National Champions. They were led by another solid performance from quarterback Topher Foreman. He threw for 331 yards and two touchdowns as well as rushed for 75 yards and one touchdown. Thanks to Foreman and company, the Broncos' offense did just enough to edge out a very solid Seminole team. But the true standouts of the game were the three Boise State defensive linemen Mo Hart, Pierce Parker, and Alexander Wilson. Florida State quarterback Ryan Ravenhill was consistently squeezed into a Pierce-Wilson sandwich all game. Ravenhill never had enough time to throw the ball downfield to his talented receivers. Let the record show that this duo will now be known as the PW Sandwich. Parker's performance of eight tackles, seven TFLs, and four sacks earned a Defensive Player of the Week nomination. Boise State had a great bounce-back performance, and they will look to build on this momentum into next week.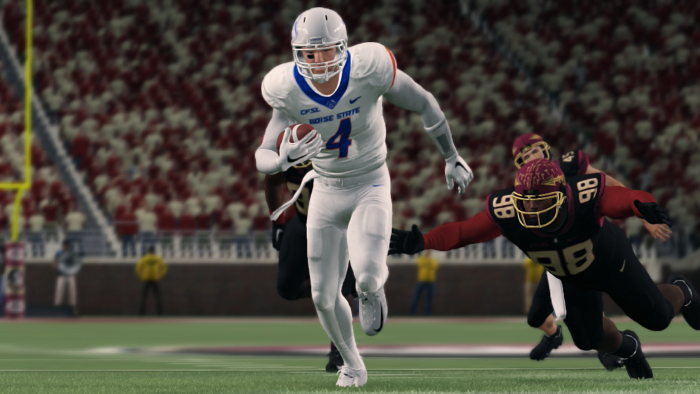 Final Score: Boise State 42, Florida State 32
Next week: @ #15 Ohio State (1-1)
#17 Auburn @ #7 Oklahoma
The Oklahoma Sooners were able to escape with a narrow win over the Auburn Tigers. The margin of victory was less than expected (but not as much as the 31.5 sportsbook line suggested). Throwing multiple interceptions in the red zone helped build momentum for the Tigers which they utilized throughout the game. Ultimately, Oklahoma's defense was able to come up with just enough stops on third down to secure the win for the Sooners. Quarterback Derrick Powers looked impressive when not inside the red zone, throwing for 455 yards and three touchdowns. A star was born with wide receiver Greg Givens Sr.'s 190-yard, two-touchdown performance. Recording five sacks on the night, led by Jack Lawson and Shane Lloyd with two each, the Sooner defense proved itself in the face of adversity. A win is a win is a win, but Oklahoma will have to improve on both sides of the ball if they want to win in a very tough division.
Final Score: Oklahoma 27, Auburn 21
Next week: @ #13 Clemson (1-1)
#2 Kentucky @ #11 Illinois
There isn't much to say about this game unfortunately for B1G fans and teams. The victor of this game shouldn't have been a surprise to anyone, but the way Kentucky was able to manhandle the Illinois offense should prove concerning to all in the CFSL. In one of the most dominant performances in CFSL history, Kentucky defensive tackle Israel Jordan Ward nearly single-handedly stopped every Illini drive. Wared recorded 11 tackles, 10 TFLs (the new single-game record), and seven sacks (tied for the single-season record). Illinois needs to give quarterback Dylan Shumate more time in the backfield and create holes for their running backs. After recording 148 rushing yards in week one, Illinois was held to -54 rushing yards against the Wildcats. Defensively, the Illini did recover three turnovers, but could not stop Kentucky on third down. When your two leading tacklers are safeties (Brandon Catchings and Blake Davis with 13 and 11 tackles respectively) you know that the defensive front is losing the battle for the line of scrimmage. Illinois will need to work on their pass rush in preparation for next week's game.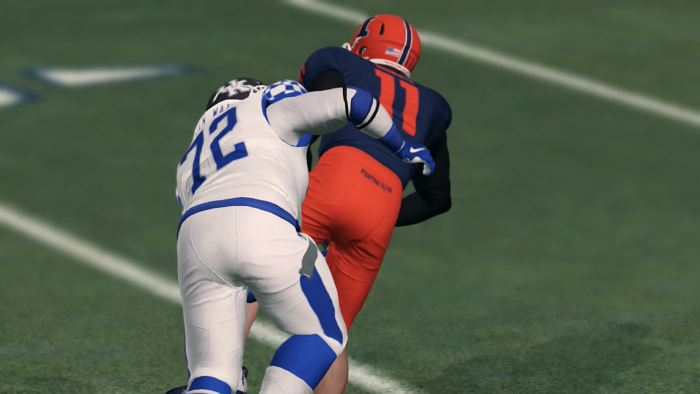 Final Score: Kentucky 58, Illinois 13
Next week: @ #3 Michigan (1-1)
#16 North Carolina @ #12 Notre Dame
Notre Dame's defense was the reason for victory, with the Fighting Irish intercepting North Carolina's Ayden Martinez four times on the night, most crucially in the fourth quarter. Rushing to the tune of 231 yards, halfback Bode Dale's 128 yards and quarterback Charlie Sammons' 91 yards generated most of the Notre Dame offense. Sammons has struggled to throw the ball, having the third-worst quarterback rating through two weeks in the CFSL, but he was successful enough this week to lead Notre Dame to victory. Without the late interceptions, North Carolina was able to move the ball down the field on Notre Dame, converting third downs at a respectable 41%. Notre Dame will need to have another big week from cornerback Duke McGregor, who had three interceptions against North Carolina if the Irish want to have a chance against #1 Oklahoma State next week.
Final Score: Notre Dame 35, North Carolina 21
Next week: vs #1 Oklahoma State (2-0)
#20 Pittsburgh @ #13 Clemson
For the second week in a row, the #20 ranked team recorded a victory, with Pittsburgh dominating the game from beginning to end. Clemson was unable to move the ball effectively, with quarterback Loki Gunderson being greatly affected by the wind, causing him to both under and overthrow open receivers down the field. Clemson struggled on third down as well, often being forced into third-and-long situations where Pittsburgh held the upper hand. Defensively, the Tigers were gashed for 215 rushing yards, being unable to stop the two-headed rushing attack of Pitt. Also, officially Pitt halfbacks only broke 5 tackles, but Clemson defenders struggled all game to bring down Rashaud Black and Chad Layhue. Clemson will need to work on finding receivers 8-15 yards down the middle of the field, as that was an area of the passing game largely absent from the Clemson offense, and will need to tighten up the run defense going into next week.
Final Score: Pittsburgh 30, Clemson 3
Next week: vs #7 Oklahoma (2-0)
#19 West Virginia @ #14 Oregon
Oregon might be the most impressive team in the CFSL after initially being ranked last in the preseason poll before going 2-0 in their first two games. Led by halfback Derek Eldridge's 149 rushing yards, and one touchdown performance, the Ducks were able to eat up chunks of yards and time moving the ball down the field. Freshman quarterback Brantley Gauci did just enough throwing for 160 yards, one touchdown, and one interception. Through two games wide receiver Phillip Allen has emerged as Gauci's favorite target, and the Ducks will need him to continue to play well as they compete in the toughest division in the CFSL. With the graduation of linebackers Brock Hoskins and Matt Walker, Oregon was left without a game-changing player on the defensive side of the ball. Enter safety DJ Sutton, who leads the CFSL in defensive touchdowns with two, both being pick-sixes. Excluding the pick-six, the rest of the defense performed acceptably, doing just enough to win. They will have to step up their performance entering conference play next week if they want to increase their winning streak.
Final Score: Oregon 31, West Virginia 24
Next week: vs #4 Texas (1-1)
#18 Georgia @ #15 Ohio State
The final game of week two came down to the wire, with Ohio State somehow managing to hold off a more-impressive Georgia team. Ohio State was outgained offensively, lost the time of possession battle, and converted fewer of their third downs, but was able to capitalize on red zone opportunities and made key defensive stops in their winning effort. Logan Radloff threw for 277 yards, two touchdowns, and one interception and Jalen Thomas recorded 122 receiving yards on eight receptions, enough to lead Ohio State to victory. Defensively led by Leroy White's 17 tackles and Valentino Villarreal's eight tackles, four TFLs, and three sacks, the Buckeyes were able to force enough pressure to make Georgia's Ray Flash uncomfortable enough to scramble, minimizing the big play potential of Georgia's offense. Entering conference play, Ohio State is back on the upswing, but can they build off this victory?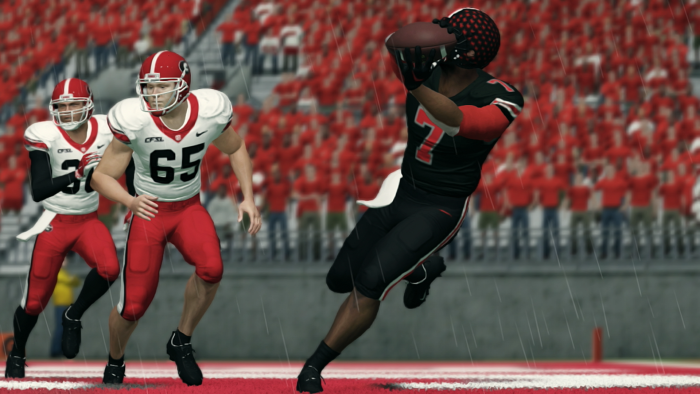 Final Score: Ohio State 27, Georgia 20
Next week: vs #6 Boise State (1-1)
Standings
B1G East
| | | |
| --- | --- | --- |
| Team | Record | Net Margin |
| Michigan | 1-1 | 21 |
| Notre Dame | 1-1 | 7 |
| Illinois | 1-1 | -19 |
| Clemson | 1-1 | -24 |
| Ohio State | 1-1 | -31 |
B1G West
| | | |
| --- | --- | --- |
| Team | Record | Net Margin |
| Oklahoma State | 2-0 | 98 |
| Oklahoma | 2-0 | 51 |
| Oregon | 2-0 | 10 |
| Boise State | 1-1 | 8 |
| Texas | 1-1 | -24 |
Players of the Week
Ryan Moreland, QB, Oklahoma State
547 passing yards, 6 TDs, 1 INT, 5 carries, 9 rushing yards, 1 TD
With another impressive performance, Moreland leads the CFSL with 1117 passing yards and 14 total touchdowns. He limited his interceptions this week as well, but can he keep the errant and dangerous throws away from an aggressive Notre Dame defense next week?
JT Cass Jr, WR, Oklahoma State
14 receptions, 223 yards, 2 TDs, 2 pancakes
Cass's 23 receptions are second in the CFSL, and his 303 receiving yards rank him third, both team highs. Interestingly, his three touchdowns through two games equal his total from last season. Just how big of a weapon will Cass be this season?
Greg Givens Sr., WR, Oklahoma
17 receptions, 190 yards, 2 TDs
The only player in the CFSL with more receptions than Cass is Givens with 28 who is growing into a star at the receiver position. Finally, in a role and scheme that utilizes his abilities to the fullest, he will be a much-watch entering conference play.
Pierce Parker, DE, Boise State
8 tackles, 7 TFLs, 4 sacks, 1 FF
As part of the PW Sandwich (yes, I used my own phrase again, deal with it), Parker is T-2nd in the CFSL with 11 TFLs and T-5th in sacks with 5. Opposing teams will have to plan around Parker all season, whether that be by keeping a halfback in to block or limiting the number of deep shots thrown down the field.
Duke McGregor, CB, Notre Dame
5 tackles, 3 INTs
On pace to shatter his personal career highs, his 16 tackles and four interceptions (tied for most in the CFSL) could help lead Notre Dame to a B1G East title later in the season. But first, how well will he play against #1 Oklahoma State next week?
Leroy White, LB, Ohio State
17 tackles, 1 TFL
Left off the preseason Top-50 recruits, White is showing everyone just how talented he is in the Ohio State defensive system. His 22 tackles are T-3rd in the CFSL.
Week 3 B1G Games
Oklahoma State @ Notre Dame
Monday, January 16th, 9 P.M. CST on Twitch
Notre Dame has their hands full as they welcome the defending National Champion Cowboys to town. Can the Irish put together a game plan that will end the longest active winning streak in the CFSL, or will Oklahoma State's talent and scheme prove to be too much?
Boise State @ Ohio State
Tuesday, January 17th, 9 P.M. CST on Twitch
Both programs recovered nicely from week one loss with impressive victories in week two. Which team moves to 2-1 on the season will likely come down to which team gets more pressure on the quarterback. Watch for the battle between the PW Sandwich (yes, a third time) vs Villareal and co.
Oklahoma @ Clemson
Wednesday, January 18th, 7 P.M. CST on YouTube
Auburn made Oklahoma look vulnerable last week, and Clemson got blown out in a puzzling performance against Pittsburgh. Expect both programs to tighten up the run defenses going into this game. This is a strange one, as Clemson beat Auburn by three and Oklahoma beat them by six, so this could be surprisingly close.
Illinois @ Michigan
Thursday, January 19th, 7 P.M. CST on Twitch
Illinois and Michigan are both coming off blowout losses. Michigan will be looking to find more ways to get their playmakers the ball in space, and Illinois will try to shore up their protection of Shumate to take more shots down the field.
Texas @ Oregon
Thursday, January 19th, 9 P.M. CST on Twitch
This will be the game that determines just how good Oregon is. Texas will be extremely motivated to prove itself after getting dominated by Miami, so expect no mercy for Oregon. If the Ducks can get to quarterback Avery Ware and force him into bad throws, then DJ Sutton can be at his best and make athletic defensive plays. But if Killian Dunn can get over 100 yards rushing, it will likely be a long night for the Ducks.