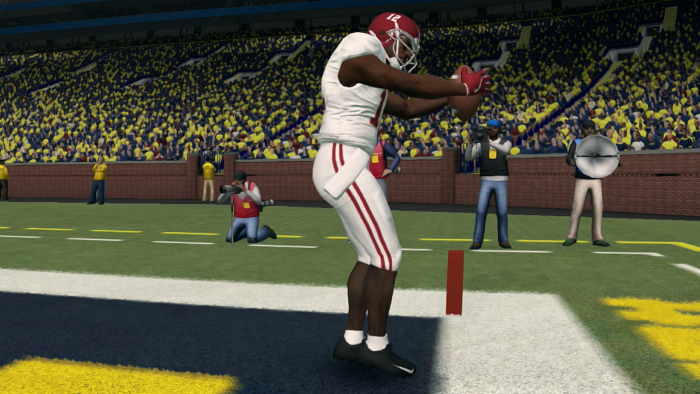 By: Nate Murphy (@bigmurph23)
Week Two ends non-conference play. Before we look ahead at who will prevail in SEC play let's take a look back at the final ten B1G vs SEC matchups.
#9 FLORIDA at #1 OKLAHOMA STATE
The question has been who can possibly beat the Cowboys. Well, now the question is starting to become who can even keep it close against the Cowboys. The answer was not the Florida Gators. After a big win over the Fighting Irish in Week One the Gators were unable to do anything against the Cowboys. The Gators' defense gave up only a field goal last week. They gave up a lot more than that in Week Two. The offense was unable to get rolling either. The only points Florida scored came from a 102-yard kick return from Lincoln Griffin.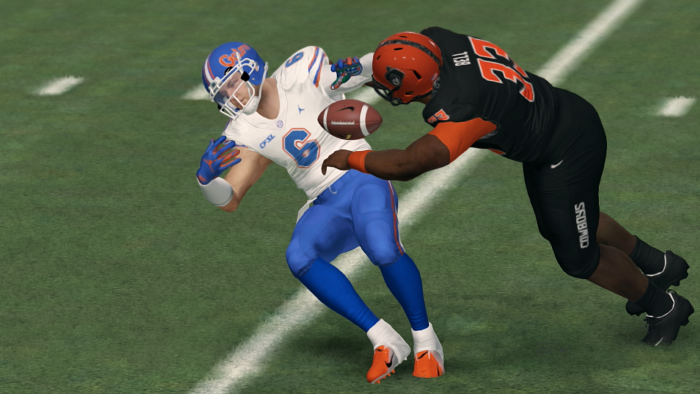 Final Score: Oklahoma State 61 Florida 7
Next Week: Florida at #2 Kentucky (2-0)
#6 BOISE STATE at #8 FLORIDA STATE
In a very important week two match-up, both teams showed up and gave us the game we expected. Neither team wanted to start 0-2 knowing the uphill battle they would have. The 'Noles came out and looked more like the team we had seen the past two seasons. Moving the ball up and down the field and putting the ball in the endzone. Unfortunately for Florida State, the Bronco defense was able to get to Ravenhill nine times and never allowed them to continue any kind of momentum building. 
Final Score: Boise State 42 Florida State 32
Next Week: Florida State vs #16 UNC (0-2)
#10 ALABAMA at #3 MICHIGAN
This was a game that saw EVERYTHING!! Michigan forced five turnovers, including four interceptions. They also sacked Alabama QB Cece Range in the endzone for a rarely-seen safety. Oh yeah, and they recovered an onside kick. Despite all of that, Range and the Crimson Tide offense seemed to roll. More than 400 yards passing and six touchdowns for Range and the Bama defense was dominant for four quarters. By the time the Wolverine offense started to come to life, it was far too late. This is maybe the biggest win for the SEC during the non-conference slate.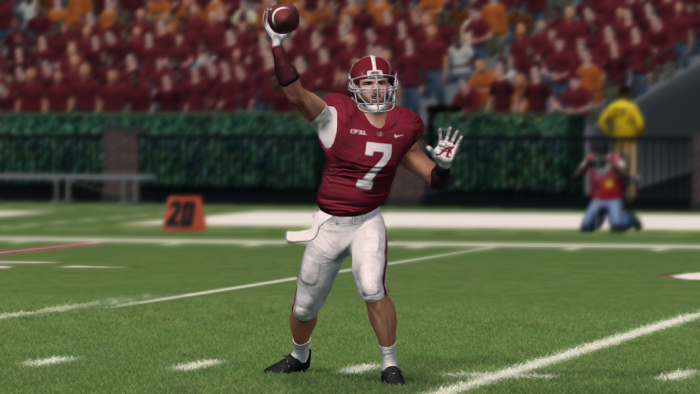 Final Score: Alabama 48 Michigan 28
Next Week: Alabama vs #19 WVU (0-2)
#5 MIAMI at #4 TEXAS
Mateo Walker lit up the Austin sky with 438 yards and three touchdowns. Wren Chucci racked up 181 of those yards on his own and found the endzone twice on the night. And if Walker did slip up and make a mistake (three ints on the night) they were quickly covered up by the Miami defense. In particular, the law firm of Mucci, Yost, Savage, and Gates. The quartet combined 23 tackles, 14 tackles for a loss, and 8 sacks. If they continue to put up stats like that they will be locking up offenses all season. 
Final Score: Miami 37 Texas 10
Next Week: Miami at #18 UGA (0-2)
#2 KENTUCKY at #11 ILLINOIS
It didn't take long for the Wildcats to show that they were the better team in this one. After each team's opening drive, it was 3-3. After that, it was all 'Cats. Led by the Monarch himself, Moses King, Kentucky rolled up 626 yards of offense. DT Israel Jordan Ward had 11 tackles including 7 sacks. Illinois QB Dylan Shumate is still having nightmares about Ward. The Illini were only able to manage 13 points and never really challenged the #2 team in the CFSL.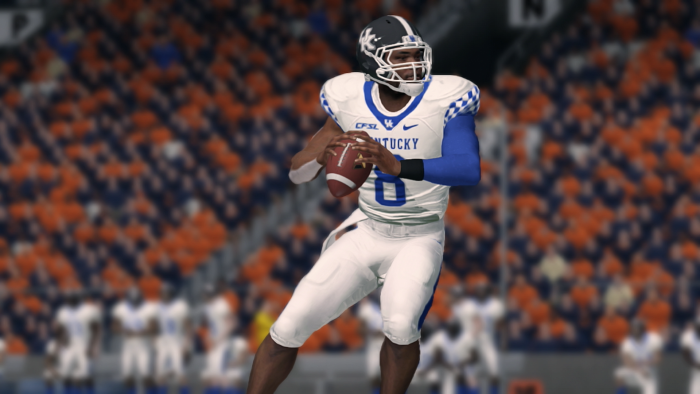 Final Score: Kentucky 58 Illinois 13
Next Week: Kentucky vs #9 Florida (1-1)
#19 WEST VIRGINIA at #14 OREGON
West Virginia took a cross-country trip this week looking to win. Unfortunately for the Mountaineers things didn't go as planned. WVU led 10-0 after the first quarter. The Ducks took flight in the final three quarters, outscoring the Mountaineers 31-14. Derek Eldridge was once again a force for Oregon, rushing for 149 yards on 28 carries including a long of 78 yards. 
Final Score: Oregon 31 WVU 24
Next Week: WVU at Alabama (1-1)
#17 AUBURN at #7 OKLAHOMA
This was a game that the sportsbook told us should have been a blowout. But the Tigers had other plans. Oklahoma got the win on their home field but Auburn made them work for every inch and every point. Six trips to the redzone for Oklahoma resulted in two touchdowns and two field goals but also resulted in two interceptions in the endzone. This type of play from the Auburn defense kept them in it long enough for the offense to start finding the endzone. The Tigers put up 14 fourth-quarter points but ran out of time in their comeback bid.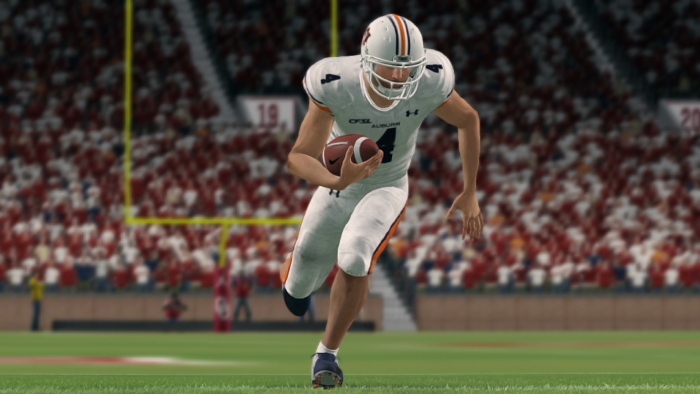 Final Score: Oklahoma 27 Auburn 21
Next Week: Auburn at Pitt (1-1)
#20 PITTSBURGH at #13 CLEMSON
Pitt had a game plan coming into this game. RUN RUN RUN. If the Clemson defensive coaching staff would have built a brick wall on the field Pitt would have tried to run through it… and I believe they would have succeeded. The Panthers racked up 215 rushing yards as a team. Rashaud Black toted the ball 35 times and piled up 128 yards. Even backup running back Chad Layhue had a good night with 16 carries and 54 yards. Clemson had no answers for the Pitt defense either. The Tigers managed only a first-quarter field goal. It seemed that everything they wanted to establish Pitt was ready for.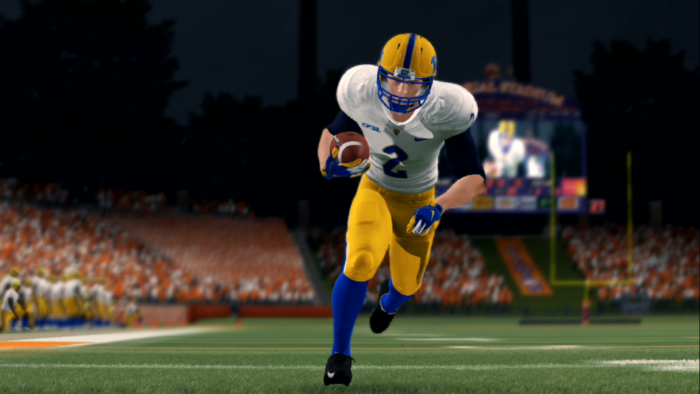 Final Score: Pitt 30 Clemson 3
Next Week: Pitt vs Auburn (0-2)
#16 NORTH CAROLINA at #12 NOTRE DAME
Despite ten tackles each for Chance Thomas and Ed Lott the Tar Heel defense couldn't slow down Notre Dame. The Irish had a balanced offensive attack rushing for 231 yards and throwing for another 228. And despite his four interceptions Ayden Martinez kept his team in it. Tied at 21 heading into the fourth quarter UNC had a shot to pull the upset in South Bend. But the ND rushing attack finally helped wear down the Heels' defense and won the fourth quarter 14-0 to seal the win.
Final Score: Notre Dame 35 UNC 21
Next Week: UNC at FSU (0-2)
#18 GEORGIA at #15 OHIO STATE
It was wet and cold and the wind was gusting at over 15 miles per hour. All the weather made for a defensive battle most of the night. The two defenses lived in the opponent's backfields. The Dawgs and Buckeyes combined for 28 TFLs and 12 sacks. Despite the defense's dominance, the offenses found just enough room to move the ball and score a few points. In the first quarter, Ohio State outscored Georgia 14-7. After that, the teams played each quarter even and Ohio State was able to hold on at the end.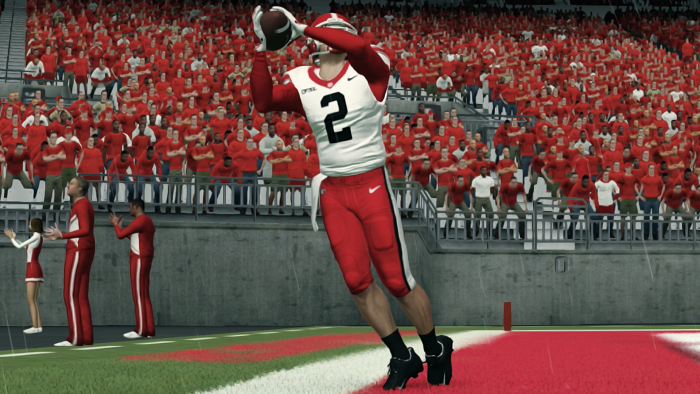 Final Score: Ohio State 27 Georgia 20
Next Week: Georgia vs Miami (2-0)
SEC STANDINGS
We head to conference play in week three. In week two, however, the Big 10 once again got the better of their P2 counterparts winning six out of ten games. Now let's take a look at the standings:
SEC EAST
| | | |
| --- | --- | --- |
| Team | Record | Net Points |
| Miami | 2-0 | 65 |
| Pittsburgh | 1-1 | -18 |
| West Virginia | 0-2 | -33 |
| Florida State | 0-2 | -51 |
| North Carolina | 0-2 | -58 |
SEC WEST
| | | |
| --- | --- | --- |
| Team | Record | Net Points |
| Kentucky | 2-0 | 47 |
| Alabama | 1-1 | 17 |
| Florida | 1-1 | -47 |
| Auburn | 0-2 | -9 |
| Georgia | 0-2 | -10 |
PERFORMANCE OF THE WEEK
There are always too many great individual efforts to call out, so if someone is not on the list remember, that is not in any way a slight. It is incredibly hard to pair down the individual efforts into a small section of the breakdown.
The Panthers' RB Duo
Combined: 51 carries, 182 yards, 2 Total TDS
Okay, admittedly this may be cheating or a cop-out. But if you look at what Rashaud Black and Chad Layhue combined to do in Pitt's win over Clemson how can you not shout them both out? Layhue had 16 carries as the backup back. That is nearly unheard of. Add his 54 yards to Black's 35 carries and 128 yards and you can see why Pitt won that game.
Moses King, QB, Kentucky
43-63, 518yds, 5Tds
Moses King may have thrown three interceptions, but the Wildcat offense was in control all night long. And his last TD pass of the game wrapped up a friendly bet from league chat and had him pronounced as the Monarch (by someone other than himself). 
Israel Jordan Ward
11 tck, 10 TFls, 7 Sacks
Staying in the Kentucky/Illinois game, but shifting our attention to the defense, Israel Jordan Ward dominated up front. Seemingly on every snap he was in the backfield re-introducing himself to an Illini ball carrier. Poor Dylan Shumate probably had nightmares thinking about getting hit by Jordan Ward in his sleep. 
Terrence Jones, WR, Alabama
9 rec, 194 yds, 3 TDs
There is more than one Bama receiver that we could point out in this game. But Jones' 194 yards and three touchdowns led the corps even though his nine catches were second on the night. The Bama passing attack was unstoppable. Michigan defenders are still seeing Jones and company run by them as we speak. 
MUST SEE MATCHUPS NEXT WEEK
How do you pick just one? With Conference play beginning in week three, we are down to only five SEC games for the week. They are all the most crucial games of the season for each team. A win gives them a fast start, a loss and they are already in scramble mode.
Miami and Kentucky are the only teams that come in at 2-0, and while they don't match up this week they both need to continue what got them to this point early in the season. Florida comes into Lexington after getting blown out. They will be ready to play. Miami travels to Georgia to take on a Bulldog squad that has been close to victory twice. Can the Dawgs weather the storm and take a bite out of the Hurricanes?