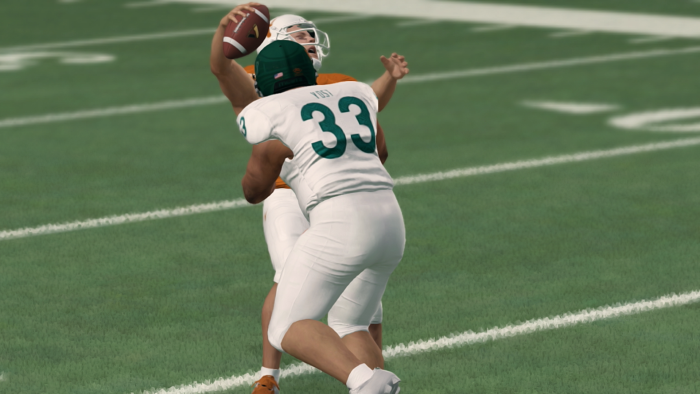 By: Valentino Arenas (@Sovius)
Five Stats You Need to Know This Week
Hurricane Warning
Miami's defensive front is the best in the league in sacks with 16. This week they're going against Georgia, who has struggled to keep their QB upright. The Bulldogs have allowed 11 sacks this year. DE George Yost has six sacks this year. Keep an eye on Yost, who could be a candidate for Defensive Player of the Week.
Golden Dominance
Kent State has dominated Toledo in the series, beating the Rockets every time they get together on the field. Toledo looks to turn the tide in the series. The Rockets will bring everything they can to bring down the Golden Flashes.
The Gunslinger
Oklahoma State QB Ryan Moreland has thrown for a league-leading 1,117 yards. He has also added 12 passing touchdowns, which ties him with Alabama's Cece Range for the most this season. However, this week the Pokes will take on a golden-domed defense. Notre Dame has allowed 252 passing yards per game, which is the fourth-lowest total in the CFSL. They also have the third-most takeaways (7). Can Moreland stay atop the league leaders or will Notre Dame slow him down?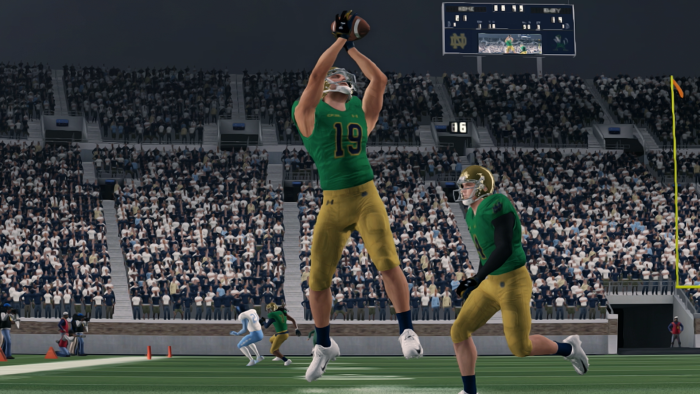 Turnover Battle
No one has turned the ball over more than North Carolina. The Tar Heels have given the ball away 13 times this season. That is four more times than the next closest team. UNC heads to Florida State this week looking to correct the pattern. Luckily for the Tar Heels, the Seminoles are the only Power Two team that has yet to force a takeaway.
Sack Artist
Kentucky DT Israel Jordan Ward has put up a ridiculous nine sacks in the first two games. If he is able to keep this pace up, he would break the CFSL single-season sack record before the playoffs even started. While keeping up this kind of production is unlikely, a deep playoff run for the Wildcats should put Ward in a position to rewrite the history books.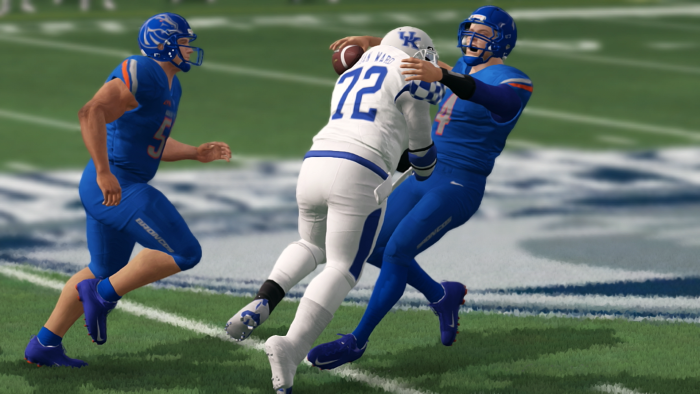 Match-ups You Need to Watch
Notre Dame's OL vs Oklahoma State's DL
Notre Dame's offensive line is one of the best in the league. They are tied for second in giving up the least amount of sacks. Oklahoma State's defensive line comes into the game a wrecking ball after Florida. Getting ten total sacks over the course of the previous game. It's gonna be a war in the trenches. Notre Dame's OL will have their hands full on this one.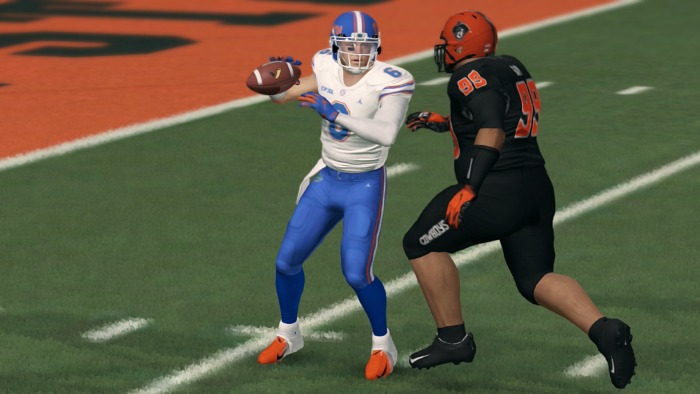 Bowling Green's WR Room vs Eastern Michigan's Secondary
While these two teams haven't met up since Season 12. Both teams are filled with elite-level talent. EMU's secondary consists of major freshmen X-Factors such as OLB James Horton, CB Jett Pickens, and SS James Beal. But Bowling Green isn't helpless, with an elite QB in Leisa Pink and the elite freshmen duo of Dave Axis and Joey Wolford. This matchup is a clash of elite MAC freshmen talent. We'll see who flies high in this one.
Derek Elderidge vs Texas' Run Defense
HB Derek Eldridge is on fire this season. Claiming the #1 spot among the league's leading rushers with 267 yards, 5.7 yards a carry, and 133.5 yards a game. He will face off against a Longhorn rushing defense that hasn't allowed a halfback to run for more than 20 yards against them. It will be an unstoppable force vs an immovable object. Who will win?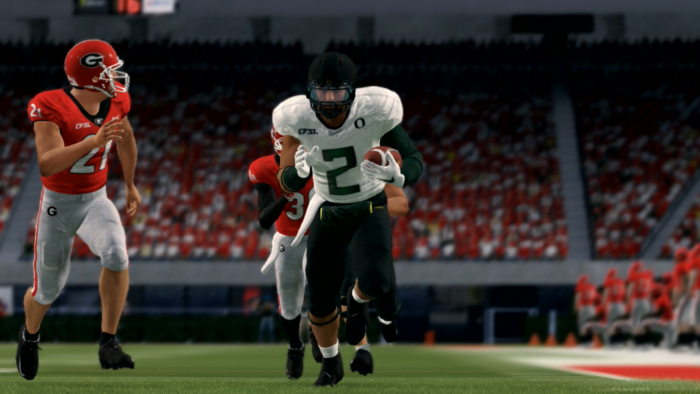 Tucker Quirk vs Lincoln Griffin
Kentucky WR Tucker Quirk is picking up right where he left off last season. He currently has 281 receiving yards (4th most league-wide) and four touchdowns (tied for 2nd most). This week he will be facing off against one of the league's best corners. Florida's Lincoln Griffin has snagged three interceptions (tied 2nd most) already this season. That brings him up to 12 in his career. He has also added two pass breakups (tied for 8th most). Which of these talented upperclassmen will get the best of the other?
Quotes from Around the League
Florida State CB Trey Woodard on going from ranked #2 to going 0-2,
"Going 0-2 was a slap in the face but we lost to two amazing teams. I feel like the game against UNC is definitely a must-win. We have all our players returning in this match-up. 2 elite players, including myself, will be back on defense. Even though every team now makes the playoffs we still do not want to go 0-3. We should be able to handle the next 3 teams we face."

Michigan WR JaMarr Carr on going from beating #2 Florida State to being blown out by Alabama,
"Going into Florida State we were confident that we matched up well against them. We wanted to play our game and put out a tough defensive showcase. Which we did. Going into the Alabama game, confidence was through the roof in the locker room but it just didn't translate onto the field. Alabama managed to answer everything we threw at them. Being at home and having our fans go through that was humiliating. But next week you're going to see a different Wolverine team. One that's hungry for more."
Bowling Green State HC Justin Duke on his plans for the season,
"I think we can go as far as we train to. We are going broke and trying to make a statement in [our first season]."
Eastern Michigan HC Brandon Vieyra on Bowling Green State's defense,
"Their whole defense is talented, can't focus on just one player. If our O-Line does its job, then our team will do its part to get open and score touchdowns. It's all about execution."
Oregon AD Neal Mason on starting 2-0,
"It wasn't unexpected by the guys in the locker room. It really started with my coaches. Their enthusiasm put a spark in me. And they were incredible in recruiting. Even though we didn't splash recruiting we landed guys that were willing to take on the underdog role and excel. We worked really hard to get to 2-0 and understand that we have a long way to go. We have shown that we can compete now and we have to build off that. Every week is a week to get better and hopefully, that leads to wins."