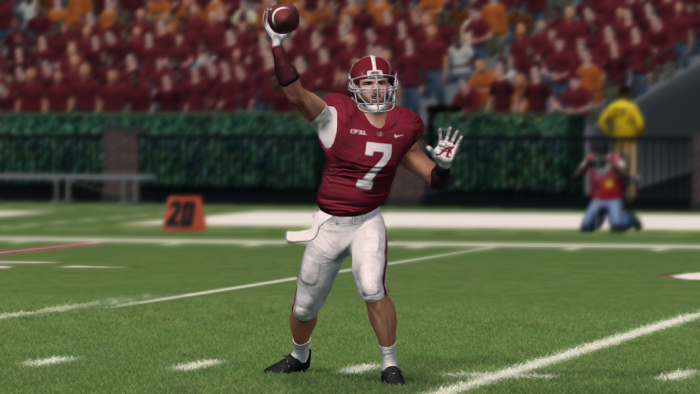 By Nathan Murphy (bigmurph23)
Most of us have heard the story of the Patriot (no, not those Patriots) Paul Revere and his midnight ride through the town warning of the oncoming British attack. And we all should remember the lighthouse lantern code designed to warn Revere and the Patriots. It was one if by land and two if by sea. But what If Paul Revere was to warn CFSL defenses of impending doom? What would that look like? Well, quite simply one if by land, but six if by air of course!!
It is not a secret that the CFSL is dominated by pass-happy offenses led by strong-armed and laser-accurate quarterbacks, and wide receivers with skills that give defensive coordinators and defensive backs alike night terrors. Just how dominant have the passing games been?
Through two weeks of play our twenty quarterbacks have combined for 93 passing touchdowns. That is an average of 4.65 touchdowns per quarterback. The charge of scoring has been led by a pair of sophomores. Oklahoma State's Ryan Moreland and Alabama's Cece Range have both thrown a jaw-dropping 12 TDs each. However, it isn't only these two that are lighting up scoreboards. Only two QBs in the league have failed to get multiple passing touchdowns. If the touchdown totals aren't eye-popping enough the twenty starting CFSL QBs have thrown for 13,335 combined yards. That shakes out to 666.75 yards per QB or 333.4 yards per game per quarterback. But it hasn't been all sunshine and rainbows for the gunslingers in the league. They have combined to throw for 71 interceptions. Of those 71 interceptions seven of them have been returned by the defense for a touchdown. So when the ball goes in the air there is always the chance that it winds up as six points, whether it is for the offense or the defense is the only question.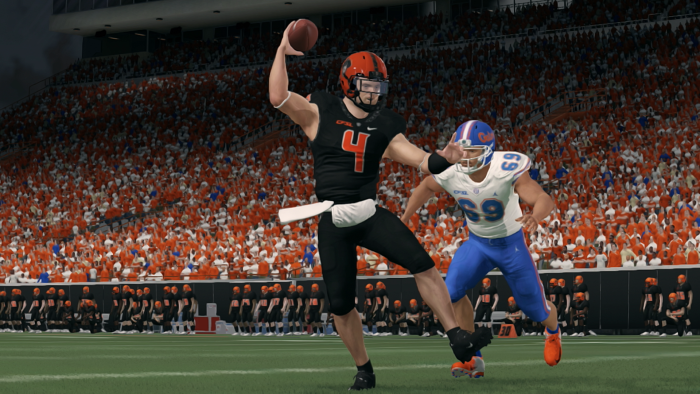 Now let's compare that to the ground attack in the CFSL. There have certainly been standouts, like Oregon's Derek Eldridge (267 rush yards and 2 rushing TDs) and Georgia's Toby Kneer (203 rush yards and three rushing TDs). But as a whole, this group hasn't kept up with their throwing counterparts.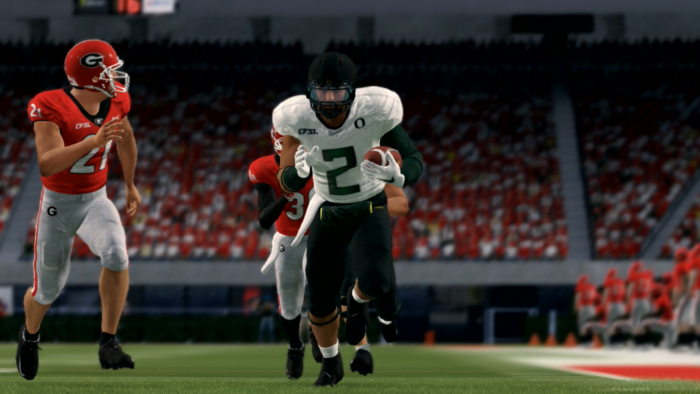 There are far more than twenty ball carriers, and yes, sack yardage does hurt the rushing totals. Even with that in consideration there are only eight ball carriers that have negative rushing yards through two games. There have been sixty-two ball players who have carried the football at least one time this season. Combined they have toted the rock 1,154 times for a total of 3,390 yards. That's just under 10,000 fewer yards than the QBs have totaled. At that clip, runners are averaging just a tick under three yards per carry. But what about the important stat? How many times have the ball carriers broken the plane of the goal line? Glad you asked, the answer is 48. Forty-eight times a runner has reached the end zone through the first two weeks. That seems like a good number but that is only 2.4 rushing touchdowns per team. So far this season teams are twice as likely to score a passing touchdown than they are a rushing touchdown.
While some teams have started to try and balance their offenses and try to find more of a running game, most teams are letting it fly. It is high risk and high reward, but with quick strike capabilities coaching staffs are willing to take their shots and look for six by air. Good luck Mr. Revere.