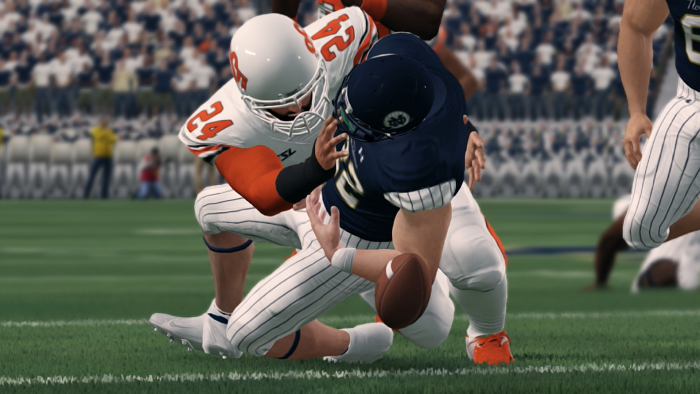 BY: Tony Papol (SGEasty)
We are now down to four unbeaten teams, two in the B1G and two in the SEC. Due to a scheduling quirk, we will have a maximum of three unbeatens at the end of the year, as Miami and Kentucky do not play each other in conference play, while Oklahoma and Oklahoma State are in the same division. But before we can look ahead, let's focus on the excitement that was Week Three.
#1 Oklahoma State @ #9 Notre Dame
For the first quarter, this was an exciting ballgame. Tied at seven going into the second quarter, Notre Dame had to be feeling good about their performance. Then, Oklahoma State scored 20 points in the second quarter, and would not allow any points for the rest of the game.
The Cowboys' offense has been a well-oiled machine since Week One, with quarterback Ryan Moreland throwing for 511 yards and four touchdowns. Three of his receivers totaled over 100 yards receiving: JT Cass Jr. with 180, Dakota Ali with 119, and Steven Rodriguez with 118. Defensively, Oklahoma State held yet another opponent to negative rushing yards, this time with -37. They also held the explosive Notre Dame running back Bode Dale to 11 yards, when he had been averaging over 100 for the first two weeks.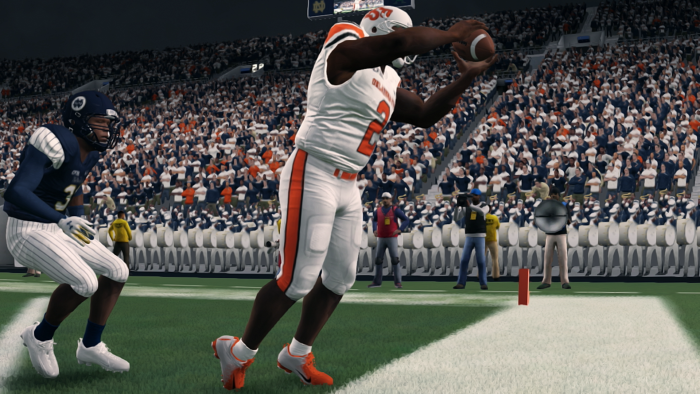 On the other hand, Notre Dame struggled to get anything going offensively for the game's final three quarters. They could not run the ball effectively, and the passing attack of Charlie Sammons was severely diminished. Sammons finished with 164 yards and one TD, dropping off in production from last week's win over North Carolina. Even though they gave up 50 points, there were some positives for the Irish defense. They held Oklahoma State to five field goals inside the red zone and limited the Cowboys to going 27% on third down. With an offense as explosive as Oklahoma State's, those are definite positives that should be taken into next week.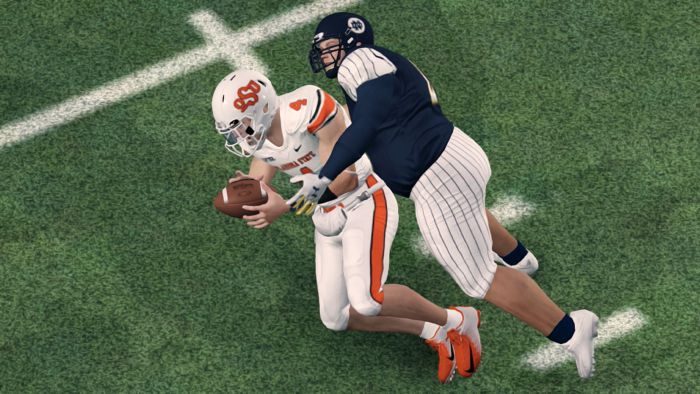 Final Score: Oklahoma State 50, Notre Dame 7
Next Week:
Oklahoma State (3-0): vs #12 Ohio State (2-1)
Notre Dame (1-2): vs #17 Clemson (1-2)
#4 Boise State @ #12 Ohio State
This game had just about everything you could want. It was at times a defensive battle, and at others, the offenses couldn't be stopped. There were touchdowns, field goals, the ever-elusive safety, and a game-winning field goal simultaneously causing elation and heartbreak.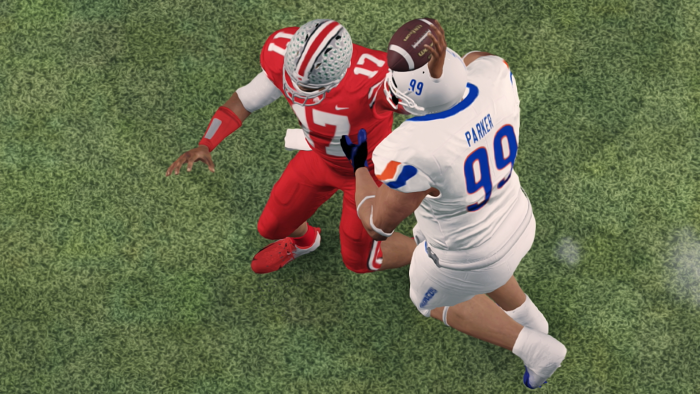 In the first quarter, Ohio State ran out to a 14-point lead. Then the Broncos started their comeback, led by freshman quarterback Topher Foreman. Foreman brought the Broncos to within three heading into the fourth quarter. Also in that stretch was the fantastic performance of Broncos' defensive end Pierce Parker, who recorded 11 tackles, eight TFLs, and four sacks on the night. Then, in the fourth quarter, a back-and-forth showdown ended with Ohio State, led by quarterback Logan Radloff, marching down the field to kick a game-winning field goal as time expired.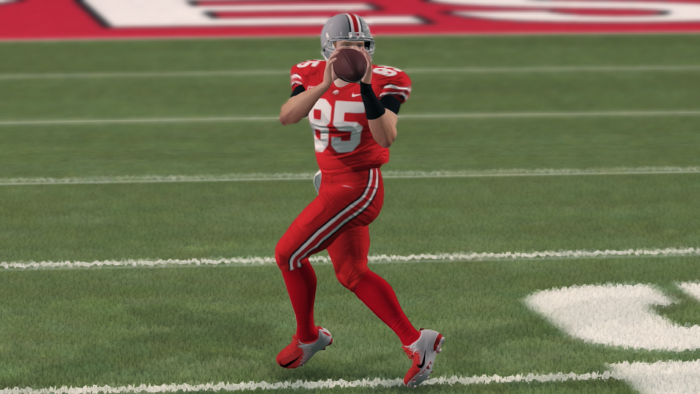 If you didn't know the final score, the box score makes it seem like Boise State would have won. They had more yards of offense, won the time of possession battle, were better on third downs and had more sacks. But the crucial factor is yards per play. Bill Connely wrote that in 2013, winning the YPG battle often resulted in a team winning the game. Boise State averaged 4.83 YPP, while Ohio State averaged 5.66 YPP. This 0.83 YPP difference meant that Ohio State had around a 75% chance to win, and win they did. Next time you check out the box score after a game, check out the YPP battle.
Final Score: Ohio State 23, Boise State 21
Next Week: Ohio State (2-1): @ #1 Oklahoma State (3-0, Boise State (1-2): vs #14 Illinois (1-2)
#5 Oklahoma @ #17 Clemson
This was a game of what might have been for the Clemson Tigers. Leading 19-12 going into halftime, the game was officially on upset watch. Then, the halftime adjustments kicked in for Oklahoma, who outscored Clemson 30-0 in the second half. After struggling to navigate the aggressive Clemson defense early, Oklahoma's quarter Derrick Power came alive in the second half. Power finished with 399 yards, two TDs, and four INTs. Halfback Ike Porter recorded a solid performance with 82 rushing yards and 31 receiving yards. However, it was a career-high receiving performance from Damian Jones (126 yards) that was the offensive catalyst for the Sooners.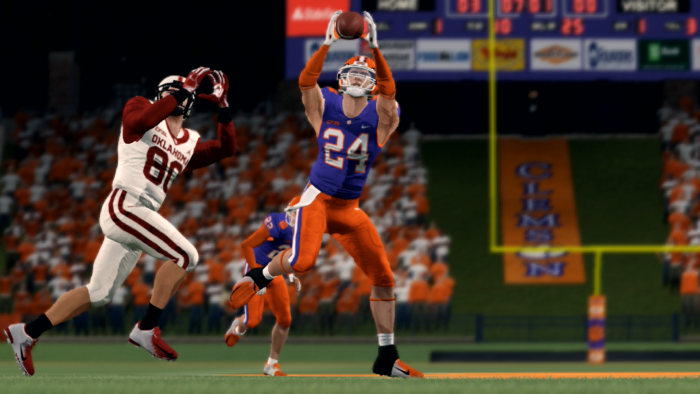 For Clemson, a career-low showing from quarterback Loki Gunderson, 180 yards and four interceptions hindered any sort of offensive production in the second half. Defensively, the Tigers had fantastic outings from safety Damelo Butler (13 tackles, four TFLs) and linebacker Kyle Woods (nine tackles, three TFLs) who both made plays all over the field.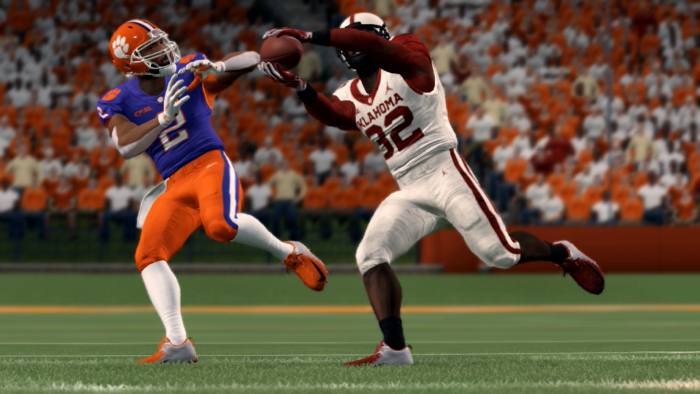 However, the true star of this game was Oklahoma freshman kicker Damani Marley, who went 7-7 on field goals, shattering the Oklahoma record and tying the CFSL record for field goals made in a game. Along with three PATs, Marley was responsible for 24 of the Sooners' 42 points. We make a big deal in the CFSL of records being matched or broken, and yet Damani Marley was snubbed from consideration for Player of the Week. Something that has only happened three times in CFSL history does not get recognized as it should with even a nomination.
Final Score: Oklahoma 42, Clemson 19
Next Week: Oklahoma (3-0): vs #8 Texas (2-1) from the Cotton Bowl, Clemson (1-2): @ #9 Notre Dame
#14 Illinois @ #7 Michigan
After an explosive first quarter, where 28 total points were scored, there were only 26 points scored for the remainder of the game. All 26 were scored by Michigan. Bouncing back after a tough loss last week to Alabama, the Wolverines played total football on Thursday. They compiled 272 passing yards and 139 rushing yards. The dual rushing attack of quarterback Sam Dobbins, who also had two TDs throwing, and halfback Barry Beardsley allowed for the Michigan passing game to flourish late. Wide receiver Javion Tate had a breakout performance for the Wolverines. Tate caught eight passes for 137 yards and a touchdown.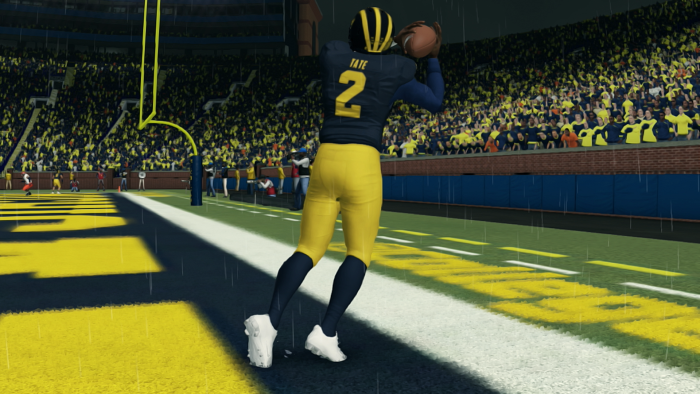 The game was truly won on defense though, as the Michigan secondary picked off Illinois quarterback Dylan Shumate five times, stopping any sort of offensive production from the Illini. Shumate has struggled all season, being in the bottom third of QBs in QBR, and Illinois will need better play from him going forward. Defensively, they had impressive performances from Brian Andrews and JW Eibeck who both recorded 11 tackles. That both linebackers were the leading tacklers shows how productive that rushing attack from Michigan was in this game.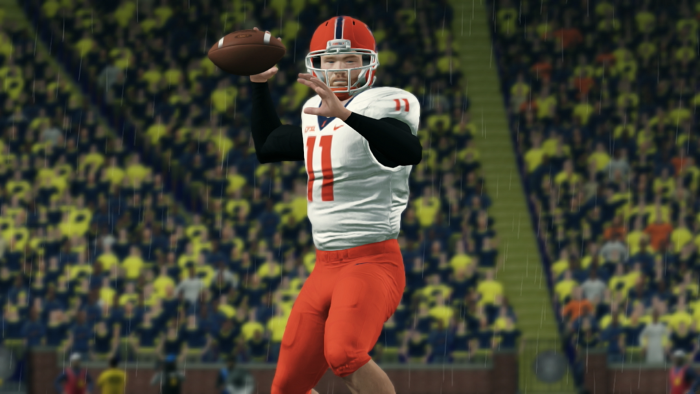 Final Score: Michigan 40, Illinois 14
Next Week: Michigan (2-1): vs #13 Oregon (2-1), Illinois (1-2): vs #4 Boise State (1-2)
#8 Texas @ #13 Oregon
This game was largely over at halftime, with the Longhorns scoring 27 straight points to start the game. Oregon was overmatched from the beginning. The fantastic defensive game plan from Texas caused havoc that the Ducks simply couldn't overcome. Oregon quarterback Brantley Gauci finished with 225 yards with one TD and four INTs. Wide receiver Phillip Allen continues to be the sparkplug for the Oregon offense, finishing with six receptions, 117 yards, and a touchdown. Safety Benny Trill continues to be a menace on the defensive side of the ball, recording 16 tackles. It seems offenses have learned their lesson about safety DJ Sutton, as he forced a fumble but was not really involved in the pass defense.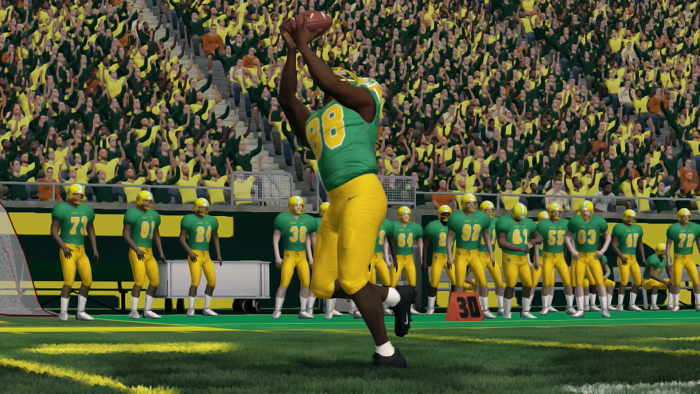 For Texas, quarterback Avery Ware put up a solid performance, throwing for 442 yards, four TDs, and 1 INT. However, the real star offensively was halfback Killian Dunn, who slashed the Oregon defense for 128 yards rushing and 35 yards receiving. The Oregon defensive line could not generate enough push to stop Ware or Dunn, and that is ultimately where the game was won and lost. Also, as Ryan Moreland said in his weekly editorial, rankings are not just about wins and losses, they need to include context. And this result shows why that is the case. We are now down to just four unbeaten teams.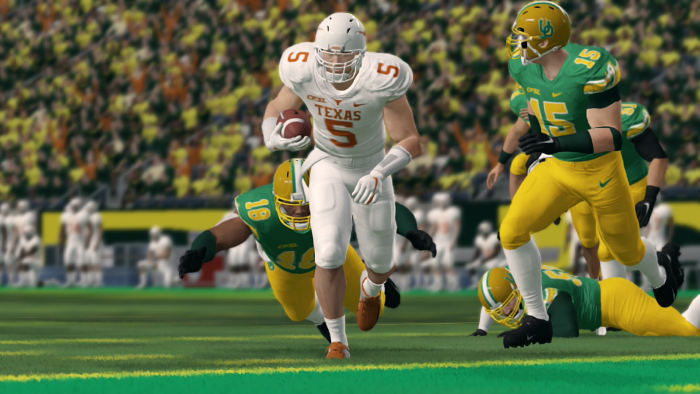 Final Score: Texas 47, Oregon 10
Next Week: Texas (2-1): vs #5 Oklahoma (3-0) from the Cotton Bowl, Oregon (2-1): @ #7 Michigan (2-1)
Standings
B1G East
| | | | |
| --- | --- | --- | --- |
| Team | Record | Margin | Conference Record |
| Michigan | 2-1 | 47 | 1-0 |
| Ohio State | 2-1 | -29 | 1-0 |
| Notre Dame | 1-2 | -36 | 0-1 |
| Illinois | 1-2 | -45 | 0-1 |
| Clemson | 1-2 | -47 | 0-1 |
B1G West
| | | | |
| --- | --- | --- | --- |
| Team | Record | Margin | Conference Record |
| Oklahoma State | 3-0 | 141 | 1-0 |
| Oklahoma | 3-0 | 74 | 1-0 |
| Texas | 2-1 | 13 | 1-0 |
| Oregon | 2-1 | -27 | 0-1 |
| Boise State | 1-2 | 6 | 0-1 |
Players of the Week
Ryan Moreland, QB, Oklahoma State
511 passing yards, 4 TDs, 11 carries, 12 rushing yards, 1 TD
Moreland once again finds himself on this list of players of the week on the back of another impressive offensive performance from the Cowboys. A finalist for the Player of the Year Award last season, he is well on his way to another nomination in Season 16.
Ezra Rogalski, DT, Oklahoma State
6 tackles, 4 TFLs, 2 sacks, 1 FF
On a defensive line of Oklahoma State's caliber, it can be hard to produce numbers that stand out from the others. This week, however, Rogalski was able to do just that. The sophomore is already fourth in TFLs and sacks in Oklahoma State history and is on pace to break the TFL record (perhaps even in his junior season if he keeps up his electric pace).
Pierce Parker, DE, Boise State
11 tackles, 8 TFLs, 4 sacks
Parker is another repeat player of the week performer, putting up even more impressive numbers than last week. However, even with the pressure coming off the QB's blindside, the Buckeyes were able to pull off the upset. What kind of performance will Parker need to have next week against Illinois to win?
Damani Marley, K, Oklahoma
7-7 on field goals, long of 49, 3-3 on PATs
Coming off a CFSL record-tying performance, Marley is one of five kickers in the CFSL who have attempted 10 or more field goals and have yet to miss. The Sooners will need Marley to remain in top form going into the Red River Rivalry next week to defeat a confident Texas team.
Killian Dunn, HB, Texas
21 carries, 128 rushing yards, 1 TD, 7 receptions, 35 receiving yards
Dunn ranks 2nd in the league for rushing yards and is T-1st with 4 rushing touchdowns. He will need to have another big week against a dominant Oklahoma front-six for the Longhorns to win in Dallas. Can the Sooners stop one of the league's best halfbacks?
Week 4 B1G Games
Oklahoma vs Texas from the Cotton Bowl
Monday, January 23rd, 7 P.M. CST on Twitch
This will be the first big test for the Sooners in Season 16. Oklahoma survived throwing four interceptions against Clemson to still win comfortably, but an aggressive Texas defensive (and a more accurate Avery Ware) could make Oklahoma pay for its mistakes. Can Oklahoma stop Ware and Killian Dunn in the running game? If Oklahoma can hold Dunn to under 75 rushing yards, they likely win.
Ohio State @ Oklahoma State
Monday, January 23rd, 9 P.M. CST on Twitch
Ohio State is coming off a great win against Boise State, so Oklahoma State needs to come out quickly and not get behind early. Ohio State needs to build a sizeable lead going into halftime, as Oklahoma State has not allowed points in the second half of any of their games. If Ohio State can come out hot and force some key stops they might have a chance for an upset.
Oregon @ Michigan
Tuesday, January 24th, 7 P.M. CST on YouTube
Michigan is looking to establish itself as the team to beat in the B1G East, while Oregon is looking to prove they do belong in the top half of the league. Michigan and Oregon both rank in the top five of rushing yards per game. Whichever defense can stop the run, and force the other team to become one-dimensional, will win this game.
Clemson @ Notre Dame
Wednesday, January 25th, 9 P.M. CST on Twitch
This game will be a battle of third downs. Clemson has more success offensively on third down, while Notre Dame has considerably more success defensively on third downs. If Clemson can force Notre Dame into more punting situations, then they have a chance.
Illinois @ Boise State
Thursday, January 26th, 9 P.M. CST on Twitch
Both teams are looking for a victory after disappointing performances in Week 3. This game feels like a must-win for Boise State, as they are currently last in the B1G West, the best division in the CFSL. Illinois needs better play from quarterback Dylan Shumate to win, and that will be a tough ask with Boise State's Pierce Parker on the edge all night. If Illinois can have better blocking than they have in the first three weeks, then they have a shot.