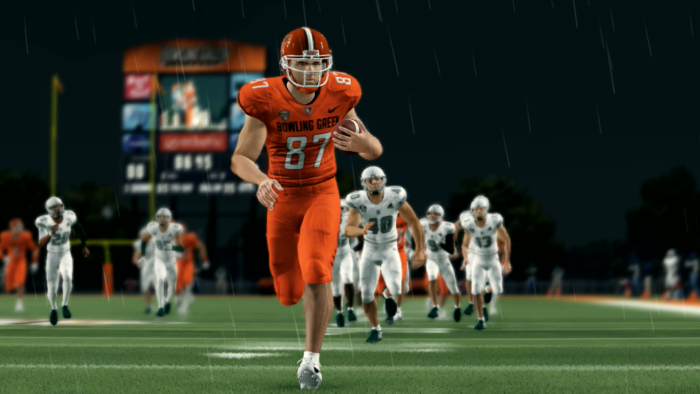 BY: Justin Duke (@Beard on Blast)
In what seemed like an eternity for MAC players and coaches the league finally arrived at Week Three, aka the return of the MAC. There had been a lot of build-up going into the first week of MAC play and a lot of questions about what to expect. Two teams seemed to be everyone's predetermined MAC powerhouses; the other four teams had plenty to say about that in the league hangouts. Luck would have it that those two predetermined championship contenders squared off in the opening week. They match-ups were set, the excitement was high, and boy did the first week of MAC deliver. Without further ado here is your weekly recap!
#22 Eastern Michigan vs #21 Bowling Green
This game looked like it might turn into a blowout early. Eastern Michigan QB Ludwig Friedman started the night off with two crazy 50+ yard TDs to receivers Jaxon Bugg and Brandon Oliver on the way to a 28-7 lead. Bowling Green had no answer for the offense except Gunny McGuire's 100-yard kick return touchdown. Then the second quarter started. BGSU kicked into gear with Leisa Pink throwing TDs to Dave Axis and Gunny McGuire. Going into the half EMU's lead was whittled down to 35-24.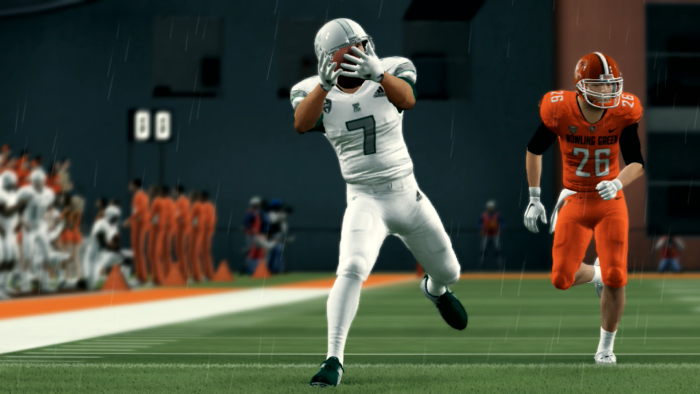 On the first drive out of the half BGSU marched down the field and scored on a one-yard James Braxton touchdown run. Still in the lead, EMU was determined to answer the score. On third and 18 from their own twelve-yard line EMU was trying to play it safe on an outside stretch when tragedy struck for the Eagles. HB Gabriel Zeigler took a hit at the eight-yard line and put the ball on the ground. BGSU's James Braxton wouldn't leave it there for long. He scooped it up and ran it eight yards for the touchdown. Braxton now had a touchdown on offense and defense.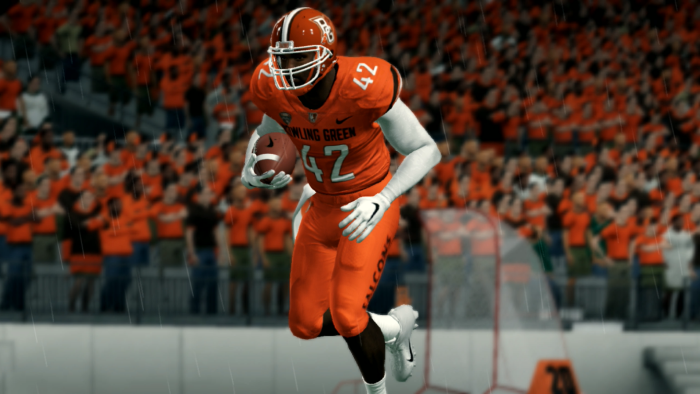 This was the moment that the momentum swung to BGSU, where it would stay for the majority of the game. The Eagles next drive looked promising as they drove all the way to the two-yard line on Bowling Green's side of the field. Friedman took the snap and looked to his right for the TE on the flat route when tragedy struck again. Semi Dosunmu stepped in front of the pass on the two-yard line and made a ninety-eight-yard house call. Ultimately EMU added seven points but in the fourth quarter, the defenses refused to give up any more ground with BGSU ending this one in the victory formation. For the first game of MACtion since Season 12, it sure didn't disappoint.
Final Score: Bowling Green 45, Eastern Michigan 42
Next Week: Bowling Green at (0-1) Northern Illinois, (0-1) Kent State vs Eastern Michigan
#24 Kent State vs #25 Toledo
Not to be outdone, the Kent State vs. Toledo matchup started out hotter than a cup of McDonald's coffee in the '90s! The Golden Flashes didn't appear to have an answer for Toledo's explosive offense with Ra'Q Rhodes getting two 50+ yard TDs. Toldeo's WR Nolan Ellis slipped through the secondary unnoticed and grabbed a long TD from the arm of QB McKade Alber to extend their lead to 21.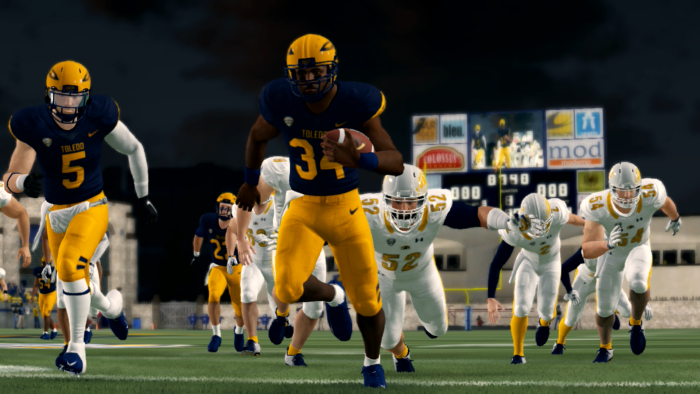 Kent State's QB Tobias Johnson answered by unloading a deep ball for WR Brandon Demora that found pay dirt. On their next drive, Toledo called a QB keeper to extend their lead to 28-7. For a minute it looked like we might be looking at another MAC comeback as Kent State pounded in another score on the ground to make it a 28-14 game.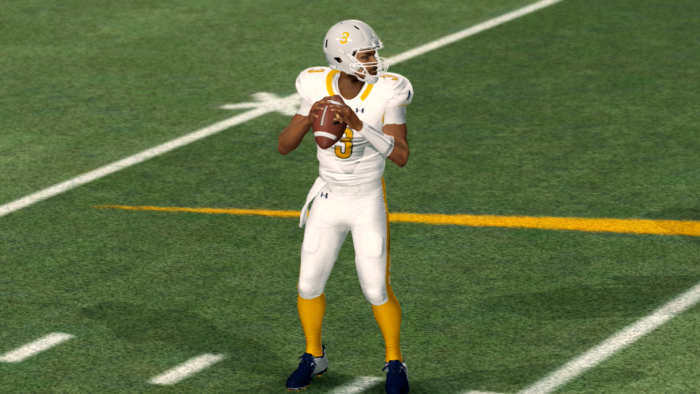 Both teams relied heavily on the explosive playmaking ability of their offenses, with every scoring drive having a play of over 40 yards mixed into the formula. After watching the teams beat each other's defenses to a bloody pulp we thought we might see a high-scoring affair in the second of three MAC games.
After bringing it within two scores in the second quarter the Toledo and Kent State defenses found what they had been missing the whole game… some attitude and grit. Combined the two defenses gave up nine total points for the rest of the game. This was literally a complete 180 from where they started. No one knows if the two defenses figured each other's offense out or if the offenses just expended all their gas early. This was another great MAC experience that didn't disappoint on any front. You had offensive explosiveness and defensive stingy play. It will be interesting to see what each coach takes into their next games to try and make both units operate at peak performance for four quarters.
Final Score: #25 Toledo 34, #24 Kent State 17
Next week: Kent State @ (0-1) Eastern Michigan, Toledo @ (1-0) Ohio
#21 Northern Illinois vs #26 Ohio
The MAC had gifted us two great games already, which set us up expecting another exciting affair. Well… it didn't disappoint… everyone. Northern Illinois and Ohio came out looking like we may see a low-scoring defensive game. Boy was that not what was coming our way. Two late first-quarter touchdowns by Ohio got the scoring started. First HB Tank Lionheart had a goal-line TD run. Then QB Del Toro found Maalik Henderson on a 35-yard TD pass.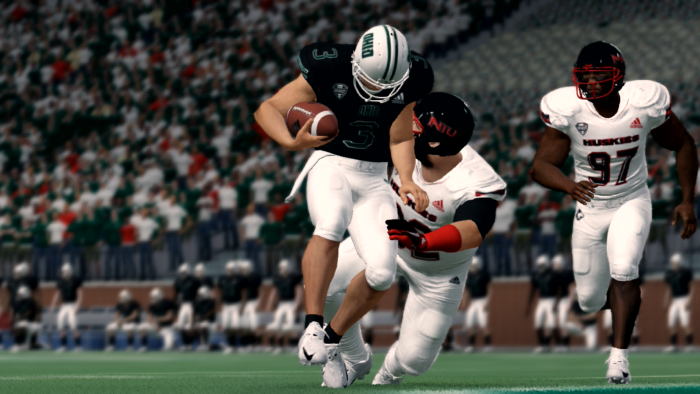 Halfway through the second, both teams had rediscovered their lockdown defenses, that is until Del Toro struck again. WR James Isaacson brought some toe-drag swag with a 24-yard TD that we may see again in the top-ten plays of the week. Continuing what was starting to appear to be a blowout Del Toro struck paydirt again finding TE Perry Pushkaroyov on a ten-yard TD.
After that NIU had finally had enough. In what can only be described as one of the oddest plays this week in the CFSL QB Terry Olliff found Levi Tree on a 28-yard TD over the middle pitch and catch. Tree must've been in a volleyball mood as he set it to himself before he grabbed it for the score. Ohio lead 28-7, the same lead that EMU held over BGSU. A second missed FG by Ohio set NIU to show the world possibly the greatest demonstration of a screen the league has ever seen! Olliff found Dustin Roller on an 80-yard untouched TD. However, this was where the magic dies for the Huskies.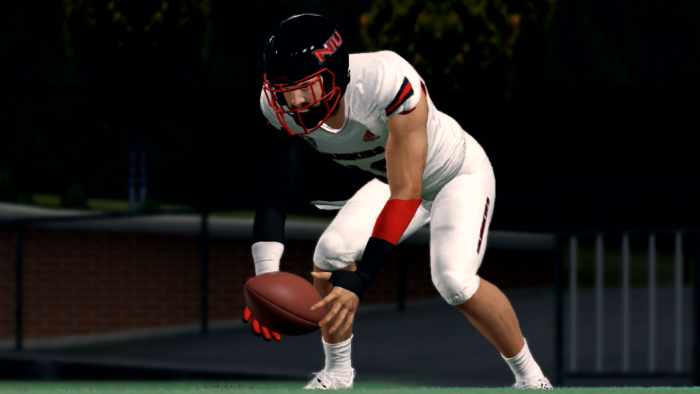 Ohio would then break out their two-minute offense to get Lionheart within seven so he could bowl his way to give NIU a 35-14 lead. Lionheart wasn't done either. Ohio's first drive out of the locker room he took it to the house on a 42-yard TD. Then again on a short TD pass, Lionheart and Ohio started to crush the hopes and dreams of NIU by making it 49-14. The NIU defense would drive to bring this team back to life but it was too little too late as Paxton Jones made a house call on an errant Del Toro pass. Ohio would find their way to two more FGs to end the game 55-21. The Bobcats would start the season exactly how they wanted.
Final Score: Ohio 55, NIU 21
Next week: Northern Illinois vs (1-0) Bowling Green, Ohio vs (1-0) Toledo
Standings
| | | |
| --- | --- | --- |
| Team | Record | Net Points |
| Ohio | 1-0 | 34 |
| Toledo | 1-0 | 17 |
| Bowling Green | 1-0 | 3 |
| Eastern Michigan | 0-1 | -3 |
| Kent State | 0-1 | -17 |
| Northern Illinois | 0-1 | -34 |
Best Performances in the Big East this Week
Ludwig Friedman, QB, Eastern Michigan
37/55, 455 yards, 4 TDs, 1 INT
Semi Dosonmu, CB, Bowling Green
3 tackles, 1 TFL, 1 INT, 98 INT Yards, 1 TD
Jason Mallory, DE, Kent State
6 tackles, 4 Sacks
RaQ Rhodes, HB, Toledo
22 carries, 238 yards, 2 TDs, 3 rec, 69 yards, 1 TD
Del Toro, QB, Ohio
49/69, 545 yards, 4 TDs, 2 INTs, 11 carries, 31 yards
Must-See Matchups Next Week
Watch all the home teams next week. This week they went 3-0. Is home-field advantage the straw that broke the camel's back? Or did the better teams just get home-field advantage?
Toledo at Ohio
Thursday 9pm CST on YouTube.
These two high-octane offenses line up and prepare to try and outscore each other on the way to victory. Are scoring records in danger? Or will these teams find their defenses and shut down the offenses we saw last week?