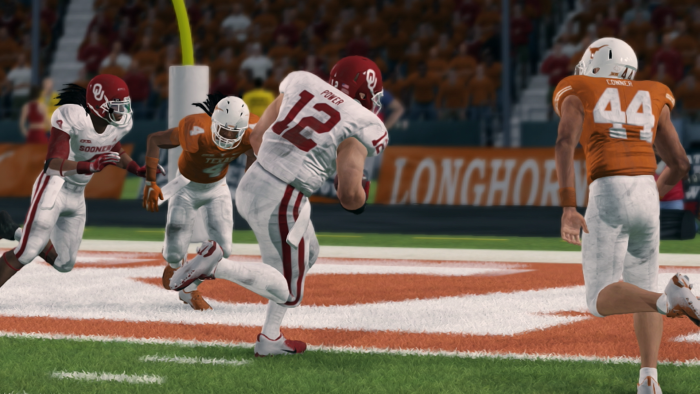 BY: Tony Papol (@SGEasty)
We have reached the halfway point of the CFSL, and the pecking order of B1G teams has started to take shape. As the schedule focuses more on divisional play going forward, however, that list could be thrown out the window at a moment's notice. But before we can look ahead, let's focus on the excitement that was week four.
#4 Oklahoma vs #7 Texas
Going into this matchup, the CFSL knew we would be treated to an electric game, and that is exactly what we got: an overtime thriller that will certainly be a Game of the Season contender. Texas got out to a fantastic start, getting pressure on Oklahoma quarterback Derrick Power and effectively driving down the field to take an 11-point lead into the half. In the third and fourth quarters, a different Oklahoma team came to play, getting key stops on defense and converting inside the red zone for touchdowns. With a seven-point lead with a Hail Mary to go, Texas quarterback Avery Ware dropped back and unleashed a pass down the field. In a terrible defensive breakdown, all three Texas receivers got passed the Oklahoma defensive secondary, and the ball fell into wide receiver Quinn James's arms as he ran it into the end zone to take us to overtime, capping off regulation with a potential Play of the Season.
In overtime, Texas had the ball first and was forced to kick a field goal, and Oklahoma put it into the end zone to come away with the three-point victory in the Red River Shootout. In last week's preview, I said if the Oklahoma defense could keep halfback Killian Dunn under 75 rushing yards, they would likely win. They didn't quite do that, with Dunn recording 89 rushing yards, but they did just enough elsewhere to get the win. Wide receiver Greg Givens Sr. continues to be the leader of the Oklahoma offense, and Quinn James has emerged as the third playmaker for Texas, alongside Killian Dunn and receiver Elliott Griffin.
Final Score: Oklahoma 40, Texas 37
Next Week: Oklahoma (4-0): @ #15 Illinois (2-2), Texas (2-2): vs #9 Boise State (1-3)
#8 Ohio State @ #1 Oklahoma State
Coming off a big victory last week against Boise State, the Ohio State Buckeyes were determined to show the CFSL that they were no fluke. The Buckeyes entered halftime down 17-0, but a freshly motivated team emerged from the tunnel, closing the lead to 20-14 at the start of the fourth quarter. The Cowboys proved to be too much though and scored 15 points in the fourth quarter to ice the victory.
Ohio State played a fantastic game defensively. They intercepted Oklahoma State quarterback Ryan Moreland three times and held the explosive Cowboys offense to 496 yards and 35 points, their lowest of the season. Ohio State defensive end Valentino Villareal continues to be the dominant pass rusher for the Buckeyes. Once again the Oklahoma State receiver trio of JT Cass Jr., Steven Rodriguez, and Dakota Ali put up impressive performances. Ohio State did something that no team has done since last season's semi-final matchup against Florida State: made Oklahoma State look beatable.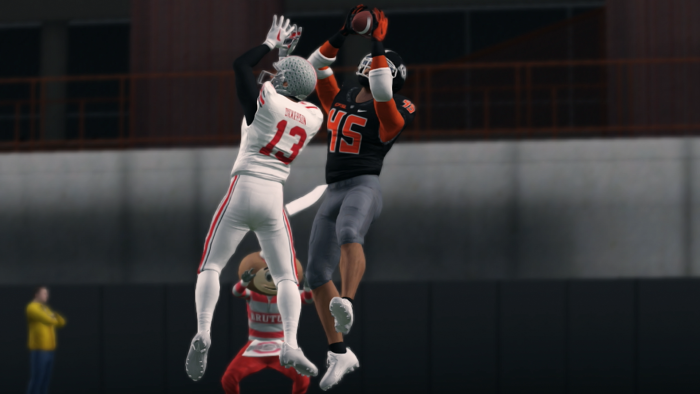 Final Score: Oklahoma State 35, Ohio State 14
Next Week: Oklahoma State (4-0): @ #13 Oregon (2-2), Ohio State (2-2): vs #11 Notre Dame (2-2)
#13 Oregon @ #6 Michigan
In a sloppy game from start to finish, the Michigan Wolverines managed to come up with the victory despite an able showing from the Oregon Ducks. Oregon did everything it could to keep the game close, and they were successful for most of the game, only trailing by three going into the fourth quarter. However, they were unable to generate any momentum, as a costly sack and an interception thrown by Oregon quarterback Brantley Gauci put the game away for Michigan. Gauci had a challenging game, throwing three interceptions and fumbling in Michigan territory. One would think with better quarterback play Oregon would have won this game.
On the other hand, the Michigan defense continues to keep the Wolverines in ballgames, especially with the help of league-leading 20 takeaways. Michigan offensively had a solid performance, but with only two of their six red zone trips leading to touchdowns, the Wolverines will have something to practice on. If Oregon can settle Gauci down in the pocket, and Michigan can covert inside the red zone, both teams will continue to compete well in a loaded B1G.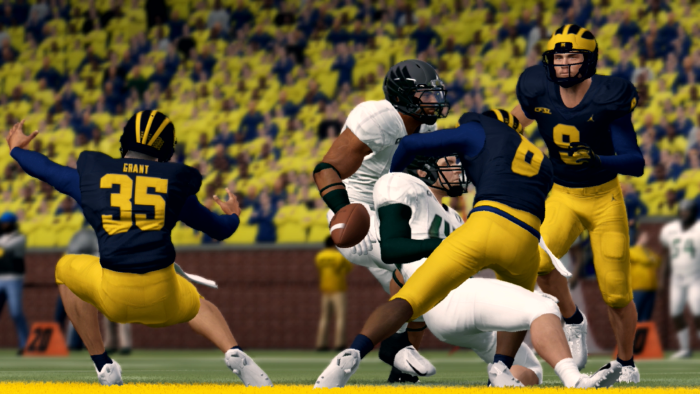 Final Score: Michigan 36, Oregon 24
Next Week: Michigan (3-1): vs #17 Clemson (1-3), Oregon (2-2): vs #1 Oklahoma State (4-0)
#17 Clemson @ #11 Notre Dame
The Notre Dame Fighting Irish did just enough defensively to eke out a narrow victory. Clemson quarterback Loki Gunderson was effectively leading the Tigers down the field and spread the ball out to eight different players. Tigers tight end Reece Donahoo had a career performance, recording 127 receiving yards on 15 receptions in an underappreciated effort. But in yet another B1G game decided by turnovers, Gunderson's three interceptions and fumble cost the Tigers a victory they probably should have had.
The Notre Dame offense played well, with halfback Bode Dale rushing for two touchdowns and wide receivers Ace Axel and Alex Morris putting up over 100 receiving yards. Quarterback Charlie Sammons did just enough offensively to win, but an interception and a fumble will need to be cleaned up for Notre Dame to compete for the B1G lead. Defensively, Clemson's CJ Orndorff and Notre Dame's Xavier Riddick each recorded 10 tackles in valiant efforts.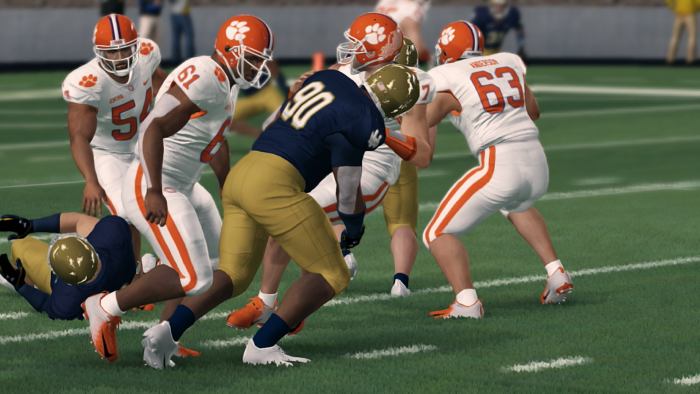 Final Score: Notre Dame 34, Clemson 29
Next Week: Notre Dame (2-2): @ #8 Ohio State (2-2), Clemson (1-3): @ #6 Michigan (3-1)
#15 Illinois @ #9 Boise State
This result has been talked about at length in articles and the public sphere for good reason. Illinois recorded the upset of the season in a complete performance, and Boise State must face some hard truths. Led by quarterback Dylan Shumate and halfback Spencer Lewis Jr., the Illini offense could do whatever they wanted. Lewis Jr. ended the game with 19 carries, 123 yards, and one touchdown on the ground and another 10 receptions for 51 yards receiving in a dominant performance. Five Illini receivers had over 50 yards, but none had over 100, the result of Shumate having enough time to go through his pass progressions.
Boise State just could not move the ball efficiently against a stout Illini defense, going 2-13 on third downs. Touted defensive ends Alexander Wilson and Pierce Parker were largely kept off the stat sheet, with five TFLs and four sacks between the two. But the moment everyone will remember is the Spencer Lewis Jr. rush in which he looked to be tackled only to bounce back up and run down the field for a 68-yard touchdown run. It reminded many of the Michael Dyer run in the 2011 National Championship game (Dyer should have been ruled down, video and the refs themselves confirmed it), but Lewis's run seems to have sparked far less controversy. Boise State must look themselves in the mirror and ask what the goals of this season are. Everyone knows they have a talented roster on paper, but with a 1-3 record and brutal final four games, this could be a disaster season for the Broncos.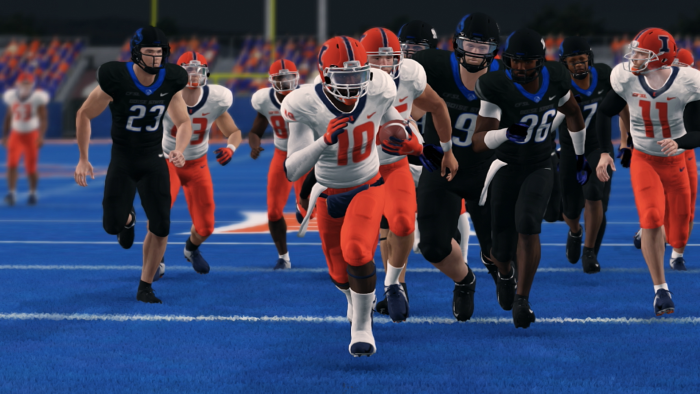 Final Score: Illinois 37, Boise State 21
Next Week: Illinois (2-2): vs #4 Oklahoma (4-0), Boise State (1-3): @ #7 Texas (2-2)
Standings
B1G East
| | | | |
| --- | --- | --- | --- |
| Team | Record | Margin | Conference Record |
| Michigan | 3-1 | 59 | 2-0 |
| Illinois | 2-2 | -29 | 1-1 |
| Notre Dame | 2-2 | -31 | 1-1 |
| Ohio State | 2-2 | -50 | 1-1 |
| Clemson | 1-3 | -52 | 0-2 |
B1G West
| | | | |
| --- | --- | --- | --- |
| Team | Record | Margin | Conference Record |
| Oklahoma State | 4-0 | 162 | 2-0 |
| Oklahoma | 4-0 | 77 | 2-0 |
| Texas | 2-2 | 10 | 1-1 |
| Oregon | 2-2 | -39 | 0-2 |
| Boise State | 1-3 | -10 | 0-2 |
Players of the Week
Benny Trill, SS, Oregon
11 tackles, 3 TFLs, 1 sack, 1 INT, 1 FF
Trill has been all over the field defensively for Oregon, and his 44 total tackles rank second in the CFSL. Knowing that Trill is lurking deep to stuff the run plays allows his fellow Ducks to play a bit more aggressively, resulting in several defensive touchdowns for the Duck defense.
Haden Grant, LB, Michigan
15 tackles, 1 TFL, 1 INT, 2 FF
Grant is the hard-hitting linebacker that helps ground the Michigan run defense. His two forced fumbles are tied for the most in the CFSL, spearheading the opportunistic playmakers for the Wolverines.
Blake Xander Martell, WR, Michigan
4 receptions, 146 yards, 2 touchdowns
With only three wide receivers on the roster, it was surprising to see Martel being utilized so little in the Michigan offense. Well, that is no longer the case after a monstrous performance in a victorious effort. Look to see Martell become a bigger target for Michigan in the future.
Spencer Lewis Jr., HB, Illinois
19 carries, 123 rush yards, 1 TD, 10 receptions, 51 receiving yards
Lewis has done a great job as the primary back for the Illini, as his three rushing touchdowns are T-6th amongst halfbacks in the CFSL. He has been the key to the Illinois offense that executed a perfect game plan to comfortably defeated Boise State.
Week 5 B1G Games
Boise State @ Texas
Monday, January 30th, 9 P.M. CST on Twitch
This game is yet another must-win in the hyper-competitive B1G West. Both programs are coming into this matchup off devastating losses, so expect both fan bases to be fired up. Boise State must contain Texas halfback Killian Dunn to less than 100 yards rushing to have any chance, while Texas needs to minimize the turnovers and give Avery Ware time in the pocket to find his playmakers.
Clemson @ Michigan
Tuesday, January 31st, 7 P.M. CST on Twitch
Michigan is rolling right now, led by their aggressive defense that leads the CFSL in turnovers created. Clemson is better than their record suggests, but they need better play from quarterback Loki Gunderson to come away with a victory. Michigan needs to get a lead early to force Gunderson into taking more chances down the field, where they can capitalize on mistakes. If Clemson can have two or fewer turnovers, then we could have a ballgame on our hands.
Oklahoma State @ Oregon
Tuesday, January 31st, 9 P.M. CST on Twitch
This matchup is not what Oregon wants to see right now. Like Clemson, Oregon needs better play out of quarterback Brantley Gauci to keep this close. As we saw with Ohio State, key defensive stands and some luck could make this closer than some expect. Expect Autzen Stadium to be jumping in a highly charged atmosphere. Oregon needs to limit the big plays of Oklahoma State and be aggressive on screens, while the Cowboys need to focus on stopping halfback Derek Eldridge from having a big game to win.
Notre Dame @ Ohio State
Wednesday, February 1st, 7 P.M. CST on Twitch
This is the matchup of the week in the B1G, with both the Irish and the Buckeyes coming in 2-2 on the season. With a mismatch of offensive styles, fans of all forms of football should be intrigued by this matchup. Ohio State's quarterback Logan Radloff needs to be careful with the football, as the Notre Dame defense ranks fourth in turnovers created. The Irish need to get pressure on Radloff and force him to escape the pocket where he is less comfortable and Ohio State needs to stop the rushing attack of halfback Bode Dale and quarterback Charlie Sammons. Make Sammons throw to beat you.
Oklahoma @ Illinois
Wednesday, February 1st, 7 P.M. CST on YouTube
Illinois recorded the best win in school history last week, so they need to make sure they are properly motivated in this game. Oklahoma has looked beatable this season, especially in Week 2 against Auburn and last week against Texas. Illinois also has a talented halfback, so expect to see Oklahoma key in on Spencer Lewis Jr. and force quarterback Dylan Shumate to make game-winning plays. Illinois needs to get pressure on quarterback Derrick Power, especially on third down, and force turnovers early and often.