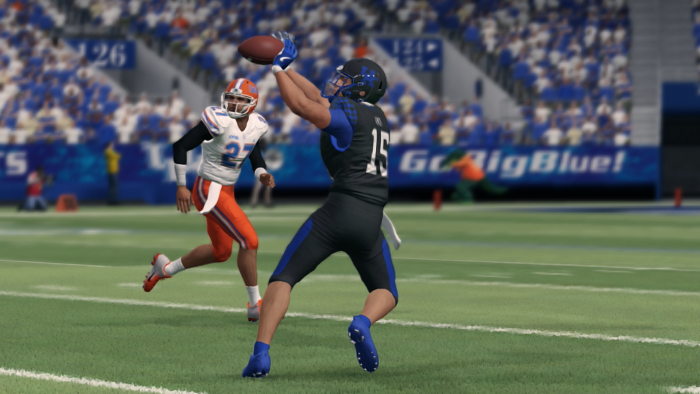 By Nate Murphy (bigmurph23)
We are now through four weeks. The conference and playoff pictures are beginning to take shape. So let's dive into the action and see how things in the SEC shook out.
#16 GEORGIA at #2 KENTUCKY
I am not going to spend much time on this game. There isn't much that needs saying. From the opening kickoff to the final play of the game Kentucky found ways to score. Moses King threw for a record 738 yards and all of the Wildcat receivers had at least 125 yards receiving. Ray Flash did throw for 300 yards for the Bulldogs, but they were overmatched from the jump. 
Final Score: Kentucky 97, Georgia 10
Next Week: Kentucky at Auburn (0-4), Georgia vs Alabama (3-1)
#20 WEST VIRGINIA at #10 FLORIDA STATE
WVU came into this game coming off of a blown lead against Bama. But their offense had found another gear in that game. The FSU defense stepped up and played their best game of the season, holding WVU to just two field goals and allowing them to only convert on 18% of their third downs. Offensively the Seminoles found their ground attack and rode Ronnie De La Rocha like a three-year-old thoroughbred at the Kentucky Derby. De La Rocha carried the ball 28 times for 128 yards and found the endzone once. Combine that with Ryan Ravenhill's 371 yards and two touchdowns and the 'Noles were wire-to-wire winners.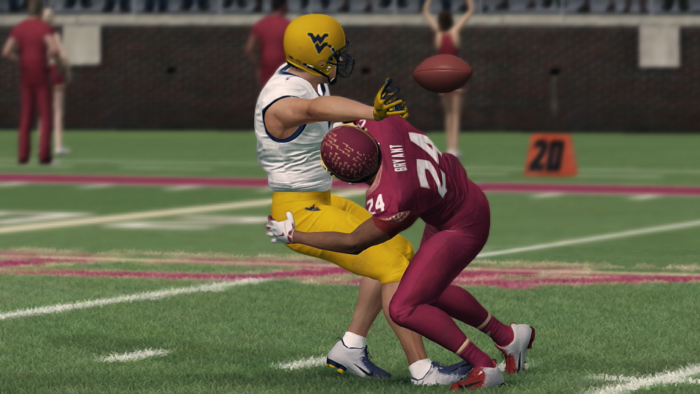 Final Score: FSU 31, WVU 6
Next Week: FSU at Pitt (2-2), WVU vs UNC (0-4)
#12 PITTSBURGH at #5 ALABAMA
Pitt had seen themselves run over their last two opponents and climb to number twelve in the rankings. Unfortunately for the Panthers, Alabama was coming off of a game where they had to score the final 28 points to win by seven. Spoiler alert, NO COMEBACK NEEDED. Most of the third and the entire fourth quarters weren't needed either. The first-ever mercy rule was invoked. Hiro Nakajima made sure the Panthers couldn't move the ball, tallying 8 tackles, 7 tackles for loss, and 6 sacks. Alabama quarterback Cece Range led the Tide offense to a 35-point second quarter on their way to a 2-0 conference record.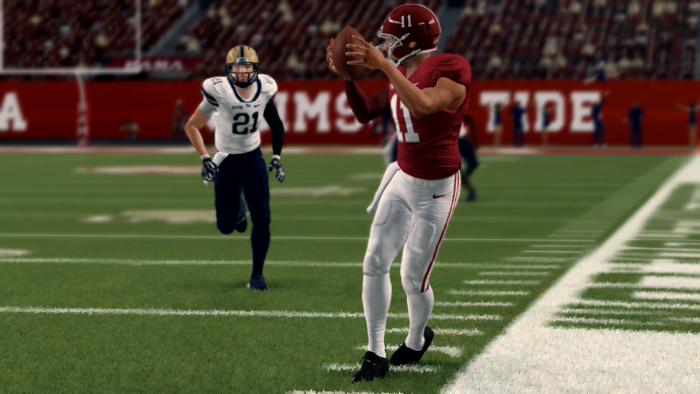 Final Score: Alabama, 56 Pitt 3
Next Week: Alabama at Georgia (0-4), Pitt vs FSU (2-2)
#19 AUBURN at #14 FLORIDA
The Tigers headed into the Swamp looking for their first win. Florida entered the game looking for some offense. What these two teams gave the viewers was a nailbiter that came down to Auburn's final possession. There is a lot to unpack in just a brief section…so here it goes. Auburn jumped on the Gators early and had a 14-0 lead after one-quarter of play. Florida scored 14 unanswered before Auburn got their next touchdown. It looked like the Tigers would take a lead into the break. But Florida would score with 13 seconds left to send the game to halftime tied at 21. Florida scored a touchdown in the third and eventually held on and stopped Auburn on a fourth and eight with less than a minute to play. And…. breathe. How did I do?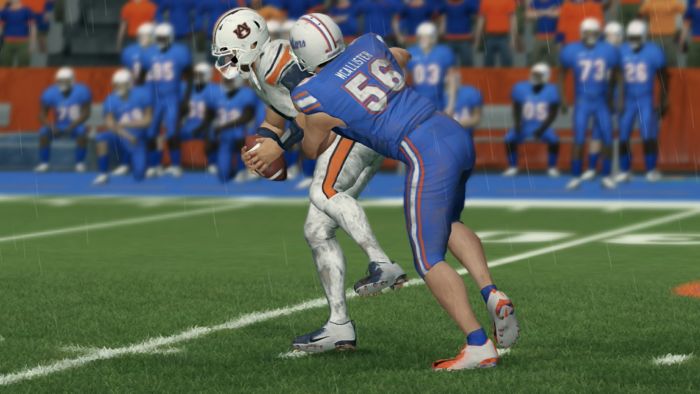 Final Score: Florida 28, Auburn 24
Next Week: Florida at Miami (4-0), Auburn vs Kentucky (4-0)
#3 MIAMI at #18 NORTH CAROLINA
If you look at just the final score of this game you would think that Miami dominated this game from start to finish. And while they did dominate the game at the start and the finish UNC held their own before fading down the stretch. Zavion May started the show with an opening kickoff return for a touchdown. On the next drive, the Hurricane offense scored in two plays after their defense shut down UNC. Just like that it was 14-0. But at the end of the first quarter, it was 21-21. Led by WR Tatiana Hoops and her 158 receiving yards UNC had put Miami on notice. But Freshman QB Mateo Walker rolled up 514 yards and receiver Deuce Bolden had a near record-setting night to keep the Hurricanes blowing through the competition.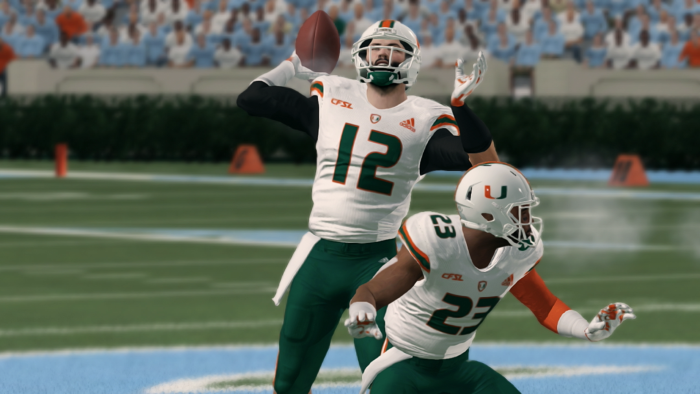 Final Score: Miami 56, UNC 28
Next Week: Miami vs Florida (2-2), UNC at WVU (0-4)
SEC STANDINGS
From 4-0 to 0-4 and everything in between let's see where they all stand.
SEC East
| | | |
| --- | --- | --- |
| Team | Record | Net Points |
| Miami | 4-0 | 98 |
| Florida State | 2-2 | -8 |
| Pittsburgh | 2-2 | -61 |
| West Virginia | 0-4 | -65 |
| North Carolina | 0-4 | -104 |
SEC West
| | | |
| --- | --- | --- |
| Team | Record | Net Points |
| Kentucky | 4-0 | 156 |
| Alabama | 3-1 | 77 |
| Florida | 2-2 | -65 |
| Auburn | 0-4 | -23 |
| Georgia | 0-4 | -102 |
PERFORMANCES OF THE WEEK
Moses King, QB, Kentucky
47 of 55, 738 yards, 7 TDs, 0 INTs
Moses King completed 85% of his passes and averaged nearly 16 yards per completion on his way to a new CFSL passing mark. With new rules now in place, we may never see a performance like this again. But we will see teams throw the ball 55 times again. You will still be hard-pressed to see a game where a QB is this accurate.
Hiro Nakajima, DT, Alabama
8 tackles, 7 TFLs, and 6 sacks
In only one half of football, Nakajima blew up the Panther offensive game plan single-handedly. Pitt ran 41 offensive plays. So on 19.5% of the Panther snaps Nakajima had a tackle. On 17% of the snaps, he had a tackle for loss. And on 14.6% of the plays he had a sack. That is unbelievable. If it wasn't for the mercy rule Nakajima may have set a sack record somewhere that it would never be found.
Ronnie De La Rocha, HB, Florida State
28 Carries, 128 yards, 1 TD, 7 receptions, 38 yards
For the past two and a half seasons we have seen the Seminole offense rely mostly on the passing attack to maul opponents. That changed this week. The FSU coaching staff flipped the script on WVU and ran the ball 28 times with De La Rocha. And boy did Ronnie run. He kept the defense off-balance and picked up yards in chunks. West Virginia had no answer and eventually wore down as Florida State rolled on to victory.
MUST SEE MATCHUPS NEXT WEEK
#18 NORTH CAROLINA at #20 WEST VIRGINIA
While this game may not have a big impact on the way the SEC shakes out, nor will it affect playoff seeding by a lot (at least not on its own), this game is important to these two programs. Both UNC and WVU enter 0-4. One of these two will finally get their first win of the season. And the two teams match up well with each other. So while they may be bottom dwellers this season at least their game should be close and exciting.
#14 FLORIDA at #3 MIAMI
This will be another game in which Miami is heavily favored, and probably rightfully so. But don't count out the Gators. It is a rivalry game so you can throw the records out the window. And if there is a team that knows that anything can happen it is Miami. During a down season just a couple of seasons ago the Canes upset then-unbeaten FSU. So Miami has to watch for the Gators lurking in the weeds and avoid getting bitten.
#10 FLORIDA STATE at #12 PITTSBURGH
Both teams will enter this Thursday night matchup at 2-2. The difference, Florida State has seemed to have found its stride winning its last two. Pitt just had their two-game streak snapped in a big way. So the question is can Pitt rebound as they did after a week one loss? Or is it the Seminoles who stay unbeaten in conference play and keep pace with (or overtake) Miami in the SEC East Standings?