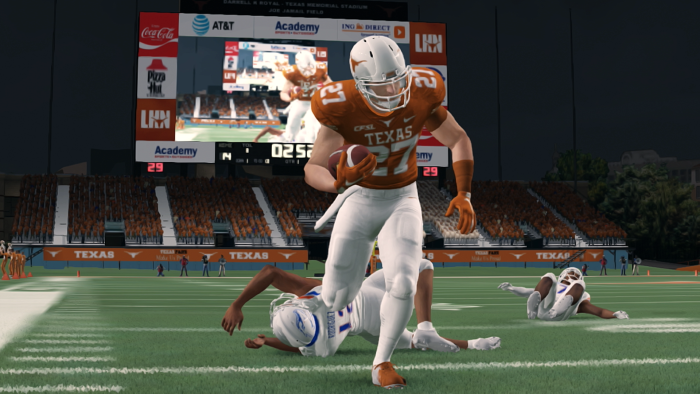 BY: Tony Papol (@SGEasty)
Only two unbeaten teams remain after a week of thrilling games. The top two programs, Kentucky and Oklahoma State seem like locks at this point for postseason byes. With only three weeks of games left, teams are beginning to think about the final rankings and postseason matchups. But before we can look ahead, let's focus on the excitement that was Week Five.
#13 Boise State @ #6 Texas
The Texas Longhorns returned to form after a heartbreaking loss in Week Four to stomp the Boise State Broncos. The game was largely over at the half, with Texas taking a 35-17 lead into the break. The Texas offense utilized a balanced game plan to wear out the Boise defense. Boise's top defensive linemen Alexander Wilson and Pierce Parker combined for only two tackles for loss and one sack. Longhorn quarterback Avery Ware had a great game, throwing for four touchdowns and rushing for two more. Halfback Killian Dunn was largely kept in check, only rushing for 72 total yards, but the two leading receivers Elliott Griffin and Quinn James continue to move Texas down the field in chunk plays. Defensively, four interceptions, including two by Darian Conner, helped Texas pull away early and limit the ability of the Broncos to make a comeback. Boise's freshman quarterback Topher Foreman simply didn't have enough time to get the ball to his playmakers, as the Longhorn defense also recorded seven sacks.
Final Score: Texas 66, Boise State 27
Next Week: Texas (3-2): vs #7 Michigan (4-1), Boise State (1-4): @ #1 Oklahoma State (5-0)
Clemson @ #7 Michigan
This B1G East matchup was closer than the final score indicates, and a great defensive performance from the Michigan Wolverines was the deciding factor. Clemson's defense did an admirable job of holding Michigan to their second-lowest point total of the season. The Tigers also forced two turnovers. However, the two-headed rushing attack of the Wolverines was too much to stop. Halfback Barry Beardsley recorded 102 rushing yards and quarterback Sam Dobbins added 97 more.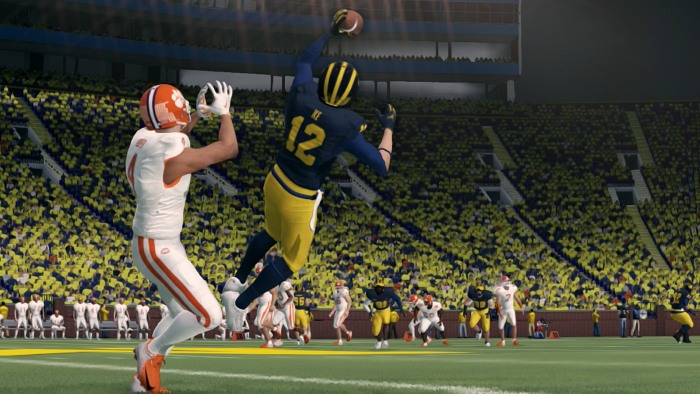 The Michigan defense continues to impress, causing three turnovers and generating five sacks, including four by defensive tackle Laci White. White moves into second in the CFSL with 16 sacks and opposing offenses will have to find a way to stop the dominant defensive tackle. Clemson's Loki Gunderson struggled throughout the game, with the pressure created by Michigan's front four constantly putting the quarterback into difficult and uncomfortable passing situations. This led to the three interceptions thrown by Gunderson. Clemson is winless so far in B1G play, so look for the Tigers to come out aggressive in Week Six.
Final Score: Michigan 34, Clemson 3
Next Week: Michigan (4-1): @ #6 Texas (3-2), Clemson (1-4): vs #9 Ohio State (3-2)
#1 Oklahoma State @ #15 Oregon
In another game decided before the half, the Oklahoma State Cowboys were in total control for all 36 minutes of this game. Offensively, Oklahoma State quarterback Ryan Moreland continues to play well, throwing for five touchdowns. Wide receiver JT Cass Jr. had another dominant night recording 197 receiving yards.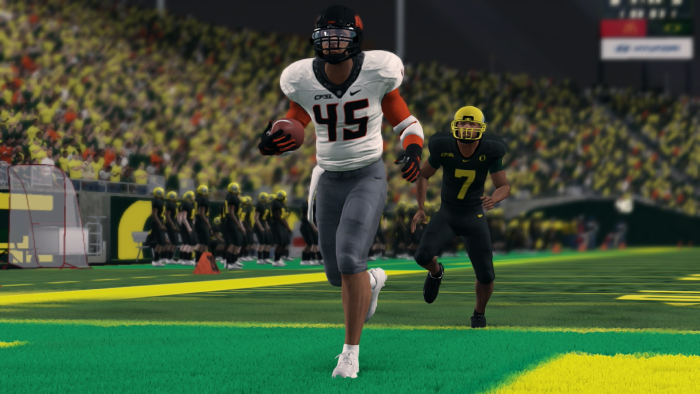 The Cowboy's defense wreaked havoc in Eugene as well, causing three interceptions and six sacks. The Pokes held the Ducks to 220 offensive yards, their lowest of the season. Oregon was unable to create a push on the line of scrimmage, recording only six tackles for loss and two sacks. Defensively, star safeties Benny Trill and DJ Sutton had respectable performances, but the accuracy of Moreland limited them from having a bigger defensive presence. Quarterback Brantley Gauci was pressured all night, leading to his three interceptions, and halfback Derek Eldridge was limited to only 4 rushing yards. Oregon needs to flush this performance and regroup before another difficult game in Norman, OK.
Final Score: Oklahoma State 59, Oregon 9
Next Week: Oklahoma State (5-0): vs #13 Boise State (1-4), Oregon (2-3): @ #4 Oklahoma (4-1)
#4 Oklahoma @ #10 Illinois
What a game this could have been! Due to severe weather, a power outage at the mothership resulted in this game getting cut short with about 11 minutes left. Illinois, up four and with the ball, just crossed the 50-yard line into Oklahoma territory when the game was dropped. Fortunately, everybody is safe, and for Illinois fans, a hard-fought battle resulted in a win. For Oklahoma, who notoriously starts slow and wins with comeback performances, the outage occurred before that comeback could happen. Even worse for the Sooners, this put the first mark in the loss column.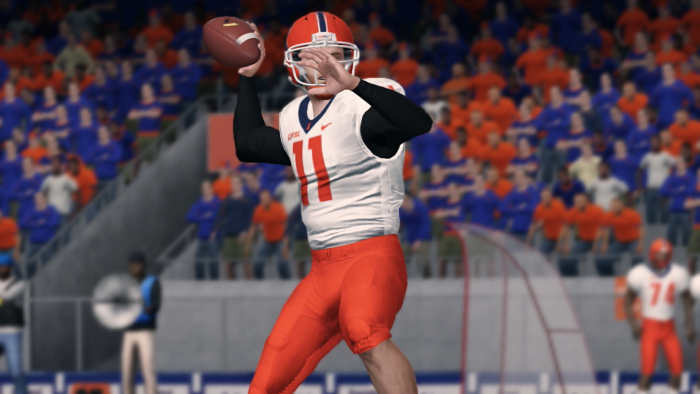 With impressive rushing performances by Illinois's Spencer Lewis Jr. and Oklahoma's Ike Porter, a true rushing battle had commenced. Complemented by impressive nights for the Sooners' Damian Jones and the Fighting Illini's Jessica Stephens in the receiving game, we were treated to a fantastic duel that would have resulted in a great finish. Illinois was able to be in the lead, and granted the win, thanks to a superb defensive performance that forced Oklahoma's Derrick Power to throw three interceptions. This game certainly would have been a GOTW nominee had it run to completion. Instead, we were gifted with an inconclusive thriller.
Final Score: Illinois 28, Oklahoma 24
Next Week: Illinois (3-2): vs #11 Notre Dame (2-3), Oklahoma (4-1): vs #15 Oregon (2-3)
#11 Notre Dame @ #9 Ohio State
The other game in Week Five that was cut short due to the power outage proved far less controversial, as the outcome was seemingly secured by Ohio State before the game was called. A dominant 17-point third quarter would lift the Buckeyes to the impressive win and relegate Notre Dame to a 2-3 record. A respectable performance from Ohio State quarterback Logan Radloff and a balanced game plan allowed the Buckeyes to pull ahead late. Wide receiver Gregorio Esteban recorded a 75-yard touchdown reception.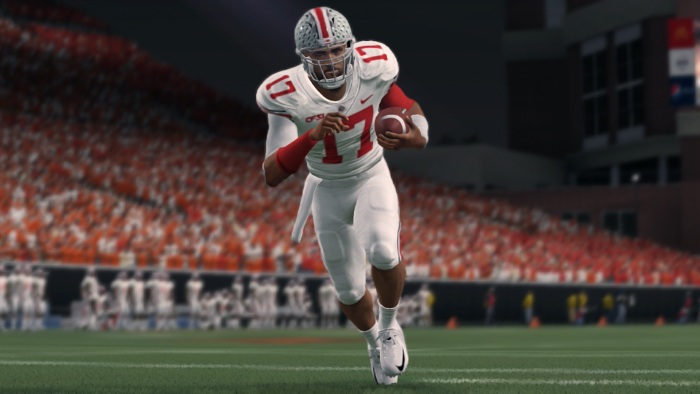 The game however was won and lost in the turnover battle, with Notre Dame quarterback Charlie Sammons fumbling and throwing a pick-six. Ohio State star defensive end Valentino Villarreal had a dominant performance, recording seven tackles, six TFLs, and five sacks. The Fighting Irish also generated five sacks, with each sack coming from a different player. Notre Dame will need Sammons to improve his game in an important showdown with Illinois in week six to help decide the B1G East pecking order.
Final Score: Ohio State 30, Notre Dame 0
Next Week: Ohio State (3-2): @ Clemson (1-4), Notre Dame (2-3): @ #10 Illinois (3-2)
Standings
B1G East
| | | |
| --- | --- | --- |
| Team | Record | Net Points |
| Michigan | 4-1 (3-0) | 90 |
| Ohio State | 3-2 (2-1) | -20 |
| Illinois | 3-2 (2-1) | -25 |
| Notre Dame | 2-3 (1-2) | -61 |
| Clemson | 1-4 (0-3) | -83 |
B1G West
| | | |
| --- | --- | --- |
| Team | Record | Margin |
| Oklahoma State | 5-0 (3-0) | 212 |
| Oklahoma | 4-1 (2-1) | 73 |
| Texas | 3-2 (2-1) | 49 |
| Oregon | 2-3 (0-3) | -89 |
| Boise State | 1-4 (0-3) | -49 |
Players of the Week
JT Cass Jr., WR, Oklahoma State
11 receptions, 197 yards, 2 TDs, 5 pancakes
JT Cass Jr. continues his season of dominance, being the most targeted receiver in the CFSL with 12 receptions per game and is tied atop the CFSL receiving yard list with 815 total yards. Along with six touchdowns, Cass is having an incredible season. The only question is: can he maintain it with three difficult defenses ahead?
Darian Conner, CB, Texas
8 tackles, 1 TFL, 2 INTs, 1 PD
Conner's five total interceptions rank tied for first atop the CFSL leaderboard. It is only a matter of time before Conner returns an interception to the endzone, and the battle between Conner and Cass in week seven will be highly entertaining.
Laci White, DT, Michigan
7 tackles, 7 TFLs, 4 sacks, 1 FF
As mentioned above, White's 16 total sacks rank second in the league, and her 20 total TFLs rank sixth. White continues to anchor the defensive line of every program she has played at, whether that be Florida State last season (in which she garnered All-American honors) or Michigan in Season 16.
Luca Hudson, CB, Illinois
1 tackle, 2 INTs, 2 PDs
Hudson has recorded four interceptions so far in Season 16, and if the game between Illinois and Oklahoma had not been shortened, he might have even more. As the two interceptions and two pass deflections show, Hudson continued to be tested by the Sooners, and he continually showed that was a bad idea.
Valentino Villarreal, DE, Ohio State
7 tackles, 6 TFLs, 5 sacks, 1 FF
Villarreal's performance was also interrupted by the power outage, and his five sacks easily could have been six or seven. Villarreal still ranks tied for third in sacks this season, even with a shortened game. Villarreal's play this season, like Laci White's, is building on his All-American performance from last season.
Week 6 B1G Games
Michigan @ Texas
Monday, February 6th, 7 P.M. CST on Twitch
This will be a fantastic matchup between teams who run a similar game plan and are composed of similar players. Michigan is one of the few teams that generate more rushing yards than Texas, and this will be a battle of the run game. Defensively, expect Michigan's Laci White to be a constant threat in the Texas backfield, and watch for Texas's Darian Conner to fly around the passing lanes.
Boise State @ Oklahoma State
Monday, February 6th, 9 P.M. CST on Twitch

Boise State is perhaps the biggest mystery in the CFSL. They have the talent to compete for a first-round bye, but their record does not reflect that. Boise State will need to rely on Pierce Parker and Alexander Wilson to create pressure on the Cowboy's offense, and they will need their safeties and corners to create turnovers to stop Oklahoma State.
Oregon @ Oklahoma
Wednesday, February 8th, 7 P.M. CST on Twitch
Coming off a very difficult loss to Illinois, the Sooners will be looking to get ahead early and stay ahead throughout the ballgame. Oregon will need quarterback Brantley Gauci to be more accurate throwing down the field, and we should be in for another rushing battle between Oregon's Derek Eldridge and Oklahoma's Ike Porter.
Notre Dame @ Illinois
Wednesday, February 8th, 9 P.M. CST on Twitch
This is an important game for both the pecking order in the B1G East and for the selection committee to consider when ranking the Irish and the Illini. If Notre Dame can limit Illinois's halfback Spencer Lewis Jr. to less than 50 yards rushing, they can win this game. Expect the Irish to be fired up after a bad loss and watch for Illinois to come out a bit slow after a big win against Oklahoma.
Ohio State @ Clemson
Thursday, February 9th, 7 P.M. CST on Twitch
Ohio State enters this game on the back of a dominant, shortened win against Notre Dame, so expect the game plan to be more of the same. Buckeye defensive end Valentino Villarreal will be let loose to pass rush on nearly every play, and Clemson must either keep a tight end or halfback in to help block or get the ball out of quarterback Loki Gunderson's hand quickly to have a chance.