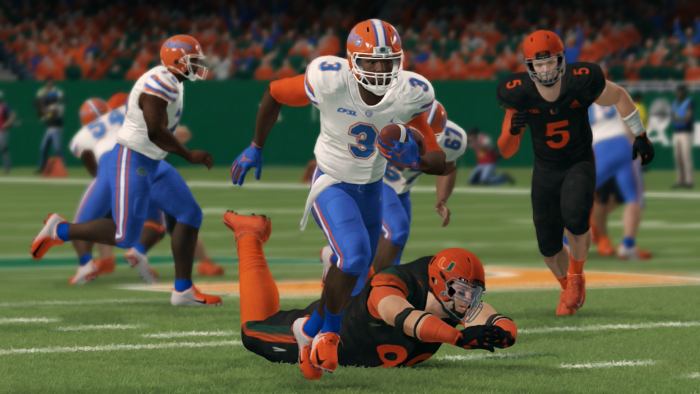 By Nate Murphy (@bigmurph23)
Week Five was bookended by big upsets. How did the rest of the week look for the SEC? Let's take a look.
#8 FLORIDA at #3 MIAMI
It was being said that going into Week Five the Hurricanes had the easiest path to finishing unbeaten. Well, Florida had heard too much of that. The Gator rushing attack took root, led by William Tree and his 91 yards. Xavier Lingham added 30 yards of his own and even though outgained in total yardage the Gators were able to grind out a ten-point lead by halftime and held on for the big win.
Final Score: Florida 34, Miami 31
Next Week: Florida vs Florida State (3-2), Miami at Pittsburgh (2-3)
NORTH CAROLINA at WEST VIRGINIA
Looking at the final score of this game you would think UNC was in control. But that is not the case. WVU outrushed the Tar Heels by 80 yards. WVU had six more first downs. And even held a 21-17 lead at halftime. And while UNC couldn't slow down the WVU read-option attack, WVU couldn't slow down Ayden Martinez who threw for 566 yards and three touchdowns. However with 5:48 to play in the game an AD Powers pick-six got the Mountaineers back to within six. But on the ensuing kickoff, Trevor Austin goes 102 yards for the touchdown to end the Mountaineers' hopes of a comeback. Ironic side note, the only Mountaineer to touch Austin on that return was AD Powers. He could not make the tackle that may have kept WVU's hopes alive.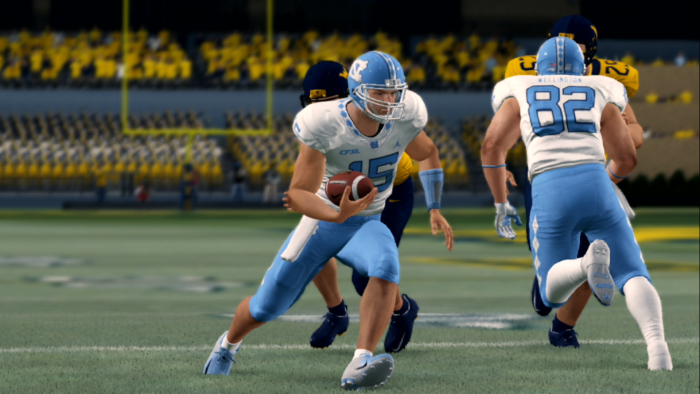 Final Score: UNC 56, WVU 35
Next Week: UNC at Auburn (0-5), WVU vs UGA (1-4)
#12 FLORIDA STATE at #14 PITTSBURGH
After the Miami upset, FSU came in knowing that a road win against a game Panther team would put them on top of the SEC East. The Seminole defense came in with a game plan, slow down the Panthers' two-headed monster running game. But Pitt had a different idea. The Panthers unleashed Helix Myers and the passing attack. Catching the 'Noles off guard they rushed out to a 21-7 first-quarter lead. Myers finished with 382 yards and three touchdowns through the air. But he couldn't out dual FSU quarterback Ryan Ravenhill. Ravenhill threw for 495 yards and four touchdowns leading Florida State consistently through the final three quarters.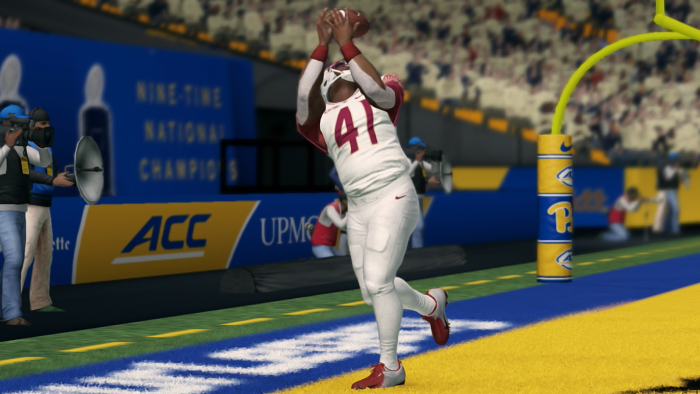 Final Score: FSU 48, Pitt 41
Next Week: FSU at Florida (3-2), Pitt vs Miami (4-1)
#2 KENTUCKY at AUBURN
Moses King had another huge night. King threw for 425 yards and seven touchdowns. Willie Hardigan and Tyler Amos both topped 100 yards receiving. And Ken Dixon III added two touchdowns. But the story of this game was Auburn's unwillingness to go away. It was 42-14 at halftime and people were talking about the mercy rule. Cole Mantell's squad was not hearing it though. Auburn outscored Kentucky 31-21 in the second half. Braxton Antkowiak had two interceptions including an 85-yard pick six and freshman QB Baker Thomas finished the night with better than 400 yards through the air.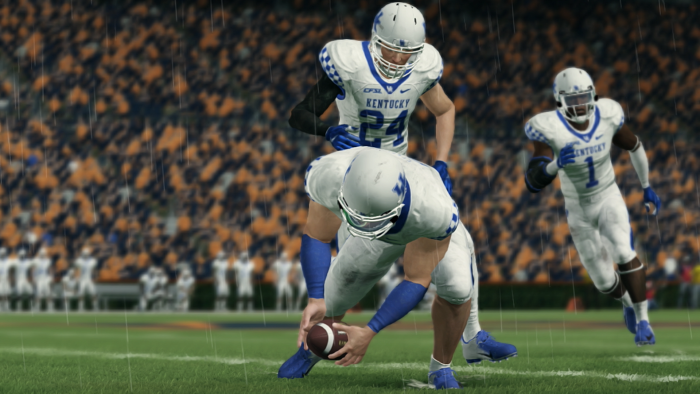 Final Score: Kentucky 63, Auburn 45
Next Week: Kentucky at Alabama (3-2), Auburn vs UNC (1-4)
#5 ALABAMA at GEORGIA
We have seen two versions of the Crimson Tide this season. The team that can put up points and beat anyone. And the team that struggles against over-matched teams. Cece Range once again had a big night with 606 yards and six touchdowns. But the Tide defense couldn't slow down the Georgia ground attack. Ray Flash (75), Toby Kneer (128), and Nicholas Perez (24) combined for 227 yards on the ground. That helped the Bulldogs control time of possession and kept Alabama from making another large second-half comeback.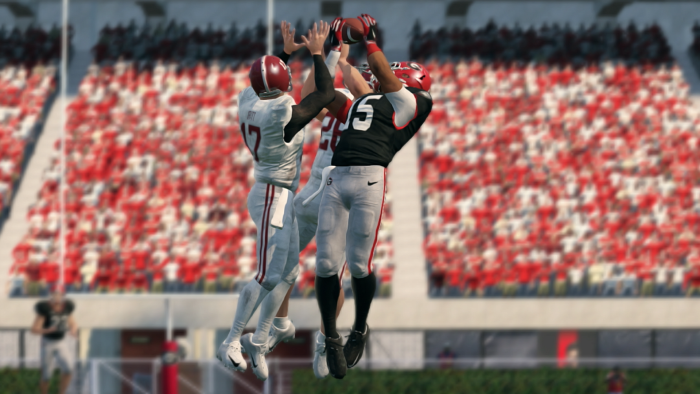 Final Score: Georgia 48, Alabama 45
Next Week: Georgia at WVU (0-5), Alabama vs Kentucky (5-0)
SEC STANDINGS
Another exciting week in the SEC has come to a close. Time to take a look at where they all stand.
SEC East
| | | |
| --- | --- | --- |
| Team | Record | Net Points |
| Florida State | 3-2 (3-0) | -1 |
| Miami | 4-1 (2-1) | 95 |
| Pittsburgh | 2-3 (1-2) | -68 |
| North Carolina | 1-4 (1-2) | -83 |
| West Virginia | 0-5 (0-3) | -86 |
SEC West
| | | |
| --- | --- | --- |
| Team | Record | Net Points |
| Kentucky | 5-0 (3-0) | 174 |
| Alabama | 3-2 (2-1) | 74 |
| Florida | 3-2 (2-1) | -62 |
| Georgia | 1-4 (1-2) | -99 |
| Auburn | 0-5 (0-3) | -41 |
PERFORMANCES OF THE WEEK
Toby Kneer, HB, UGA
25 carries, 128 yards
The Georgia back averaged better than five yards per carry. And while Kneer didn't find the endzone he helped the Bulldogs rack up over 200 rushing yards and control the game against Alabama. A big first half from the Dawgs and the T.O.P edge helped UGA pull off maybe the biggest upset of the season.
Jeff Knight, DT, UNC
13 tackles, 10 TFLs, 2 sacks
There were times during the UNC/WVU game when Mountaineer QB Tony Ellis looked unstoppable while running the read option. Then Jeff Knight figured things out. Knight began keying on Ellis, shedding blockers, and making plays near and behind the line of scrimmage. Knight's night was a big reason UNC earned their first win of the season.
Juni Winter, TE, FSU
10 Rec, 131 yards, 1 TD
There are multiple receivers from the FSU attack this week that we could mention. Blake Elder and Pablo Thompson both had seven catches and better than 130 yards. But to see the tight end break out and have double-digit catches and over 130 yards himself was too good to pass up. Winter found himself alone in the Panther secondary all night long and his quarterback found him early and often. Watch for Winter to be a big factor for FSU going down the stretch.
MUST SEE MATCHUPS NEXT WEEK
#12 FLORIDA STATE at #8 FLORIDA  
This battle in the swamp will be a key game in the SEC. FSU will be looking to hold onto its SEC East lead, and Florida will be trying to keep pace with Kentucky. The Noles' offense has started to heat up since the start of week 3. The Florida offense is still trying to find its footing at times. But William Tree is emerging as a big-time weapon for the Gator attack. Ultimately though it will be the defense that wins this game for one of these two teams.
#3 MIAMI at PITTSBURGH
Pitt changed up their game plan against FSU. The Panthers had a big night but still came up short. But did they find something going forward? The 'Canes are coming in off of their first loss of the season. Their attack was slowed some by the Gators. Mateo Walker will be looking to light up a Panther secondary who gave up yards in bunches to the FSU air attack.
#2 KENTUCKY at #5 ALABAMA
I mentioned that we have seen two sides to Alabama this season. I expect to see the Alabama squad that is ready to go in this one. The task at hand looms large. The Tide will be ready from the start. The real question becomes, can they handle Moses King and this Kentucky offense? No one has been able to truly slow them down yet. Let's not forget about the Wildcat defense either. They are shutting teams down and making life miserable for opposing quarterbacks this season.