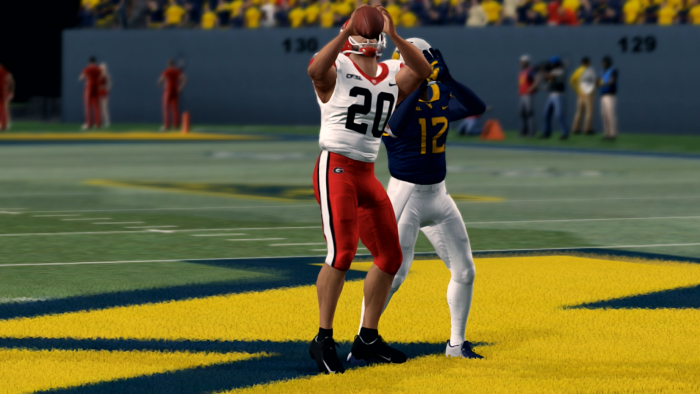 By Nate Murphy (@bigmurph23)
Before the penultimate week of Season 16 kicks off let's take a quick look back at our week six highlights.
GEORGIA at WEST VIRGINIA
SEC Tuesday kicked off with a pair of 7 P.M. games including this one on YouTube. The Mountaineers were looking to get their first win. Georgia was looking to build on the momentum from their week five win over Bama. This game was sloppy. Credit to the defenses for making some timely plays. But overall the game was marred by seven combined turnovers. But the Bulldog defense forced five of them and UGA won the ball game by the same margin as they won the turnover battle by.
Final Score: Georgia 24, WVU 21
Next Week: Georgia vs Auburn (1-5), West Virginia at Miami (5-1)
#2 KENTUCKY at #7 ALABAMA
This game had the potential to be the game of the week on Paper. But by the end of the first half, the question on everyone's mind was "Will Alabama survive the mercy rule?" It was 38-7 at the break and Bama seemingly had no answers for Moses King and the Cats' offense. To their credit though the Tide began to roll somewhat in the second half. They held Kentucky to seven second-half points and Cece Range was able to get the offense going. But Kentucky's big first-half lead and 582 yards of offense were just too much to have to overcome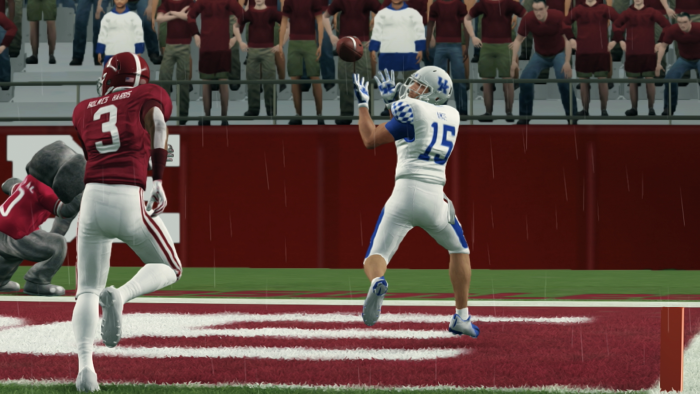 Final Score: Kentucky 45, Alabama 23
Next Week: Kentucky vs FSU (4-2), Alabama at Florida (3-3)
#11 FLORIDA STATE at #4 FLORIDA
The Gators attacked with a balanced offense. William Tree once again went over the one-hundred-yard mark (109) and Shaker Mayfield threw for 293 yards and 3 touchdowns. And at least in the first half, their balance gave FSU some trouble. But FSU exploded in the second half. Scoring 21 points in BOTH the 3rd and 4th quarters to finish with a dominating win on the road. Ryan Ravenhill threw for 419 yards and four touchdowns. The Noles' defense picked off Mayflower 4 times. Florida State has now won four in a row and has themselves primed for an SEC Championship game appearance.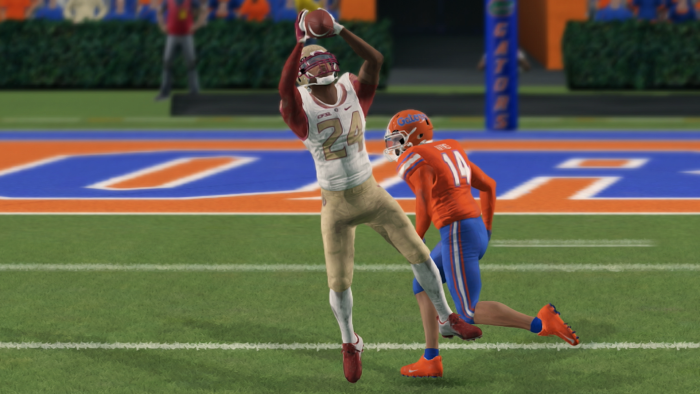 Final Score: FSU 45, Florida 24
Next Week: FSU at Kentucky (6-0), Florida vs Alabama (3-3)
NORTH CAROLINA at AUBURN
Ayden Martinez threw for 535 yards, and Tatiana Hoops (157) and James Freeman (197) were open all night long. And the Tar Heels scored 22 points in the fourth quarter alone. All of that was not enough to topple the Tigers on this night. A seemingly brand-new confidence is flowing through the Auburn campus right now. It showed on that night. Baker Thomas commanded the Tiger offense, throwing and rushing out to big numbers (391 passing, 79 rushing). Kieran Ennis ran for 80 yards on 19 carries and Draymond Shakur III (113) and Nick James (101) topped the 100-yard mark as the Tiger offense exploded. The Tigers could be trouble down the stretch.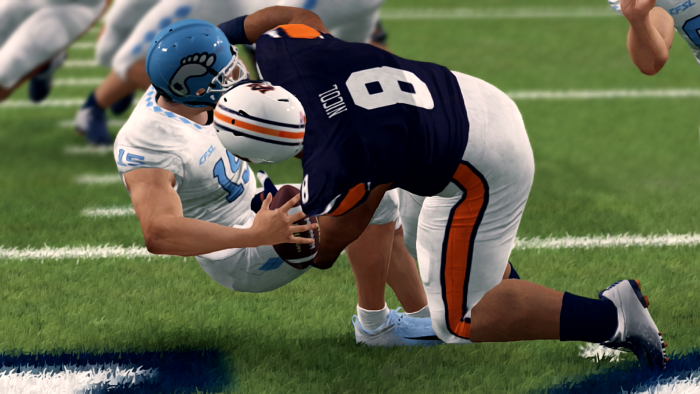 Final Score: Auburn 50, UNC 35
Next Week: Auburn at Georgia (2-4), UNC vs Pitt (2-4)
#5 MIAMI at #13 PITTSBURGH
The Panthers were coming into this game off of a hard-fought and very tough loss to FSU. Unfortunately for them, Miami was also coming in off of a loss, they're first of the season. The Hurricanes jumped out to a 14-0 lead after the first quarter and never looked back. Mateo Walker threw for 337 yards and 3 scores, Brewer and Bailey did work on the ground, and Deuce Boldin led the Miami receiving corps with 116 yards receiving. The defense did some work too. They forced four interceptions, Zaveon May recorded two of them, and five Hurricane defenders tallied 15 total sacks. George Yost (6) led the way. But Jay Gates (4), Corry Mucci (2), Candace Navarro (2), and Blake Savage (1) had fun in the Pitt backfield as well. Pitt got little going on offense but Nic Curry did pull in 108 yards worth of passes. And on defense, Devin Rudisell continued his big season with 12 tackles.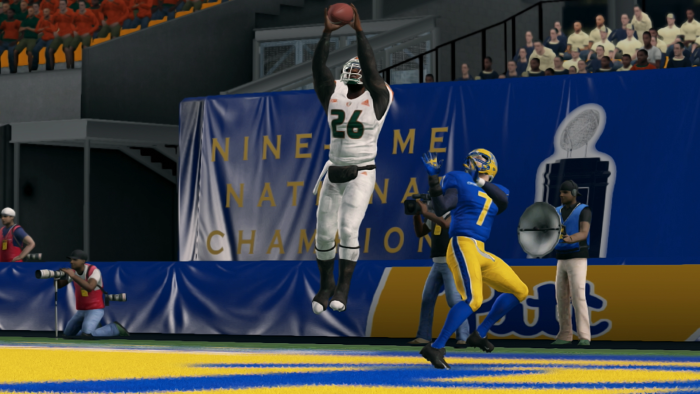 Final Score: Miami 40, Pitt 13
Next Week: Miami vs WVU (0-6), Pitt at UNC (1-5)
SEC STANDINGS
Only two weeks left in the regular season. Division races are starting to heat up. So let's see who has the inside track to the SEC title game.
SEC East
| | | |
| --- | --- | --- |
| Team | Record | Net Points |
| Florida State | 4-2 (4-0) | 20 |
| Miami | 5-1 (3-1) | 122 |
| Pittsburgh | 2-4 (1-3) | -95 |
| North Carolina | 1-5 (1-3) | -98 |
| West Virginia | 0-6 (0-4) | -89 |
SEC West
| | | |
| --- | --- | --- |
| Team | Record | Net Points |
| Kentucky | 6-0 (4-0) | 196 |
| Alabama | 3-3 (2-2) | 52 |
| Florida | 3-3 (2-2) | -83 |
| Georgia | 2-4 (2-2) | -96 |
| Auburn | 1-5 (1-3) | -26 |
PERFORMANCES OF THE WEEK
George Yost, DE, Miami
12 Tck, 7 TFL, 6 Sacks
From Pitt's opening possession, it was apparent that George Yost was going to be a problem for them. Yost may as well have lined up in the backfield all night because the offensive line couldn't keep him out of it anyway. Yost harassed Helix Myers on pass plays and every Panther ball carrier on running plays. This kind of performance has player of the week written all over it.
Ken Dixon III, WR, Kentucky
15 Rec, 137 yards
In the Freshman's first game this season he caught only one pass against Boise State. Since then he has quietly become Moses King's favorite target. Dixon has double-digit catches in all but two of Kentucky's six games and hauled in 15 against the Alabama secondary. The fifteen grabs are a season, and career, high for Dixon. His 137 yards is not a career mark but did pace the Wildcat offense in a big win this week, helping to keep the undefeated season alive.
Juni Winter, TE, FSU and Pablo Thompson, WR, FSU
10 Rec, 142 yards, 0 TD, 7 Rec, 138 yards, 3 TD
For the second consecutive week, Juni WInter hauled in 10 catches. This time Winter amassed 142 yards, topping the performance from last week even without finding the endzone. But no worries, Pablo "Touchdown" Thompson found paydirt three times. Thompson also pulled in 7 catches and 138 yards. Winter and Thompson combined for more than half of QB Ryan Ravenhill's 31 completions, the reason both players had to be mentioned here.
MUST SEE MATCHUPS NEXT WEEK
#11 FLORIDA STATE at #2 KENTUCKY
Is this a preview of the SEC Championship game? Only time can tell us that. But regardless, this will be the one to watch in the SEC this week. FSU has found its stride since conference play started. Their offense has sparked to life and their defense is playing well. Kentucky, well they have been doing it all season. They have rarely been tested, and since week one they have not been tested. Can FSU keep it close or pull the upset? Find out Thursday night.
#4 FLORIDA at #7 ALABAMA
Both teams will enter this game 3-3, coming off of losses that they would much rather forget. So how will that play into this game? What QB shakes off last week best, which AD pulls the right strings and makes the best adjustments to the game plan? This game is going to go a long way in seeding for the tournament. The winner can keep themselves in the conversation for a potential first-round bye. The loser is setting themselves up to have to do a little extra work to reach the top.