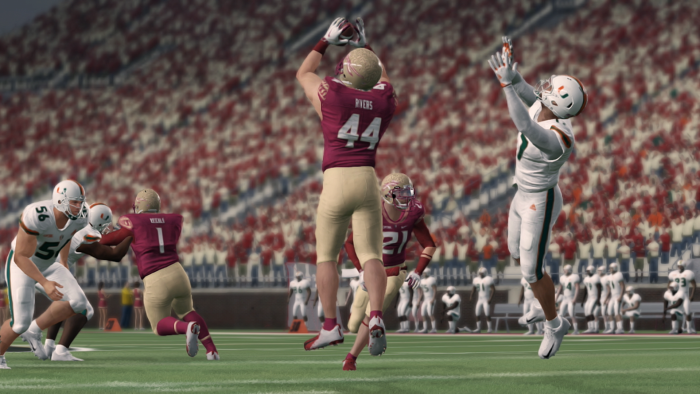 By: Ryan Moreland (@ryanmoreland)
Sometimes the CFSL schedule just works out perfectly. This is one of those times. Let me explain. Only one of the four spots in the Power Two conference championship games is locked up. That honor belongs to Kentucky. The other three spots are up for grabs and only six teams (two from each division) can still get into the conference championship games. Well, as luck would have it, those six teams will all be playing each other this week. That's right, we have three separate win-and-your in scenarios. As if Rivalry Week needed more excitement. Here are those three matchups
Florida State vs Miami
This battle in the Sunshine State will not only decide the outcome of the Florida Cup (and have major playoff seeding implications), but it will also decide which of these teams gets the chance to play Kentucky in the SEC Championship Game.
Florida State didn't start the season the way they wanted, but they have come back strong. After the 0-2 start the Seminoles have won four of their last five games. Their sole loss during this stretch came this past week at the hands of Kentucky. A win over Miami would mean a lot to Florida State. It would be their best win on the season and perhaps give them a chance to snag a playoff bye. A bye would be all but guaranteed if they can beat Miami and Kentucky in their next two games.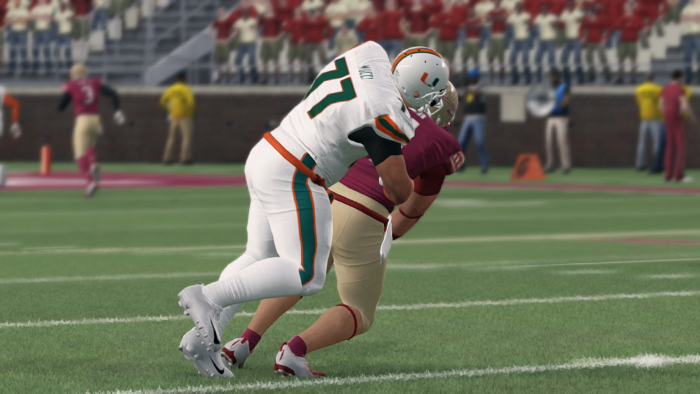 Miami came into this season as everyone's favorite up-and-comer. For the most part, the Hurricanes have lived up to the hype. Miami started the season 4-0 with strong wins over Ohio State and Texas. In Week Five they had their one stumble on the season with a three-point loss to Florida. Miami bounced back with consecutive wins over Pittsburgh and West Virginia. Now they will face one of the toughest tests they have all season. A win over Florida State would give Miami their only shot at Kentucky (unless they meet in the playoffs).
Florida State has won five of the nine times these two teams have faced each other. However, Miami is 3-2 against Florida State when they have a home-field advantage. The last time these two met was last season. Florida State won that game 23-21. This game will be on Twitch at 7 P.M. CST on Monday.
Oklahoma State vs Oklahoma
Another in-state rivalry will decide who earns the trip a conference championship game. Of course, there is no love lost between these two teams and we should be in store for another wild chapter in the Bedlam Series. This year the winner will represent the B1G West in the B1G Championship Game.
Oklahoma State started the season as the #1 ranked team in the CFSL. This is a distinction they held as they beat their first five opponents by a combined 212 points. However, a sneaky Boise State team waited for them in Week Six. The Broncos beat the Cowboys 26-20 in the rain to end a 15-game winning streak. The Pokes bounced back from the loss last week with a 51-0 routing of Texas. A win over Oklahoma would not only give Oklahoma State a chance to earn its second straight conference title, but it would bury any doubt that manifested during the Boise State game. A loss would magnify those doubts.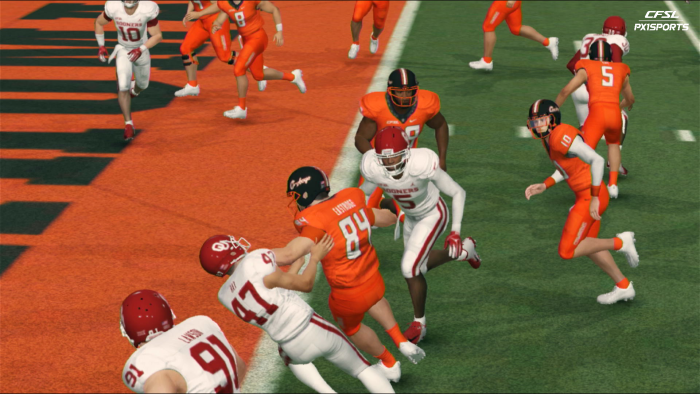 The Sooners wanted to get the bad taste out of their mouth after what is now simply known as the triple-option season. Well, they did that and then some. Oklahoma rattled off four straight wins, including an OT victory over rival Texas to start the season. In Week Five the Sooners suffered their first loss against Illinois in a game that ended early thanks to a storm. Since then Oklahoma was won their last two, including a win over the same Boise State team that beat their rival. This will be by far the hardest test that the Sooners have had to face this season. If they win they will guarantee their spot in the top six while perhaps knocking the Cowboys out of it. It could also be a chance to win the Sooners' first-ever conference title.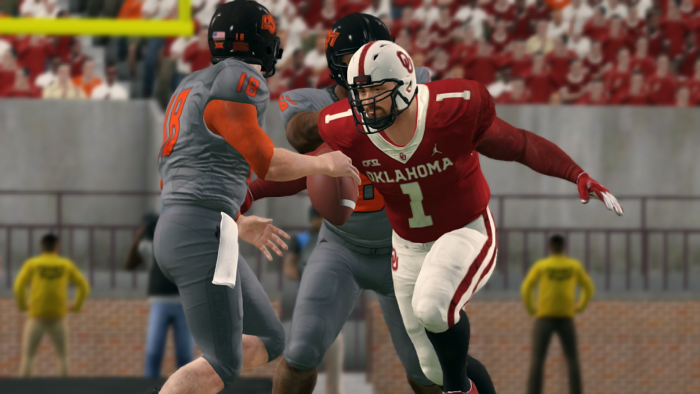 Oklahoma State has been the better of the two in the all-time series with a record of 4-2 vs Oklahoma. However, Oklahoma is 2-1 in Bedlam when the game is played at Oklahoma Memorial Stadium. These two teams met in Week Eight last season. Oklahoma State won that game 19-3. This game will be live on Twitch at 9 P.M. CST on Monday, directly following the Florida State and Miami game.
Michigan vs Ohio State
The final game of the CFSL regular season is always one to look forward to. It seems that there is always a lot on the line when The Game is played and this year is no different. Playoff seeding, playoff byes, bragging rights, and a trip to the B1G Title Game will be up for grabs this Friday.
Michigan had a roller coaster start to Season 16. The Wolverines dominated Florida State in the opening week only to be dominated themselves next week by Alabama. However, they haven't lost a game since that week. Those five straight wins include vanquishing Texas and Notre Dame in consecutive weeks. Beating Ohio State means everything to the Wolverine faithful, but this year it would mean a lot more. Michigan would all but guarantee a playoff bye and have a chance at their second conference title in a row if they win this week.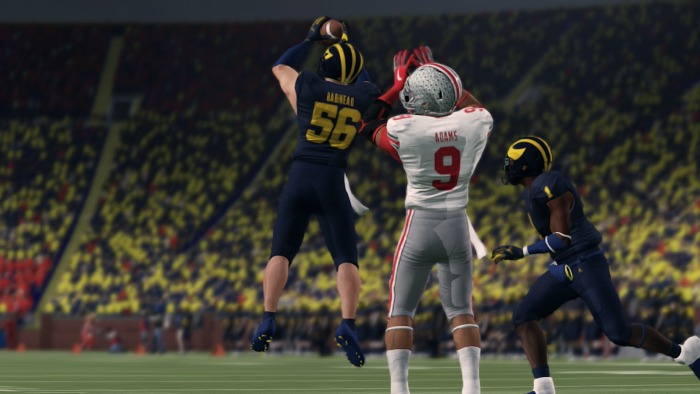 Ohio State has been one of the more intriguing teams this season. They fell flat to start the season with a 38-point loss to Miami. However, the Buckeyes were quick to right the ship after that. The Buckeyes have won five of their last six, with their only loss coming in an impressive performance against Oklahoma State. Their best win of the season came in Week Six when they shut out Notre Dame 30-0. This will be a tough test for the Buckeyes, but if they can beat that school up north it would be their best win of the season. It would also give them a shot at their first conference title since Season 6 and perhaps give them a shot at a playoff bye.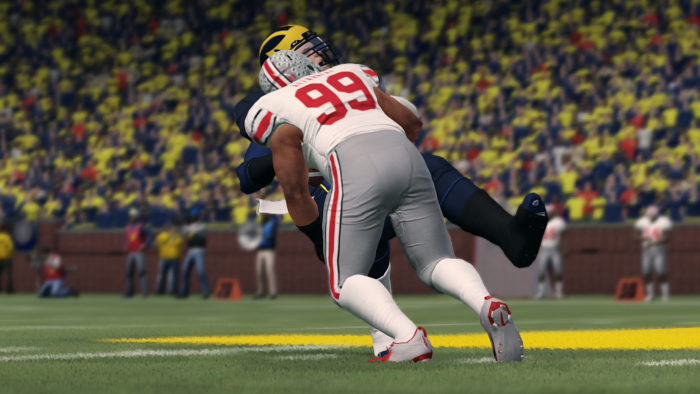 Michigan holds the advantage in this match-up all-time, winning eight of the 14 meetings. However, the home field has been kind to the Buckeyes. Ohio State is 4-3 against Michigan when these teams have met in the Shoe. Last season Michigan took this game by the largest margin in the history of the series. The final score was 62-17. This game will be played on Twitch at 8 P.M. CST on Friday.