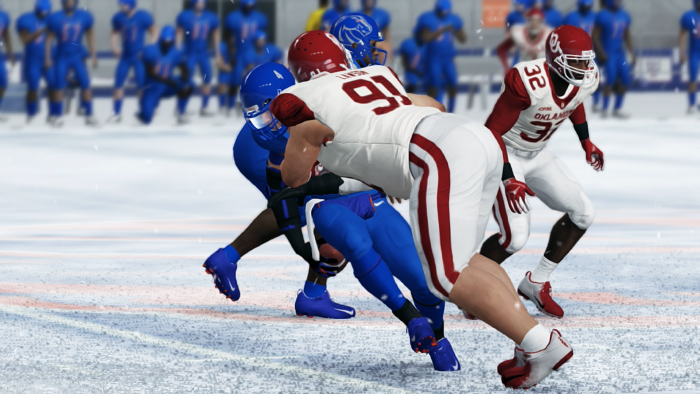 BY: Tony Papol (@SGEasty)
After seven weeks of CFSL action, we have reached the game circled on the calendars. The game that, regardless of records, a team expects to win. It's Rivalry Week in the CFSL. And, in the B1G, two Week Eight games serve as de-facto B1G Championship semifinal matchups. But before we can look ahead, let's focus on the excitement that was Week Seven.
#2 Oklahoma @ #13 Boise State
Starting off Week Seven action, Oklahoma and Boise State set the tone for nearly all B1G games to be one-possession, defensive games. The difference in this game was Oklahoma's defense being able to force Boise State to kick field goals inside the red zone. If Boise could have converted one offensive drive in the end zone with a touchdown, this is a tie game. A fantastic performance by Oklahoma's Jack Lawson, generating 13 tackles, nine TFLs, and five sacks, earned him a nomination for Player of the Week.
Final Score: Oklahoma 27, Boise State 23
Next Week: Oklahoma (6-1) vs #3 Oklahoma State (6-1), Boise State (2-5) vs Oregon (3-4)
#8 Texas @ #3 Oklahoma State
Although most B1G games this week were one-score thrillers, this was the outlier. Oklahoma State dominated the game from the opening kickoff, and the Cowboys showed their frustration with their week six loss to Boise State. Texas not only could get nothing going offensively, but it seemed they were also playing Lady Luck. With fumbles on back-to-back offensive plays resulting in 14 points for the Cowboys, emotions were running high for Texas. Texas will likely still be ranked in the top ten, and a matchup next week again Notre Dame could have huge postseason-seeding implications.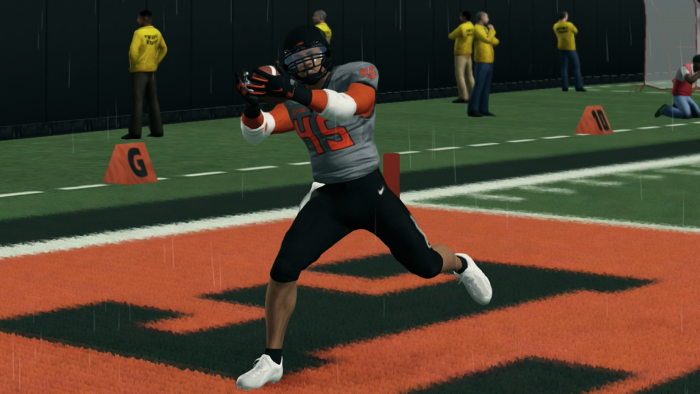 Final Score: Oklahoma State 51, Texas 0
Next Week: Oklahoma State (6-1) @ Oklahoma (6-1), Texas (3-4) vs #11 Notre Dame (3-4)
Clemson @ Oregon
With a last-second game-winning touchdown scored by Oregon, it is easy to see why this game was nominated for Game of the Week. The Ducks managed to overcome losing the turnover battle by generating key stops on third down and going 3-3 on fourth down to keep drives alive and put the ball in the end zone. Clemson had their second win of the season slip through their fingers, and they will be highly motivated against Illinois in Week 8.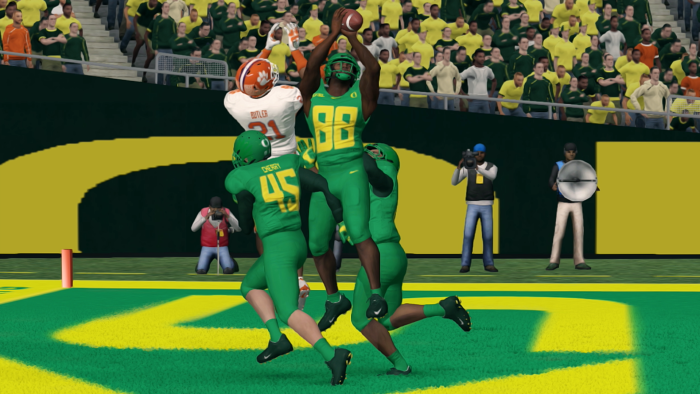 Final Score: Oregon 31, Clemson 30
Next Week: Oregon (3-4) @ #13 Boise State (2-5), Clemson (1-6) @ #12 Illinois (3-4)
#4 Michigan @ #11 Notre Dame
Michigan jumped out to an early 17-3 lead and never looked back, with Notre Dame's comeback attempt proving to be too little too late. Notre Dame managed to only turn the ball over one time against an extremely opportunistic Michigan defense and converted 50% of their third downs, but the high-octane offense of Michigan proved too explosive for the Fighting Irish to keep up with. An important, sudo-B1G Championship semifinal looms next for Michigan against archrival Ohio State.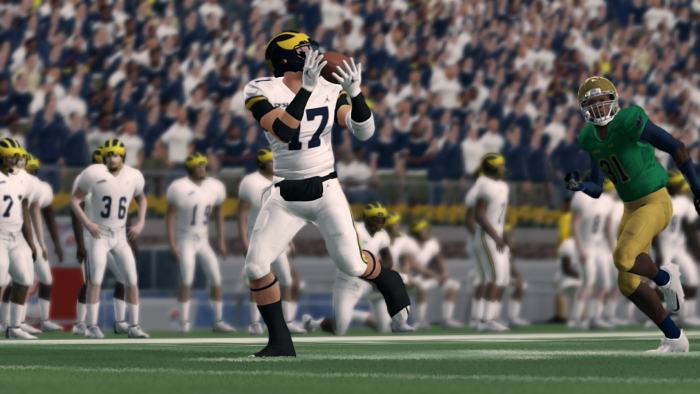 Final Score: Michigan 41, Notre Dame 36
Next Week: Michigan (6-1) @ #9 Ohio State (5-2), Notre Dame (3-4) @ #8 Texas (3-4)
#9 Ohio State @ #12 Illinois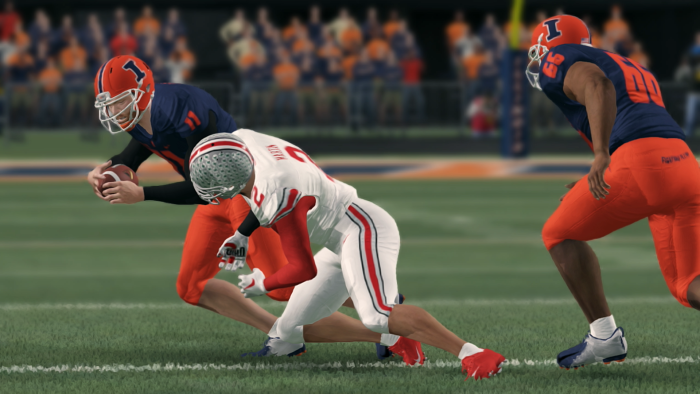 In a defensive showdown rarely seen in the CFSL, the Ohio State Buckeyes were able to generate just enough offense to kick a field goal in the fourth quarter and secure victory. Illinois struggled on third down, going only 2-14, not numbers conducive to winning. The defense of Ohio State also prevented Illinois from getting into the red zone, while Illinois's defense gave up too many key plays, allowing the Buckeyes to reach scoring position twice, which they tallied 10 points from. While some might have considered this game boring, defensive-minded individuals loved the war of attrition.
Final Score: Ohio State 13, Illinois 10
Next Week: Ohio State (5-2) vs #4 Michigan (6-1), Illinois (3-4) vs Clemson (1-6)
Standings
B1G East
| | | | |
| --- | --- | --- | --- |
| Team | Record | Net Points | Conference Record |
| Michigan | 6-1 | 101 | 5-0 |
| Ohio State | 5-2 | -3 | 4-1 |
| Illinois | 3-4 | -35 | 2-3 |
| Notre Dame | 3-4 | -59 | 2-3 |
| Clemson | 1-6 | -98 | 0-5 |
B1G West
| | | | |
| --- | --- | --- | --- |
| Team | Record | Net Points | Conference Record |
| Oklahoma State | 6-1 | 257 | 4-1 |
| Oklahoma | 6-1 | 90 | 4-1 |
| Texas | 3-4 | -8 | 2-3 |
| Oregon | 3-4 | -101 | 1-4 |
| Boise State | 2-5 | -47 | 1-4 |
Players of the Week
Jack Lawson, DE, Oklahoma
13 tackles, 9 TFLs, 5 sacks
Lawson was in the Boise State backfield all night, wreaking havoc in the Bronco pass game. With his five sacks, Lawson jumps into the top ten in the CFSL.
Les McAdoo, DE, Oklahoma State
6 tackles, 6 TFLs, 5 sacks, 2 forced fumbles, 1 pass deflection
McAdoo was a constant threat that the Texas offense could not account for. Whether on the pass rush or chasing down Killian Dunn from behind, McAdoo single-handedly affected Texas's ability to compete. McAdoo also needs 2 sacks to become 4th all-time in CFSL history with 59.
Damian Jones, WR, Oklahoma
4 receptions, 152 yards, and 2 TDs
While Jones only had four receptions, they all went for huge yardage, and two long touchdown plays were key in Oklahoma's win over Boise State. Look for Jones to have another huge game, especially as a deep threat, next week against rival Oklahoma State.
Maleko Nomura, WR, Clemson
8 receptions, 160 yards, 2 TDs
Nomura did everything he possibly could to keep the Tigers in the game against Oregon, but unfortunately, his great night was not enough as the Ducks secured a one-point victory.
Matthew Cherry, WR, Oregon
14 receptions, 157 yards, 2 touchdowns
Cherry, on the other hand, was the go-to receiver all night for Oregon, and his touchdowns were crucial in the Ducks' victory.
Week 8 B1G Games
Oklahoma State @ Oklahoma
With a B1G Championship game appearance on the line, Bedlam will be even bigger than usual. Almost certainly a top-3 matchup, this might be the biggest game of Season 16. Oklahoma will have to take care of the football, as the Cowboys rank second in turnovers created, and effectively use Ike Porter in the run game to keep the Cowboys' defense guessing. Oklahoma State needs to protect Ryan Moreland so he can find his receivers down the field and score touchdowns when inside the red zone, as the Sooners hold teams to a league-best 3.1 points per red zone attempt. This should be a thriller of a game, so make sure to tune in!
Notre Dame @ Texas
Both Notre Dame and Texas come into this game at 3-4, and a win would prove crucial to post-season seeding. A Texas win, and a bit of chaos around them, might be enough to jump them into the top-6. A Notre Dame victory likely secures their spot inside the top-12 and a first-round matchup against a MAC team. Watch for Texas to play angry after their blowout loss to Oklahoma State, and expect Notre Dame to try to generate a significant pass rush that affects Avery Ware early and often.
Oregon @ Boise State
While also being CFSL rivals and the only schools currently playing west coast football, this game again has major postseason seeding implications. Whichever team wins could secure a spot inside the top-12 in the final CFSL Selection Committee rankings, resulting in a MAC opponent in the first round of the playoffs. Boise State needs to create its patented pass rush of Alexander Wilson and Pierce Parker, and Oregon needs to establish its running game with Derek Eldridge.
Illinois @ Clemson
Clemson, even with a win, likely is destined to be ranked 13th-20th, meaning they will play a P2 team in the first round of the playoffs. And an Illinois win could rank them in the already-established top-12. However, this is a game of pride for both of these teams, as capping off a successful regular season builds tremendously into recruiting and Season 17. Clemson needs to be prepared to stop Illinois's HB Spencer Lewis Jr., and expect Illinois to force Loki Gunderson into making throws he might not be comfortable with and lead to easy interceptions.
Michigan @ Ohio State
Ending the regular season of Season 16, as is CFSL tradition, is The Game. This game again carries even greater importance as the winner will play in the B1G Championship game, which could result in a top-6ranking, and first-round postseason bye, to the winner. This game will ultimately be settled around the line of scrimmage, as both B1G East opponents have defensive linemen that can take over a football game. Whichever team wins the TFL/sack battle likely wins this game.