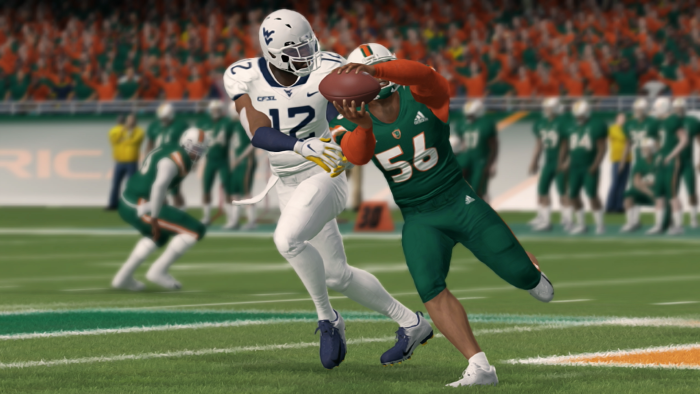 By Nate Murphy (bigmurph23)
Rivalry week is here. But before all the rivalry games kick off let's take a quick look back at what went down during week seven.
WEST VIRGINIA at #6 MIAMI
There were two SEC games kicking off in the 7 P.M. slot on Tuesday. This one gave us pretty much exactly what we expected. WVU played hard and made a couple of big plays. In fact, a 63-yard touchdown to Tomlin Clementine cut the Miami lead to 10-7 midway through the first. That was as close as it got. Miami dominated both sides of the ball, holding WVU to less than 300 yards of offense and racking up 540 yards of their own. Deuce Bolden had a big night with nine catches, 114 yards, and two scores. 
Final Score: Miami 50, WVU 17
Next Week: Miami vs FSU (4-3), West Virginia vs Pitt (2-5)
#15 PITTSBURGH at NORTH CAROLINA
When you look at these two squads you probably think to yourself that they match up pretty evenly. Well, if you thought that you were one hundred percent WRONG. UNC came out in this one with a little extra jump in their step. The Tar Heels defense sacked Helix Myers eight times, forced five turnovers, never allowed Pitt into the red zone, and pitched a shutout. All their offense did was rack up 540 yards, put together a 27-point second quarter, and eventually closed the night out early with a fourth-quarter touchdown. This game may have been the surprise of the week.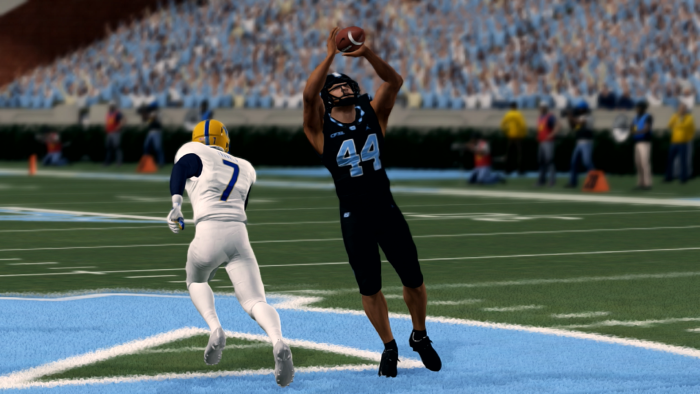 Final Score: UNC 51, Pitt 0
Next Week: UNC vs Kentucky (7-0), Pitt at WVU (0-7)
AUBURN at GEORGIA
This was the best game in the SEC all week. The Tigers and the Bulldogs were riding high, Auburn coming off their first win and Georgia on a little two-game winning streak. Both quarterbacks had huge nights. UGA's Ray Flash did most of his work with his arm, throwing for 401 yards. Auburn's Baker Thomas did it with his arm and his legs, throwing for only 235 but adding 104 on the ground. Kieran Enis also had over 100 yards (154) on the ground and found the endzone once. Auburn won the fourth quarter, but it wasn't enough to overcome the lead Georgia had built.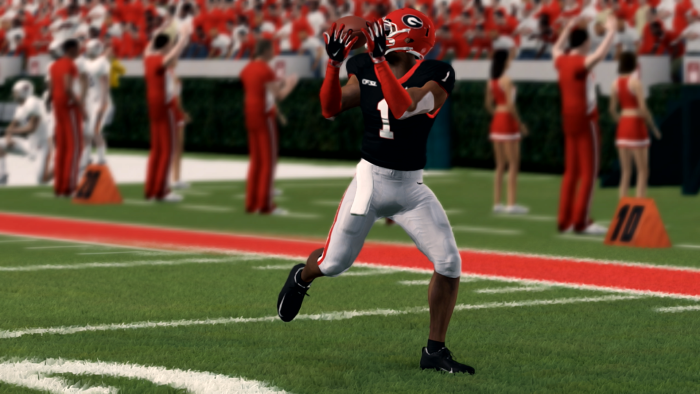 Final Score: Georgia 48, Auburn 41
Next Week: Georgia at Florida (3-4), Auburn vs Alabama (4-3)
#5 FLORIDA STATE at #1 KENTUCKY
After a rough start, FSU had found its footing and was putting things together. They had won four straight games and were unbeaten in conference play. Then they took a trip north to Lexington Kentucky. The Wildcats have been doing it all season long, coming in number one and unbeaten. And they were leaving the same way. After the first quarter, it was a four-point ball game and it looked like it was going to be the game we all thought it would be. Then Kentucky turned it on. Florida State would only score one time after the first quarter and could not slow down Kentucky. Moses King once again led the charge for the 'Cats' offense with better than 400 yards passing and adding 85 yards and three touchdowns on the ground.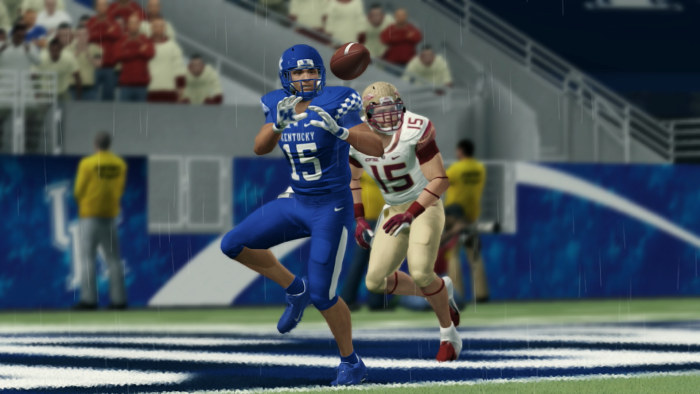 Final Score: Kentucky 59, FSU 17
Next Week: Kentucky at UNC (2-5), FSU at Miami (6-1)
#10 ALABAMA at #7 FLORIDA
A Thursday night matchup to close out week seven in the Swamp between the Tide and the Gators sounded like a great way to close out the week. But once again Florida struggled to get things going offensively. The Gators turned it over twice, had less than 400 yards total offense, and managed only one redzone trip. On the flip side, Bama's offense had three receivers crack the one-hundred-yard mark, Carlos Shapovalov (110), Terrence Jones (109), and Maddox Cash (148). Those three helped Cece Range tally 467 total passing yards as the Crimson Tide doubled up the Gators.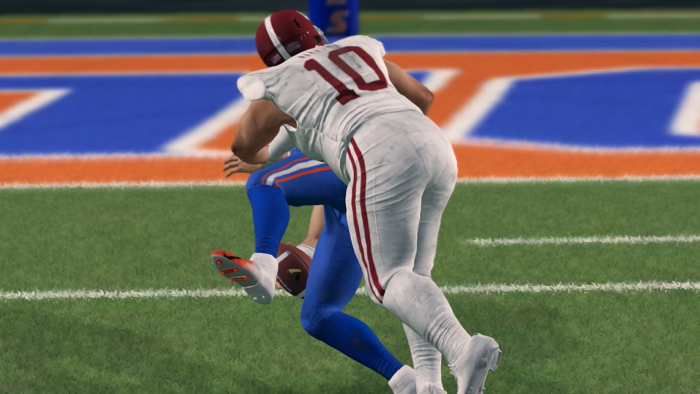 Final Score: Alabama 34, Florida 17
Next Week: Alabama at Auburn (1-6), Florida vs Georgia (3-5)
SEC STANDINGS
Division champions will officially be crowned after Week Eight, let's see where they stand after Week Seven. 
SEC East
| | | |
| --- | --- | --- |
| Team | Record | Net Points |
| Miami | 6-1 (4-1) | 155 |
| Florida State | 4-3 (4-1) | -22 |
| North Carolina | 2-5 (2-3) | -47 |
| Pittsburgh | 2-5 (1-4) | -146 |
| West Virginia | 0-7 (0-5) | -122 |
SEC West
| | | |
| --- | --- | --- |
| Team | Record | Net Points |
| Kentucky | 7-0 (5-0) | 238 |
| Alabama | 4-3 (3-2) | 69 |
| Georgia | 3-4 (3-2) | -89 |
| Florida | 3-4 (2-3) | -100 |
| Auburn | 1-6 (1-4) | -33 |
PERFORMANCES OF THE WEEK
UNC Defense
15 TFLs, 8 sacks, 3 INTs, 2 FF, 2 FR, 0 RZ trips allowed, 0 Points allowed
Not a single UNC defender had more than 8 tackles on the night. But there is no way you can talk about performances of the week without talking about this defense. They lived in the Panther backfield. As a team, they had 15 tackles for loss and 8 sacks. They forced turnovers in every way. And the Panthers never sniffed the endzone or points. This was a complete performance from the whole defensive unit. 
Baker Thomas, QB and Kieran Ennis, HB Auburn
Combined: 39 carries, 258 yards, 1 TD
Some of you may consider this cheating. But how do you separate the Tiger backfield here? Both Ennis and Thomas took advantage of every crack they found in the Bulldog defense. Thomas had 104 yards rushing from the QB position, meaning he made the right reads when he needed to and took matters into his own hands. And when Ennis got the ball he had even more success. Ennis averaged 7.3 yards per carry on the night and had the duo's lone ground score. Thomas also threw the ball for more than 200 yards and 4 TDs. So even in a losing effort a shout-out is well deserved. 
Blake Elder, WR, FSU
2 Rec, 153 yards
Okay, I know. You're all asking yourself right now why. But when you average 76.5 yards a catch someone better shout you out about it. Blake Elder had a huge 73-yard reception in the first quarter against Kentucky that set up an FSU field goal. He added another big 80-yard catch in the second half. And even though he never found the endzone he certainly made the biggest plays for the Florida State offense this week. 
MUST SEE MATCHUPS NEXT WEEK
#5 FLORIDA STATE at #6 Miami
While these won't be the rankings when these two square off on Monday night in Miami the importance will still be there. The winner of this game will win the SEC East and get to play Kentucky for the SEC Title. The question will be can FSU protect Ryan Ravenhill? It is no secret how good the Miami front is and if Florida State is in obvious passing situations all night long and the defense can pin their ears back it could be a long night for the Noles. On the flip side can the Seminole defense put pressure on freshman QB Mateo Walker and force some freshman mistakes? This one should entertain from start to finish. 
IT'S RIVALRY WEEK BABY!
How can you talk about games in week eight that are must-watch and not mention every single rivalry in the SEC? Kentucky and UNC might be more of a basketball rivalry. But when these two get together on the gridiron this week sparks could fly. We have the World's Largest Outdoor Cocktail party with the Gators and the Bulldogs. Both teams are coming in at 3-4 and Georgia has won three straight. This game will be more for seeding than anything but the pride and bragging rights you'll get until season 17 week 8 is immense. In Morgantown this week it is steel versus coal in the Backyard Brawl. WVU won't save their season with a win, but 1-7 with a win over hated Pitt would make them feel better for sure. And Pitt is looking to regain some of that early-season form. And last but not least, it's the Iron Bowl. The regular season SEC finale is on Friday night. Alabama and Auburn. Roll Tide and War Eagle. Auburn has been in almost every game this season. Alabama has been up and down. Are the Tide on upset alert in this one? I sure think they are. Outside of the championship game, there is no better game than the game your team is in during Rivalry Week. You're playing the team you love to hate. And I can't wait to see them all.