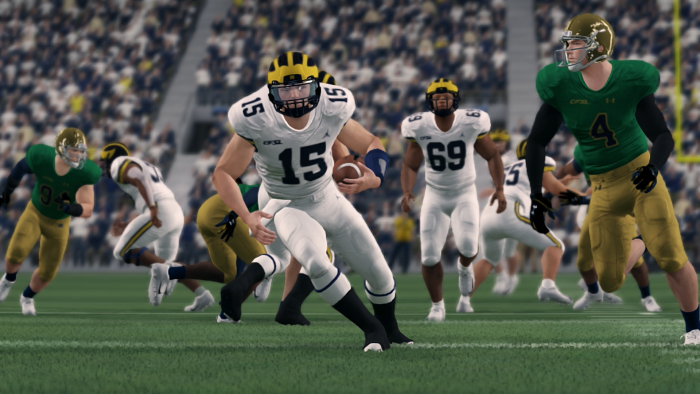 By: Cole Mantell (@colemantell)
Right before Week One, we took a look at who might be an underrated candidates for some end of season awards. As Rivalry Week finishes and we look towards the postseason, it is always a fun exercise to see how it turned out. Going back to Week One, the originally the criteria was that someone could not have won a major award or been an All-American to be eligible. While not everyone who wins a major award this season will fit that criteria, I still will be grading myself based on two main factors. First, for the provided candidates, how likely are they to win the award. Second, I provided a description of what would be needed for someone new to win. I'll also be grading myself on how accurate that description was. I'll assign each prediction a letter grade, as well as reaffirm each likeliest candidate that I provided from Week One.
Most Outstanding Freshman
Week 1 Candidates: 
Notre Dame QB Charlie Sammons
Notre Dame HB Bode Dale
Auburn QB Baker Thomas
Michigan QB Sam Dobbins
Texas QB Avery Ware
Prediction Grade: D+
A rough start to this exercise. I named two Notre Dame candidates as the most likely winner, and completely ignored defensive players in the original prediction. This includes Oregon SS Benny Trill, among others. Hindsight is 20/20, but the lack of defense and reliance on QBs before Week One really hurt me here. My saving grace is Michigan QB Sam Dobbins, who is leading Michigan through a great season right now.
Most Likely To Make Cole's Prediction True: Michigan QB Sam Dobbins
Most Outstanding Senior
Week 1 Candidates:
Kentucky WR Willie Hardigan
Kentucky HB Taylor Copley
Michigan HB Barry Beardsley
Texas OLB Tyler Detherage
Notre Dame WR Ralph Rodriguez
Prediction Grade: C
Not much better for the search for the best Senior. I'm going to give myself a little bit better marks for predicting it might be a wide receiver who wins this, considering the lack of candidates right now. Still, this should be maybe the most interesting vote with multiple candidates and no clear leader right now. Staying in the Michigan theme, Barry Beardsley is a name to watch here as well.
Most Likely to Make Cole's Prediction True: Michigan HB Barry Beardsley
Most Improved Player
Week 1 Candidates
Michigan HB Barry Beardsley
Alabama HB Tavian Tyree
Auburn HB Kieren Ennis
West Virginia QB Tony Ellis
Florida QB Shaker Mayflower
Prediction Grade: B-
Michigan single-handedly so far is saving me from total ignominy. While it was an easy prediction to make, Barry Beardsely's progress in the Michigan offense will get him a look at this award as well. This is a Quarterback heavy award, however, and both Kentucky QB Moses King and Alabama QB Cece Range are going to be candidates here as well. I also dinged some points for the fact I didn't include any defensive players originally, even though there are a few who will get consideration.
Most Likely to Make Cole's Prediction True: Michigan HB Barry Beardsley
Defensive Player of the Year
Week 1 Candidates:
Texas OLB Tyler Detherage
North Carolina CB Trevor Austin
Miami DE Cory Mucci
Georgia MLB Kirby Sierra
Alabama MLB Troy William
Prediction Grade: A-
This is easily my best prediction from Week One. We'll start with Georgia MLB Kirby Sierra, who has been excellent this season and will get some looks at multiple awards. Add in the prediction a Miami player not named Jay Gates would be in contention (though it is Yost, not Mucci) and an excellent season from Austin (though more on special teams), and that is three great candidates. While not perfect, this prediction stood the test of time.
Most Likely to Make Cole's Prediction True: Georgia MLB Kirby Sierra
Offensive Player of the Year
Week 1 Candidates:
Ohio State QB Logan Radloff
Illinois QB Dylan Shumate
Florida State WR Pablo Thompson
Miami WR Wren Chucci
Ohio State WR Gregorio Esteban
Prediction Grade: C-
Uh oh. Outside of Pablo Thompson, this prediction has not aged well at all. To be fair, Radloff and Shumate are good QBs, and Radloff in particular has taken down some school records this season. But like I said earlier in Week One, this is rarely the first major award someone wins. Speaking of Thompson, Florida State's #1 has really done well this season. He leads the CFSL in receiving yards at the time of writing, and will be a candidate most likely. Still, this seems like an award for a Quarterback to lose. Then again, that was the prevailing theory last season too.
Most Likely to Make Cole's Prediction True: Florida State WR Pablo Thompson