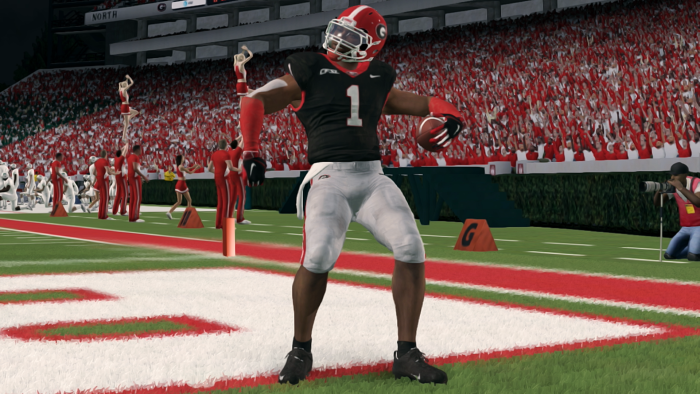 By: Ryan Moreland (@ryanmoreland)
The first round of the playoffs is in the books and ten teams have been eliminated. 16 teams remain and the war for CFSL supremacy continues tonight. What players and units will decide these match-ups? Without further ado, let's dive in.
9 Alabama vs 8 Georgia
The first matchup tonight will be a rematch of an epic regular season battle. Just a few weeks ago Georgia pulled off a three-point upset that started a five-game winning streak. They hope to continue that streak tonight. The Crimson Tide are hungry for vengeance and a chance to keep their title hopes alive.
Match-up to watch: Alabama QB Cece Range has had a prolific season, but has been plagued with turnovers in some games. And when Range is throwing interceptions, the Tide tends to lose. Range has thrown 10 picks in Alabama's three losses and only nine in their six wins. Georgia has forced the fourth most interceptions this season. This game will likely come down to Alabama's ability to protect the ball.
Prediction: Alabama 45, Georgia 38
13 Florida State vs 4 Oklahoma
Oklahoma will be the first of the CFSL's top six to get to see playoff action. The Sooners will host the up-and-down Florida State Seminoles. Florida State has yet to beat a team with a winning record, but they never lost to Oklahoma (1-0 in their only meeting). Can Tom and his Seminoles upset DT and his Sooners? Time will tell.
Match-up to watch: Florida State's passing attack has led their offense all season. They average 416 passing yards per game, which is the sixth-highest total among all teams. The problem is that Oklahoma has been fantastic against the pass this year. The Sooners have allowed 281 passing yards per game, which is the second lowest in the CFSL. Can FSU QB Ryan Ravenhill and company move the ball against the stifling Sooner defense?
Prediction: Oklahoma 24, Florida State 20
10 Illinois vs 7 Texas
Tuesday's CFSL action will start with a B1G battle. These two teams did not meet in the regular season, however. This will be the first time these two teams have ever met on the field. Illinois will travel down to Austin looking for just the third upset in this year's playoffs.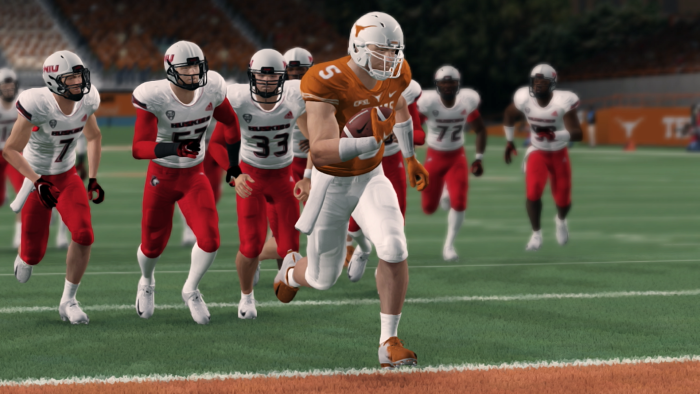 Match-up to watch: Texas HB Killian Dunn has a league-leading 895 yards on the ground with an average of 99 yards per game. Illinois' run defense has been stout, however. The Fighting Illini have only allowed an average of 65 rushing yards per game. Illinois stars like JW Eibeck, Blake Davis, and Karl Gram will have their hands full with Dunn, but if they can stop him their chances of winning will drastically increase.
Prediction: Texas 38, Illinois 30
21 Eastern Michigan vs 5 Ohio State
Both of these teams are riding high right now. The Buckeyes beat their biggest rival, Michigan, for a chance to travel to the B1G Championship game. Eastern Michigan won the MAC Championship and followed that up with a first-round upset of Boise State. Will Cinderella keep dancing or will midnight strike for the Eagles?
Match-up to watch: Despite Ohio State's success this season, they have the second-lowest-scoring offense in the CFSL. Eastern Michigan had the best defense in the MAC and they played a great game against Boise State. However, are they good enough to back that up with another great performance against the B1G's runner-up?
Prediction: Ohio State 21, Eastern Michigan 20
14 Florida vs 3 Miami
This will be the second rematch of the second round. Florida had an up-and-down season, but they did have one fantastic win. In Week Five the Gators upset Miami and gave them their only loss of the season. Can the scrappy Gators once again overcome the Hurricanes?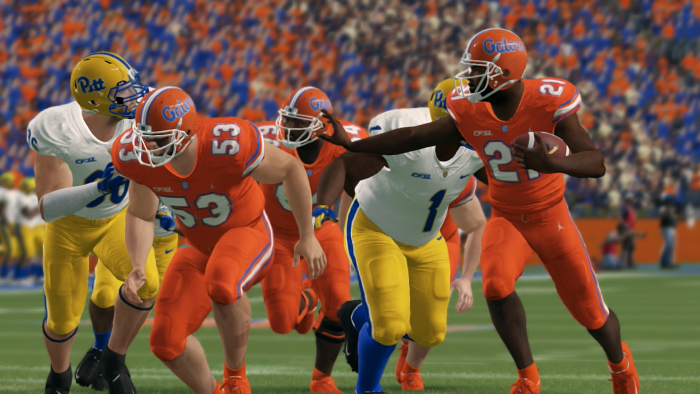 Match-up to watch: Florida HB William Tree has been the engine that powers the Gator offense all season. While Miami has been dominant against the run this season (allowing less than 20 yards per game) they didn't have an answer for Tree the last time these teams met. Florida's back had 91 yards and a touchdown on 5.7 yards per carry. If Tree can replicate those numbers the Hurricanes might be in trouble.
Prediction: Miami 34, Florida 21
22 Bowling Green vs 6 Michigan
Bowling Green was the second of the two MAC teams to come up with an upset in the first round after they beat Oregon in overtime. Michigan earned the last bye spot and will open their playoff run in this game. Can BGSU prove the MAC is being overlooked with another playoff win?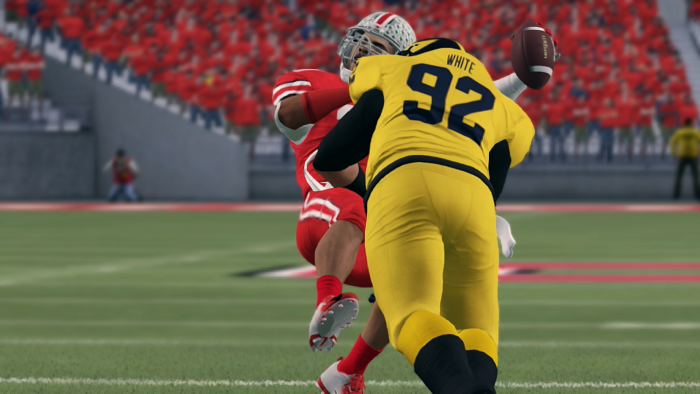 Match-up to watch: Defensive tackle might just be the best position group in all of the CFSL and there are few (if any) better than Laci White. White, who had 26 TFLs and 19 sacks this season, can be an absolute game-wrecker. The Falcon offense will have to play their best to keep QB Leisa Pink off the ground.
Prediction: Michigan 31, Bowling Green 20
16 Auburn vs 1 Kentucky
The Tigers will have their hands full on Thursday night when they travel to Lexington to take on the only undefeated team in the CFSL. This won't be the first time these two teams met either. Auburn played their hearts out in a 45-63 loss to Kentucky. Can they build on that to pull off what would be one of the largest upsets of the entire season?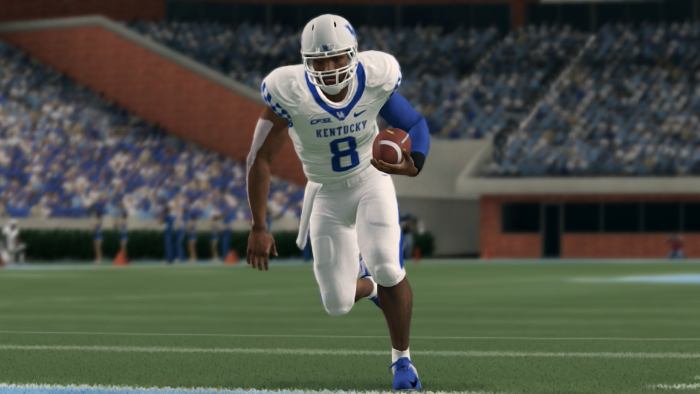 Match-up to watch: Kentucky QB Moses King has been on a tear this season, helping his team win all of their games. But King might be the key to Auburn's chances. Auburn was able to hang around in their last meeting thanks to three interceptions thrown by King. However, it was his seven passing touchdowns in that same game that kept the Wildcats on top. If Auburn is to win this game DBs Braxton Antkowiak and Bryce Strawn need to play their best.
Prediction: Kentucky 59, Auburn 45
15 Notre Dame vs 2 Oklahoma State
The last game of the week will also be a rematch of a game earlier this season. The Cowboys went on to win that game 50 to 7. The Fighting Irish will have an uphill battle if they want to continue their postseason run. However, there might be a chance for Wookie and his team if they handle a certain match-up.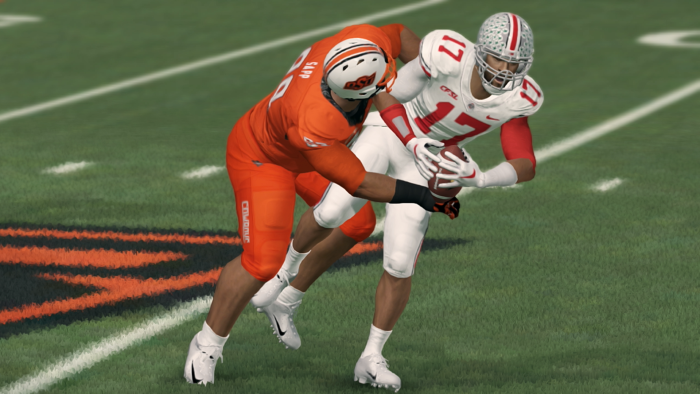 Match-up to watch: A large key to Oklahoma State's success on defense has been the great play of their defensive front. Cowboys Ezra Rogalski, Les McAdoo, and Ben Sapp all are top 12 in sacks in the CFSL. And they had a field day the last time these teams played. Notre Dame QB Charlie Sammons was sacked seven times in the last meeting. If the Irish are to overcome the reigning champs the first step is to protect their freshman QB.
Prediction: Oklahoma State 45, Notre Dame 31