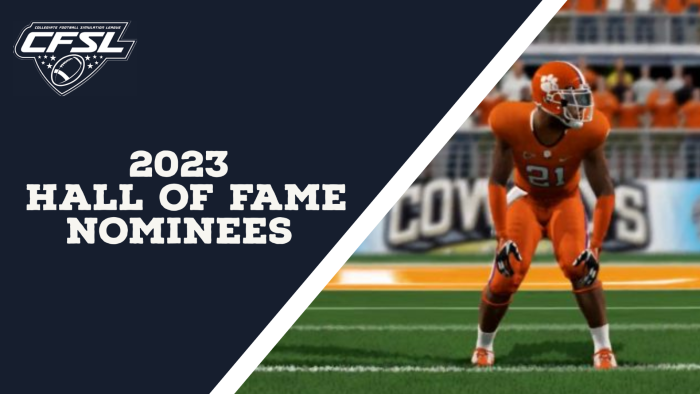 By: Ryan Moreland (@ryanmoreland)
The 2023 Hall of Fame Nominees were announced last night during the Championship Pregame Show, but we didn't get to dig further into the class. Well, now is our opportunity. Congratulations to all the nominees.
Quick note: The CFSL Hall of Fame is three-pronged. You can enter as a Member, Player, or AD. You can be inducted in more than one category (which some of the people on this list have the chance to do).
Members
14rDavis
Devan Davis, or 14rDavis, is best known for his leadership of the now-champion Kentucky Wildcats. While Davis will be stepping down from his AD role, he will undoubtedly continue to be a quality league member. This is his second nomination.
Allie
As the first lady of the CFSL, Allie has done a lot for this league. Most of this is behind the scenes, so many of us don't get to see all she does. But the league would not be where it is today without all she has done. This is her second nomination.
Grin311
Grin, aka Tom Pence, is known as a tough competitor, a fantastic game planner, and an all-around great guy. Grin just completed his tenth season as the AD of Florida State, where he has mentored many of the best young ADs in this league. Tom Pence was inducted as a player last season. This is his second nomination as a member.
Hornsnation
Michael Buck (or as he is better known, Horns) is the third championship-winning AD to be nominated this year. In this league, you cannot think about the Texas Longhorns without Horns coming to mind. He has also been a key member of the content team for the CFSL. This is his first nomination as a member.
Hunkydory
Rick Jordan, or Hunkydory, has been around the CFSL from the very start. In that time he has done a lot for the league, from being an AD at Florida to being the league's Commishoner. He has also made some outstanding players, like HOF nominee Avery Jordan. This is his second nomination.
Voodoo
Voodoo is not only known for making great players, but his work in recruit rankings has always been a fan favorite. He has served the league in many roles including the Stats Team, Review Board, Selection Committee, and much more. This will be Voodoo's first nomination.
Wookie
Josh Claydon has been the face of Notre Dame football. His resume as the frontman of the Fighting Irish speaks for itself. He is the only AD to ever win back-to-back national titles. This is his first nomination as a member.
Wyrmreaver
Wyrmreaver, aka Neal, was the AD for Hawaii and Washington in the league's first five seasons. He is now a key, albeit a quiet, member of the front office team. This is his second nomination as a member.
Athletic Directors
Grin311
Grin is not only nominated as a member but as an AD as well. No AD in league history has held the same post as long as Grin has at Florida State. During his time the Seminoles have become yearly contenders and won the Season 14 Championship. This is his second nomination as an AD.
Hornsnation
Horns is yet another looking to be inducted as both a member and an AD. Horns was the AD of Texas from Season 3 through Season 7, where he won a championship at Texas in Season 5. He also spent time as the AD of South Carolina, Michigan, and Oregon. He came back to Texas for Season 16 but announced he will be stepping down from the AD role. This is his second nomination as an AD.
OKST56
Houston, or OKST56, was the face of Oklahoma State from the time the joined the league until he stepped down last season. He is known around the league as a tenacious game planner. He won the Season 15 Championship in his final year as the AD. This is his first nomination as an AD and he was inducted as a member last season.
Wookie
No AD can claim more titles than Wookie. Notre Dame won the CFSL National Championship in Seasons 12 and 13 under his guidance. He is also being nominated as a member this year. This is his first nomination as an AD.
Players
Barry Allen
Many haven't been around long enough to see Allen play, but his stats jump off the page. The hard-hitting safety played four seasons at Clemson from Season 3 to Season 6. During that time he amassed a staggering 313 tackles. He also helped Clemson win its first National Championship in Season 4. Allen was also a two-time All-American. This is his second nomination as a player.
Mark Calloway
Despite having only a three-year career, Calloway cemented himself as one of the best players in Auburn's history. Calloway made the All-American team every year at Auburn and also won Defensive Player of the Year in Season 6. That same year he helped his Tigers win the National Championship. This is his first nomination as a player.
Robert Davis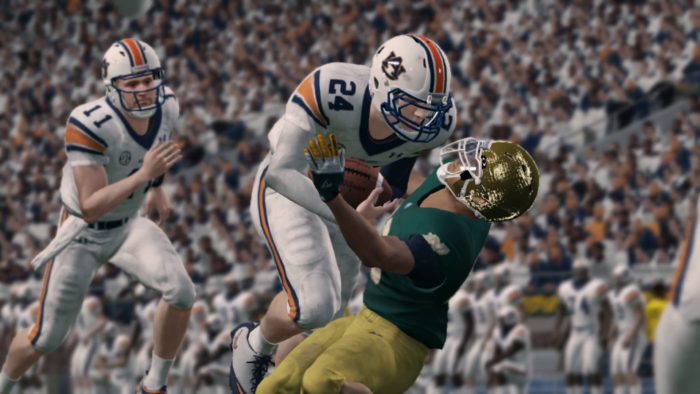 You won't find many running backs in CFSL history that put up the kinds of numbers that Davis did. The Penn State and Auburn legend ran for 4500 career rushing yards, which is the fifth most in CFSL history. His 146 career broken tackles still stand as the second most all-time. Davis was a one-time All-American and was also a member of Auburn's Season 6 Championship team. This is his second nomination as a player.
Lyle Fletcher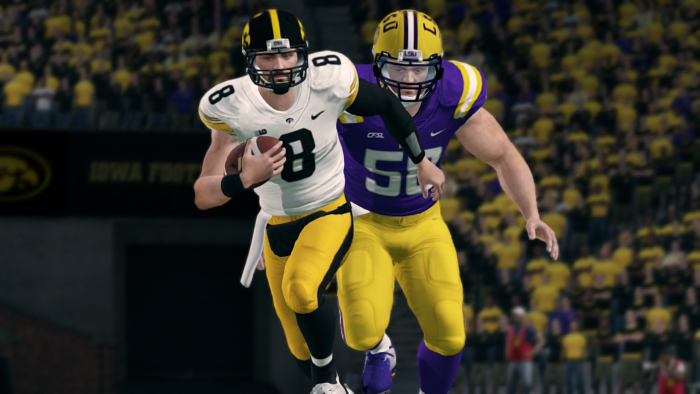 It didn't take long for Fletcher to make his mark in the CFSL. In his first season, he was named Freshman of the Year, All-American QB, and Offensive Player of the Year. The Oklahoma State and Iowa gunslinger was also a four-time Offensive Player of the Week and still sits third all-time in completions. This is his first nomination as a player.
Dee Frost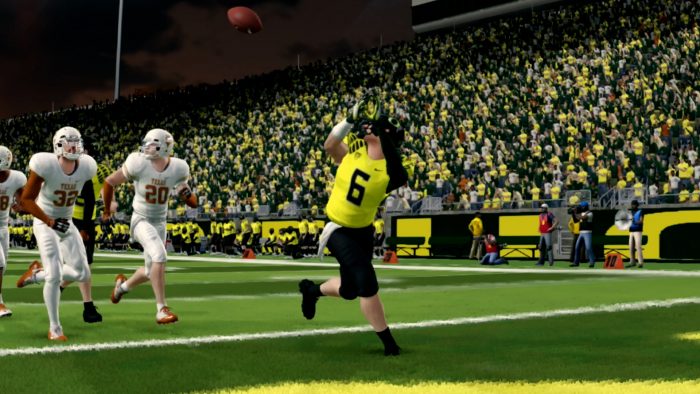 The Oregon Duck wideout made quite a name for himself in just three seasons with the team. And despite not playing his senior season, Frost still found the record books. His 161 pancakes his the fifth most all-time. He also had the fourth most receiving yards and fifth most receiving touchdowns in Oregon's history. This is his first nomination as a player.
Dane Jones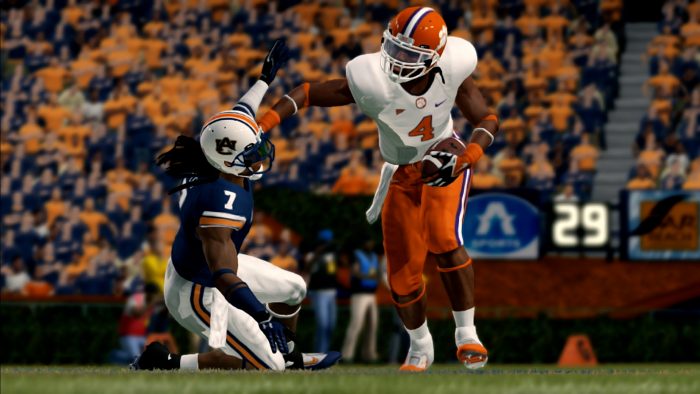 This two-time All-American halfback slashed through defenses in his four years at Clemson. Jones totaled 3227 yards on 529 carries and also had 29 touchdowns and 111 broken tackles. All of these numbers are in the top three in Clemson's history. Jones would also win Most Outstanding Senior in Season 10. This is his first nomination as a player.
Tylar Jones-Drew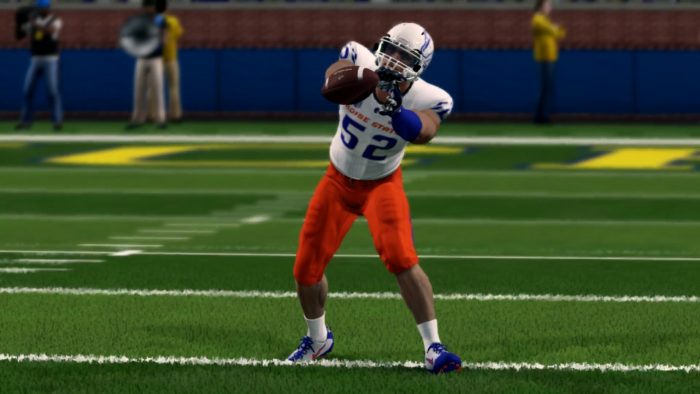 Jones-Drew was a show-stopping linebacker who played just two years in the CFSL's first two seasons. During those two seasons, he earned two All-American Awards thanks, in large part, to his 175 tackles. This is his second nomination as a player.
Avery Jordan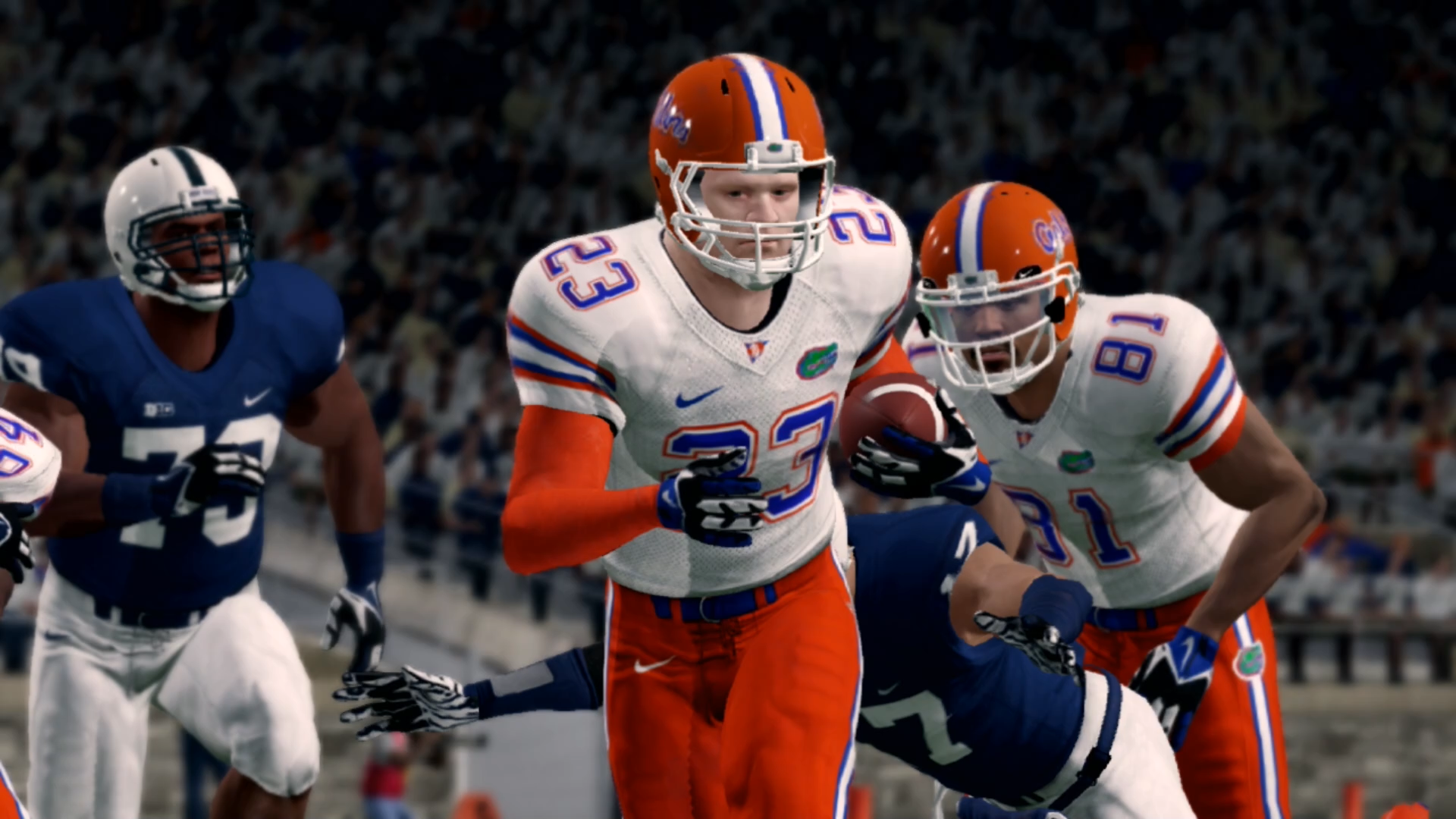 The Iowa and Florida halfback put up some of the best numbers of any runningback in CFSL history. Jordan still stands in the top five all-time in yards (4th), attempts (5th), and broken tackles (3rd). This is Jordan's second nomination.
Jedidiah Longtree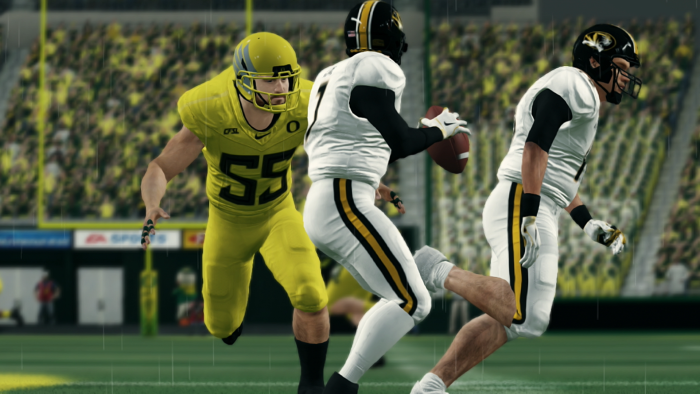 Longtree will go down in the history books as one of the most decorated players in the league. In his five years at Oregon Longtree won four All-Americans, two Defensive Player of the Years, and a National Championship. He is also second in career tackles in the CSFL, with 476. This is his first nomination.
Fritz Roberts
Roberts had a golden leg and Auburn was happy to have him. He made 94% of his field goals in his three years with the Tigers, including a perfect senior season. That year he was named an All-American. This is his first nomination.
Levi Temes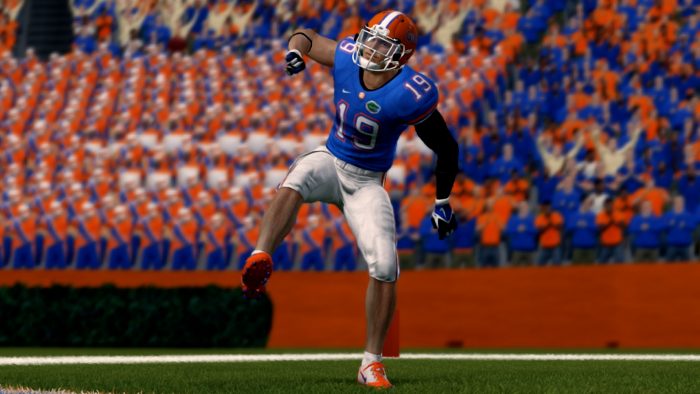 Our last nominee is the Gator legend Levi Temes. Temes spent five years in Florida. During that time he won two All-Americans, Most Outstanding Senior, and Offensive Player of the Year. He had 21 receiving touchdowns in his last season, which is a record that will likely stand for a long time. This is his first nomination.