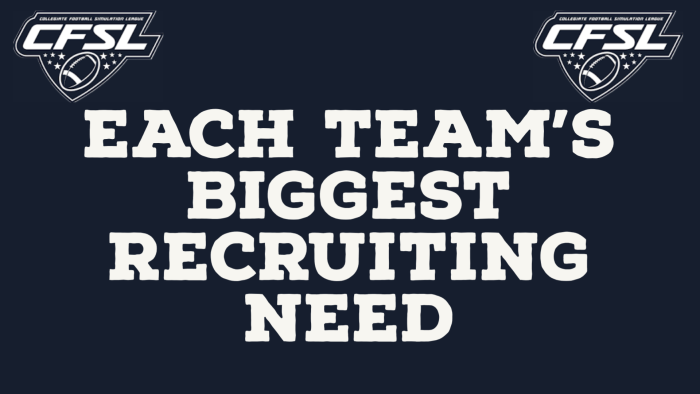 By: Cole Mantell (@ColeMantell)
Each offseason brings another cycle of recruiting and with it another cycle of fun for players and fans alike. This cycle won't feature quite as many names as last season, but instead, the new element of a new rating system for all players coming into effect later this offseason looms large. It will be a new environment for everyone, bringing 26 teams hope and heartbreak in a few weeks. We'll go through teams in alphabetical order this season. As always when I do these articles, this does not take into account early graduations or transfers.
Alabama Crimson Tide – Defensive End
The Crimson Tide had an excellent season, following some high-octane offense with clutch defense. They have a few departures on the team this season, notably including kicker, tight end, and running back. However, with the graduation of Dante Bonilla, Alabama will only have one DE left on the roster. Should Alabama continue to run the 4-2-5, which is the more popular formation right now on defense in the CFSL, they'll need another guy on the line moving forward.
Auburn Tigers – Defensive End
The two Alabama-based rivals' needs this offseason are fascinatingly similar. This should be a story to watch during recruiting. Like Alabama, Auburn has only a few graduations, with only one remaining DE on the roster. Certainly, it seems at least on paper we should hear about how some DE recruits will be having to choose sides in the historic rivalry. Auburn also has a wide receiver and running back graduating, so the Tigers likely look at replenishing some offensive talent as well.
Boise State Broncos – Safety
The Broncos have multiple seniors on defense, and you can count on the Boise State staff to bring in more than a few guys for the unit after a disappointing Season 16. A key area of concern will be in the back end of the defense. With Damon Battle graduating, there are now only two safeties left on the Boise State roster. Since both remaining safeties are sophomores, this could also be an area Boise State looks at for transfers given the youth in this position group. Whether it is a transfer or new recruit, it will certainly be a priority position for the Boise State staff this cycle.
Clemson Tigers – Linebackers
While the offense showed some potential, highlighted by TE Reece Donahoo netting an All-American nod, the defense for Clemson is in dire need of fresh faces. Nowhere is that more apparent for Clemson than at Linebacker. Two seniors graduate and leave senior 4-star MLB Kyle Woods as the only linebacker left on the roster. The good news is that there is a lot of room for growth here, and Clemson has a rich history in the position group as well. Linebacker might be the most pressing need, but look for Clemson to be heavily recruiting every defensive position this offseason.
Florida Gators – Wide Receiver
Florida will have multiple positions to target this offseason with four graduating seniors and depth to fill. While Florida found success at times on the ground this season with William Tree, the Gators historically are a team that excels at passing. Levi Temes being a part of the latest Hall of Fame class is the prime example. Right now, there are only two wide receivers left on the roster after a few graduations, so look for the Gators staff to cast a wide net and offer a few scholarships at this position group.
Florida State Seminoles – Wide Receiver
It's another case of rivals needing similar players heading into recruiting. Florida State doesn't historically pass quite as much as Florida, but both teams will have two WRs graduate and thus a hole at the position group heading into recruiting. Florida State does also have Pablo Thompson at the position, so unlike Florida, they might be more looking at depth and young players right now versus the Gators. Thompson is a senior now as well, so an eventual replacement will have to be looked at in recruiting too.
Georgia Bulldogs – Tight End
Georgia perennially has been one of the youngest rosters in the CFSL. The Bulldogs have no graduating seniors on the roster. That means the focus for Georgia is filling depth over replacing starters. While honorable mention goes to free safety, where Georgia only has one on the roster, Tight End should be the Bulldogs' greatest need this off-season cycle. Georgia still is looking for an elite gamechanger at the position, and after a breakout season for Quarterback Ray Flash, the rising junior will need more talent on offense to continue his play into next season.
Illinois Fighting Illini – Halfback
Illinois heads into Season 17 with a young defense and an older offense. Nowhere is this more apparent than at halfback, where the first wave of Illinois halfbacks begins to age out. Spencer Lewis Jr just graduated, and Shaq Edwards enters his senior season. Moving forward, Illinois will be looking for the next star on the ground for the team. AD Will Stephens has a history of running the ball as well (he was at Clemson when it ran Duane Sammons nearly every play). This could be an appealing destination for a freshman halfback as a result.
Kentucky Wildcats – Wide Receiver
While Kentucky also needs a halfback with Taylor Copley graduating, the biggest need for Kentucky is obvious. Moses King just had the greatest QB season of anyone in CFSL history, and now is left with just two wide receivers on the roster. One of the remaining wideouts is a senior this year (Tyler Amos). Kentucky was incredible at spreading the ball last season as four WRs caught for more than 1,000 yards. This makes for easy recruiting pitches and as champions that only will get easier.
Miami Hurricanes – Linebacker
For a defense as impressive as Miami's the last few seasons, it is surprising that the linebacker position group for Jay Gates only has one Elite right now. Now, don't be fooled. Miami has done just fine on defense with that weakness thanks to a monster front four. But after coming up just short in the playoffs, the focus for this staff is on getting the depth to take that extra few steps to win one or two more games at the end of the season. Linebackers are the easiest place to start and Miami's recruiting team will be out in force this offseason to fill those gaps.
Michigan Wolverines – Safety
Michigan is another team who will need a new halfback, but more concerning for the Wolverines is the loss of multiple safeties to graduation. 4-Star DaJuan Aguilar is the only safety now left on the roster, and for a team that plays in the Big 10, that simply won't be enough against some of the better passing offenses. Michigan also enters its second season under AD Aaron Ike. Ike showed some talent last season in his debut, but this serves as his chance to really start putting his own stamp on this team with his own players. Going from his tenure so far, expect fireworks this offseason from Ann Arbor.
North Carolina Tar Heels – Safety
North Carolina has talent on both sides of the ball. The team played games close and had standout performances from individual contributors. But one area of concern is still safety going into Season 17 for UNC. The Tar Heels will be competing with a lot of top teams for talent there, and even worse safety is historically one of the toughest position groups to find talent at. Still, UNC also is another young team with only one graduation this cycle. While success will be hard to come by, the rewards for UNC if they can win recruiting are simple and obvious.
Notre Dame Fighting Irish – Defensive Tackle
With no safeties on the roster now and three seniors graduating at WR too, how is DT the biggest need for Notre Dame? Simply put, this is a young position group with the departure of Ben Craig now. For a team that has shown talent, but yet to put together a season in the range of just a few seasons ago, the easiest way to win games against powerhouses is suffocating defense. AD Josh Claydon is now a Hall of Fame nominee thanks in no small part to his defensive roster building, so while there are a lot of gaps to fill this offseason, Notre Dame's front four should be the biggest focus.
Ohio State Buckeyes – Defensive Line
The Buckeyes lose two defensive linemen this offseason to graduation. Similar to Notre Dame, this means the biggest focus will be for Ohio State to rebuild its best talent there, in order to challenge the high-flying offenses we've seen the last few seasons in the CFSL. Ohio State had success on offense throughout the season, making this need on defense even more vital. This also will be the first full offseason for TJ Hayes in Columbus, giving him the opportunity to fully plan and execute his recruiting strategy for the team for the first time.
Oklahoma Sooners – Strong Safety
Leo Guerrero has been a staple of the back end of the Oklahoma defense, and his play finally comes to an end this season. The Senior was a huge impact player, and his departure leaves Oklahoma without a Strong Safety on the roster. While Oklahoma could possibly move one of their Free Safeties over, the team could also use fresh players at the position group. As stated earlier safety is one of the hardest position groups to fill in recruiting, so this will likely be a priority for Dustin Hall's staff.
Oklahoma State Cowboys – Halfback
After another stellar season from the Cowboys, now the team must grapple with a few key departures after just falling short of the ultimate prize this postseason. Nowhere is this more crucial for the Cowboys than at halfback. Jordan Hammer's graduation leaves Oklahoma State without an HB on the roster, and while there are a few spots to fill, this should be the priority. Oklahoma State has momentum from the past few cycles and a few seasons of success, but as a pass-heavy team, it also will not be easy to out-recruit top competitors either.
Oregon Ducks – Cornerback
While some teams are young, no team had more freshmen in the Power 2 than Oregon this last season. With a rebuilt roster, Oregon surprised a few teams with tenacious play and smart tactics. Still, there is no denying depth is needed to support this growing team. Cornerback stands out as an area where Oregon needs to fill depth and grow talent. While transfers also could come into play here, more freshmen seem to be the playbook of the young tenure of AD Neal Mason.
Pittsburgh Panthers – Halfback
No team bought into the run more than Pittsburgh this past season. For a roster built to run, the Panthers had issues, especially in the second half of the season establishing said run. Now with Rashuad Black graduating and 4-star Chad Layhue left as the only guy at the position on the roster, Pittsburgh has a whole identity to protect this cycle. The roster had some limited success at times when they could run. So getting a game-changer at Halfback is the biggest priority for the team heading into Season 17.
Texas Longhorns – Linebacker
Texas will be another team filling depth spots to take the next steps. The Longhorns have two Linebackers on the roster, but for a team that has often been known to play tough defense, Texas likely wants a few more fresh faces there. Texas has a history on the defense of staying local, though a new AD might want to expand the scope. Texas is no stranger to getting guys from around the country obviously, but it remains to be seen how the new staff in Austin will approach the challenges this offseason.
West Virginia Mountaineers – Linebacker
West Virginia has work to do this offseason on both sides of the ball. At times this season, West Virginia played much deeper rosters close. But the simple truth of the CFSL is that you can't win if you are at a disadvantage before you even walk on the field. Linebacker will be key as West Virginia is weak at the group with just two players on the roster right now. It will be far from the only area of focus for AD Nate Murphy, but this is an easy place to start building the key depth West Virginia needs.
MAC
Of the six teams in the MAC, there are a total of six graduating seniors this offseason. Thus, an exercise of finding what the MAC will target this offseason going only by graduations is a bit tough, especially since four of the six MAC teams will undergo a change in coach. Still, there are some key areas in general MAC teams likely will follow. With so much staff change in the group, transfers will be a key area to watch. However, with limited open spots in the Power 2, more interesting will be inter-MAC switching. Will EMU pick up more MAC players? Or even Power 2 guys? Can the bottom three teams in the regular season pick off some players looking for bigger roles moving forward? The entire MAC presents maybe the biggest storylines this offseason cycle in both recruiting and transfers, so keep a close eye on the six teams this offseason.