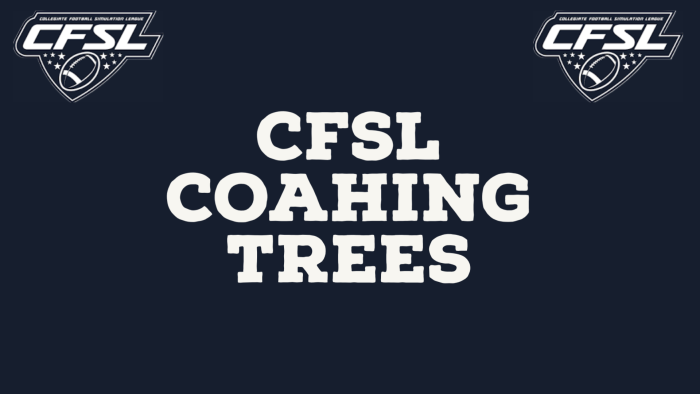 By: Ryan Moreland (@ryanmoreland)
Coaching trees are an often discussed topic in the CFSL. Where does everyone fall? Who has the largest coaching trees? Who has the most successful coaching tree? This article will attempt to answer all of these questions. Thank you to every AD, former AD, MAC head coach, interim AD, etc., for their time and valuable information. This article would not have been possible without your help. A special thanks to Mike and the CFSL Encyclopedia (aka Frosty) for their invaluable help as well.
A few notes before we start: The goal of this was to travel back only using active and current members. There are other branches one could draw to connect others to certain trees, but if it wasn't a live branch (so to speak) then it could not be grown off of.
Also, there were a few disputes about where people should belong. For this article, the last AD you worked under before you became an AD or MAC head coach is the tree you belong under. The idea was to try to put people where they deserve to be, not necessarily where they want to be.
Interim ADs or ADs that are no longer in the league were not included.
Total wins and losses may not be completely accurate (people vacating leadership roles midseason makes it hard to count), but they are as close as I could reasonably get them. Let's dive in.
The Frosty Tree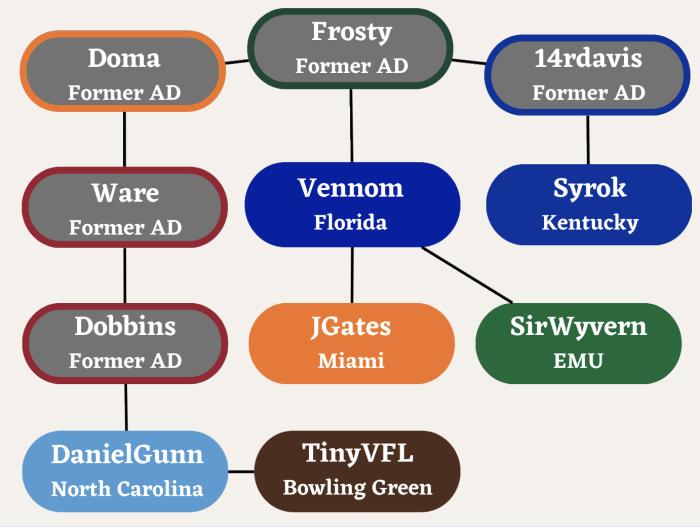 As you can see, this is quite a large coaching tree. The impact felt by Frosty's leadership has spanned the course of 13 seasons. Given the strength of this tree's roots, that impact will be felt in this league for far longer. This tree begins in Season 4, making it the oldest active coaching tree in the CFSL. In that time it has seen impressive growth. This is the largest tree by total names and tied for the largest in active ADs and MAC coaches.
Not only has this tree been successful in growing, but it has also been successful on the field. This tree claims the most victories and conference titles and is tied for the most national titles. Despite playing by far the most amount of total games, this tree still has the second-highest win percentage of any tree in the CFSL.
The potential for growth from this tree is strong but has one drawback. Frosty's Tree grew considerably this offseason with TinyVFL and SirWyvern accepting MAC head coaching positions and Syrok taking over in Kentucky. However, the active coaching experience of this tree isn't substantial. Vennom is the only active coach that has more than three seasons of experience. The future of this tree will depend on the success of these younger coaches. With that said, I wouldn't bet against these young coaches. Expect this tree to continue to grow.
Total Win Percentage: .560 (200-157)
National Championships: 3
Conference Championships: 7
The Clutch Tree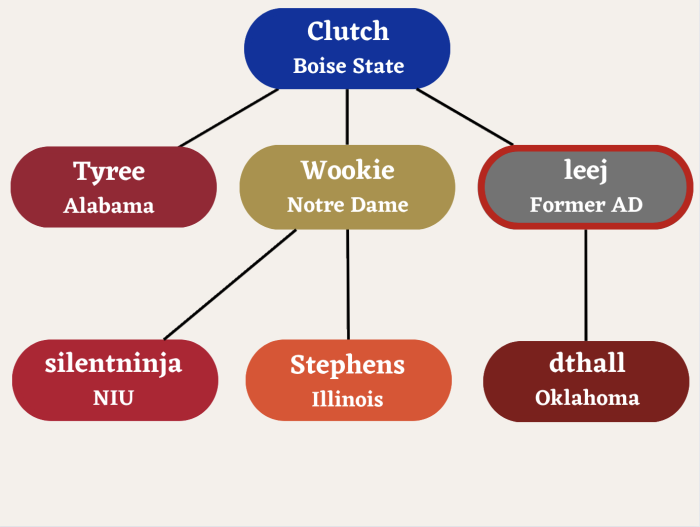 The league's second-largest tree has its roots set in Clemson and Boise State. Clutch made his coaching debut in Season 7 in Death Valley. He spent three seasons there before moving to Boise State, where he can still be found today. Clutch has developed great coaches who have enjoyed plenty of success and that has earned him one of the best trees in the CFSL.
As mentioned, Clutch made his debut in Season 7. That means this tree is tied for the second oldest (with Grin's Tree). This tree is also tied for the most National Championships won, thanks to Clutch (Season 8) and Wookie (Seasons 12 & 13). It also boasts the second most wins and conference titles.
The growth potential for this tree might be the best of any in the CFSL. There are five current ADs (not including MAC HCs) in this tree, which is the most of any tree. More ADs means more coaches and that means higher odds that those coaches become MAC HCs or ADs. Also, the coaching experience of active coaches in this tree is unparalleled. Among the active ADs/MAC HCs on this tree, there is a combined 32 seasons of experience. That is more than double the next closest tree. For these reasons, this has to be considered the tree with the best growth potential.
Total Win Percentage: .547 (176-146)
National Championships: 3
Conference Championships: 4
The Grin Tree
The Grin Tree is old in its start, but newer in its growth. Grin first took over as the AD of Florida State in Season 7 (tied for second-oldest). Over the next several seasons' Grin built Florida State into a prominent program. More importantly for this article, he also mentored a group of coaches that would go on to take leadership roles of their own.
This tree is remarkable for its loyalty. The coaches and ADs that branch off of Grin never served under any other ADs than the ones above them. Most of them served as a coach for quite some time as well. Jbayse, SemiRAGE, and Aaron Ike served a combined 12 seasons under Grin before becoming ADs. Beard on Blast would be the outlier, having only served under jbayse for a single season. This is also the only tree where all branches are still in AD/MAC HC roles.
The potential for growth from this tree feels strong. Grin is the only member of this tree with more than two full years of AD/MAC HC experience, however, Aaron Ike's on-the-field success and jbayse's coach development success early in their careers show that they both are capable of cultivating their own strong trees. That, of course, is to ignore Grin, whose ability to develop coaches is almost legendary at this point. Expect this tree to continue to grow.
Total Win Percentage: .544 (68-57)
National Championships: 1
Conference Championships: 3
The Houston Tree
The OKST56 or Houston Tree starts with one of the best game planners this league has ever seen. Houston first became an AD in Season 8 for Alabama. After serving one season there he got his dream job as the AD of Oklahoma State. Houston brought Oklahoma State into the CFSL and turned them into the league's winningest program. While doing all of that he was also developing an interesting group of coaches under him.
The Houston Tree is one of the more intriguing coaching trees. The early run of coaches under Houston (TattedGriffin and LoganM) had short stints as ADs that didn't see much success. It definitely could be argued that this was because of the state of the teams that they took over. The newest run of coaches (beatitdownb and ThatGuy) have started on much better footing and have had success early.
Despite only two active coaches on this tree, there is still a decent potential for growth. With beatitdownb accepting a position in Georgia, the two active coaches could begin developing their branches as soon as next season. Also, we can never rule out the possibility of Houston, TattedGriffin, and/or LoganM returning to the AD ranks one day. Right now, the future of this tree is difficult to read, but there is growth potential.
Total Win Percentage: .553 (73-59)
National Championships: 1
Conference Championships: 3
The Mears Tree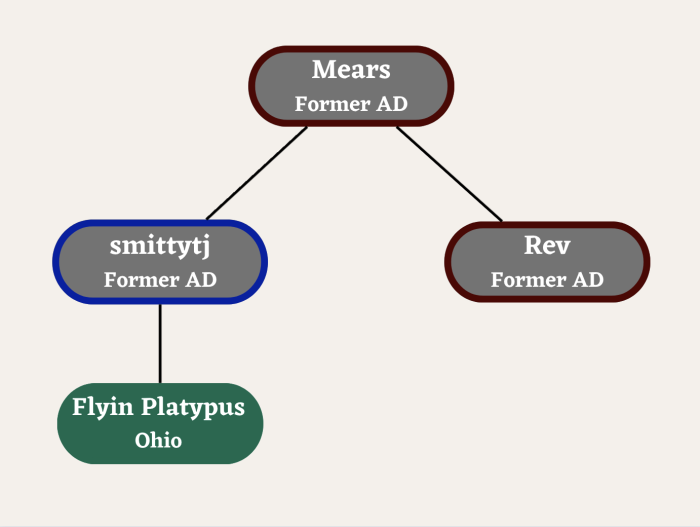 The Mears Tree is another small, but intriguing coaching tree. Mears became the AD of Texas A&M in Season 9. He held the position for a little over two seasons. Though it wasn't a long tenure, it was a fruitful one. Two of his coaches, smittytj and Rev, would go on to become ADs. Flyin Platypus, who was also a coach under Mears, would follow smittytj to Florida and eventually get his chance to lead in the reinstatement of the MAC.
Mears' Tree is tied for the youngest tree in the CFSL. Interestingly enough, it is also the only tree where every coach was once on the same staff together. This happened at the now-defunct Texas A&M. It is also the only tree that has only one active member.
The future of this tree is hard to see. There is only one active branch on the tree and he is in the MAC, where he can't mentor coaches. He has shown promise though, after a solid first season at Ohio. If none of the other names on this list come back to the AD ranks, the future of this tree is in his hands. No pressure, Kyler.
Total Win Percentage: .433 (39-51)
National Championships: 0
Conference Championships: 1
The Konvict/Dat-Dude Tree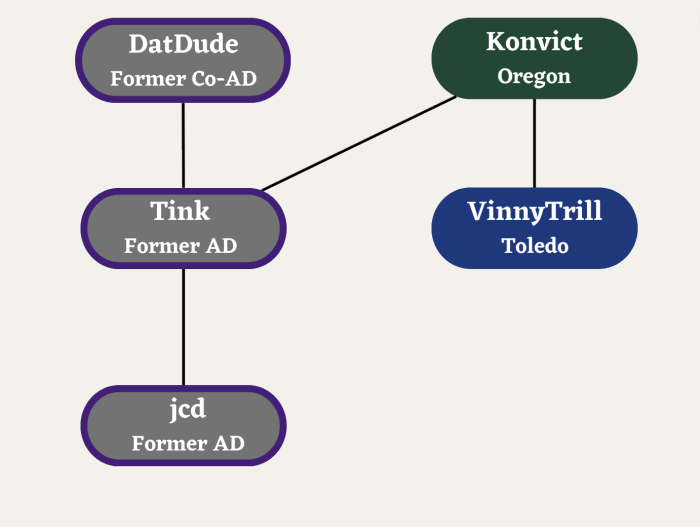 The Konvict/Dat Dude Tree could also be known as the LSU Tree because that is where the majority of its story takes place. Konvict and DatDude started at the same time as Co-ADs at LSU. It was the first time that the league had ever seen Co-ADs. They served two seasons together as Co-ADs. Tink would take over for them at LSU, followed (after an interim AD) by JCD. This past season Konvict took over the AD role at Oregon. It would be the first time this tree set up shop outside Baton Rouge.
This tree has by far the shortest average time spent as an AD (with a current average of 1.8 seasons). However, it also boasts the best winning percentage of any of the CFSL coaching trees. It also is tied with Mears' Tree for the youngest coaching tree.
Like Houston's and Mears' trees, the future of this tree is uncertain. The best chance for growth would be out of Oregon like we saw this offseason with VinnyTrill taking over in Toledo. But all of these former ADs had success on the field, which led to an impressive winning percentage. Perhaps we will see them in ADs roles once again in the future.
Total Win Percentage: .603 (35-23)
National Championships: 0
Conference Championships: 1
The Treeless
Few coaches would be considered treeless for a couple of reasons. You have ADs like Loki Gunderson, 907tj, and BigMurph whose predecessors are no longer part of the league and have yet to develop an AD or MAC HC underneath them. And you have the outlier in ColeMantell, who didn't coach before becoming an AD so he can't be truly considered part of anyone's tree. Many other former ADs would also fall into this category, as well. This doesn't mean they won't go on to create strong trees themselves in the future. After all, the mightiest oak was once just a seed.